Everton's extensive summer rebuilding programme took its latest, and perhaps most significant, twist as the club finally confirmed the signing of Gylfi Sigurdsson from Swansea City.
The announcement ended several months of speculation and, presumably, protracted negotiations between the two clubs with the Icelander agreeing a five-year contract for an undisclosed fee. It is widely reported that Everton have paid up to £45 million for Sigurdsson's services.
That is a remarkable fee for a player previously left out in the cold at Tottenham Hotspur, only to return to south Wales and dramatically rekindle his form from the 2014/15 campaign onwards. Ultimately, that renaissance has inspired Everton's relentless pursuit.
His new manager, Ronald Koeman, could not have sounded more delighted to have finally sealed the deal.
"We don't sign one player who will score 25 goals but we need several players around our striker to get that number. He is one of those productive players – he's shown that at Swansea and also in the past. In my opinion, in his position, he is one of the best in the Premier League."
The History
Born in Reykjavik, Sigurdsson's big break came when he joined Reading in 2005 at the age of 16.
He progressed to make his professional debut in a League Cup tie against Luton Town in August 2008.
After taking in loan spells at Shrewsbury Town and Crewe Alexandra, Sigurdsson enjoyed a breakthrough season for Reading in 2009/10, registering 20 goals and 10 assists over 44 matches in all competitions.
Those performances led to a move to German side Hoffenheim, but after producing nine goals and three assists in 29 league outings in the 2010/11 campaign, he fell out of favour.
He joined Swansea on loan for the second half of the 2011/12 season before signing for Spurs on a permanent basis in July 2012.
Sigurdsson struggled for first-team opportunities at White Hart Lane though, totalling just eight goals and five assists over two seasons.
The midfielder moved to Swansea as part of the deal which took Ben Davies and Michel Vorm to Spurs ahead of the 2014/15 campaign.
He has been a key figure for the Swans over the past three seasons, registering 27 goals and 27 assists from 106 league matches.
He claimed nine goals and 13 assists in 2016/17, along with 18 Fantasy Premier League (FPL) bonus points. Indeed, Sigurdsson has scored 18 or more bonus points over each of the last three seasons.
After representing Iceland at U17, U19 and U21 levels, Sigurdsson made his senior debut against Andorra in May 2010.
He has made 50 appearances for his national side, tallying 15 goals and nine assists.
The Prospects
There is no question that Sigurdsson was prime Fantasy talent during his spell at the Liberty Stadium.
His game is ideally suited to Fantasy Football as a player who always provides an end product, either through his own threat on goal or via his substantial creative influence on the team.
Sigurdsson has been quick to underline this in his first interview with his new club.
"For myself, I would like to score as many goals as possible and create as many goals for my team-mates as I can. These are my targets."
Statistically, Koeman is spot on – Everton have signed one the best players in the Premier League and they have been quick to underline this by rolling out an impressive list of significant metrics.
Among them is the fact that Sigurdsson has been directly involved – scored or assisted – 53 goals since the start of the 2014-15 season; that is second only to Spurs' Christian Eriksen among midfielders. However, Everton exclude Arsenal's Alexis Sanchez in that statement – the Chilean has been involved in an incredible 75 goals over his last three seasons. But we can surely forgive Sigurdsson for failing to rival that figure.
Indeed, his contribution to the Swansea cause since 2014/15 was quite incredible.
He was involved in – scored or assisted – 42.5% of their goals on his return to the club, and that rate increased to 44% the season after. In 2016/17 things stepped up yet again – Sigurdsson played a part in 50% of the Swans' goals when on the pitch.
Set-pieces played a major role in that influence and his prospects at Everton will surely be dependent on his responsibilities in this area.
At Swansea, the Icelander enjoyed a monopoly on free-kicks, corners and, crucially, penalties. He has scored three spot-kicks in each of the past two seasons, while he assisted a league-high eight goals direct from deal-ball situations in 2016/17.
Only West Bromwich Albion (22) and Chelsea (20) scored from goals from set-plays than Swansea (17) last season, with much of that attributed to the quality of the midfielder's delivery.
This could be particularly significant to fellow new boy Michael Keane – a major threat from set-pieces, his 22 efforts inside the box was just three off Marcos Alonso's 25 among FPL defenders.
While Sigurdsson will perhaps face far more competition for these roles at Goodison Park, Koeman has already stressed what his new signing can offer.
"Gylfi is one of those players like Rooney, a quality player who knows a lot in the Premier League. He will also be an important player in our set plays. He is what we need to find that balance in the team."
In the Gameweek 1 victory over Stoke City, it was Rooney who took four of the Toffees' six corners, with Sandro Ramirez and Kevin Mirallas behind the others.
Leighton Baines also provides a left-footed option and he, along with the aforementioned trio, are all rivals for direct free-kick duties. As for penalties, it's surely Rooney who is most likely to vie with Sigurdsson.
However, Sigurdsson's cultured right foot means he should move to the front of the queue. If that dominance at Swansea translates to his new surrounds, there can be no question that his potential – even with a price hiked to 8.5 in FPL and 10.4 in Sky Sports – is exceptional.
Koeman's plans for Sigurdsson's position could also be significant.
Tactically, the Dutchman is very flexible. Against Stoke City in Gameweek 1 he started with a 3-5-2 formation, before switching to a 4-3-3 when it became apparent that his set-up was being nullified by the Potters.
Koeman has also favoured a 4-2-3-1 system in the past, but with Rooney, Davy Klaassen and Sigurdsson all stronger in central areas, something may have to give.
Again, the Everton boss has highlighted his options with Sigurdsson on his arrival.
"Gylfi can play in different positions. He can play in midfield, he can play as a number 10 and he can also play in a free role on the side – they are the two or three positions that we will use him."
Gylfi Sigurdsson – Touches – 2016/17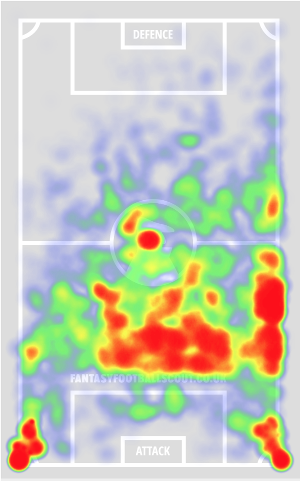 Assessing Sigurdsson's touch map from last season, it is clear that he operated on the left of a front three. He could fulfil a similar role at Everton in a 4-2-3-1 formation, or, as Koeman indicates, he could be trusted in the number 10 role, perhaps behind Rooney as a lone striker.
Equally, a 4-3-2-1 may allow Koeman to deploy Rooney and Sigurdsson in central positions, with Sandro perhaps completing the attacking trident either as a lone striker or alongside Sigurdsson behind Rooney.
Significantly, with Koeman remarking on Everton's lack of a "25-goal" striker, it is very likely that Sigurdsson will be handed a role that will harness his own goal scoring ability. He will surely look to the Icelander, along with Rooney and perhaps Sandro, to aim for a 15-goal return over the season.
However, Sigurdsson's contribution in terms of goals and assists may ultimately be more dependent on the allocation of set-pieces than his position in the line-up.
He is such an expert practitioner that should he monopolise matters for Everton and also seize penalty-taking duties, we could reasonably expect Sigurdsson to replicate or better his rate of goals, assists and points at Swansea City.
The immediate enthusiasm for Sigurdsson is calmed by an evil run of opponents over the next four Gameweeks.
Everton are about to embark on a brutal stretch (mci che TOT mun), affording us the opportunity to assess the attacking freedom he is granted and where the team's dead-ball responsibilities lie.
Nonetheless, it's worth noting that the playmaker was almost fixture-proof last season. Seven of his nine goals came against all but one of the top eight sides – Spurs were the only exception.
From Gameweek 7, Koeman's men experience an outstanding run of opponents right up to Gameweek 21 – the deadline for the first FPL Wildcard. Everton appear to face just three stern tests during this spell – Arsenal (GW9) and Chelsea (GW19) at Goodison Park, along with a Gameweek 16 Merseyside derby.
If Sigurdsson settles into a prominent attacking role and is armed with a full suite of set-pieces, he will be installed as a hot property for this run.
The Goodison Park match against Bournemouth in Gameweek 6 is perhaps the first time we seriously consider Sigurdsson for our squads.
Having overcome mediocrity and relegation struggles to shine at Swansea, we should expect Sigurdsson to make progress.
For the first time as a Fantasy asset, he could deliver double-digits for both goals and assists. If he achieves that, he will push himself on to the periphery of heavy-hitter status and begin to rival the contributions from Christian Eriksen, Dele Alli and Kevin De Bruyne.
Sigurdsson has the talent and, at Everton, perhaps now the stage to take the next step as a Premier League player and Fantasy darling.
His departure from Swansea could dent the prospects of Fernando Llorente, however. In terms of assists to goalscorers in last season's top flight, no pairing bettered Sigurdsson and Llorente (six), which was on a par with Spurs' Eriksen and Harry Kane.
The Swans have been heavily linked with West Brom's Nacer Chadli (6.0) as Clement looks to reinvest, though it remains to be seen whether the Belgian could flourish in anywhere near the same manner.
Further Reference
Gylfi Sigurdsson Transfer Markt Page