This article aims to revisit some of the talking points from my previous article into the value offered by players. This was written around the halfway-mark (Gameweek 23) earlier this season and suggested the goalkeepers and defenders offered far greater value than midfielders and attackers.
It also suggested that strikers in particular struggle to justify their price tag, even if their history of goal scoring implied they could offer value.
When talking about value my analysis is referring to players points per game (PPG) divided by their starting price.
Analysing the data

The brackets
The spreadsheet used for analysing this data includes 288 players, which I believe makes a good sample size, although not 100% accurate.

A quick comparison between the positions shows that by the end of the season little had changed since Gameweek 23. Goalkeepers and defenders still offer the most value, strikers continue to struggle and some mid bracket priced players exceeded their historical numbers.
However, there were notable differences:
Cheap defenders lost momentum and dropped from 0.58 to 0.56. Finishing 0.04 below the value that their history suggested they may offer.
Premium strikers experienced an upswing from 0.46 to 0.475. This is is not to say the group performed better as a whole, but is largely related to Arsenal's Pierre-Emerick Aubameyang excelling after his January move from Borussia Dortmund.
Premium midfielders experienced a small downswing from 0.503 to 0.486. With only three players in this bracket, it's pretty easy to point out that the poor Fantasy form of Manchester United's Alexis Sanchez and Chelsea's Eden Hazard dragged this average down.
The players
The following list consists of the top 10 performers with regards to value, amongst goalkeeper, defenders, midfielders and strikers.
Some players have a white font colour. This is used to highlight the players who looked like a "safe selection" for a larger part of the season. I put a cap of 25 appearances in place when compiling this.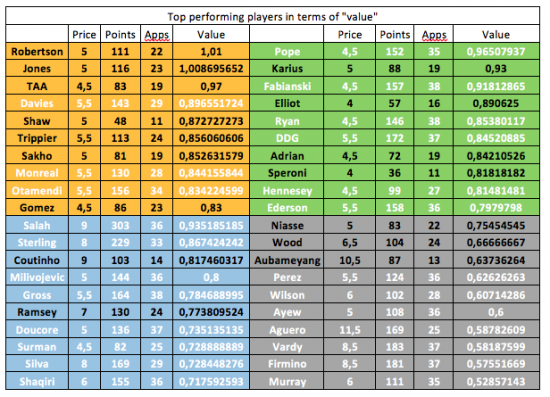 Noticeable in this graphic is that even the "most valuable striker" Oumar Niasse fails to compete with even the 10th most valuable goalkeeper and defender. Even Aubameyang who delivered numbers that would have surmounted to a 250pts 38-games season was not even close to competing with the value offered by cheap rearguard options. This shows that Liverpool duo of Andrew Robertson and Trent Alexander-Arnold offered excellent value, especially as they cemented starting berths by the close of the campaign.
Strikers as a group massively underperformed this season. This may well be a trend that continues given their pricing within the game. From the outset they have to outperform expectations to offer any value long term.
The Case Against 3-4-3
To book a top 10,000 ranking an average points per round of 61 was required in 2017/18. Given captaincy, one might say that you are fielding 12 players each round. Disregarding the fact that many managers find shrewd ways of playing fixtures and form, and get the most from their armband selection, one might suggest the following:
61/12= 5.038
(to achieve top 10k your players needed to average more than 5PPG. 18 players did this )
or
61/83.5= 0.73
(83.5m is the cheapest formation one might play, meaning your players would need to offer a value greater than 0.73 pts per million (PPM) to have hopes of reaching top 10k. 41 players did this)
I believe this suggests that it is easier to hit your target by focusing on the value of the players rather than their points total. That's not to say that PPG isn't a useful metric. With regards to captaincy, PPG means nearly everything. But as the table below suggests, one has to pay a certain price to get the players with the highest ppg, meaning the budget isn't able to cover it.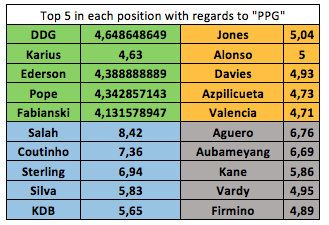 This might only be my own perception, but I believe this season has seen more discussion with regards to formations, with plenty of managers willing to opt for different formations than the default 3-4-3. This might be the result of defenders getting off to a flying start, strikers struggling to offer value, or maybe the wealth of midpriced mids offering great returns. However, I believe the talk about formations shouldn't be limited to the traits of this season alone. If the scoring, rules and player pricing stays similar next season then we may expect strikers to offer similar limited returns.  I believe that from Gameweek 1 next season Fantasy managers might be better off by steering clear of the popular 3-4-3.
Here are some reasons and examples why a striker heavy formation may be doomed.
If 0.73PPM is seen as a players way of proving it's worth, then this season had 15 goalkeepers, 17 defenders, eight midfielders and one forward hitting this mark. This means that the easiest way of making sure that every single one of your players was able to hit this mark, was by selecting a formation that relied more on defenders and midfielders, rather than strikers.
The difference in "making a miss" in the different slots is also worth noting.  For Example, Tottenham's Jan Vertonghen was the 35th most valuable defender but did not hit the mark with his value of 0.64PPM. But his "failings" would have hurt far less than the failings of the 26th most valuable striker. Romelu Lukaku and his 0.41PPM.
A comparison of Chelsea's Marcus Alonso and Spurs talisman Harry Kane is another example to consider.
Both were considered disappointments by some, the former for long spells without returns, the latter for failing to score against 'weaker sides'.  "Alonso the failure" delivered 165pts (0.71PPM) this season, while "Kane the failure" delivered a 29 goals, 217pts, (0.47PPM). In terms of value only Kane, 29 goals aside, can be considered a failure out of the two. The only problem is, if Kane was supposed to hit the 0.73PPM mark this season he would have needed to deliver a 350pts season, meaning he would have needed to be involved in something like 20 or so, more goals.  Luis Suarez in his Liverpool heyday almost managed numbers like these, meaning its not impposible, it just highly unlikely.
Here are some more numbers to consider.
A 5.5 striker needs to hit 150 points to offer value greater than 0.73 PPM (at least 20 goal involvements)
A 8.5 striker needs to hit at least 235 points to offer value greater than 0.73 PPM (at least 30 goal involvements)
A 10.5 striker needs to hit at least 290 points to offer value greater than 0.73 PPM (at least 45 goal involvements)
Although premium priced midfielders almost have an equally difficult task offering value at high prices, there are reasons to suggest that midpriced and budget midfielders, defenders and goalkeepers don't have the same obstacle.
Here are some good examples of value players to show this.
Pascal Gross (5.5) midfielder  – scored 164 pts with only 15 goal involvements
Cesar Azpilicueta (6.5) defender – scored 175 pts with eight goal involvements and 15 clean sheets
Jamaal Lascelles (4.5) defender – scored 116 pts with three goal involvements and nine clean sheets
Lukasz Fabianski (4.5) goalkeeper – scored 157 pts with nine clean sheets and three penalty saves
Next Season
I'll return to this subject after prices are released for the forthcoming season. It will be interesting to see if pricing continues in the pattern of previous campaigns. If it does, I'm pretty sure I'll continue with investing most of my excess of money in defence and high value midfielders. With regards to the upcoming season, these are the players I'm most excited to learn the prices of:
Marcos Alonso
The Chelsea left-back might come in at the same price as he started last season. Given his rampaging raids down the wing he is arguably the most attacking defender we have seen in FPL and the only one capable of pushing past the 200 point barrier. However, given his wing back role is so closely tied with Antonio Conte's tactics should the Italian leave Alonso may find himself curtailed by rotation or different tactics.
Paul Pogba
His 138pts this season might not impress.  But the Manchester United midfielder did average more than  five PPG this season and he might be capable of delivering even better results depending on his role next season. I also believe it's possible that his price might drop to 7.5 or 7.0, which would make him a tremendous prospect in terms of value.
Andros Townsend
The Crystal Palace winger was largely overlooked this season, with Fantasy managers instead favouring the cheaper price tags of Reuben Loftus-Cheek and Luka Milovojevic and the goal scoring prowess of Wilfried Zaha. It is worth noting though that Townsend picked up 52 points playing 19 matches over the first half of the season, but upped his output to 69 points produced 69pts across 17 games in the second half of the season. He's probably one of the few Eagles players who wont come in at a higher price point, which means he could serve as a very valuable fifth midfielder at the start of next season.
Leroy Sane
The winger might very well overlooked when FPL towers look at which Manchester City assets deserve a large price hike. With a PPG of 5.59, Sane actually had the ninth highest PPG this season, and bettered his ppg last season by almost 1.5pts per game. If the German indeed becomes the forgotten one he could offer tremendous value, especially as he looks to be improving each season.
Aaron Ramsey
A popular pick ahead of the season, the Welsh midfielder looked the cheapest route into Arsenal attacking points. Injury and rotation put paid to  this promise, but it is worth noting that he excelled when handed the chance as  the cheapest player to average more than  five ppg this season. If he can stay injury free and impress the Gunners new management he could be a highly profitable asset at the start of next season. His summer off, due to Wales not qualifying for the World Cup, also weighs in his favour.
Mamadou Sakho
Bonus point potential earns this Crystal Palace defender a mention. He was just shy of averaging a bonus point per appearance last season, in which he achieved a healthy 0.85 PPM over his 19 run outs. His fellow defender Patrick Van Aanholt may be easier on the eye with his attacking threat, but if Sakho can earn a price tag of around 5.0 he could offer strong value.
Final Thoughts
There's probably a wealth of other players worthy of consideration when prices are released. Ahead of that feel free to mention any other potential strong value players you will be looking out for next season. As mentioned, I'll aim to write another article discussing value in terms of PPM ahead of the next campaign.