There's a raft of different ways to assess a player's value to a Fantasy side – form, fixtures, points per game, points per 90min are just some of the measures used. But what most of these factors don't consider is the price of the player you're trying to assess. This is where points per game per million (ppgpm) can be invaluable. This article will take a close look at how a closer eye on value can help guide our decisions.
Background
To  help explain ppgpm let's take Liverpool winger, Mohamed Salah, who is the Fantasy Premier League's top scorer, with 179 points over 22 games at the time of writing. This means that, based on his starting price (9.0), he has offered a value of:
179/22/9= 0.90 ppgpm
There is further background on this measure in this article by Red Arrows.
There's several reasons why I wanted to explore this theory further:
1: To look at defining differences in value based on positions.
2: To figuring out if historical numbers of points and matches, coupled with season starting prices, can be used to predict a players value ahead of the season.
3: If the findings suggest an optimal set-up/formation.
Results
Differences in value
There is very noticeable differences in value when comparing averages in each position, with a total of 278 players studied in this research.


Based on their starting price, the table shows suggests that the most valuable players would be goalies, then defenders, then midfielders, then  attackers. When comparing the numbers with the season averages so far (Gameweek 23), it's clear that this has also been the case. The different positions have delivered very similar numbers to what the history suggested, with only the strikers failing to match their expected value.


This table shows how amounts of games played affects the value in each position. It seems that on top of not getting those pesky points off the bench, having players who are "nailed on" also increase the value of their returns.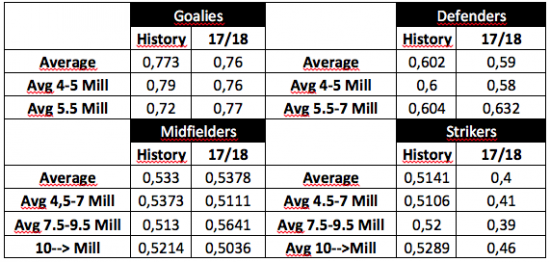 This table shows what history suggests, according to pricebrackets, and how its played out this season. The most notable things are:
– expensive goalies, expensive defenders and mid-priced mids are all currently overperforming compared to how historically they have performed.
– All strikers are underperforming, but the ones who are underperforming the most are the cheap and midpriced ones.
Predicting value
The way the players have performed thus far this season does suggest that one can use historical data of points and matches to fairly accurately identify which positions are most valuable.
It should however not be taken as gospel in every individual players case, because different circumstance might alter what the history can't account for. New role, new club, age, new manager, new players contending for a spot in the lineup. Of course one has to assess all these factors, and many more.
This of course doesn't mean that it's not useful in the individual cases. Out of the current 11 in the Dreamteam, all players except David De Gea, Harry Kane and Salah had a FPL history, which predicted that they would offer greater value than average this season.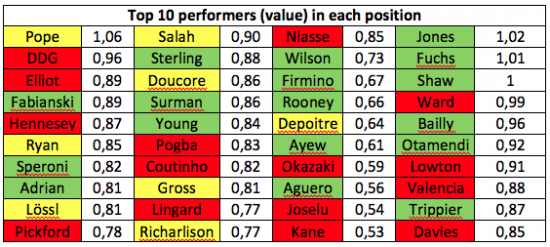 Green: players that were expected to beat the average ahead of the season
= 17 players
Red: players that were not expected to beat the average.
= 15 players
Yellow: Players that lacked sufficient history.
= 8 players
Looking at the top 10 value players in each position, the predictability isn't as clear as in the Dreamteam. However, if one extends the samplesize, the trend becomes clearer.
Set-up / Formation
If one was to use the findings when building the team ahead of the season, it would seem clear that the best way to invest your money would be in defence. Investing elsewhere, let's say in attackers, would be the equivalent of choosing to place a bet with the bookie offering the lowest odds on the outcome of your choosing.
The history of the players in the study suggested that 5-4-1 would be the ideal setup this year. This has been pretty much on the money so far. Only two strikers have offered a value greater than 0.7pts per million, 12 midfielders have managed the same, and a whooping 27 defenders have broken the mark. This basically means that 5-4-1 has offered the easiest way to steady returns, giving loads of decent options.
Conclusion
Red Arrows  said it well in his article:
When we play Fantasy Premier League we are essentially trying to spend 100m as efficiently as possible, so the calculation in the backs of our minds is always point per game per million (ppg/m) even if we don't think about it when we are setting up our teams.
Allthough I believe this to be true, I also believe there's a lot to gain by using points per million in a systematical fashion. If we did, perhaps 3-4-3 would not be each season's favoured template. Perhaps a lot of us would have scrapped the idea of "killing" several positions in search of getting our hands on premium attackers at the start of the season. Perhaps a lot of us would have opted for the "safer choice" instead of the "risky one". Perhaps.
Playing the 'perhaps game' is allways gonna be hindsight bias. Just because this study shows that a lot of the trends this year were predictable ahead of the season, it doesn't mean that's gonna be the case next season, or going forward. However, going forward, I'll make sure to use "points per million", as a metric, more than I've done in the past.
The complete spreadsheet can be found here. All numbers should be correct as of Gameweek 23.