Fantasy Football Scout are delighted to announce our partnership with FanTeam for the 2019/20 season.
This year they are offering €250,000 in prizes for their Premier League cash game for an entry fee of €25.
First place will take home €50,000 and finishing in the world's top 20 will trigger a payout of at least €1,500 – and that's not all.
FanTeam are also offering additional weekly and monthly prizes to sweeten the deal.
Experienced Fantasy managers should be very excited about this cash league as FanTeam's game is very similar to FPL.
That includes the pricing structure, with only minor differences between the cost of assets from FPL to FanTeam.
Prize Structure
The €250,000 prize pot is spread among the top 15%, which gives even non-professional players a good chance to recover their buy-in fee.
That first prize of €50,000 is hugely appealing and it is certainly a realistic aim for members of our community.
The entry for this competition is capped at 12,000 which greatly increases your chances of winning compared to FPL, for example.
This all translates into the following prize structure:
Prize Structure Main Event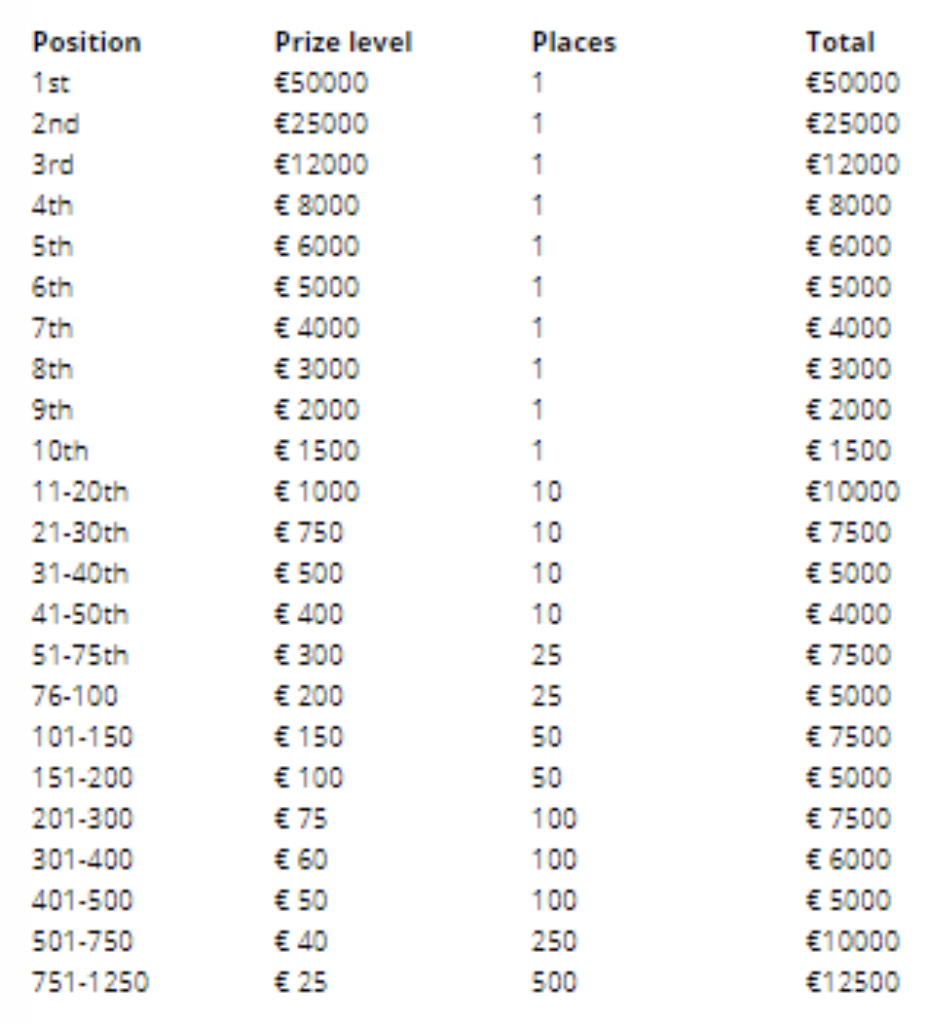 Additional Side-Events
FanTeam also offers additional chances to win prizes on a weekly and monthly basis.
That means even if you fall behind on the overall tournament, you can still win big by putting in decent short-term performances.
A manager of the month award will earn the winner €1,000 and securing a manager of the Gameweek award will land you €250.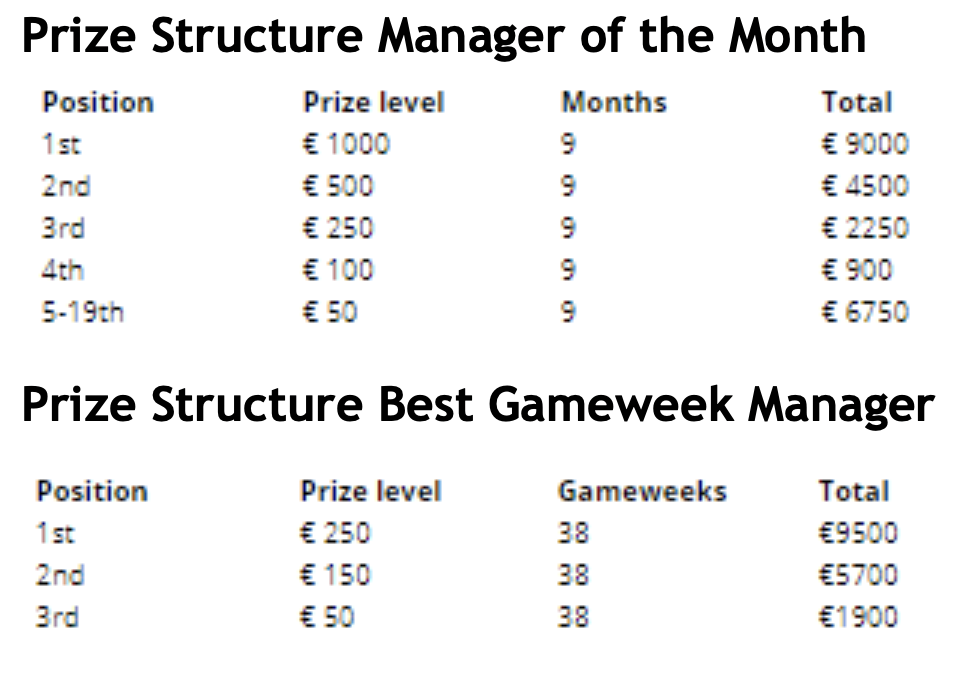 FanTeam's 2019/20 PL Rules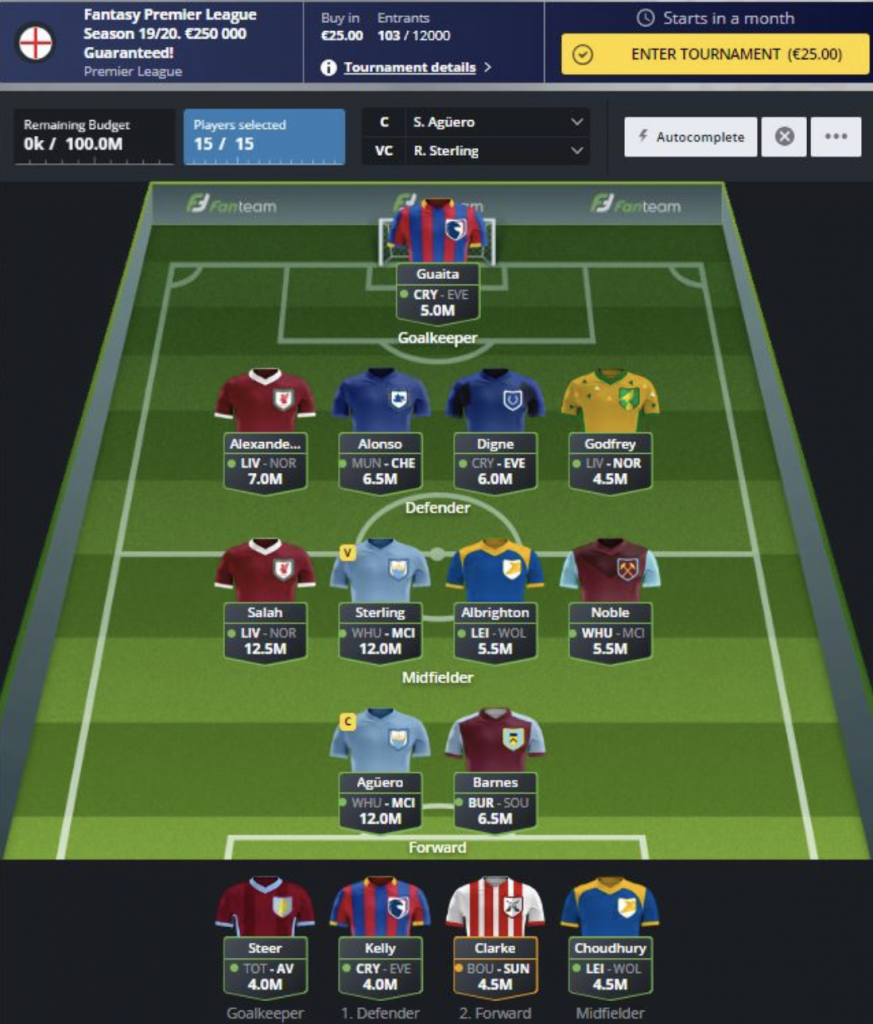 As previously stated, the rules are very similar to what FPL managers will be used to, with only minor changes.
First, the scoring system has no bonus points built into it.
Instead, an 'impact' factor is applied, which awards players with a negative or positive point, depending on whether his team was winning or losing with him on the pitch.
Secondly, FanTeam has no chips. as they prefer to keep things simpler.
However, they do offer two Wildcards, which can be used to change the entire team.
Thirdly, price changes on FanTeam appear at more random times than we might be used to with FPL.
They will appear when a dramatic increase or decrease in demand occurs.
This is slightly different to the fixed time frames for price changes on the regular FPL.
Fourthly, unlike FPL, there is no tax applied on a price increase when you sell a player.
This means that if a player is worth 7.0m and increases to 7.5m, then 7.5m is the amount you would receive by selling this player.
In short, selling and buying prices are identical through the season.
If player A is worth 7.0m and increases to 7.3, then 7.3 is the amount both to sell and buy this player.
Looking ahead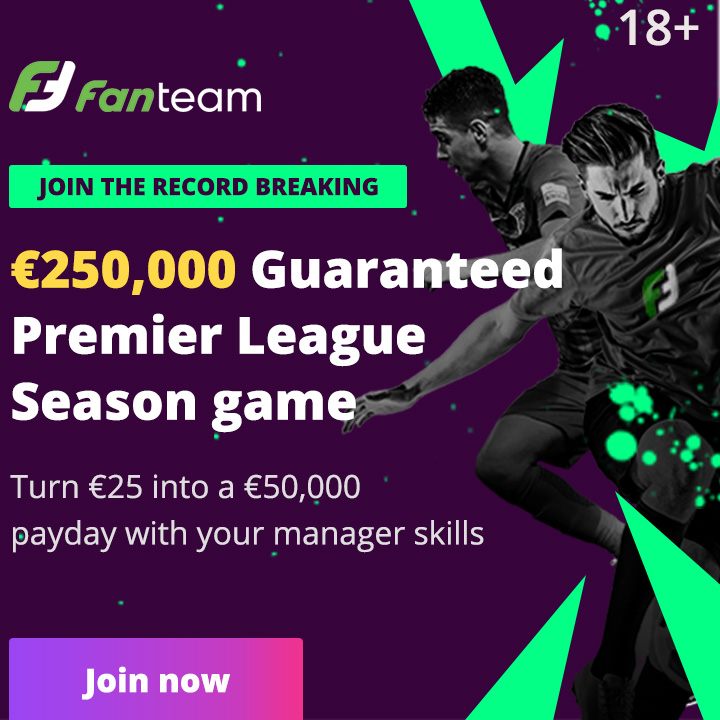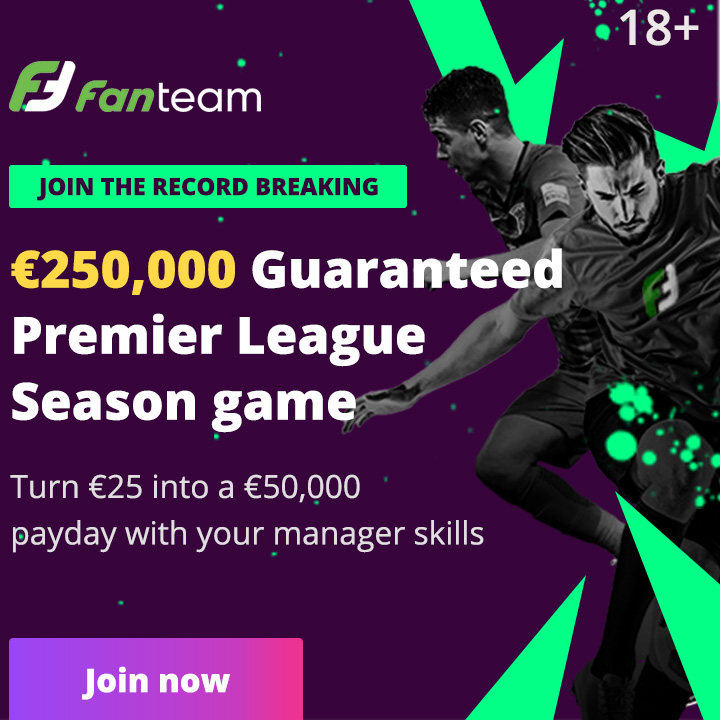 If you enjoy official FPL, but want the chance to win a bit of money down the road, FanTeam is a game you should try out.
One of the best aspects of it is that you can largely copy your FPL team and play it on FanTeam, since the prices and the design of the game are so similar, meaning it does not take much management.
We at Scout are already enjoying FanTeam's website and can't wait for the season to start.
While are focus remains on the mainstream FPL game, we will have more FanTeam content between now and the start of Gameweek 1.
If you want sign up CLICK HERE.
Our tournament code is: 171482. You can use that to SIGN UP HERE.
Good luck to you all!