Fantasy Football Scout are joining forces with FanTeam in 2019/20, with this latest article looking at some of the key stats in our Members' Area that could help you win big.
There's a whopping €250,000 in prizes on offer with FanTeam this season, with €50,000, €25,000 and €12,000 going to the Fantasy managers who finish first, second and third respectively.
It's not just those with a podium finish who are handsomely rewarded.
A top-20 finish guarantees a four-figure sum, while FanTeam even pays out if you are among the first 1,250 managers in the world.
FanTeam is also offering additional weekly and monthly prizes to sweeten the deal.
The full prize breakdown is as follows: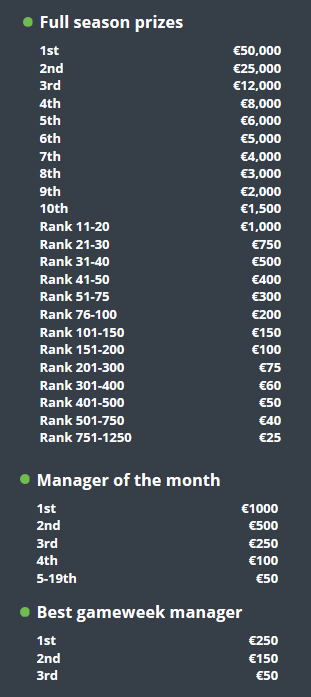 Competing on multiple fronts in the Fantasy world can be a time-consuming and difficult task, particularly when the rules differ drastically from one game to the next.
The beauty of FanTeam is that the scoring rules and player price structure are very similar to Fantasy Premier League, give or take the odd small difference.
Seasoned FPL managers should have no problem in adjusting to FanTeam and running a squad, then, with its familiar scoring system.
For those who consider themselves dab hands at FPL and want to reap the rewards from their expertise, FanTeam offers a real opportunity for a cash windfall.
The familiar-looking scoring system is as follows: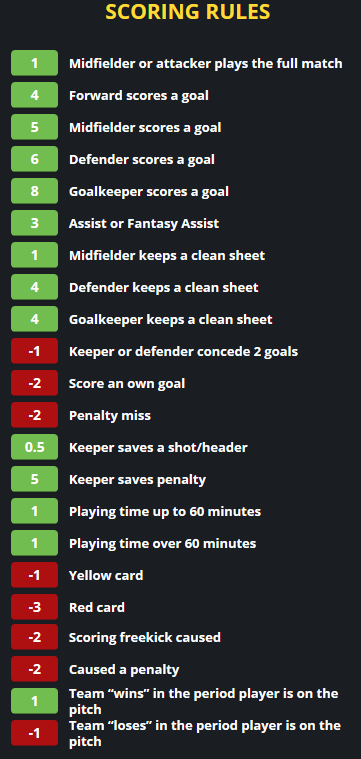 For a full introduction to FanTeam, check out our initial article on the game by clicking here or have a more detailed look at the rules by clicking here.
In the remainder of this piece, we will look at some of the Members' Area tools you can use to help you make informed decisions on your squad.
You can sign up as a Fantasy Football Scout Member today for the equivalent of just £1.75 per month, with all the benefits listed in this article.
Goal Threat
The points awarded for goals scored by outfielders in FanTeam are the same as they are in FPL: four for strikers, five for midfielders and six for defenders.
Fantasy managers can access a whole host of underlying goal threat statistics in our Members' Area, two examples of which – accessed via the Goal Threat and Expected tabs in Player Stats – are given below: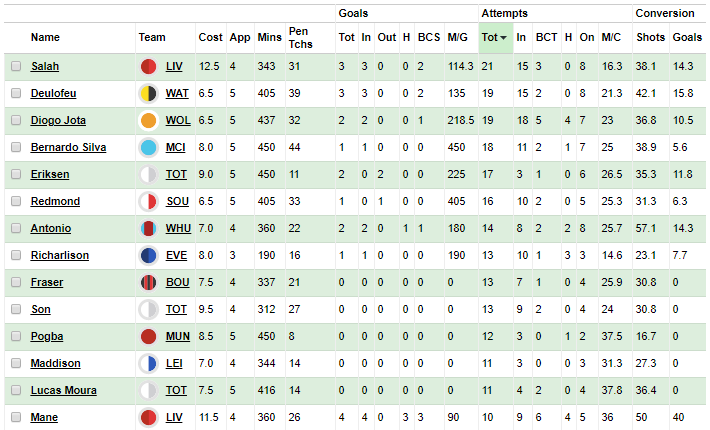 Above: midfielders ranked by attempts on goal in the last four Gameweeks of 2018/19.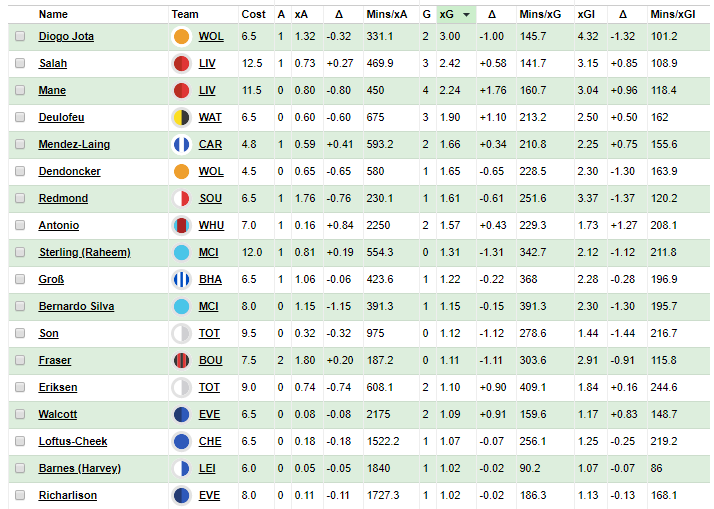 Above: midfielders ranked by expected goals (xG) in the last four Gameweeks of 2018/19.
With there being no Bonus Points System in FanTeam, Mohamed Salah is arguably even more attractive – the Egyptian is famously not well rewarded by bonus in FPL, so would seem to be at a distinct advantage in FanTeam given that he wouldn't be punished for chancing his arm and missing the target or being dispossessed when dribbling. The more shots being taken, the better.
Assist Potential
As in FPL, three points are awarded to those players who register orthodox assists or Fantasy assists.
Subscribers to our Members' Area can look at Opta's underlying creativity numbers to see which players are most likely to deliver assists in the future.
Two examples of which – accessed via the Distribution and Expected tabs in Player Stats – are given below: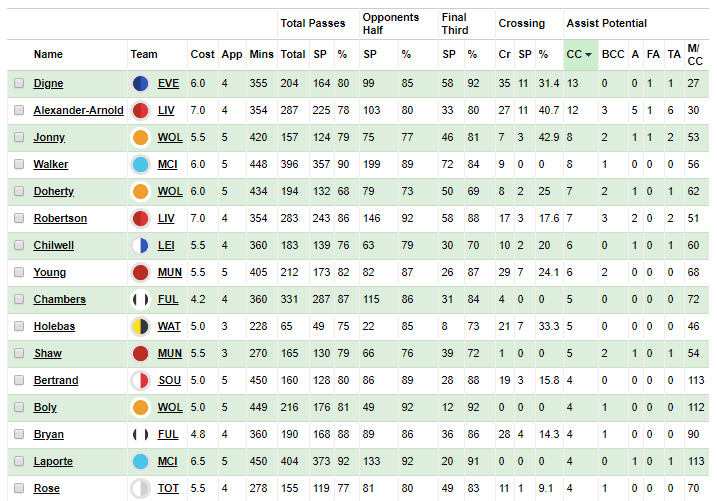 Above: defenders ranked by chances created in the last four Gameweeks of 2018/19.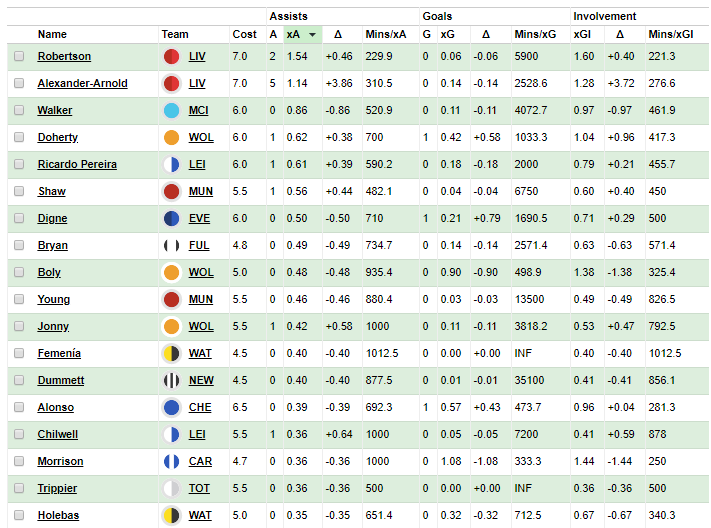 Above: defenders ranked by expected assists (xA) in the last four Gameweeks of 2018/19.
Goalkeepers
Saves are rewarded even more with FanTeam than they are in FPL. Every save earns a goalkeeper 0.5 points, so there is no 'multiple of three' rule here.
However, the point awarded/deducted for a player being on the winning/losing side (while still on the pitch) is a significant factor in FanTeam, as is the lack of bonus.
Alisson and Ederson both scored more in FanTeam than they did in FPL, while the likes of Lukasz Fabianski and Ben Foster scored less.
A goalkeeper who plays for a successful team and can rack up some saves is the ideal mix, then.
Alisson made more saves than Ederson and kept more clean sheets, for example.
The table below from our Members' Area ranks Premier League goalkeepers by saves in 2018/19, with David de Gea standing out – if Manchester United's defence can improve on their clean sheet count this season, then the Spanish international – so often called upon even when the Red Devils are in form – could have a Fantasy renaissance this season.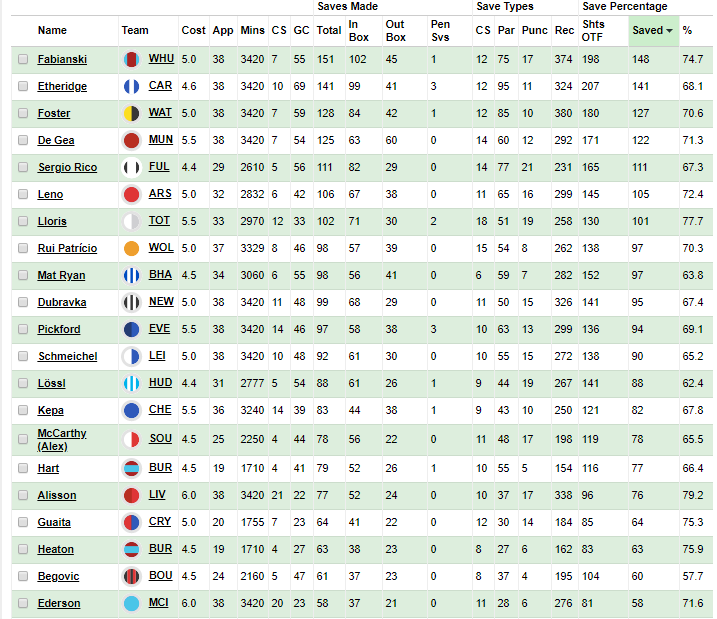 Above: goalkeepers ranked by saves in 2018/19.
---
We will have more FanTeam content between now and the start of Gameweek 1.
If you want sign up, CLICK HERE.
Our tournament code is: 171482. You can use that to SIGN UP HERE.