Having analysed the Goalkeepers, Defenders and Midfielders, we roll out the final piece in our series of Wildcard articles by focusing on the forwards. Factoring in the upcoming double Gameweeks, we look at short-term and long haul options across the price ranges, from cut-price alternatives all the way up to the premium protagonists on offer…
Robin Van Persie
Slotting in seamlessly to life at United, the Dutchman has continued the sensational displays that kept him head and shoulders above any other Fantasy asset last time round. While many other Fantasy prospects are capable of frustrating in any given Gameweek, Van Persie has scored or assisted in 16 of his 18 starts – highlighting the security and armband consistency that comes with his acquisition. With goals in seven of his last eight, his thirst for Fantasy points is as relentless as ever and while a 14.1 price tag is steeper than any other player by some distance, his performances so far have shown just why.
Luis Suarez
Second only to Van Persie in the FPL standings, the Liverpool forward has finally translated his Opta statistics into Fantasy returns this season. Fifteen goals and five assists over 20 appearances, in addition to 19 bonus points, has earned Suarez 127 points already – just nine less than his tally for the previous campaign. He does have a tendency to frustrate, however; with nine of those strikes arriving over four matches, Suarez has drawn blanks in eight of his 20 appearances, with a goal or assist in just six of his 11 matches at Anfield demonstrating the armband risk in comparison to Van Persie. The arrival Daniel Sturridge is expected to see a change in role for Suarez, with the Uruguayan moving either to the flank or "the hole" in order to accommodate the new boy – his talents should prosper regardless, however, and at 10.4 he's proven superb value thus far. Suarez has a tricky upcoming run of fixtures on the horizon, with trips to United, Arsenal and City in the next four, but his sensational festive form is unlikely to deter investors – he averaged over 10 points per game across Liverpool's last four matches. The Reds' schedule picks up significantly from Gameweek 26 onwards, for those who are reluctant to jump on board with the Wildcard but perhaps plan for acquisition later.
Demba Ba
The former Newcastle man has proven the most popular Fantasy target since the end of Gameweek 21, with a massive 170,000+ snapping up Ba ahead of Chelsea's double with Stoke and Southampton. While Rafa Benitez's rotational whims could very well scupper our best laid plans, Fantasy managers will be hoping that a brief 10 minute sub appearance against Swansea in Wednesday's Capital One Cup defeat is an indication of Benitez's intention to start Ba against Stoke on Saturday. In spite of his limited game time in the 2-0 loss, Ba showed more hunger and threat than Fernando Torres mustered in the previous 80 minutes and while the Spaniard is surely set to cut into Ba's minutes over the double, Benitez can surely ill-afford to omit a forward on the top of his game right now, following back-to-back home defeats in all competitions. After the double, the Blues have four home games (ARS, WIG, WBA, WHM) and trips to Reading and Fulham in the following eight Gameweeks – it may well be that Benitez's rotation will have dented his prospects by then but heading into this weekend's deadline without the 8.7 priced forward is a potentially dangerous tactic.
Rickie Lambert
The best value forward in the FPL game so far, Lambert has made a mockery of his initial 6.0 price tag and despite sitting sixth in the forward standings, has risen just 0.3 in price this term. A double Gameweek 22 sees Southampton travel to Villa and Chelsea and with goals in three of his last four on the road, Lambert has been in fine away form. With a home clash against Everton and a trip to Wigan in his next four, Lambert looks a strong short-term option – given his consistency, though, he could be worth holding onto beyond this spell, with goals against City and United earlier in the season highlighting his potential to produce.
Lukas Podolski
Two sets of double figure returns in his last four is indicative of the German international's recent form ahead of Arsenal's double Gameweek 23. Podolski has flown under Fantasy radars, with Theo Walcott and Santi Cazorla shaping up as the main protagonists for the Gunners' games against Chelsea and West Ham next week but his recent exploits suggest he may deserve our attentions. With five home fixtures in the next six Gameweeks (MCI, che & WHM,LIV, STO, sun, AVL) he looks a decent mid-price shout at just 8.2.
Papiss Cisse
The departure of Demba Ba to Chelsea is set to boost his compatriot's potential over the remainder of the season as Alan Pardew looks to last winter's signing to fire Newcastle up the table. Cisse has suffered from a change in role this term – Pardew's decision to field Ba in a central role, either in a 4-3-3 or 4-4-2 has proved hugely detrimental to his prospects, with the former Freiburg man shuffled out to the flank when the Magpies manager opted for a lone striker system. Clearly, the central role in a 4-3-3 suits Cisse –13 goals in 14 appearances in the latter part of last season attests to his abilities and with Pardew looking to return to this system, the 8.8 priced forward is back on Fantasy radars ahead of a run of fixtures that sees him square up to Norwich, Reading, Villa and Southampton in the next six Gameweeks.
Jermain Defoe
Having started all but one of his side's league matches this term, the 8.5 priced forward has been an integral part of his side's march into third place in the league and with 97 points accrued, he sits in fifth spot in the forward standings, with 10 goals and four assists to his name thus far. A cheaper, if somewhat less explosive Tottenham option than Gareth Bale, Defoe won't be deterred by four away trips in the next six (qpr, nor, wba, whm) – Spurs are the second top scoring away side have racked up 22 goals in their travels so far.
Edin Dzeko
Three goals in his last couple of starts bring the Bosnian into the reckoning as a decent short-term punt. While Sergio Aguero's "should" return next weekend from a hamstring problem, according to Roberto Mancini, Dzeko could well retain his starting berth ahead of Carlos Tevez, given his recent form. With games against Fulham, QPR and Southampton in the next five, the 7.4 priced Dzeko could well offer an in-form mid-price route into the champions' frontline over the next few Gameweeks, though his manager's penchant for rotation up top means his acquisition doesn't come without risk.
Steven Fletcher
Currently the seventh top scoring forward in the FPL game with 94 points, Fletcher remains something of a differential, with just 5% ownership. The 7.0 priced forward is set for an enticing run of fixtures which hands him five home games (WHM, SWA, ARS, FUL, NOR) in addition to trips to Reading, Wigan and QPR in the next nine – affording him plenty opportunity to add to his current haul of eight goals and three assists. Bonus point potential also plays a significant part in Fletcher's prospects – so far, only Van Persie's tally of 25 is superior to Fletcher's 20; the Black Cats have never lost a league game when Fletcher has netted, a sign of his importance to their attacking cause.
Dimitar Berbatov/ Bryan Ruiz
Bryan Ruiz's recent return from injury has made an instant impact on the Bulgarian's Fantasy prospects. Shifted into the more advanced forward slot, with the Costa Ruiz tucking in behind, Berbatov has produced a goal or assist in each of his last three, having previously gone seven Gameweeks without a goal or assist as a result of a more withdrawn role. Up next, he has three favourable home games in the next six (WIG, WHM, STO) to help Martin Jol's side climb the table after a recent run of poor results – averaging 5.1 points per game so far, in spite of the aforementioned drought, Berbatov's 7.1 price tag looks enticing, while Ruiz also offers potential. Coming in at a mere 5.4, he will appeal to those looking at a 3-5-2 formation going forward – Ruiz has scored or assisted in eight of his 12 appearances and has averaged 4.8 ppg, suggesting he's more than just a squad filler.
Christian Benteke
The one real positive of a hugely underwhelming season for Villa so far, the Belgian could be the difference between top-flight survival and a drop to the Championship. Since Benteke made his debut in Gameweek 4, Villa have scored 15 goals – the 6.7 priced forward has played a part in 10 of those strikes, with six goals and four assists helping him accumulate 10 FPL bonus points. With three home games in the next five (SOT, NEW, WHM) in addition to a trip to neighbours West Brom, Benteke looks a decent short-term acquisition in the mid-price bracket, with an ownership of 3.4% highlighting his differential appeal.
Kenwyne Jones
A price of just 5.0 could well appeal to those eyeing up a cut-price forward to free up budget for five premium midfielders. Since establishing a regular role in the Stoke first XI in Gameweek 14, Jones has scored or assisted in all four of his home appearances, racking up 31 points at the Britannia – on the road, he has failed to deliver, making his easy to bench when the Potters are on their travels. With four favourable home fixtures in the next nine (WIG, RDG, WHM, WBA), the Trinidadian could be a real differential prospect, with an ownership of less than 1%.
Pavel Pogrebnyak
The Reading forward is another who has found his way into some Wildcard teams on site due to the recent trend for a 3-5-2 alternative. Pogrebnyak seems to have cemented his place in the Royals' first XI once again and has started the last five, finding the net in each of his previous two Gameweeks. Priced at a mere 4.3 in FPL, he frees up plenty budget to be spent elsewhere, and with four favourable home games in the next eight (WBA, SUN, WIG, AVL), Pogrebnyak looks a viable pick if he continues his recent form and maintains his starts.
Angelo Henriquez
Wigan's loan signing from United is perhaps more of a punt, though is another who may appeal to those eyeing up a 3-5-2. Henriquez is likely to be afforded game time in light of Arouna Kone's African Cup of Nations departure and coming in at just 4.5 in FPL, could be an intriguing cut-price alternative, with home clashes against Sunderland and Stoke and trips to Fulham and Reading in the next six Gameweeks.
If you are leading your mini league by 100 points, do you just ignore this DGW and set your team up for the rest of the season? I feel like i am being sucked into this DGW by considering the likes of Lambert, Ba and Mata.

Your 100 points clear for a reason. Play for maximum points if you think there is value in the DGW act accordingly.

Wildcard is long-term, but you'll obviously want some DGW cover. Just don't make it so you have to mangle your team to get them out.

agree here, point is though you are bringing in Chelsea players; so you could easily take one from each position outfield which would work.

by issues is Torres/Ba Rotation, so I'm doubling up in Midfield, but also have one of these lined up to be subbed out next week (Hazard)

Yeah those 3 are terrible options to consider

I don't get it... 😐

Phew thank god I decided against Azpil and Turnbull and opted for Luiz and Ba to go with Mata.

It could just as easily be Ivan or Cahill dropping out, and Azpil keeping the LB spot.

Bego/3.9

Baines/Luiz/Clyne/(Davies/Demel)

Bale/Mata(c)/Fellaini/Walcott(JCole)

Ba/Lambert/RvP..

GW 23: Bale to Cazorla or Ba to podolski and Luiz to Gibbs for a hit also in mind(might not do it)..

Repost:

All suggestions appreciated

Any changes you would make to this wc team?

Turnbull – Begovic
Ivanovic – GIbbs – O'Brien – Davies – Demel
Mata – Bale – Michu – Fellaini – Puncheon
RVP – Suarez – Lambert

Also who would you captain and who would you bench

So who is going with a Captain aside from DGW players? And who?

Rvp is on fire predict 2 goals including pen

We all agree that getting DGW players in is the perfect scenario in which to make a -4 point hit?

Nasty -> Luiz (Done)
Silva -> Mata (?)

I would. Plus he is a season keeper.

I was sad to lose Silva, but he never does much to make me really regret it.

Agree about Silva. The odd assist not worth the dough.

Yes for Mata no one else. Maybe Ivan

Luiz (c) is ohhhhh so tempting

Right, my first (and hopefully last) RMWCT ! Any thoughts would be VERY much appreciated.........

Federici, Begovic

Gibbs, Davies, Luiz, Demel, Martin R

Walcott, Bale, Snodgrass, Fellaini, Michu

Lambert, Van Persie, Ba

Anything majorly wrong? Too generic?

How about Puncheon? Swap him to Snodgrass after the DGW

Starting from scratch and using current prices, what would you say is the best GK combo to go with?

Anything that gets you listening to the flaming lips has to be a good thing

Yoshida (c) it is

RMWCT .... final (!) version

Begovic - Bunn
Luiz - Gibbs - Clyne - Davies - Demel
Mata - Fellaini - Michu - Walcott - Puncheon
RVP - Suarez - Ba

Pretty standard, I know.
Thanks for opinions.

Do you have another wc in the backpocket?

Anyone whose seen both play, is Shaw more attacking than Clyne?

Not in any imaginable sense!

seriously thinking about captaining luiz think he is more likely to play both then mata and ba, plus if you have mata and ba and they do well it wont be too bad, luiz could get a 15 pointer in of these games with some luck

See cases for this above. What could go wrong? 😉

Soooo waiting until the last minute to see if I could get away with holding on to my wildcard may have just hit a wall. Do I go ahead and use it now? Lots of doubts on my squad....

0.3 in the bank

Turnbull (Rudd)
Davies Sagna Azpilicueta (McCartney, Cuellar)
Michu Mata Felliani Silva (Robson-Kanu)
RvP Berbs Suarez

HELP!

Maybe Ba and Mata will play both matches. Just throwing that out there because as the weeks gone on nobody seems to e considering it as a possibility anymore.

A) Fellaini + Ba + 1m
B) Mata + Berbatov + 0m

Anyone else really want to drop RVP from their team?
For fun?
To be different?
£7 mil spent across the midfield is way better value?

I'm just so bored with RVP week in, week out!!!!!!!

now that cuellar is injured. who is the cheapest most probable starter for sunderland in the foreseeable future?

Not sure. Same dilemma for me, can afford both actually.
Scout Picks
Gameweek 25
Janmaat

Williams

Alderweireld
Wijnaldum

André Ayew

Dele Alli

Roberto Firmino

Sánchez
From the Community…
Comments
Hot Topics
Articles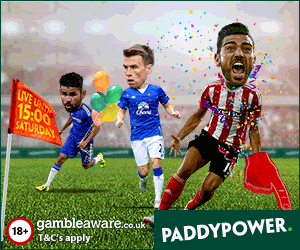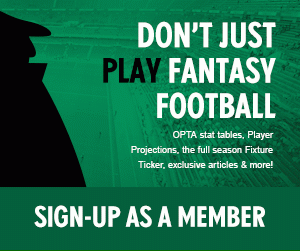 The Watchlist
Goalkeepers
Player
Club
Factors

Up

Forster
SOT

A

,

Vs

Down

Butland
STO

C

,

Vs

Up

Schmeichel
LEI

A

,

Vs

Up

Courtois
CHE

B

,

Vs

No Change

Boruc
BOU

B

,

Vs

Up

Hennessey
CPL

C

,

£

No Change

Cech
ARS

A

,

VsX

Up

Fabianski
SWA

B

No Change

De Gea
MUN

B

No Change

Adrián
WHM

B
Defenders
Player
Club
Factors

Up

Fuchs
LEI

A

,

Vs

,

£

Up

van Dijk
SOT

A

,

Vs

Up

Daniels
BOU

A

,

Vs

,

£

Up

Dann
CPL

A

No Change

Ivanovic
CHE

B

,

Vs

No Change

Alderweireld
TOT

B

No Change

Bellerín
ARS

B

,

VsX

Up

Johnson
STO

C

,

Vs

No Change

Cresswell
WHM

B

Up

Van Aanholt
SUN

A

No Change

Williams
SWA

B

,

£

Up

Smalling
MUN

C

Up

Coleman
EVE

B

,

Vs

Down

Dawson
WBA

C

Down

Moreno
LIV

C

,

Vs

Down

Kolarov
MCI

B

,

Rest

,

Inj
Midfielders
Player
Club
Factors

Up

Mahrez
LEI

A

,

Vs

No Change

Payet
WHM

B

,

Vs

No Change

Dele Alli
TOT

A

,

Inj

Up

Arnautovic
STO

C

,

Vs

,

Inj

No Change

Ozil
ARS

C

,

VsX

Up

Eriksen
TOT

A

Up

Antonio
WHM

A

,

Vs

,

Rest

,

£

Up

Sigurdsson
SWA

A

,

OoP

Down

Barkley
EVE

B

,

Vs

Down

Roberto Firmino
LIV

A

,

VsX

,

OoP

Down

Sánchez
ARS

C

,

VsX

Up

Lingard
MUN

B

,

Rest

,

£

Up

Khazri
SUN

B

Up

Oscar
CHE

B

,

Vs

No Change

Wijnaldum
NEW

B
Forwards
Player
Club
Factors

Up

Vardy
LEI

B

,

Vs

No Change

Kane
TOT

A

Down

Aguero
MCI

A

Up

Diego Costa
CHE

A

,

Vs

,

Inj

Up

Rooney
MUN

A

Down

Ighalo
WAT

C

,

VsX

Down

Lukaku
EVE

C

Up

Afobe
BOU

A

,

Vs

No Change

Giroud
ARS

B

,

VsX

,

Rest

No Change

Defoe
SUN

A
Selection Factors
| | |
| --- | --- |
| A, B, C | Current Form |
| Vs | Favourable Fixtures |
| VsX | Unfavourable Fixtures |
| Rest | Rotation Risk |
| Inj | Injured/Returning from Injury |
| OoP | Out of Position |
| £ | Potential Bargain |
| Sus | Suspended/Near Suspension |
| Player | Team | YC |
| --- | --- | --- |
| Colback | NEW | 9 |
| Byram | WHM | 9 |
| Lucas | LIV | 8 |
| Jones | SUN | 8 |
| Yacob | WBA | 8 |
| Westwood | AVL | 7 |
| Diego Costa | CHE | 7 |
| Huth | LEI | 7 |
| Can | LIV | 7 |
| Mangala | MCI | 7 |
| Shelvey | NEW | 7 |
| Pieters | STO | 7 |
| Dele Alli | TOT | 7 |
| Dier | TOT | 7 |
| Noble | WHM | 7 |
"All players will blank a few times during the season. When almost all do it in the same Gameweek, it is tough to take, but that's just the dark side of probability."

Abreu 42 Community regular