This article examines how the Fantasy managers that sit in the top 10,000 (at the point of the Gameweek 30 deadline) are shaping up ahead of Blank Gameweek 31.
Studying the most-owned players in Gameweek 30, seven of the "template team" are without a Premier League fixture next weekend.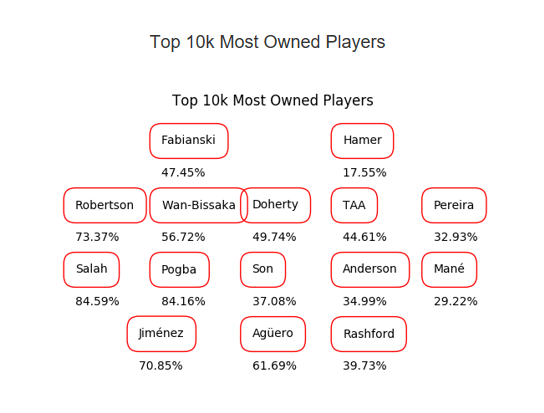 Aaron Wan-Bissaka (£4.5m), Matt Doherty (£5.4m), Paul Pogba (£9.0m), Son Heung-min (£8.8m), Raul Jimenez (£6.9m), Sergio Aguero (£11.9m) and Marcus Rashford (£7.7m) blank in Gameweek 31 due to the clash with the FA Cup quarter-finals.
Doherty, Wan-Bissaka, Pogba, Jimenez and Aguero are each owned by around 50% of FPL managers or more in the top 10,000.
11.2% of the top 10k own all five of these players.
As the graphic below shows, three of the four clubs with the most representation in the top 10k are without a Premier League match in Gameweek 31.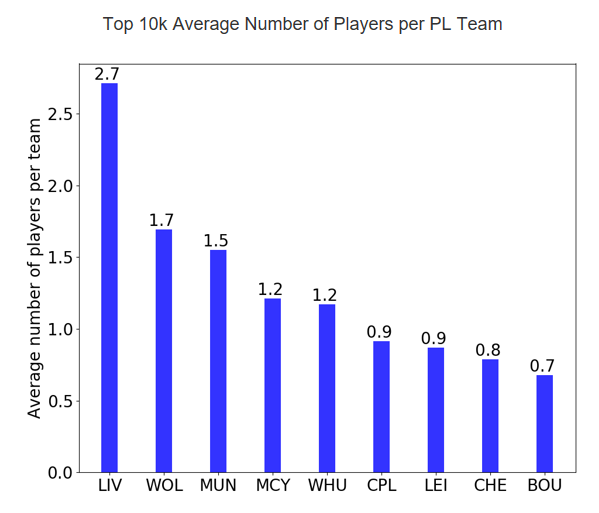 The combined average number of players just from Wolves, Manchester United, Manchester City and Crystal Palace in the top 10,000 FPL squads is 5.3, suggesting there are plenty of these elite managers who aren't yet in a position to field a full complement of Fantasy players in Gameweek 31.
Chip Usage
43.5% of FPL managers inside the top 10,000 have all four of their chips – Wildcard, Free Hit, Bench Boost and Triple Captain – still available, as the below graphic shows.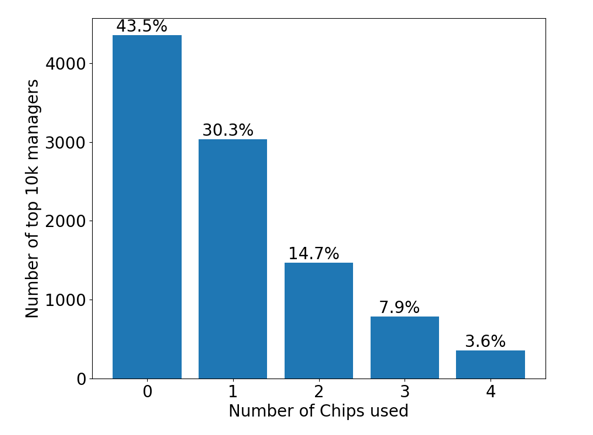 Over 25% of the top 10k have already used two or more of their chips going into Blank Gameweek 31.
The breakdown below shows which chips have already been used by our leading FPL bosses.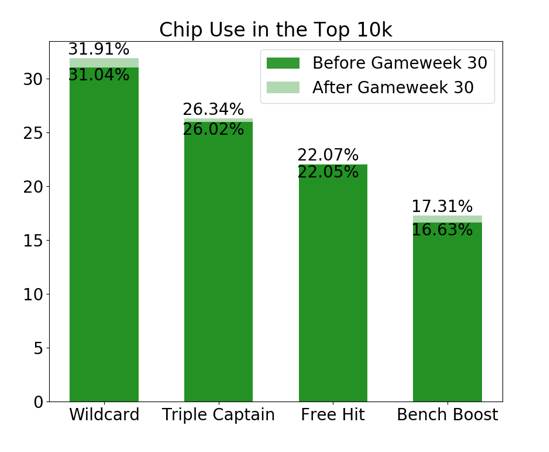 Almost 32% of the FPL bosses inside the top 10,000 have already used their second Wildcard, while 2,207 of these managers will have to navigate the weeks ahead without their Free Hit chip.
More than one in six of these managers have already deployed their Bench Boost chip.
Individual player ownership
The below table shows how well-owned this cherry-picked selection of players are among the top 10,000 FPL managers.
All of these Fantasy assets have league fixtures in Gameweek 31.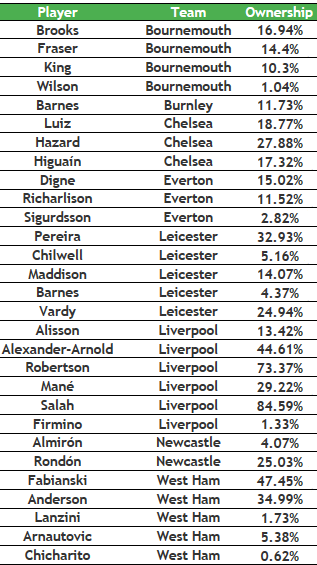 Gameweek 30 Captaincy
We have focused mostly on Gameweek 31 in this piece but the below graphic shows the spread of Gameweek 30 captaincy picks within the top 10,000.
Almost 9% of the top 10,000 managers look primed for a rank hike after Raheem Sterling's (£11.4m) hat-trick on Saturday evening.
You can view more Gameweek 30 stats on Ragabolly's site here.