The second and biggest Blank Gameweek of the season takes place this weekend.
Ten teams are without a Premier League fixture due to the clash with the FA Cup quarter-finals, meaning we have just five top-flight matches to choose from as we assemble our Fantasy teams ahead of Saturday's deadline.
The five fixtures still going ahead are: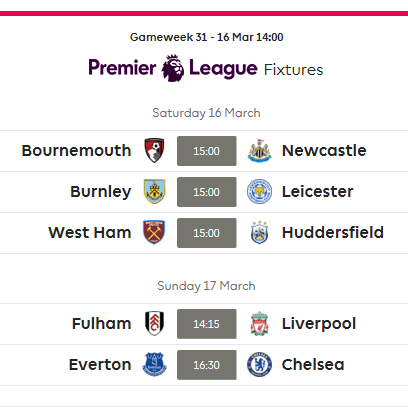 While there will be plenty of Fantasy managers who decided on their strategy for Gameweek 31 and beyond some time ago, there are still those amongst us who will be pondering whether to activate our Free Hit chip this weekend.
There may even be a percentage of FPL bosses who a while back decided to use their Free Hit chip in Gameweek 31 (or left themselves open to the possibility) who are now having second thoughts – perhaps if they have, say, five or more active players already or if they are questioning the appeal of the unaffected fixtures.
Certainly, the volume of requests for help in our Comments section and on Google suggests there is still a degree of uncertainty among some members of the Fantasy community.
How Fantasy Football Scout users are approaching Gameweek 31
Last week we ran two specific polls on Gameweek 31, asking Fantasy Football Scout users first for how many players they plan to field this weekend and secondly for how many points they'd be willing to sacrifice in FPL hits if they are instead planning to Free Hit in Gameweek 32.
The results as of March 11 are as follows: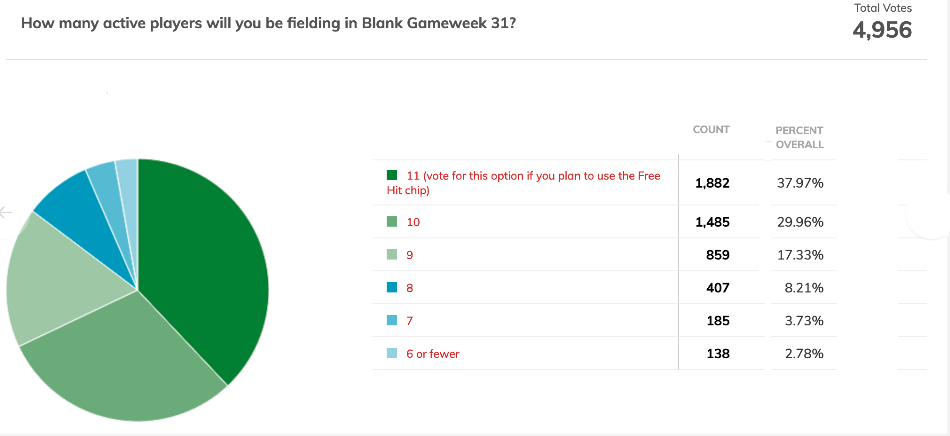 Almost one-third (32.05%) of Fantasy managers polled planned to field nine or fewer active players in Blank Gameweek 31.
Over one-third (37.97%) aim to have a full starting XI with a league fixture (possibly with the use of the Free Hit chip), while just under 30% hope to have ten players in action.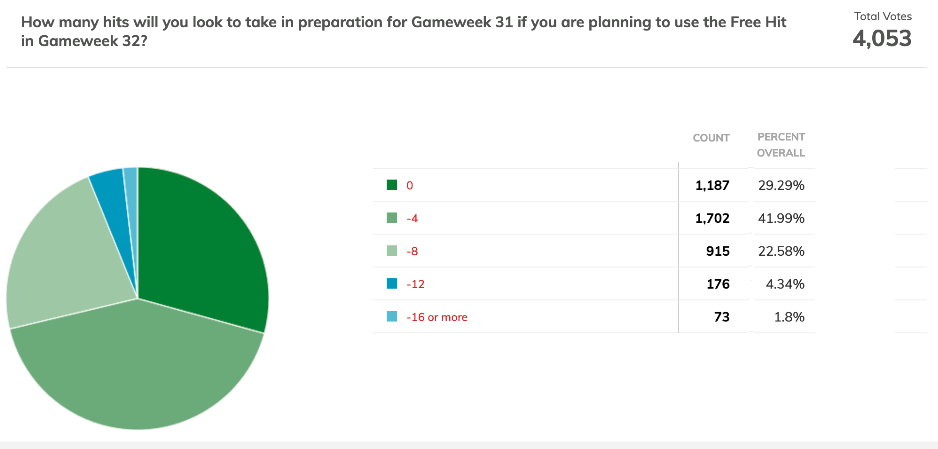 Among those managers who still have the Free Hit chip and who are planning on instead using it in the as-yet-to-be-fully-announced Double Gameweek 32, over 70% will be taking at least a -4 hit.
A not insignificant 28.72% plan to take a hit of -8 or worse, meanwhile.
How the top 10,000 FPL managers currently shape up ahead of Gameweek 31
On Saturday we ran our regular top 10k metrics article, which uses data mined from Ragabolly's site.
After a bit of number crunching, we now know that, as of the Gameweek 30 deadline, the top 10,000 Fantasy managers in the world had an average of 7.77 "active" players in their squads for Blank Gameweek 31.
By active, we mean Fantasy assets whose clubs have a fixture in Gameweek 31 – what that figure doesn't show is any flagged FPL players (be it through injury, suspension or Aboubakar Kamara-type unavailability), non-playing bench fodder or incidences of two goalkeepers being selected from the same club.
Those variables will likely lower the current average to nearer the 7.00 mark, pre-Gameweek 31 transfers.
A team-by-team breakdown of the ten clubs in action this weekend reads as follows:
| | |
| --- | --- |
| Team | Avg no. of players in top 10k squads |
| Bournemouth | 0.68 |
| Burnley | 0.23 |
| Chelsea | 0.79 |
| Everton | 0.37 |
| Fulham | 0.07 |
| Huddersfield Town | 0.30 |
| Leicester City | 0.87 |
| Liverpool | 2.71 |
| Newcastle United | 0.58 |
| West Ham United | 1.17 |
Many Fantasy managers in this sample of the world's leading 10,000 managers already have a triple-up on Liverpool, with West Ham, Leicester, Chelsea and Bournemouth some distance behind as the next-most-popular clubs who have a fixture in Gameweek 31.
Free Hit in Gameweek 31 as part of a wider strategy
Three weeks ago we outlined the pros and cons of three different chip strategies that Fantasy managers may decide to use going into the blanks and doubles ahead.
Strategy 3 in the linked article incorporated using the Free Hit chip in Blank Gameweek 31 as part of a wider approach.
We'd certainly urge anyone thinking of that strategy (or something similar) to look at the advantages and disadvantages of the different scenarios – not that those approaches are the only ones.
Many of the pros and cons in that piece are still valid but an additional downside to the "building for Double Gameweek 32" strategy is that we won't know the exact details of that Gameweek until the rearranged fixtures are announced some time after the FA Cup semi-final draw has been made (next Monday at the earliest).
Final Thoughts
As ever, there isn't a definitive answer to a question such as this.
Opinions on strategies are subjective and completely dependent on an individual's Fantasy squad.
FPL bosses probably need to ask themselves a number of initial questions going into this weekend:
How many players could I get out using free transfers or perhaps by taking a points hit?
Do I still have my other chips available?
What is my wider approach to the season run-in beyond Gameweek 31, including how do I tackle Gameweek 33 when many of the same clubs will blank again?
Do I think the players I can draft in on a Free Hit in Gameweek 31 are worth building a team around and sacrificing a chip for?
Fantasy managers perhaps needn't think that a full starting XI is a necessity this weekend: the results of our FFS poll and analysis of the top 10k shows that there are plenty of managers, even the high-flying ones, who won't be able – or are choosing not – to do so.
Of course, should an FPL boss be in a position where they may only currently have two or three assets in action, then the Free Hit chip looks all-the-more enticing.
While there is plenty to be gained by being able to cherry-pick 11 players this weekend, it could be argued that a higher points ceiling exists by deploying the Free Hit chip in a Double Gameweek (likely to be Gameweeks 32 and 35). The counterpoint to that argument, of course, is that Bench Boost or Triple Captain couldn't be used in the same Gameweek.
An example of a Free Hit starting XI this weekend might be something like:
Fabianski; Robertson, Luiz, Rice; Salah, Mane, Hazard, Brooks; Wilson, Higuain, Vardy.
Fantasy managers perhaps need to also ask themselves:
How many players from a Free Hit team such as this do they already have
How many would they realistically want (e.g. are Leicester defenders/West Ham midfielders worth it given their current form?)
How many points they could see this sort of team scoring versus how many they predict their own current team will rack up
Whether any potential drop in overall rank this week could be more than compensated by using a Free Hit chip further down the line
As ever, the "right" approach regarding the Free Hit chip will differ from manager to manager. Hopefully, some of the pointers listed above can help those FPL bosses who are still wavering come to a final decision.
You can still vote in (and see the shifting results of) our two polls below: