With our Fantasy Premier League contenders brought into focus earlier this week, we switch attention to our other supported Fantasy pursuit this term, with a glance at the current Scout League rankings in the Sky Sports Game and the latest transfer market activity…
The Scout League
The "Vuvuzela Symphony" plays on and enjoyed a boisterous Gameweek as Chris Tuck not only retained top spot in the Scout League, but climbed to second in the overall rankings with a score of 602. He is now just seven points shy of the summit and being name-dropped on the Fantasy Football Club. Tuck's outstanding showing has left the chasing pack trailing, with Charles Mouzon's "Geordie Boys" some 22 points behind on 580, while Gary Paterson's "Pack Leaders" are back on 574 and 28 behind our leader.
Andy remains the top Scout contributor in the game and is now 32nd on 524 points – back in the ascendancy, then, along with my team which jumped up to 1562 in the world, thanks in the main to Robin Van Persie's Stamford Bridge returns.
A reminder that if you're playing the Sky Sports game and have yet to join our league, you can sign up to the FFScout League with this Pin: 8004519. We have a home cinema system, worth £600, available to the winner.
Market Forces
There's been a big surge in activity in the transfer market this week with the weekend's injuries no doubt providing a catalyst for change. It's no surprise to see that Robin Van Persie ousts Juan Mata as the most transferred in player following his performance at Chelsea – the Dutchman goes into this Gameweek as the most popular Captain choice in the game and, just as he does in the FPL, looks unshakable as an option up front. Almost 25% of the transfers made this week have seen Van Persie brought in. Mata's appeal remains strong with 14% of transfers involving the Spaniard, although he is superseded by two goalkeepers, with Chelsea's Petr Cech and Stoke's Asmir Begovic both part of over 20% of the transfers in made over the past seven days.
The need for a new stopper has been caused by the injury to Michel Vorm, who has suffered huge sales this week – he's been involved in 32% of the transfer out deals. There's been a general exodus of keepers with Pepe Reina suffering big sales after being kept on the bench at Everton, while patience with Joe Hart is wearing thin – he has been subject of 11% of transfers out this week. Elsewhere, Chelsea' Fernando Torres is mirroring his continued slide in FPL ownership, with a decline in this market. Over 17% of transfers out involved Torres this week with Van Persie and Jermain Defoe seemingly the most popular replacements.
The Fantasy Football Club
It's Darren Anderton's turn to make his way into the Fantasy Football Club studio – we've heard his fully fit and should make tonight's episode. Join Fenners and Merse from 10pm later on Sky Sports 1.
So Demel, Cuellar, Guthrie and BA doubtfull / not playing

Thinking of doing Rangel to Cameron and then just hoping Cuellar / BA play ( other 2 benched)

Thoughts welcome thanks

Thread on the Sunderland Forum SMB saying that Fletcher is a doubt for tomorrow......

That match is going to be so grim

If it's not last or second last (Norwich and Stoke) on MOTD I'll eat my own underpants

Why am I not surprised to see this post?

And understatement of the year goes to Paul Lambert when talking about Benteke

"He's not the finished article by a long shot"

Do you (or anyone else) know what is going on with Bent? I find it astonishing that he isn't getting starts.

It's obviously got personal between Lambert and Bent. And when that happens the manager always has the power and will happily be stubborn to make a point.

Cheers for replies. Beggars can't be choosers is a phrase Lambert should maybe take on board. I quite like Paul Lambert and loved him as a player but I hope his stubborn attitude with Bent doesn't indirectly get him the sack.

That I made a mistake having him in my team at the start of the season? 😉

Anything worth a hit in this team?

Begovic

Ivanovic/Ridgewell/Cuellar

Mata/Yaya/Bale/Mcclean

Rvp/Ba/Berbatov

Mccarthy Dyer Demel Wilson

Nothing is really worth a hit but you have to get rid of Wilson & Demel some time. Might as well do it this week to field 11 (if you are lucky).

Ba and valencia in for aguero and Nolan?

I'm set on bringing in Valencia and losing aguero.

Aguero should be a fairly big differential I should think and West Ham are not at full strength at the back

Is that for free?

I think ba probs has more chance of starting than aguero plus I want Valencia v arsenal!

Mason, you asked about potential rotation risk for Simpson. Its possible that for our easy little run after liverpool, that pardiola will try ferguson at left back and santon at right back, as very attacking full backs with a 4-4-2 diamond. This would be the best way to to utilize the players we have (if pardiola insists on sticking with two up front).

4-4-2 diamond!! That would be a shock! Is Pardew that tactically adventurous?

Its the only way that i can see us fitting both dembas in. I'm convinced that we would have played that from the start if we had got debuchy. But simpson is just not good enough attacking. Defenitely worth trying ferguson there I reckon.

Seems a bit far fetched to me, personally .. can't see it happening in the PL unless we're hit by injuries. Simpson not great going forward but he plays on the same side as Ben Arfa so it doesn't usually matter so much.

But normal 4-4-2 isn't working. And pardiola seems determined to play with two centre forwards.

The 4-4-2 most definitely isn't working IMO. Outnumbered and outtriangled with only two men in midfield. I think when Anita's played he's just been confused TBH, he comes from this amazingly tactical club like Ajax and ends up basically playing for England. The passing in midfield looks so inferior to last season's that I think you're trying to bypass midfield completely now, just hoof it to Ba and see what happens.

I think the best thing is to return to 4-3-3, play Ba CF, Cisse as a second striker off him to the left, Barfa right forward. I can understand why Pardew has found it so hard to do that because the pecking order of the strikers seems a very sore point.

Here's my team
Foster (Federici)
Baines, McAuley, Cuellar, Ivanovic, Gorks
Michu, Bale, Pienaar, Nolan, Santi,
Ba, Berb, Jelavic

Was going to trade--
Jelly>Suarez
McAuley>Nelson or Fonte

Limited by price, of course. Otherwise I might drop others.
Good idea? Bad idea?
Any advice much appreciated

Do you think Mata destined to fall if he doesn't feature today?

Considering Mata -> Valencia with selling price of 9.2, and Cazorla -> Mata when he's fit.

Who would you bench from this front 8?

Hazard - Cazorla - Pienaar - Nolan - Sterling
RVP(c) - Defoe(vc) - Giroud

Ta.

Not so sure. I don't think it will be quite as easy a match as people expect for man u tomorrow.

On the subject of Mata, even if he was fit for this weekend, I'd doubt he'd start seeing as he's played in the two games against United and Chelsea have a tough game midweek against Shakhtar in the CL.

Good afternoon guys, was just wondering who I should bench out of this lot?

Begovic/Jaas

Baines/Ridgewell/Nelsen/Hangeland/Wilkinson

Hazard/Michu/Sterling/Bale/Nolan

Tevez/Berba/RVP

Currently have Sterling, Hangeland and Nelsen on the bench

For all of yous worried that you are spending too much time on this game, thinking that you would be able to do just as well if you didn't spend hour planning out transfers, etc, since I started my new job at the start of October, where I actually have to work, and can't spend hours on my team planning spreadsheets, I have dropped from close to 50,000, to closer to 250,000!!

Help me!

Team is:

Jussi / Federici

Baines / Gibbs / Rafael / Huth / Clyne

Michu / Pienaar / Cazorla / Ben Arfa / Nolan

Rooney / Ba / Lambert

Any advice on a change for this week? One free transfer, 1mil in the bank!

need some help ...

rmt

berg , cerny
nelson , cuellar , shawx , simpson , mcaurtney
mata , bale , hazard , michu , sterlin
rvp . teves , pog

should i sell mata or keep him ?
if i sell i would upgrade defense or striker .. ba ?

on wc

Goalkeeping dilemma: foster or ruddy?

SOT always manage to sneak one in and norwich always manage to concede :angry:

Definitely foster. Have u watched Norwich this season?

Should I stick or transfer? Any transfers would be hits. 2.1 in bank.

1) Mata > Bale
2) Keep Mata and play Pienaar or Nelsen this GW.
3) Mata > ?? (Someone else)

Foster (Bego)

Caulker – Cameron – McAuley – (Nelsen) – (Demel)

Dempsey – Michu – Sterling – Mata – (Pienaar)

RVP – Tevez – Jelavic

Thanks

Nelson or Gorkss?
Or both?

Nelsen. I like Cameron as well.

This is the first week where I'm not sure of which moves to make. My current FL is Tevez, Berba and Ba. I'd like some input on these options Please. I have 2FTs.

1) Ba and Ivanovic --> Rooney and Rafael/Clichy

2) Ba, Ivanovic and Ridgewell --> RVP, Gorkss and Simpson -4

3)Tevez and Ivanovic -- > Rooney and 6.5 mil defender

4) Tevez and Ivanovic --> RVP and Simpson

Why take Ivan out?
Chelski's fixtures aren't terrible.

You plan on keeping Mata I take it. Think he'll play do you?

Out of these options, i would go with 2. Except someone other than Gorkss. Like Cameron or Caulker.

i also have the same FL with tevez ba berba
i am may be just inclined to keep it this way only
wat say ?

How long will Demel be out?

Two weeks ish, says Alladyce.
Two weeks + I reckon.

If Mata plays, he might have a cameo like Fabregas a couple a seasons ago, against Villa was it? Injured but still came on and ran the game.....

If anyone has any Fantasy League questions or needs help with their team, leave your questions here.
Only comments/questions submitted before 10pm Friday will be answered.
I will give my honest opinion and a detailed answer.

I dont know if anyone has noticed but Fulham have only conceded 2 goals at home so far this season and those were to City.
Scout Picks
Gameweek 25
Janmaat

Williams

Alderweireld
Wijnaldum

André Ayew

Dele Alli

Roberto Firmino

Sánchez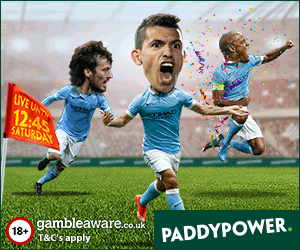 From the Community…
Comments
Hot Topics
Articles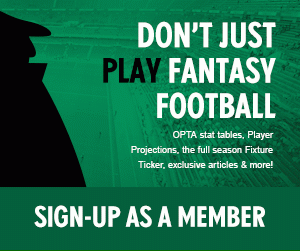 The Watchlist
Goalkeepers
Player
Club
Factors

Up

Hennessey
CPL

C

,

Vs

,

£

Down

Butland
STO

C

,

Vs

Up

Schmeichel
LEI

A

Up

Forster
SOT

A

Up

Courtois
CHE

B

,

Vs

Up

Fabianski
SWA

A

No Change

Boruc
BOU

B

No Change

De Gea
MUN

B

No Change

Cech
ARS

B

,

VsX

Up

Foster
WBA

C

,

VsX
Defenders
Player
Club
Factors

Up

Ivanovic
CHE

A

,

Vs

Up

van Dijk
SOT

A

Down

Baines
EVE

B

,

Vs

Up

Dann
CPL

C

,

Vs

Up

Cresswell
WHM

B

,

Vs

Up

Williams
SWA

A

No Change

Dawson
WBA

C

Down

Alderweireld
TOT

B

No Change

Daniels
BOU

A

,

£

No Change

Fuchs
LEI

A

No Change

Van Aanholt
SUN

A

,

VsX

Down

Bellerín
ARS

C

,

VsX

Down

Smalling
MUN

C

Down

Moreno
LIV

C

,

Vs

Down

Johnson
STO

B

Down

Kolarov
MCI

B

,

Rest

,

Inj
Midfielders
Player
Club
Factors

No Change

Payet
WHM

B

,

Vs

Up

Roberto Firmino
LIV

A

,

Vs

,

OoP

Up

Dele Alli
TOT

A

,

Inj

Up

Barkley
EVE

C

,

Vs

Up

André Ayew
SWA

A

,

OoP

Up

Eriksen
TOT

A

Down

Ozil
ARS

C

,

VsX

No Change

Mahrez
LEI

C

,

VsX

Up

Sánchez
ARS

C

,

VsX

,

Inj

Up

Antonio
WHM

A

,

Vs

,

Rest

,

£

No Change

Willian
CHE

B

,

Vs

,

Inj

No Change

Wijnaldum
NEW

B

Down

Arnautovic
STO

C

,

Vs

,

Inj

Up

Silva
MCI

C

No Change

Johnson
SUN

B

,

VsX
Forwards
Player
Club
Factors

No Change

Aguero
MCI

A

No Change

Kane
TOT

B

Up

Vardy
LEI

C

Up

Diego Costa
CHE

A

,

Vs

,

Inj

No Change

Ighalo
WAT

C

,

VsX

Up

Rooney
MUN

A

Down

Lukaku
EVE

C

,

Vs

No Change

Giroud
ARS

B

,

VsX

,

Rest

Up

Afobe
BOU

A

,

£

Down

Austin
SOT

B

,

Inj
Selection Factors
| | |
| --- | --- |
| A, B, C | Current Form |
| Vs | Favourable Fixtures |
| VsX | Unfavourable Fixtures |
| Rest | Rotation Risk |
| Inj | Injured/Returning from Injury |
| OoP | Out of Position |
| £ | Potential Bargain |
| Sus | Suspended/Near Suspension |
| Player | Team | YC |
| --- | --- | --- |
| Colback | NEW | 9 |
| Lucas | LIV | 8 |
| Jones | SUN | 8 |
| Yacob | WBA | 8 |
| Byram | WHM | 8 |
| Westwood | AVL | 7 |
| Diego Costa | CHE | 7 |
| Huth | LEI | 7 |
| Can | LIV | 7 |
| Mangala | MCI | 7 |
| Shelvey | NEW | 7 |
| Pieters | STO | 7 |
| Dele Alli | TOT | 7 |
| Dier | TOT | 7 |
| Noble | WHM | 7 |
"All players will blank a few times during the season. When almost all do it in the same Gameweek, it is tough to take, but that's just the dark side of probability."

Abreu 42 Community regular