Ahead of each Gameweek deadline, we here at Fantasy Football Scout provide a Scout Picks line-up that picks out the standout Fantasy Premier League (FPL) players for the upcoming round.
But what if Scout put our collective efforts into one season-long team, too? Rather than individual advice towards one Gameweek, this would be a long-term team effort that strategises for a marathon, not a sprint.
Thanks to our partners at Premier Fantasy Tools (PFT), we can use this pre-season downtime to build an initial 15-man squad, plan future transfers and reveal it to the watching world.
And we'll be using PFT's FPL Planner Tool to do this. By becoming a PFT Supporter for just £1.25 per month or by signing up to the FFS/PFT 'bundle deal', users can view this Scout super-squad, disagree with it and then personalise their own copy.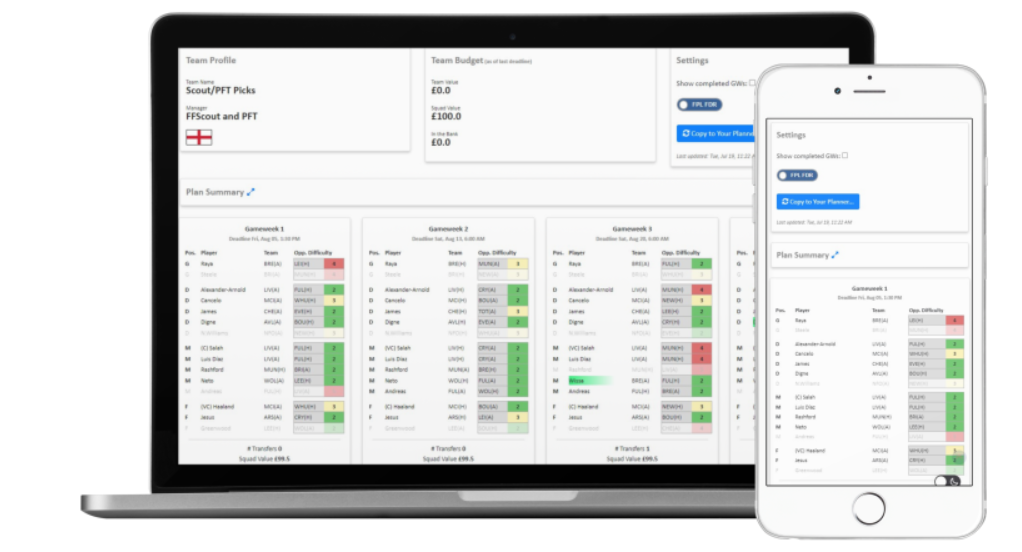 ADVANCED PLANNING: Get access to a plan curated by a team of managers from both Fantasy Football Scout and Premier Fantasy Tools. Get insight into transfer plans, chip usage, captaincies and more decisions that go beyond just the next Gameweek.
COPY AND CUSTOMISE: As a Supporter, you can replicate this curated plan to your own personal planner, allowing you to tweak certain decisions to suit your preferences.
PLAN SUMMARY: See a snapshot of your FPL plan for all 38 Gameweeks.
AVAILABLE ON ALL PLATFORMS: You can view and tweak your FPL plan on any mobile device or laptop. Apps are also available via the App store and Google Play.
JOIN OUR MINI-LEAGUE
For a chance to defeat this super squad and show us up, feel free to join our 'Beat the FFScout/PFT XI' mini-league with 65xmu5 as the code.
PREMIER FANTASY TOOLS
As well as this team planner, there is a great range of FPL tools for managers to use throughout the season.

Fantasy Football Community covered the main selling points of PFT, such as the Live Rank and Hindsight Dream Team features.
Manager Tracker is a useful way to gather all of your favourite FPL managers into one place, so you can track their weekly progress and learn the things that make them great.
Meanwhile, there are tools that monitor fixture difficulty, all-time rankings, captaincy picks, transfer recommendations and much more.