Filed under: Feature - Posted by: Chris Glover
Not all Fantasy points are created equal. While we obviously want to maximise the total returns gained over the course of the season, on an individual level we also need to account for the cost of those points and the certainty with which they can be projected.
Cost is fairly easy to measure by looking at points divided by millions of pounds spent. Risk, however, is more tricky but will be defined here as an inconsistent player. For example, consider the two players below:
| | Gameweek 1 | Gameweek 2 | Gameweek 3 | Gameweek 4 | Average |
| --- | --- | --- | --- | --- | --- |
| Player A | 5 | 6 | 5 | 5 | 5.25 |
| Player B | 10 | 1 | 2 | 8 | 5.25 |
Both players give you the same total points but Player B's erratic production is much harder to anticipate and can have a negative impact for a variety of reasons:
Transfer targets become difficult to predict, as you don't know if Player B is a legitimate Fantasy option or merely someone who had a couple of standout games. It's much more likely that Player A will be able to maintain his production going forward.
Squad players become trickier to rotate in your first XI, as you're unable to predict with any certainty just what they might contribute that Gameweek. If you play a player week in, week out, this isn't an issue, but if you are looking to rotate a player, consistency can be a valuable asset.
Inconsistent players are far more difficult to manage when it comes to the captain's armband, someone like Player B could explode or flop in any given Gameweek. Captain him every week and this is not a concern but if, like most Fantasy managers, you change your captain on a regular basis, this unpredictability just increases the risk involved.
This data can only be used alongside other factors as it is (a) retrospective rather than predictive and (b) it isn't necessarily a good idea to rid yourself of all risk in your side as this will also limit potential.
That said, we can attempt to identify comparable players who might bring equally good production potential for less risk, and thus represent a better use of your team's valuable funds.
Before we start, a note about the charts included in this article. They plot a players average (mean) Gameweek score, against the standard deviation of those scores – eg: the level of rise and fall week by week, as a representation of the "risk" involved with a player. The further a player appears to the right of the X axis (bottom horizontal axis) of the chart, the greater the deviation or risk involved. The further the player appears up the Y axis (left vertical axis) – the greater their average Gameweek score. Ultimately, we're looking for players with strong Gameweek scores, with as low a risk factor as possible – these players give strong returns but, crucially, are also consistent.
Let's begin by looking at the forwards…
We can immediately see that in general, higher reward is accompanied by higher risk. This stands to reason – the top players have the ability to score double digit points in any given Gameweek, and thus have further to fall when things don't go their way. However, there are a couple of match-ups where the 'risk' involved could be deciding factor:
Sergio Aguero vs Wayne Rooney – The Manchester rivals have been tough to distinguish this year. Both have averaged around six points per game, though Rooney has edged ahead in the past fortnight in terms of points per week thanks to a couple of big performances.
The popular perception is that Rooney brings a level of consistency matched by few but, in fact, his points total has been boosted by a handful of huge performances, including back-to-back hat tricks in Gameweeks three and four. That in itself isn't a big problem but the fact that these displays have come against the likes of Chelsea, Liverpool and Arsenal made it likelier that Rooney wasn't given the captain's armband by his owners on those occasions.
Starting with Blackburn at home this weekend, Man City have the slightly more favourable fixtures in the short-term, and with Aguero consistently chipping in with good returns, he might just be the wiser choice right now.
Emmanuel Adebayor and Demba Ba vs. Elite forwards – there is a strong argument based on the above data, to plug both Adebayor and Ba into your lineup, using the funds saved to invest in midfield (where cheaper, consistent talent has been very hard to find). Both mid-price strikers have managed to deliver great consistency to match their high returns, as opposed to other flash-in-the-pans assets whose production has been erratic at best (we're looking at you, Yakubu). Both Tottenham and Newcastle have a strong set of fixtures on the horizon, so while it isn't controversial to suggest this pair is worth owning, there's an argument to suggest that they can be owned instead of Rooney and Aguero, rather than alongside them.
Daniel Sturridge vs Edin Dzeko – Sturridge started the season on the sidelines and a lack of stand-out individual performances have really kept him out of the Fantasy headlines. His ownership has crept up into double digits but that level is still below what one would expect for a player with Sturridge's risk/reward profile. He has found the net in eight different games, not far behind Rooney, Aguero and Ba (10) but a lack of substantial returns has suppressed his overall points total, and thus the interest of Fantasy managers. It goes without saying that Chelsea, and hence Sturridge, lack the upside of the two Manchester teams but if you're looking to save some cash up top, or to differentiate from the widely-held Ba, Sturridge brings consistent returns, not often found for a player in his price range.
Steven Fletcher vs All other sub-7.0m forwards– the Wolves front man gained some attention during his solid run of form a few weeks back, but the above chart shows he may still be a touch undervalued. Yakubu and Zamora have both been more fancied Fantasy assets at some point this year but they carry much more risk than Fletcher, who has simply shown up and delivered close to five points per game at an almost unmatched level. Zamora may have a slightly higher upside but, if you're a position to be rotating your third forward, Fletcher's consistency makes him a very desirable option.
Steve Morison vs Danny Graham and Grant Holt – Morison has only delivered points on a league average basis, so this isn't going to be the most exciting decision you make for your team. However, the attributes for a good third forward (who will often find himself benched) must include a level of consistency and Morison enjoys an advantage in that area, ahead of the group of comparable four-point-players. He's found himself benched in the last two weeks and those concerns must obviously be addressed first, but if you believe he can get back into the Norwich lineup, he remains one of the best budget forwards to own.
You can immediately see the correlation is stronger among midfielders with fewer outliers to highlight. There are however, a couple of familiar names that are worth highlighting:
David Silva vs. Everyone else – Okay, admittedly, highlighting the second-top scoring midfielder around, owned by 44% of FPL managers isn't going to win any awards for investigative journalism. However, idle wildcards are the devil's tools and with Gareth Bale and Clint Dempsey continuing to impress, there may be many managers tempted to turn their collective backs on the Spanish maestro.
While looking for the next big thing is obviously a sound idea, the above data merely lends further weight to the fact that Silva is simply too good to drop. Bale has the edge on him in terms of pure point production per game but he has been significantly more unpredictable, raising the question as to whether Bale's form will continue for the remainder of the season.
Silva, on the other hand, has failed to score or assist a goal in back-to-back starts just twice all season. When spending 10.0 plus, the security of knowing what you're getting for your money is a huge benefit, especially if that stability is not accompanied by a downgrade in overall production. Assuming most Fantasy managers reading this already own Silva, this may be one area where apathy wins out . Doing nothing might just be the way to go with Silva – that transfer itch might be better scratched elsewhere.
Theo Walcott vs Mid range midfielders – Consistency isn't the first word you associate with the frustrating Walcott but, in Fantasy terms at least, he has been exactly that this season. The winger chipped in with nine games of between five and nine points compared to fourteen disappointing outings, which doesn't sound great in a vacuum but actually compares favourably to several more fancied options: Stephane Sessegnon (9 vs 14), Nani (8 vs 14) and Dempsey (8 vs 13). The high scores have been limited, which has really kept Walcott out of Fantasy managers' minds and thus he represents a good buying opportunity given his high floor and mid-range ceiling. Having been dropped for Alex Oxlade-Chamberlain the FA Cup trip to Sunderland last weekend, however, Walcott's starts will need to be monitored, with a first-team starting place perhaps under question for the first time this season.
Consistency of defensive points is always going to be tied more to a player's team than his own ability, so the analysis here is less telling, but a couple of names still pop up which deserve a quick mention:
Kyle Walker vs Benoit Assou-Ekotto – With a couple of big performances over the past six weeks, Assou-Ekotto has leapt to the top of the defensive points charts, though the above would suggest that team-mate Walker represents better value. Aside from the fact he is slightly cheaper and owned by less than half as many Fantasy managers, Walker has also delivered slightly better per-game returns on a much more consistent basis. Throw in Walker's comparable, or marginally better, performance stats (including shots on goal and key passes) and you have a clear cut differential candidate who should remain on the radar.
Vincent Kompany vs Thomas Vermaelen – Vermaelen has rarely been a hot Fantasy property this term, but his positioning in our chart illustrates a worthy point of note. Defensive goalscorers obviously carry significant potential but the unpredictability of those returns can often limit a player's value. If the goals have come in games where logic suggests the player should have been benched in our Fantasy lineups, they may have been wasted, but would have still boosted a player in the overall scoring charts.
Vermaelen has earned a large portion of his points from offensive production so, unless you are willing to play him every week, he looks way too unpredictable to justify his decent returns when compared with someone like Kompany, whose production has been much flatter, with City's defensive returns his bread and butter.
I'm not buying this Silva is a must malarky. I had silva from day one, then when he reached 45%ish ownership I dropped him. Since then I've done nothing but rise in rankings. From 1.2M to under 100k. 18 out of 20 green arrows. =

I think for 10M to get 5-6 points every week is just not good enough. I can get the same (and more) from Sess, Demps, Walters, Valencia who are all cheeper.

The facty that he has so high ownership means when he scores it doen't really make a difference to ranking cuase most pople have him, but when he doesn't score, thats 10M that I've used elsewhere to get more points. Proff is in the rankings.

pretty epic article

i don't recognise the guy who wrote it though?

You should visit his blog, pretty good stuff!

i assume you are a radiohead fan? are you in the uk? are you as frustrated as me by the lack of gigs here??

Any Rooney news? Starting?

wrapping up the work week. time for fantasy CL madness!!! time for the derby!!!!

COYS!!!

i want you to nail those gooners

can anyone tell me if cabaye is fit to play this week, just looking for short term mid and he looks best option, but haven't followed him to know why he missed last three games

Who to start this week out of Sigurdsson and McClean??

Need to transfer Lidegaard and have 1.3 in the bank, 0.9 of which will be used for Rooney (depending he doesn't rise until Saturday night.

Vorm is my other keeper, so Lindegaard >

1. Schwarzer (rotates good, but already have Senderos)
2. Mignolet (not great rotation but cheap and have no defence cover)
3. Sorensen (rotation risk and have no defence cover)
4. Other.

mig, more likely to get CS, forget rotation

4 point hit, 2 transfers,

Current Team:

Mig
Richards Raylor Kelly
Silva Bale Sess McClean
RVP Bent Fletcher

Subs: Sinclair, Shawcross, Williams.

Fletch > Ba (C) obvs.

5.3 with Sinclair making way

I'm thinking Siggy, Cleverley, Scholesy or am open to any other suggestions?

Group F? Lets be having you!

Europa League Group F Match day 1 Preview
Well, here we have six-season veteran King Eric (5,805), an assiduous poster if ever there was, joined by Microcuts, Drinking Red Bull and the popular, if sarcastic, SSK Ginkvan, whose beautiful old grav I hope we will be seeing again soon! A very strong pool! Perhaps Cantona's Crew will justify the arrogant cut of their collars, or be stampeded and creased by Kewell Runnings, both chased very hard by R-U-N-N-O-F-T. It will take all the cunning, skills and dirty tricks of Mutant Ninja Skrtels to upset this applecart!
Slovan Bratislava (SSK Ginkvan) vs Athletic (Microcuts)
A difficult match to call - the Artist vs the Athlete - both have Taiwo, and similar midfields.
Injury / Team News:
Slovan Bratislava - Already used his free transfer - has Valencia gone, or did he give Cahill the push? Evidence of a certain amount of Bandwagon hopping here.
Athletic - Certain amount of panic evident here! Two transfers already made for a four point hit, making it four in a row! No injuries, apparently, although Richards may be doubtful.
Predicted Line Ups
Slovan Bratislava: Krul; Vermaelen, Richards, Taiwo; Bale, Silva, Dempsey, Sessegnon; Zamora, Graham, van Persie
Athletic: Vorm; Richards, Santon, Taiwo; Bale, Silva, Dempsey, Walters; Aguero, Ba, van Persie
Match Verdict - Away win - forwards too strong.
PSG (King Eric) vs Salzburg (Drinking Red Bull)
Can Drinking Red Bull wipe the sneer off King Eric's face?. Both have minor problems to solve, but I think experience and home advantage will turn this in King Eric's favour
Injury / Team News
PSG - Two free transfers available - although as he has used only 19, they may not be necessary!
Salzburg: After a huge leap of nearly a million places, game weeks 8 to18, R-U-N-N-O-F-T has tripped. Used his free transfer - did Valencia go?
Predicted Line Ups
PSG: Schwarzer; Kompany, Evans, Santon; Dempsey, Bale, Silva, Sigurdsson; Ba, Dzeko, van Persie
Salzburg: Sorenson; Richards, Santon, Rangel; Bale, Dempsey, Ben Arfa, ; Zamora, Aguero, Van Persie
Match Verdict - Home win

Awesome Work Doos.
I wonder who will do it for Group C.

these long posts about some random competetion are starting get annoying.

You don't have to read them.

u can buy a mouse with little wheel to scroll quicker, modern technology is amazing

you will find i am none of the below so you are wrong again

tit[tit]   Origin tit1    /tɪt/ Show Spelled[tit] Show IPA
noun
1. a titmouse.
2. any of various other small birds.
3. Archaic . a girl or young woman; hussy.
4. Archaic . a small or poor horse; nag.

Explore the Visual Thesaurus »Related Words for : tit
bosom, breast, knocker, titmouse
View more related words »

Dictionary.com Unabridgedtit2    /tɪt/ Show Spelled[tit] Show IPA
noun
1. a teat.
2. Slang: Vulgar . a breast

Not me! I have writer's cramp, writer's block - anything you like! I may well do three more next round, if you like ...

I would have done it myself but my exams are approaching.

exams, get your priorities in order man, where will exams get you nowdays

yes you. finish the job you started. all groups each week

No good deed goes unpunished, eh Doos

anyone else temped by a Rooney and Welbeck double up from GW28?

Am looking for a decent sub 6.5 million replacement for the Gerbil. Yak is inconsistent (though he is still an option), my main rival has Fletcher (who is injury prone) Morison seems to have lost his place. That leaves Holt, Graham and Welbeck as my other options.

With Rooney a doubt...DW a shout for a start Sat?

And with Han scoring yesterday can we really call Wellbeck first choice?

yup Rooney and Welbeck is the first choice front 2 now. Hernandez is back in his role as super-sub.

Rubbish - complete codswallop.
Stop presenting this as some sort of gospel fact when it patently isn't.
Hernandez will start some games, Welbeck will start some games and quite possibly Berbatov will start some games. Even if Welbeck starts more than Hernandez it doesn't make him first choice.

Actually I'm confusing the terms first choice with nailed on.
I tend to use two interchangeably - if you are suggesting that Welbeck is nailed on for the rest of the season (providing he's fit) then you are wrong. If you are suggesting that he will start more than Hernandez - you may be right.

Well, I hope he bloody well starts the next two, and scores a few!!!

I do, I do, I do, I do ...

Hernandez has started 5 games whilst Welbeck has been fit, and 3 of those he played with him.

Couple of weeks ago Fergie admitted it was a mistake not starting Hernandez against Arsenal... Think Rooney is the only one nailed on up front...

Real question is which proportion of matches has Welbeck started when he's fit?

he has been fit for 19 games, he has started 15 of them the ones he didn't were Villa (when he was coming back and Hernandez got injured) Stoke away, Norwich and Newcastle away.

Definitely right about first choice then. Nailed on no, but no-one is really with United apart from Evra.

I kept Welbeck for a few weeks a little while ago based on very similar reasoning, that Rooney and Welbeck were the preferred front two

Vorm or Mignolet in the goal this GW?

I have also Naylor, whom I will bench if Vorm plays. I am also worried since STO will be in a full strength.

Ming...WBA arent fantastic at home...

do you think that Crouch and Co. could score?

If Vorm is out then I should play Naylor (to cover possible SWA CS), but i have Kmp, Santon and Evans in front of him.

Its up to you dude as its your team which is what I say to everyone but I think while Stoke might not win they will score one at least and WBA for me, scoring is less likely.

Hello all. Seeing as there is a different crowd on here now, this is just to let you all now that Ankit has set up a Formula 1 fantasy team, details below. It's fairly straightforward to play so wont take up too much time and best of all it's free. So come and join us

Site: http://fantasy.etana.co.za/f1fantasy/
League Code: 16873178398881

Catmac, you like my new grav? At least some one does But I've changed it now, see how you like the new one, Oh and you support McClaren? tsk tsk

This one is better.
I support Ferrari & You?
BTW tsk tsk

How many changes is that today?

Seriously though, I like that one, much more positive. And yes, I've been a McLaren supporter for years, although I think Force India could spring a few surprises this year

Thanks, will set up a team later and join

Something else for people to get moody about

'Grrr, all these Europa League posts.'
'Grrr, all these F1 posts'
Grrr, all these cricket posts'

Just joined the league!!!!

Will all this Europa league and champs league chat on here stop after this gw or is it here for the long haul?

In absolute terms - no
As a proportion of posts made on the board - absolutely

Right on 'til the end of the road!

I was afraid of that

you would think Doosra would spend a bit more time concentrating on his own team than writing about some random tourney but he seems happy with finshing up with a 6 figure score.

It's called altruism mate, if you're not familiar with the word look it up.

brill, that is first time altruism has ever been used in a put down

Is this another one you missed KoL?

It ismate, hence the bitterness I don't even know who you are

Mignolet, Lindegaard
Kompany, Evans, Simpson, Rangel, Kelly
Dempsey, McClean, Valencia, Silva, Bale
RvP, Ba, Aguero

I have 2 FTs, 0.3 in bank. I'd like to dispose of Lindegaard & Rangel this week, but for whom?:

A) Cahill & Bogdan
B) Krul & Caulker

Advice welcome!

RMT please

Mignolet
Richards, Evans, Raylor
Silva, Sess, Dempsey, Bale
RVP, Aguero(vc), Ba(c)

Vorm, McClean, Rangel, Senderos

The article is very interesting but there are two flaws.
1. Describing Spurs as having favourable fixtures on the horizon. No they don't, not until GW 31 by my reckoning.
2. Seeing a high St. Dev as a negative thing, particularly with midfielders.
Firstly, every player is going to get a good few 2s and 3s, so if you've a high st. dev. you're getting occasional high GW scores which is a good thing.
Secondly, on investigating these high GW scores you might spot a trend for these high scoring GWs such as home games against anyone, and away games vs bottom 6 clubs , so you could play them for those games and drop them for the likely 2 pointers, thus giving you a much higher average overall.
Thirdly, players like Silva that have played a part in every game so he has no 0s which helps him have a low st. dev. Nani and many others have missed a few games and so these 0s will raise their st. dev. and also reduce their mean score, however with them on your team you'll have a sub to come in so it's not like these 0s will reflect in a 0 on your team for the week.

the graphs are nice to look at

BBC

1009:
BREAKING NEWS
Terry Connor has been named Wolves manager until the end of the season, the club have confirmed.

OK IMO this is basically a white flag; if they really were going to make some effort to stay up they'd bring in an experienced pro. Will be targeting matches against Wolves from here on in, could be some real thrashings I think.

Come on now, that's a little unrealistic. A vacancy at a Premier League club not in acute financial distress and that have only recently dropped into the relegation zone?

it's nice to see a black guy getting the role with so few in management but they now won't get that much needed boost of having a new manager at the club

they certainly will drop

Definitely. Makes sacking Mick even more of an error IMO.

Not so much an error - more a catastrophe. Made the club look prattish, now.

Thks for the link to the"kick down the backdoor" post. I did not read it first time round and when the w*nker posted it again this morning I obviously missed all the replies.

Intriguing... but not as intriguing/horrific as this grav... seriously, between you and Nino I really don't know which to retch to first

Neat bit of abuse there!!!

Well take it up with "I WAS THE ONLY ONE IN MY ML TO CAPTAIN DEMPSEY, ALSO HAD SORENSEN AS KEEPER"...he complained about me using a gravatar of my imaginary wife.

Apparently it gave him a hard on. So I had to make a change.

BTW, you are not an oil painting yourself...

Any news yet on the LFC V EFC DGW?

Great article, hope to see more like it. Always hard to picture the multiple variables on a 2D graph - price might have been an interesting third variable. Tempted to have a go at using a multivariate analysis method like PCA of PLS to see which stats on a player results in highest point turnover. perhaps a job for next season.

A quite brilliant article, right up my street! Cheers Chris.

Any reason of not getting Pilkington? Norwich's fixtures seems ok after playing against Man utd

Rotation always a risk with Lambert

Is the general consensus that Samba will not be included in the Blackburn squad to face Man City? If so, think I will go Aguero (C) over Ba. It worked last time I captained a striker against Blackburn ...

Good article, I like it.

I didn't read it all because it was too long and I haven't taken notice of anything in it because I like to go with my gut in FPL... but I liked it in principle
Scout Picks
For Gameweek 28
Mirallas

Lallana

Cazorla

Hazard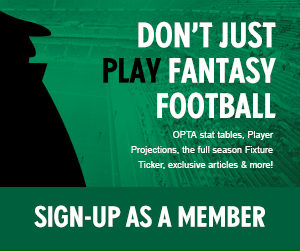 Watchlist
Goalkeepers
Player
Club
Factors

No Change

Boruc
SOT

B

,

Vs

Up

Begovic
STO

C

,

Vs

No Change

Ruddy
NOR

B

,

Vs

No Change

Cech
CHE

A

Up

Speroni
CPL

B

,

£

Up

De Gea
MUN

B

No Change

Howard
EVE

B

,

Vs

No Change

Adrián
WHM

B

,

£

Up

Mannone
SUN

B

,

Vs

,

£

No Change

Krul
NEW

C

Up

Foster
WBA

C

Up

Hart
MCI

B

Down

Marshall
CAR

C
Defenders
Player
Club
Factors

Up

Terry
CHE

A

Up

Evra
MUN

B

Up

Shawcross
STO

C

,

Vs

No Change

Fonte
SOT

B

,

Vs

No Change

Olsson
NOR

B

,

Vs

,

£

Up

Ward
CPL

C

,

£

No Change

Coleman
EVE

C

,

Vs

Up

Collins
WHM

A

,

£

Up

Bardsley
SUN

C

,

Vs

,

£

Up

Kompany
MCI

A

Down

Caulker
CAR

C

Up

Ridgewell
WBA

C

,

£

No Change

Skrtel
LIV

B

No Change

Williamson
NEW

C

,

£

Down

Koscielny
ARS

B

,

VsX
Midfielders
Player
Club
Factors

No Change

Hazard
CHE

A

No Change

Lallana
SOT

B

,

Vs

Up

Mata
MUN

C

Down

Snodgrass
NOR

B

,

Vs

,

Inj

Up

Brunt
WBA

C

,

£

Up

Walters
STO

B

,

Vs

No Change

Ince
CPL

C

,

Rest

,

£

Up

Y Touré
MCI

B

No Change

Nolan
WHM

A

Up

Johnson
SUN

B

No Change

Gerrard
LIV

A

Down

Mirallas
EVE

B

,

Vs

,

Rest

Down

Noone
CAR

C

,

Inj

,

£

Down

Cazorla
ARS

B

,

VsX
Forwards
Player
Club
Factors

Up

Suárez
LIV

A

Down

Sturridge
LIV

A

Up

van Persie
MUN

A

Down

Adebayor
TOT

A

,

VsX

No Change

Lambert
SOT

B

,

Vs

No Change

Rodriguez
SOT

C

,

Vs

,

£

Up

Crouch
STO

B

,

Vs

,

£

Up

Hooper
NOR

C

,

Vs

,

£

Up

Aguero
MCI

C

,

Inj

Up

Lukaku
EVE

C

,

Vs

,

Inj

Up

Remy
NEW

B

,

Vs

No Change

Jelavic
HUL

B

,

£

Up

Borini
SUN

B

No Change

Bony
SWA

B

Up

Carroll
WHM

C

,

Inj
Selection Factors
| | |
| --- | --- |
| A, B, C | Current Form |
| Vs | Favourable Fixtures |
| VsX | Unfavourable Fixtures |
| Rest | Rotation Risk |
| Inj | Injured/Returning from Injury |
| OoP | Out of Position |
| £ | Potential Bargain |
| Sus | Suspended/Near Suspension |
Suspension Tightrope
| Player | Team | YC |
| --- | --- | --- |
| Olsson | WBA | 9 |
| Delph | AVL | 8 |
| Luiz | CHE | 8 |
| Ramires | CHE | 8 |
| Chamakh | CPL | 8 |
| Barry | EVE | 8 |
| Rooney | MUN | 8 |
| Tioté | NEW | 8 |
| Walters | STO | 8 |
| Yacob | WBA | 8 |
"He's working hard at it and so are we. Sometimes we play well but not all the time. We don't have luck on our side. It's easy to point the finger at someone but I'm not like that. We have to do better ourselves."

Robin Van Persie on criticism of David Moyes.