Theo Walcott is at the double at Arsenal come back to hammer Spurs. Emmanuel Adebayor gets amongst the Fantasy points again. Paul Scholes and Ryan Giggs roll back the years as United steal a late win at Norwich, Grant Holt grabs another goal for the Canaries, while Tony Pulis installs Asmir Begovic back in goal as Stoke see off Swansea at the Britannia:
Emmanuel Adebayor
Spurs' on loan forward maintained his recent run of form in yesterday's blistering north London derby. Adebayor was once again partnered by Louis Saha and provided an assist for the Frenchman to open the scoring at the Emirates, before netting Spurs' second from the spot in the 5-2 defeat. He has now picked up 12 assists this term, second only to David Silva, and a nine point return took Adebayor to 142 points, just a couple behind Wayne Rooney. With Spurs hosting United before facing tricky trip to Everton and Chelsea, immediate investment may not be huge, though with a turn in fixtures from Gameweek 31 onwards, Adebayor has the potential to rack up the points in the final quarter of the season.
Bacary Sagna
Having sustained a broken ankle in the first north London derby back in Gameweek 7, the Arsenal right-back exacted revenge as he helped spark a remarkable comeback. Sagna –who had been out for 15 gameweeks with the injury before returning earlier this month- grabbed the home side's first and also provided an assist as Arsenal turned over their rivals in emphatic fashion. Perhaps surprisingly, this was the first time this term Sagna has produced attacking returns but, with the Gunners chalking up just two clean sheets in their last ten, investment in their back line continues to look a risk.
Theo Walcott
Despite plenty calls for his exclusion, Walcott maintained his place in the starting XI, with Alex Oxlade-Chamberlain dropped from the previous league game at Sunderland. The winger answered his critics in style, grabbing a brace and returning double figures for the second home match in succession. Walcott is now on 117 points, three more than Juan Mata and only nine less than the likes of Nani; priced at 8.8, he's proving to be better value than perhaps anticipated and, with less than 4% ownership, is clearly an over-looked differential.
Robin Van Persie
The Gunners skipper was only fourth in this week's Captain Poll, with a mere 5% of the votes ahead of the visit of Spurs. Arsenal's defeats away to Sunderland and Milan clearly had an effect, with nearly 33,000 Fantasy managers transferring Van Persie out in Gameweek 26, but he demonstrated once again just why it's folly to write him off, with a goal and assist in the 5-2 triumph. He now sits on 193 points, nearly 40 ahead of nearest rival Gareth Bale, and is well on course to hammering last season's top score of 198 by Nani.
Ryan Giggs
A last-minute winner at Norwich provided the fairy-tale ending for the Welshman's 900th appearance for United. Afforded another role on the left, with Ashley Young benched, Giggs continued a strong run of consistency which has now seen him produce attacking returns in each of his last five appearances for the champions. With Paul Scholes vindicating his return from retirement with his second goal in six matches, it's clear the experienced hands are stepping up in performance for Sir Alex Ferguson in the crucial final third of the season. Giggs has now played 90 minutes in four of United's last five, though with Antonio Valencia expected back next week, there's enough of a question mark against his game time to make Fantasy managers think twice about his acquisition.
Nani
Back in domestic action after a three-gameweek absence due to a foot injury, the Portuguese star grabbed an assist for Scholes' opener- this was his first attacking return since Gameweek 17. Nani's lack of form, combined with Antonio Valencia's strong consistency, has seen the former's price drop from 10.5 to 9.9 in recent weeks but with the champions' schedule looking outstanding from Gameweek 28 onwards, he has the platform and potential to deliver.
Grant Holt
A goal against United took the Norwich skipper to 98 points, the top-scoring Fantasy player for Paul Lambert's side. Holt seems to have ousted Steve Morison as the Canaries number-one forward- he's started the last five, while the Welshman has managed 25 minutes in the last three gameweeks. Holt has also scored against the likes of Chelsea, Liverpool and Newcastle and, with (stk, WIG, WOL, ful) amongst his next five, he looks a decent cut-price (5.0) option over the next month or so.
Asmir Begovic
Having started the Potters' last fourteen league games, Thomas Sorensen had certainly looked the nailed-on number-one for Tony Pulis' side. Confident of a home clean sheet, we'd even drafted him into this week's Scout Picks ahead of the game against Swansea- Stoke duly obliged with a 2-0 win but it was Asmir Begovic who got the nod. Stoke's Thursday lineup in Valencia was, in retrospect, a sign of a shift in Pulis' thinking- Sorensen had started in Spain; a clear surprise, given that Begovic tended to be fielded for cup games. The only matter that Pulis' team sheet clarified yesterday was that, as far as Stoke goalkeepers are concerned, there's no such thing as a certainty.
Ryan Shotton
Having flickered briefly on Fantasy radars with a run of six starts in seven from Gameweek 14-20, Shotton's stock had taken a dive after just a single first XI appearance in the subsequent five fixtures. Lining up on the right side of midfield, the 4.0 defender returned to the Stoke starting lineup yesterday and reminded us of his out-of-position potential with an assist for Peter Crouch as Stoke avenged their defeat at the Liberty Stadium earlier in the season. Similar to the likes of Sorensen, though, his lack of assured game time will continue to deter most Fantasy suitors, despite his cut-price potential.
Peter Crouch
Partnered once again by Jon Walters up front, Crouch grabbed a rare home goal as the Potters ended a run of four straight losses. The former Spurs man netted at the Britannia for the first time since Gameweek 13 and, pre-bonus, has now averaged 4.1 points per game, taking him ahead of Walters' 4.0 in the Stoke rankings. A game against Norwich next weekend looks enticing for Crouch but with Chelsea and City to follow, Stoke's Fantasy assets don't look likely to see much immediate investment.
ENR 7pts Udit 1pt on Fifa h2h.

And have I scared you outta here already Udit? 😉

thinking of doing sess-pilkington, leaves me with cash to do aguero-rooney after this week and another available player for gw29? good transfer or a bit backwards?

Nope, i'm also doing sess to pilkington to raise funds for Rooney. Looks like the best option.

Early GW27 captain shouts? I am thinking Aguero or Dempsey

For this week Graham, long term The Yak

BATE signs Denis Polyakov for a RECORD TRANSFER FEE of 600 000 dollars

20-year old defender Denis Polyakov has become the FIRST PRESEASON SIGNING of FC BATE Borisov. Last four seasons (2007-2011) Polyakov played for FC Shakhter Soligorsk. First three years he was a reserve team member.

— I am happy to become a part of Viktor Gancharenko AND COLEHOLE'S team. I DID NOT THINK A LOT when I got an offer from Borisov. It is a good team, fantastic coaching staff, STRONG MANAGERS.I will do my best to help BATE in all competitions next season. I ASSUME THAT PLAYING FOR THE YELLOW BLUES IS A MAGNIFICENT EXPERIENCE as well as a good chance to get spotted by foreign clubs from strong leagues...

0.6 mil? Ha. That is what my worst player earns over less a fortnight. 😉

dollars? thought the local currency was iPhones?

(8 match ban?)

whats everyone think of fulham home defense next week?

i played shwarzer/kelly gw25 and they conceded against stoke at home, gw26 i play krul/raylor who then go and concede against wolves, meanwhile shwarzer/kelly score 14 v qpr!! so i cant win can i.

i dont want to get burned again doubling up on a good logical assessment which turns out to be bollox. fulham v wolves looks like a good chance of a cs, but then newcastle couldnt keep em out so.....

i may have to spread the risk and play shwarzer/raylor, its just annoying when well thought thro choices dont work out, like captaining ba this week

I'm avoiding FUL def if I want CS's. Most on here will have 1 or 2 defs that are not expected to score eg: caulkner. So if you need a player for a certain price, and only then, would i advise seeking Fulham.

Surprise CS's are exactly that. May as well go for flair and get a NOR one.

Don't blame me, blame senderos and his horrible run of points!

I'd love the FUL defense to work out. Fixtures wise, it would be great for FPL players.

Sad truth is that they are no better or particularly worse than most of their similarly priced colleagues, but we will see indeed. As long as Dempsey scores, I'm happy enough to root for them!

WC GW 28 assuming GW29 has all ten fixtures.

Friedel Bogdan

evans simpson kompany enrique kelly

yaya dyer mclean walcott/bale or mata dempsey

ade rooney RVP

0.5mil in bank

Over the next few weeks i plan to carry out a few upgrades like getting in Rooney for Aguero and Krul for Sorensen and a few others, but to do this i need to free up some money.
My midfield is quite strong and i want to keep Bale and Silva, but which of these transfers would you do to free up some money?

A) Valencia -> McLean
B) Valencia -> Sigurdsson
C) Sessegnon -> McLean
D) Dempsey -> McLean
E) Dempsey -> Sigurdsson
F) Another one you can make up

Thanks for the help.

I am doing Valencia to Morrison in 2 weeks, I don't like any of those moves

after the agonizing tourism commercial, and then watching that murray's... whatsit, humor? .... i just couldnt go on any longer. ill just take their word for it. giggs is doing well still. sorry

Tolerated the MotD pain mainly for Pardew, it's not often they actually have an active manager on the show, and he's managing a team very much of interest...

ok. u have a point. im impressed by pardew as well. going to check it out

the bloody commercial just finished for the second time... ow

Are you watching from overseas? Now it's clicking into place, I was like wtf is this tourism commercial? BBC is non-commercial! I'm not going to pretend Pardew tells us the starting lineup or anything, but just interesting to hear from him. Also, he seems like quite a cool guy.

No one's playing, it's all off

Joking, basically City, Chelsea, Tottenham, Stoke, Arsenal and QPR might have no game. The first four have a better chance of one though.

See link

Hello everyone. Best replacement for S.Fletcher? Considering Holt or the Yak. What do you think?
And what happens with Yak's gw29? Will he get a double gw later, or will the match be played midweek same round?

Monday at work is much more pleasant with the thought of a "Salma Hayek Overnight" to look forward to.

I see you're sharing her with TorresMagic 😡

This week would you rather have playing;

A) Krul and Caulker
B) Mignolet and Kelly

BATE loans Maicon Kalijuri from Polish Jagiellonia

Maycon Rogerio Silva Calijuri, or just Maicon Kalijuri...Maycon started his career in Brazilian U.R.T Uniao Recreativa. Next step was to Extrema FC...In Jagiellonia hot-shot forward spent half of 2010/11 season and then was loaned to Piast Gliwice from Polish second division.

Maycon will definitely stay with BATE for the half of the next season. At the end of this period BATE will have the right to buy forward.

Been out of the game for a few weeks, just about to press the button and bring in Shwarzer as my no 1 keeper, any reason not to get him in (he's the Fulham first choice now yes)?

It's sensible. Like ever, if it doesn't make a difference to your price, I would wait until the last day - it seems like everyone is disappearing right now!

Really need the Chelsea City game to be on for GW 29 since I'm going over with my brother and dad to see it. It should be okay right?

Although the person I was talking to on the phone said it was confirmed.

Don't see how it could be, with FA cup to come

Would it really put you out if they rescheduled?

All depends if they can move it to midweek. Tosey (link) said that it might be cancelled because if Chelsea win there'll be less than 2 week's notice to play it midweek, but on the other hand more recently he noticed that some matches have been rearranged with less than a week's notice. So it might be on.

Why are you not studying? 😡

Other than Cole which Chelsea defender is a certain starter [including FA cup games] over the next month?

NEW POST!!! "THE SUSPENSION REPORT"

keeper troubles.. I have Vorm and Lindy what are the chances of one of them playing at the weekend, dont really want to use a transfer on them. If I have to who would you recommend for around the 4.5 mark?
Scout Picks
Gameweek 25
Janmaat

Williams

Alderweireld
Wijnaldum

André Ayew

Dele Alli

Roberto Firmino

Sánchez
From the Community…
Comments
Hot Topics
Articles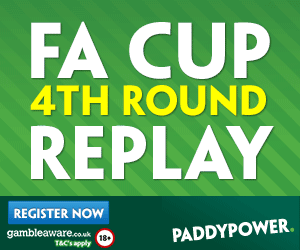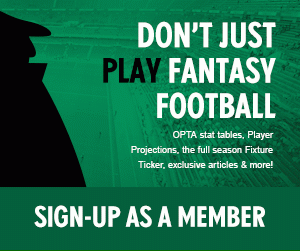 The Watchlist
Goalkeepers
Player
Club
Factors

Up

Hennessey
CPL

C

,

Vs

,

£

Down

Butland
STO

C

,

Vs

Up

Schmeichel
LEI

A

Up

Forster
SOT

A

Up

Courtois
CHE

B

,

Vs

Up

Fabianski
SWA

A

No Change

Boruc
BOU

B

No Change

De Gea
MUN

B

No Change

Cech
ARS

B

,

VsX

Up

Foster
WBA

C

,

VsX
Defenders
Player
Club
Factors

Up

Ivanovic
CHE

A

,

Vs

Up

van Dijk
SOT

A

Down

Baines
EVE

B

,

Vs

Up

Dann
CPL

C

,

Vs

Up

Cresswell
WHM

B

,

Vs

Up

Williams
SWA

A

No Change

Dawson
WBA

C

Down

Alderweireld
TOT

B

No Change

Daniels
BOU

A

,

£

No Change

Fuchs
LEI

A

No Change

Van Aanholt
SUN

A

,

VsX

Down

Bellerín
ARS

C

,

VsX

Down

Smalling
MUN

C

Down

Moreno
LIV

C

,

Vs

Down

Johnson
STO

B

Down

Kolarov
MCI

B

,

Rest

,

Inj
Midfielders
Player
Club
Factors

No Change

Payet
WHM

B

,

Vs

Up

Roberto Firmino
LIV

A

,

Vs

,

OoP

Up

Dele Alli
TOT

A

,

Inj

Up

Barkley
EVE

C

,

Vs

Up

André Ayew
SWA

A

,

OoP

Up

Eriksen
TOT

A

Down

Ozil
ARS

C

,

VsX

No Change

Mahrez
LEI

C

,

VsX

Up

Sánchez
ARS

C

,

VsX

,

Inj

Up

Antonio
WHM

A

,

Vs

,

Rest

,

£

No Change

Willian
CHE

B

,

Vs

,

Inj

No Change

Wijnaldum
NEW

B

Down

Arnautovic
STO

C

,

Vs

,

Inj

Up

Silva
MCI

C

No Change

Johnson
SUN

B

,

VsX
Forwards
Player
Club
Factors

No Change

Aguero
MCI

A

No Change

Kane
TOT

B

Up

Vardy
LEI

C

Up

Diego Costa
CHE

A

,

Vs

,

Inj

No Change

Ighalo
WAT

C

,

VsX

Up

Rooney
MUN

A

Down

Lukaku
EVE

C

,

Vs

No Change

Giroud
ARS

B

,

VsX

,

Rest

Up

Afobe
BOU

A

,

£

Down

Austin
SOT

B

,

Inj
Selection Factors
| | |
| --- | --- |
| A, B, C | Current Form |
| Vs | Favourable Fixtures |
| VsX | Unfavourable Fixtures |
| Rest | Rotation Risk |
| Inj | Injured/Returning from Injury |
| OoP | Out of Position |
| £ | Potential Bargain |
| Sus | Suspended/Near Suspension |
| Player | Team | YC |
| --- | --- | --- |
| Colback | NEW | 9 |
| Byram | WHM | 9 |
| Lucas | LIV | 8 |
| Jones | SUN | 8 |
| Yacob | WBA | 8 |
| Westwood | AVL | 7 |
| Diego Costa | CHE | 7 |
| Huth | LEI | 7 |
| Can | LIV | 7 |
| Mangala | MCI | 7 |
| Shelvey | NEW | 7 |
| Pieters | STO | 7 |
| Dele Alli | TOT | 7 |
| Dier | TOT | 7 |
| Noble | WHM | 7 |
"All players will blank a few times during the season. When almost all do it in the same Gameweek, it is tough to take, but that's just the dark side of probability."

Abreu 42 Community regular