The Digest returns to discuss a goal machine in overdrive, the return of a North East revival and why we could do without forensic video analysis in our Fantasy football…
The Player
Papiss Cisse is a rare commodity – a footballing talent that has been able to take his form from another European league and immediately translate it into returns in England's top flight. Perhaps the reason for Cisse's easy transition is that his key skill – the ability to find goalscoring positions and finish the job – is unreliant on adapting to a change in pace, style or aggression. Natural goalscorers can ply their trade regardless of those factors if self-belief is high. Right now, as Alan Pardew remarked earlier this week, the confidence is oozing from Cisse and he looks well capable of maintaining his goal per game average.
Liverpool's defence was the latest to feel Cisse's force – once regarded as one of the top three rearguards in the league, the absence of Dan Agger has disrupted matters and left them exposed. None more so that Jamie Carragher, although the uncertainty has also crept into those around him – Martin Skrtel and Jose Enrique look shadows of the players we saw a month ago.
Cisse gleefully accepted the space afforded to him to convert his second consecutive brace. The triumvirate he forms with Demba Ba and Hatem Ben Arfa continued on from their outstanding form at the Hawthorns in the Magpies' previous match, cutting through the Liverpool defence with a swashbuckling ease.
Right now, with Cisse in bloom and his two attacking colleagues combining with such effect, Newcastle look a devastating attacking force. Fantasy managers will be taking note, gladly accepting Cisse and Ben Arfa into their squads, whilst wondering how long Ba will go on playing a cameo role in the recent ascendency.
While Ba sheds his concerned Fantasy owners at pace, Cisse has enjoyed a double Fantasy Premier League (FPL) price rise in the Gameweek already, fetching over 50,000 new owners in 48 hours. The switch seems irresistible, at 7.2 he remains a clear bargain – although the trip to the Liberty Stadium this weekend will surely provide a stern test of Pardew's slick attacking trio.
The Team
We'd almost forgotten about Sunderland. A miserable run of one win in five had seem them slip from the radar as, without the pace and trickery of the suspended Stephane Sessegnon, they struggled to threaten opponents, whilst failing to keep goals at bay at the other end. We presumed that Martin O'Neill's North East honeymoon was over. Now it seems things are back on track – the marriage is in bloom and the smiles are back.
The importance of Sessegnon's return cannot be understated. Whilst Seb Larsson and James McClean always offered assured service from the flanks, Nicklas Bendtner needed the spark of Sessegnon buzzing around him to help put defences on the back foot. At City, Sessegnon was electric, providing two assists and tormenting a shell-shocked home defence which never expected the Black Cats to show their claws.
Bendtner has now scored four in five games – whatever your view on his seemingly inflated self-worth – his rate of goals has us taking notice. Sessegnon is now an obvious target once again, James McClean is the budget alternative. At the back, Simon Mignolet continues to offer value in goal, while Michael Turner a cheap and resolute barrier in front of him.
Sunderland's assets are back on our shopping list with fixtures falling nicely and a Gameweek 34 match in place. While double Gameweek distractions are seductive, there looks to be good value on offer amongst O'Neill's troops once more.
The Talking Point
Here we are again. When we found ourselves painstakingly examining Danny Welbeck's studs back in Gameweek 21, it was clear that we'd found ourselves backed into an uncomfortable corner by a ruling that demanded such precision. On Sunday we were left looking for the merest of touches from Ben Arfa's boot, shorts or limbs, desperately examining angles to decipher whether Demba Ba's pass deviated in its path before being dispatched so effectively by Papiss Cisse. The smart teamwork and clinical finish was lost on us within seconds – all we cared about was whether Ben Arfa had, unintentionally, earned an assist.
It's not a great place to be. As it is, we are again at the mercy of the Press Association verdict. Like it or not, the assist remained with Ben Arfa and we move on. That's not the discussion here. Once again though, we have to question why there is such a debate, such a thorough examination of footage, when any touch by the Frenchman surely played little part in Cisse's goal.
A mini-league, or worse still, the FPL crown, could depend on a brush of the studs and the camera angles available to make it out. Let's hope it doesn't come to that and, when the season is over, let's hope the FPL re-examine their definition to see if we can avoid such scenarios.
Me.

The FPL league standings are still apparently being recalculated, is this correct? I don't understand in what way they need updating, they look to be up-to-date...?

Hi folks,
Am I right in saying the Leagues havent been fully updated yet? And if so is there a reason why not?
Cheers!

because they are useless!!

Evening, Zlat. Great season-high rank by the way! Feeling the pressure?!

Cheers Tom. Delighted to be inside top 1k. However it will be hard to stay there. All about (c) choice.

Great rank u also have Tom.

Cheers - just pushing to join yourself in that top 1k now. GWs 34 and 36 will be make or break it I reckon.

Good Night.

Ashley Young nailed on to start this weekend?
He's fresh and has just reminded SAF that he can get a goal...

Valencia out for next gameweek would be one massive blessing for me. please fergie, rest him. ty

Ferguson likes Valencia with Rafael - he reinforces the right flank and protects Rafael who can be caught out at times. The problem here - Rafael is flying - I really can't see him being dropped even though Jones is fit and therefore Valencia is very likely to play in front. On top of that of course, Valencia is a match winner right now.

Agree. Valencia is nailed on at the moment.

I asked this question last night. Looking for a few extra opinions.
Is it worth shipping Suarez this gw for Cisse Or ade?
Or do I keep for one more gw?

So Messi dives to get the penalty, what a surprise. Barcelona are a disgrace to football

How on earth was that a dive? Standing leg got taken away.

+1. Busquets as well. David Villa nasty character too. Ya dont see Bendnter diving like that.

I know the right time to ship Silva out was ages ago, but even if I do it before next GW, I probably wouldn't be able to pick this player ahead of my other attackers (team linked).

Should I wait yet another GW and play him at home to WBA on GW33 or ship now and get:
- Sess,
- Walcott
or another City mid?

I know there're other interesting players, but I'd like to pick the one who actually plays on GW34.

ok so what are Pool defensive owners doing? Are we holding for DGW or ahipping. I think I am dropping Skrtel for one of Distin or Jags and going double on Everton.

Liverpool players have caused me nothing but trouble this season.

Ac Milan. Yessssssssssssssssssssss

+11111

Do you know it is so nice to follow football without worrying if somebody has a bloomin' shot off target

A shot should be rewarded not punished!

Europa League 2nd Round Preview

Dynamo Kyiv(JohnD) vs Tottenham Hotspur(megatron x)

Group A winners Tottenham travel to Ukraine to face JohnD's Dynamo Kyiv after Kyiv survived a late scare to book their place in the second round after The Parmtree's Stoke failed to beat group winners Besiktas. Spurs had a slightly easier passage to the last 32 as they booked their place via a 20 point away win at bottom of the table Shamrock Rovers. The two teams have a similar style with JohnD already making one change ahead of GW32.

Predicted Line-Ups:

Dynamo Kyiv: Vorm; Evans, Skrtel, Caulker/Vermaelen; Bale, Valencia, Walcott, Sigurdsson; RVP, Rooney, Suarez.

Tottenham: Krul; Evans, Skrtel, Caulker; Bale, Valencia, Walcott, Sigurdsson, Dempsey; RVP, Rooney.

Key Battles: Vorm vs Krul and Dempsey vs Suarez

Prediction: A narrow home win.

AC Milan(4vetti) vs Standard Liege(Duffman91)

Champions League dropout AC Milan, managed by 4vetti are in unfamiliar territory as they host Duffman's Belgian side Standard Liege. 4vetti has taken a more aggressive approach to management and has been likened to Swindon manager Paulo Di Canio by the media for his on and off field antics, compared to the calm and cautious Duffman91. An away defeat to Viktoria Plzen ended AC Milan's Champions League campaign and sparked to life another European adventure. Duffman's Standard Liege topped group B with 15 points from a possible 18 with their only defeat at the hands of Milanista's FC Kobenhavn.With only 381 places between the sides it's anybody's game. Standard Liege have made one change from the side that faced Kobenhavn, possibly Dempsey to Bale.

Predicted Line-Ups:

AC Milan: Vorm; Evans, Skrtel, Riise; Bale, Walcott, Valencia, Sigurdsson; RVP, Rooney, Adebayor.

Standard Liege: Schwarzer; Evans, Enrique, Caulker; Valencia, Bale, Sigurdsson, Walcott; Cisse, RVP, Rooney.

Key battles: Riise vs Caulker and Cisse vs Adebayor.

Prediction: Home win

More to Follow!!!!!!!!

Nice one Parm

Woohoo! Feeling quite good about the last minute Gomez->Olic move

Hey everyone i'm thinking about upgrading fergurson to sessgnon and Suarez down to bendtner for gameweek 34. should i do that for GW 33 to save on price rises or keep suarez to play Blackburn?

Europa League 2nd Round Previews

For Kyiv vs Spurs & AC Milan vs Liege click here: http://www.fantasyfootballscou.....nt-2977418

For Hannover vs Hapoel & Wisła vs Lisbon: http://www.fantasyfootballscou.....nt-2978473

—————————————————————————————————————————-

Vaslui(Coriswrasse) vs Besiktas(Jack(off)Attack)

After the group stage draw Jack(off)Attack was confident of topping Group E, and he did just the beating The Parmtree 71-65 in Matchday Six to secure top spot ahead of rival JohnD and his Ukrainian side Dynamo Kyiv. In the second round Besiktas face a tough 1st leg away to Romanian representatives Vaslui managed by Coriswrasse. Vaslui finished runner-up in Group D ahead of Yossi- The Jewish Iniesta and his Zurich side. Underdogs Vaslui have already used their free transfer yet Jack(off)Attack has used two and already has a 4 point deficit before the tie has even began.

Predicted Line-Ups:

Vaslui: Vorm; Evans, BAE, Enrique; Valencia, Walcott, Dempsey, Sigurdsson; RVP, Rooney, Cisse

Besiktas: Krul; Evans, Baines, Caulker, Valencia, Walcott, Bale, Sigurdsson, RVP, Rooney, Cisse

Key Battles: BAE vs Baines and Dempsey vs Bale

Prediction: Narrow Away Win

—————————————————————————————————————————-

Lokomotiv Moskva(thobe230) vs Slovan Bratislava(SSK Ginkvan)

SSK's Slovan Bratislava shocked the competition by running out as Group F winner and finish above seconded seeded King Eric and only suffering one defeat during the group stage, at the hands of Drinking Red Bull's Red Bull Salzburg. Thobe230 and his Russian side Lokomotiv Moskva managed to overcome both Mac's Anderlecht and Doosra's AEK Athens and finish runners-up in Group L. Slovan's SSK has already used his free transfer, possibly bringing in the reliable Antonio Valencia for Manchester City's Yaya Toure. Lokomotiv manager Thobe is content on saving his free transfer with Davide Santon the only outstanding trouble.

Predicted Line-Ups

Lokomotiv Moskva: Krul; Evans, BAE, Skrtel; Bale, Dempsey, Valencia, Walcott; RVP, Rooney, Cisse.

Slovan Bratislava: Krul; Evans, Baines, Cahill; Walcott, Dempsey, Valencia, Andrews; RVP, Rooney, Yakubu.

Key battles: BAE vs Baines and Cisse vs Yakubu

Prediction: Home Win

—————————————————————————————————————————-

Think flash in the pan cisse will be over from now, some disapointment for those shipping in now me thinks
Scout Picks
For Gameweek 28
Mirallas

Lallana

Cazorla

Hazard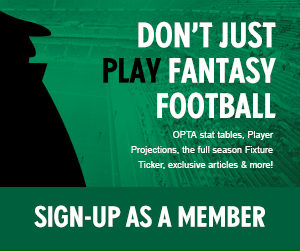 Watchlist
Goalkeepers
Player
Club
Factors

No Change

Boruc
SOT

B

,

Vs

Up

Begovic
STO

C

,

Vs

No Change

Ruddy
NOR

B

,

Vs

No Change

Cech
CHE

A

Up

Speroni
CPL

B

,

£

Up

De Gea
MUN

B

No Change

Howard
EVE

B

,

Vs

No Change

Adrián
WHM

B

,

£

Up

Mannone
SUN

B

,

Vs

,

£

No Change

Krul
NEW

C

Up

Foster
WBA

C

Up

Hart
MCI

B

Down

Marshall
CAR

C
Defenders
Player
Club
Factors

Up

Terry
CHE

A

Up

Evra
MUN

B

Up

Shawcross
STO

C

,

Vs

No Change

Fonte
SOT

B

,

Vs

No Change

Olsson
NOR

B

,

Vs

,

£

Up

Ward
CPL

C

,

£

No Change

Coleman
EVE

C

,

Vs

Up

Collins
WHM

A

,

£

Up

Bardsley
SUN

C

,

Vs

,

£

Up

Kompany
MCI

A

Down

Caulker
CAR

C

Up

Ridgewell
WBA

C

,

£

No Change

Skrtel
LIV

B

No Change

Williamson
NEW

C

,

£

Down

Koscielny
ARS

B

,

VsX
Midfielders
Player
Club
Factors

No Change

Hazard
CHE

A

No Change

Lallana
SOT

B

,

Vs

Up

Mata
MUN

C

Down

Snodgrass
NOR

B

,

Vs

,

Inj

Up

Brunt
WBA

C

,

£

Up

Walters
STO

B

,

Vs

No Change

Ince
CPL

C

,

Rest

,

£

Up

Y Touré
MCI

B

No Change

Nolan
WHM

A

Up

Johnson
SUN

B

No Change

Gerrard
LIV

A

Down

Mirallas
EVE

B

,

Vs

,

Rest

Down

Noone
CAR

C

,

Inj

,

£

Down

Cazorla
ARS

B

,

VsX
Forwards
Player
Club
Factors

Up

Suárez
LIV

A

Down

Sturridge
LIV

A

Up

van Persie
MUN

A

Down

Adebayor
TOT

A

,

VsX

No Change

Lambert
SOT

B

,

Vs

No Change

Rodriguez
SOT

C

,

Vs

,

£

Up

Crouch
STO

B

,

Vs

,

£

Up

Hooper
NOR

C

,

Vs

,

£

Up

Aguero
MCI

C

,

Inj

Up

Lukaku
EVE

C

,

Vs

,

Inj

Up

Remy
NEW

B

,

Vs

No Change

Jelavic
HUL

B

,

£

Up

Borini
SUN

B

No Change

Bony
SWA

B

Up

Carroll
WHM

C

,

Inj
Selection Factors
| | |
| --- | --- |
| A, B, C | Current Form |
| Vs | Favourable Fixtures |
| VsX | Unfavourable Fixtures |
| Rest | Rotation Risk |
| Inj | Injured/Returning from Injury |
| OoP | Out of Position |
| £ | Potential Bargain |
| Sus | Suspended/Near Suspension |
Suspension Tightrope
| Player | Team | YC |
| --- | --- | --- |
| Olsson | WBA | 9 |
| Delph | AVL | 8 |
| Luiz | CHE | 8 |
| Ramires | CHE | 8 |
| Chamakh | CPL | 8 |
| Barry | EVE | 8 |
| Rooney | MUN | 8 |
| Tioté | NEW | 8 |
| Walters | STO | 8 |
| Yacob | WBA | 8 |
"He's working hard at it and so are we. Sometimes we play well but not all the time. We don't have luck on our side. It's easy to point the finger at someone but I'm not like that. We have to do better ourselves."

Robin Van Persie on criticism of David Moyes.