Tottenham's on-song Welshman continues to bedazzle top-flight defences. City's backline proves miserly once more as we approach the festive season, while worries snowball over Rafa Benitez's tactics as Chelsea's attacking midfield assets take a tumble…
The Player
Last night's display against Liverpool had it all from Gareth Bale. A goal, an assist, a yellow card and one of the most bizarre own goals you're likely to see, courtesy of Aaron Lennon's panicked goal line clearance rebounding off the Welshman's face straight into Hugo Lloris' net. While the own goal garnered the attention, Bale's 10 point haul saw him climb to the top of the Fantasy Premier League (FPL) standings for midfielders, with 83 points accrued.
With goals in each of his last three, the Welshman has now taken his tally to six in 14 matches, only four less than his tally for the previous campaign. While many of the popular midfield big-hitters are starting to stumble or struggle for a semblance of consistency, Bale goes from strength to strength and is looking impossible to ignore right now. He also seems to be handed the majority of free-kicks, furthering his increasingly appealing potential – a fact that Andre Villas-Boas spoke of post-match:
"Players learn through what they see. With Ronaldo we saw that you can almost hit under the ball and it gains an effect where it drops and changes direction. He (Bale) has the power to do that. He keeps on practising this technique and we are pleased to have it. He is more free, getting more of the ball, the team is creating conditions for him to appear more. He is enjoying himself on the pitch. His physical freshness, his motivation towards playing, what he does offensively and defensively. He takes over the whole of the left wing. He helps the full-back so much. It's never-ending. His pace, it's electric."
With Spurs keen to involve Bale as much as possible in the final third, the upcoming fixture list only serves to cement his place in our Fantasy thinking. Trips to Fulham and Everton will hold little fear for would-be investors, given both sides' recent poor defensive form, while Bale's following six fixtures (SWA, STO, avl, sun, RDG, qpr) have the potential for points aplenty. Already, the bandwagon is rolling after last night's display and with rest or rotation highly unlikely to blight his season, Fantasy managers are now pondering who to sacrifice in order to secure Bale's place in their side for this weekend's trip to the Cottage.
The Team
Another game, another clean sheet for the champions as City ultimately saw off a valiant Wigan 2-0 at the DW. Having conceded in seven of their opening right fixtures, Roberto Mancini's side looked anything but secure at the back in the early part of the season but the defensive solidity that produced a total of 35 clean sheets over the previous two campaigns is apparent once again.
Mancini's men have now conceded just a single goal in their last six matches – a run that has coincided with a regular role in the heart of defence for Matija Nastasic alongside Vincent Kompany. Joleon Lescott now seems to be firmly behind the summer signing in the pecking order for starts, with City assistant boss David Platt recently admitting Nastasic's "exceptional" form has made it an easy decision to omit the former Everton man from the City starting XI. With full-back rotation still kicking in – Mancini played Pablo Zabaleta on the left of defence last night, for instance – Nastasic appears secure at the back right now and with a FPL price tag of just 5.5, looks exceptional value.
Champions League football is now off the agenda and depending on results in next week's final round of group matches, City may also find themselves out of the Europa League, too. Bearing in mind they are already out of the Capital One Cup, Mancini looks set to focus fully on his side's attempts to regain the title, with his flourishing backline providing the basis to grind out results when necessary. Once again last night, Mancini's rest and rotation policy up top proved hugely frustrating – it may well be that Fantasy investment at the back could be the way forward when assessing City, though whether Nastasic can rival Vincent Kompany for security of starts is still perhaps debatable.
The Talking Point
Rafa Benitez's arrival at the Bridge has hardly proven popular with Chelsea supporters and just two matches into his tenure, he's quickly turning Fantasy managers against him, too. While the Blues early-season form had started to diminish under Roberto Di Matteo, they were at least still managing to find the net – something they have yet to achieve after 180 minutes under their new manager.
The goalless Gameweek 13 home clash against City can perhaps be excused given the champions' outstanding defensive form but last night's derby with Fulham offered Benitez the chance to get three points under his belt. Visitors Fulham had, after all, conceded in all of their previous seven away games and have shipped 16 goals on their travels – the second worst away defence in the league. A victory in the derby over Martin Jol's side would have appeased the home support to some extent but Benitez instead decided to drop Juan Mata, arguably their most consistent player over the past couple of months, as the Blues ground out another goalless stalemate.
With trips to West Ham and Sunderland in addition to a blank Gameweek 17 on their agenda, many have already decided enough is enough and have shipped out Mata and Eden Hazard in significant numbers this week. While Benitez's installation may now see our targets turn to the Chelsea backline instead, the stats are a real worry for owners of the midfield duo – the London outfit have just three shots on target in two games since Di Matteo's departure. With a change in tactics supplemented by his penchant for rotation, the former Liverpool boss has instantly raised real fears over the Fantasy potential of two big-hitters amongst our midfield options – with the likes of Arsenal and Spurs set for kind upcoming schedules, the exodus could pick up in pace, as Theo Walcott and Gareth Bale provide us with in-form premium alternatives in flourishing form.
The final solution of the FPL question

Cameron > Wisdom/£4.5m defender allows me to do Mata + Tevez > Walcott + Suarez for -4 point hit.

I own Begovic so I don't need the double up anymore as their fixtures are less favourable.

Thoughts on these transfers?

He is nailed on IMO. Has only missed matches through injury from what I recall. First choice RB now.

Good on paper with big upside. All I would warn is that you then get in two players with high chance of imminently missing a game (Suarez, Walcott). Check your reserves are strong enough.

Those are good points. Although Mata and Tevez are being messed about by the management which is even more frustrating. I can deal with Suarez missing one game as it hasn't stopped Fellaini doing what he does best. Theo is a nightmare for getting injured but with his form/fixtures I think it's a gamble worth taking.

Heya evening chaps I am in deep sh*te (proud member of the red arrows club:) so please any advice appreciated here:

Jaaask Ruddy (inj)
Baines (inj) Showcross Demel Davies Jenkinson (not playin)
Mata (?) Valencia (inj) Sterling Silva Britton
Tevez (?) RvP Berb (sh*te atm)

my thoughts:
A Ruddy + Baines + Valencia OUT - Bunn + Rafael + Bale IN (-4pts)
B Baines + Mata + Val OUT - Rafa + Walcot/Fellaini + Bale IN (-4pts)
C ... ?

Baines + Mata + Val out for Enrique + Walcott + Bale perhaps?

Jenkinson could play this week I think... there's a tweet about Sagna. Fulham have decent fixtures so I'd hang on to Berbatov.

Then next week Tevez to Suarez if he's not suspended maybe,

Credit where it's due. Who would have thought that triple Liverpool would be a bandwagon this year?

Who'd have thought a few weeks ago that Jose Enrique would be hot property

OK, my 42 inch plasma has died (vertical lines down the screen syndrome).
So I'm looking for a new TV. Less than 500 Euro. Any (intelligent) suggestions or recommendations?

Samsung 6 series is decent (7 series might have come down in price by now).

Cheers Spike and 66, the Plasma was a Samsung so very reluctant to give them anymore cash. The warranty was just out when it started acting up so unlikely I will trust them again. (should have said in original post)

page roll repost,

whom to bench? cameron or cuellar

thanks

Wilkinson > Which defender 4.9 or less? Thinking Cuellar or Cameron, erring towards Cuellar. Maybe Rangel?

ALLL ABBBOOAAAARRRRDDDDDDDD

baines -) enrique for free transfer

or

tevez + baines or ivanovich for rvp and a cheap defender. - for a -4 points hit??

cheers

I'd love to know what all the fuss is about getting Enrique in? Is it just typical bandwagoners and Enrique playing further up the pitch? As a Liverpool supporter, who watches them week in week out, I fail to see why everybody is jumping on the bandwagon, yes he is playing further forward, but he aint done out and apart from the Wigan game, he has been poor as usual, gets caught out and and gives away the ball to much, the rest of the team cant stand him because he dilly dallies to much, and it was only a few weeks ago, he was sat on the bench with a miserable face, and getting zero gametime....and Rodgers was looking at shipping him out because he didnt fit into this system. (the imaginary tiki taka system that ISNT working)

If your looking at any Liverpool defensive cover, Glen Johnson is your man! He has been by far our best player, him and Suarez are streets ahead of anybody at the club at the moment and Glen is playing virtually right wing himself, and could have had a few goals this season....so anybody thinking about Gerrard and Enrique, you are foolish. Gerrard is only playing because, well, because he is Steven Gerrard, but he has been by far one of our worst players this season. He was hopeless last night as usual. And has been for the past few seasons. But he remains in the side, because he is Steven Gerrard. Notice how Shelvey came on last night for Henderson, Gerrard looked like an old man, and Rodgers kept him on.

Well past his sell by date now and is doing more damage, because other teams are spotting him out as a weak link, he looked like an old man up against Bale and co last night. He was all over the place for both of Spurs' goals and has been at error for many goals we have conceded this season.

Sorry for the longest post on FFS ever.

tell it like it is, my brother..

I watched some of the game last night, he popped up in the CF position a few times, had a couple of long shots that went pretty close, headed down to a team-mate when he could have gone for goal.

OOP defenders are very valuable.

I agree, but Enrique in FFS terms looks good as long as he plays OOP. How long that will last is anyone's guess.

He wont be playing left wing come January. Don't be surprised if Rodgers changes it around now, Enrique apart from the Wigan game, has been useless as usual.

The plan for Rodgers is to push Gerrard further up the pitch, playing right wing/false 9. A front three of Sterling, Suarez and Gerrard. Obviously, Lucas being out has halted that. So effectively, everyone has had to move a place back in midfield. And our midfield has been poor for a few weeks now. Allen is having to play the holding role and Gerrard is left exposed running backwards. So when Lucas comes back into the side, Gerrard will be pushed on, and Allen will be playing in his natural position and influencing things further up the pitch.

Allen is a massive prospect for me when this happens, because his price has gone down playing where he is in Lucas' absence.

I went to the game yesterday, Enrique got in all sorts of excellent forward positions.

However, its what Rogers does with Downing. If he's got ANY sense, he should leave Downing out and put Enrique LB. Downing totally lost Lennon for the first goal last night and he looked generally nervous whenever Lennon was running at him.

I think there could be quite a few unhappy people on here at the wknd when Enrique moves to LB.

Should I take a 4point hit for hazard -> bale? Before his price rise tonight?

Just did it, without the hit. Think it's a good call

I wonder will Lescott get given a game against Everton? Old club and all and he doesn't seem to be injured so it's not implausible.

Not sure if Mancini cares about much about his players feelings let alone have any sentiment for their previous clubs. Nastasic + Kompany are playing well, forming a good partnership and with City having all kinds of defensive problems I think he will be relieved that they have steadied the ship.

Cheers for the Stoke downgrade suggestion. I had my blinkers on.

No problem mate, glad I could be of assistance. Now let's hope Stoke don't go on a 10 game CS run!

Not to dampen the Enrique enthusiasm but...with Lucas back, Gerard will surely play further forward. This will surely affect Enrique, and perhaps even Sterling?

REPOST

Bunn

Baines Rafa Cuellar

Afro Silva Bale Sterling

RVP Berb Suarez

Bego Michu Davies Gunter

0 FT 0.3 in the kitty

What do we think?

Quick question, if I've decided to play the WC, can I do 10 transfers today and play the WC tomorrow without hits?

That's right. Even if you take hits today they will all be cleared if you play your WC later this week before the deadline. Have at it!

Evening chaps...

Beg (wba)
Clarke (qpr) / Rafael (rdg) / Enrique (C) (SOU)
Caz / Fellaini (mci) / Llalana (liv) / Bale (SWA)
Long (STO) / Suarez (SOU) / RVP(vc) (rdg)

Subs - Ruddy SUN / Davies (ars) / Shawcross (wba) / Guthrie(MUN)

Had 2 free transfers - already done baines > enrique
Worthwhile doing ruddy > mignolet or get better rotating keeper?

Would you rather have Wisdom that Dawson or Davies?

Can't think of any other good defenders for £4.5m or less. Got Cuellar.

I might do the unthinkable this week.

Oh wrong post.

4 hours ago I was convinced I would transfer Baines out for Enrique..

Now when the time comes, i just couldn't do it... Damn Baines...

And I thought, I have Szcezny.. so F@%K Bego I dont need you.

And finally the transfer button has been pressed.

Bego > Cerny
Figs > Enrique

Now I have both Baines and Enrique. Cameron, Nelsen, Gorkss rotating for 3rd DEF.

Happy days.

What's the word on Mr Roboto's teeth?

switch hazard to walcott and take a hit or wait a week bench hazard and play fellaini away to city?

same dilemma without the fellaini thing, but could really considering walcott for hazard

need some expert advice:

a) hazard > walcott
b) save transfer

team is linked. Cheers!

Right folks 2 transfers this week, what do I do ???

Jussi - (Cerny)
J. Enrique, Clyne, McCauley - (Demel)
Bale, Silva, Fellaini, Noble - (Gera)
RVP, Berba, Saurez
Scout Picks
For Gameweek 29
Snodgrass

Lallana

Mata

Hazard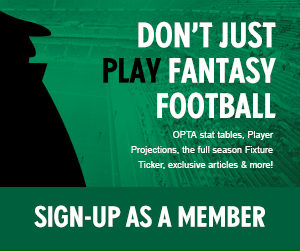 Watchlist
Goalkeepers
Player
Club
Factors

No Change

Boruc
SOT

B

,

Vs

Up

Begovic
STO

C

,

Vs

No Change

Ruddy
NOR

B

,

Vs

No Change

Cech
CHE

A

Up

Speroni
CPL

B

,

£

Up

De Gea
MUN

B

No Change

Howard
EVE

B

,

Vs

No Change

Adrián
WHM

B

,

£

Up

Mannone
SUN

B

,

Vs

,

£

No Change

Krul
NEW

C

Up

Foster
WBA

C

Up

Hart
MCI

B

Down

Marshall
CAR

C
Defenders
Player
Club
Factors

Up

Terry
CHE

A

Up

Evra
MUN

B

Up

Shawcross
STO

C

,

Vs

No Change

Fonte
SOT

B

,

Vs

No Change

Olsson
NOR

B

,

Vs

,

£

Up

Ward
CPL

C

,

£

No Change

Coleman
EVE

C

,

Vs

Up

Collins
WHM

A

,

£

Up

Bardsley
SUN

C

,

Vs

,

£

Up

Kompany
MCI

A

Down

Caulker
CAR

C

Up

Ridgewell
WBA

C

,

£

No Change

Skrtel
LIV

B

No Change

Williamson
NEW

C

,

£

Down

Koscielny
ARS

B

,

VsX
Midfielders
Player
Club
Factors

No Change

Hazard
CHE

A

No Change

Lallana
SOT

B

,

Vs

Up

Mata
MUN

C

Down

Snodgrass
NOR

B

,

Vs

,

Inj

Up

Brunt
WBA

C

,

£

Up

Walters
STO

B

,

Vs

No Change

Ince
CPL

C

,

Rest

,

£

Up

Y Touré
MCI

B

No Change

Nolan
WHM

A

Up

Johnson
SUN

B

No Change

Gerrard
LIV

A

Down

Mirallas
EVE

B

,

Vs

,

Rest

Down

Noone
CAR

C

,

Inj

,

£

Down

Cazorla
ARS

B

,

VsX
Forwards
Player
Club
Factors

Up

Suárez
LIV

A

Down

Sturridge
LIV

A

Up

van Persie
MUN

A

Down

Adebayor
TOT

A

,

VsX

No Change

Lambert
SOT

B

,

Vs

No Change

Rodriguez
SOT

C

,

Vs

,

£

Up

Crouch
STO

B

,

Vs

,

£

Up

Hooper
NOR

C

,

Vs

,

£

Up

Aguero
MCI

C

,

Inj

Up

Lukaku
EVE

C

,

Vs

,

Inj

Up

Remy
NEW

B

,

Vs

No Change

Jelavic
HUL

B

,

£

Up

Borini
SUN

B

No Change

Bony
SWA

B

Up

Carroll
WHM

C

,

Inj
Selection Factors
| | |
| --- | --- |
| A, B, C | Current Form |
| Vs | Favourable Fixtures |
| VsX | Unfavourable Fixtures |
| Rest | Rotation Risk |
| Inj | Injured/Returning from Injury |
| OoP | Out of Position |
| £ | Potential Bargain |
| Sus | Suspended/Near Suspension |
Suspension Tightrope
| Player | Team | YC |
| --- | --- | --- |
| Olsson | WBA | 9 |
| Delph | AVL | 8 |
| Luiz | CHE | 8 |
| Ramires | CHE | 8 |
| Chamakh | CPL | 8 |
| Barry | EVE | 8 |
| Rooney | MUN | 8 |
| Tioté | NEW | 8 |
| Walters | STO | 8 |
| Yacob | WBA | 8 |
"He's working hard at it and so are we. Sometimes we play well but not all the time. We don't have luck on our side. It's easy to point the finger at someone but I'm not like that. We have to do better ourselves."

Robin Van Persie on criticism of David Moyes.