Our weekly look at the Fantasy Premier League (FPL) game arrives a little later than usual this time. The rundown of the Scout League standings sees three of the overall top four lead the way, while we assess the transfer market, where the arrival of Rafa Benitez has had a significant effect already…
Scout League Standings
We've a two-way points tie at the top of the Scout League after Gameweek 14. Iyad Zahlan returns to the summit by virtue of the fact that he had made less trades than his rival before the midweek deadline. Iyad racked up 53 points during the week, mainly thanks to goals from captain Robin Van Persie, Gareth Bale and Michu, while Carlos Cuellar shipped in with a clean sheet. He now sits on 897 points, second in the overall rankings and just three points off the leader.
Brad Conlin sits in second spot on 897 points and third in the overall rankings, despite taking a four point hit. His decision to name Theo Walcott as his vice-captain came in handy when Carlos Tevez warmed the bench for City at Wigan, while Bale and Rickie Lambert also found the net.
T.I. is a non-mover in third spot after picking up 58 points in the previous round. He also chose to captain Van Persie, while Bale and Cuellar were joined by Ryan Nelsen in picking up the points. T.I. sits in fourth in the overall rankings on 892 points.
David Jones moved up to fourth after accruing 50 points in Gameweek 14. Captain Wayne Rooney let him down, though Michu, Bale, Marouane Fellaini and Rafael helped boost his overall tally to 876 points, enough to earn him 20th spot overall.
Paul Rowland completes our top five after a 61 point haul in midweek. Intriguingly, his approach is entirely different from our previous quartet – he doubled up on the Chelsea and United defences, while Michu was handed the armband and Fellaini also produced.
The performance of our top five have ensured Fantasy Football Scout stays top of the Best Leagues – an average of 886.8 is 23.6 points ahead of our nearest challenger.
In the contributors league, Facer keeps his place at the top. Bale, Fellaini, Rafael, Michu and captain Van Persie helped him to 63 points in midweek.
Market Trends
A quick turnaround in Gameweeks has afforded less time for the bandwagons to get into full gear, though Gareth Bale's goal and assist against Liverpool have earned the Spurs winger over 56,000 new owners. Marouane Fellaini is a distant second behind the Welshman – over 39,000 Fantasy managers have drafted in the Everton midfielder after he produced his third set of double figures in his last four appearances in midweek.
Faith in Liverpool's Fantasy assets is on the rise ahead of a strong schedule. Luis Suarez (35,000), Jose Enrique (28,000) and Raheem Sterling (16,000) have proven popular since Tuesday evening's deadline passed. Swansea's display against West Brom has earned Wayne Routledge and Michu plenty new suitors – a combined 39,000 have snapped up Michael Laudrup's midfield pair.
Arsenal's kind upcoming run of games has prompted investment in Theo Walcott and Santi Cazorla – the pair have attracted over 28,000 transfers in between them, while a combined 24,000 have snapped up West Brom duo James Morrison and Shane Long ahead of three home games in four.
Between the posts, John Ruddy's injury and subsequent three month absence has seen Asmir Begovic, Jussi Jaaskelainen and Brad Guzan all transferred in by 11,000+ Fantasy managers. Chelsea's record of back-to-back clean sheets under Rafa Benitez has seen Branislav Ivanovic and Ashley Cole reappear on Fantasy radars – a total of 22,000 have drafted in the pair, while Norwich's cut-price appeal has seen Javier Garrido (16,000) and Seb Bassong (13,000) continue to rack up new owners. Ryan Shawcross, Per Mertesacker and Matija Nastasic are all on Fantasy radars approaching tomorrow's deadline.
The Benitez effect has had an adverse effect of Chelsea's attacking assets, with the midfield exodus gathering pace. Juan Mata is the most transferred out player in the Gameweek, with over 41,000 parting company with the Spaniard – Eden Hazard isn't far behind, with 33,000 trades out.
Leighton Baines' possible hamstring absence has resulted in 39,000 sales of the Everton left-back, with many making a move for Jose Enrique to free up budget. Carlos Tevez's failure to appear in the first XI for City's last two has persuaded 36,000 to part company with the Argentine.
Kevin Nolan, Yaya Toure and Hatem Ben Arfa have been moved on by over 15,000 Fantasy managers as midfields get refreshed, while somewhat surprisingly, Dimitar Berbatov has been sold on by over 17,000, despite four home games in the next six.
Final question on the matter, if you had the money to afford both, would you choose Cazorla or Walcott?

Leaning towards Walcott at the moment.

I agree. Walcott. Just so much more potential there, and the 0.8m saved will always come in handy.

Put another way, who would you captain if you had to choose one?

Walcott. Seems to be the points magnet and seems to playing himself into undroppable status

Cathorla, clearly. He is a beast and is going to play every minute of the campaign injury permitting. Walcott however, is not.

my answer is:
Walcott 4 goals and 4 assists in 512 minutes.
Cazorla 4 goals and 4 assists in 1250 minutes.

walcott 0.8mil cheaper, and now looks like he'll get the minutes

Get Gervinho again. He is about to hit form.

Good to go?

-- Bego -- (Trem)
Enrique -- Cuellar -- Nasty
Bale -- Mata -- Felliani -- Sterling
RVP(c) -- Suarez(vc) -- Berba

Subs: Puncheon Caulker McCartney

Hedging my bets just incase Pool do the unthinkable and dont score against Southampton. I think if they do well then just by my having their front 3 I will definitely do well.

Also fancy RVP to score versus Reading

Baines -> Enrique for a hit? Really, really can't decide on this - I love Baines, but the injury/respective upcoming fixtures are making this very tempting.

I wouldn't do it for a hit, unless the money you free up is used for the other transfer

How's my team looking for this week, good to go?

Bunn (Guzan)

Enrique, Nastasic, Nelsen (Davies, Shorey)

Walcott, Silva, Bale, Fellaini (Puncheon)

Benteke, Suarez (vc), RVP (c)

A big call, which I guess a lot of people will have, is on captaincy. On RVP at the moment, as I think Sot'on's defence is better than Reading's, but it's a close call.

gotta love that midfield! I'm between RVP and Suarez too.. currently on Suarez (c)

thanks - it's a wild card week, hence why I've managed to get it so strong. But this week, it's too difficult a call between the two captains, I'll probably change my mind a few more times yet!

I'm gonna do Baines -> Enrique, but then who should I take out for Walcott...

Nolan or Mata?

Nolan for sure. Poor fixtures. Then sell Mata in the next few weeks before his blank. He'll play versus WHU for sure

So her me out, im just telling ya'all that Southampton is not gonna be a thrashing or easy game for Liverpool. Not as easy as you think it would be. They didnt concede many these days(southampton) whih is why i changed my armband to RVP(C), leaky and weak, error prone reading defence might just do it for RVP. Cant argue with west ham at home return, sam allardyce's man at the back are good and strong..

My thinking too. Reading's defence is poor - Gorkss and Morrisson is a weak centre back pairing and the Madjeski is hardly an intimidating place to go.

He did nothing against QPR

What you did there... I see

Great let the season begin

Rp what do you all think I should do get either sterling, lallana or Walters for pienaar?

Sterling.

Stoke are not great attacking and their fixtures get harder soon. Lallana has a blank coming up soon. Wheras Sterling is even at his inflated price still great value, nailed on and got great fixtures

close to doing tevez to suarez and hazard to walcott -4. il be making suarez captain but il have sterling,enrique and suarez (c) which too much? tempted to captain RVP but if i bringing suarez in for -4 id have to be

I'm in a similar situation.
I have Enrique, Suarez and sterling.
I also have RVP and Berbatov.
Not sure who to captain and if I should play all three Liverpool players.
My midfield options are Mata, Walcot Fellaini and Michu.
Not sure whether to bench Sterling Michu or Fellaini.

close to doing tevez to suarez and hazard to walcott -4. il be making suarez captain but il have sterling,enrique and suarez (c) which too much? tempted to captain RVP but if i bringing suarez in for -4 id have to be cap him..

any views?

Two questions:

Who should I start?

Michu or Mata

and

Shawcross or Caulker (will be fit)

Foster / Begovic
Davies / Baines / Evans J / Nelsen / Gorkss
Sterling / Mata / Puncheon / Silva / Bale
Van Persie / Berbatov / Ba

2 FT, £1.1m in the bank.

Baines ---> Enrique
Mata ---> Walcott
Sounds good?

Disagree. why keep Mata? Azpilicueta and Nasty deliver no attacking returns comparing to Enrique, with minor differences of price.

Not convinced by either of them. Enrique seems like the better choice.

Suarez and A.Cole or RVP and Nelsen ?

Anyone benching Fellaini and playing Sterling? I am struggling to decide.

Makes sense to do it this week

I personally will play Fellaini. But better to bench someone else but not Sterling

Playing both (the beauty of owning Puncheon). But if I had to decide between the two I'd play Sterling, definitely.

#mindgames

You aren't even a threat. What's that gap like now?

me too....the beauty of owning adam johnson...

There is a new post in case you didn't know.

Fill in the blanks,

_____, Cerny
Baines, Rafael, _____, Davies, Gorkss
Cazorla, Bale, Michu, Fellaini, _____
Tevez, RVP, Berbatov

a.) Begovic, Clyne and Sterling
or
b.) Federici, Enrique and Britton

Bego

Enrique, Rafael, Cuellar(Clyne, Demel)

Mata, Michu, Fellaini, Sessegnon (Sterling)

Rvp, Defoe, Suarez (c)

Still not sure if you should start Sterling. Could be overkill since i have Enrique and Suarez though

To play Begovic (CHE) or Jussi (wba), that is the question

fail, its the other way round

Begovic Jask

Hughes Rafael Cameron Davies Demel

Cazorla Mata Sterling Ramirez Fellaini 

Rvp Berbatov Fletcher

1FT, 3.3m in the bank.

A) Mata —> Bale

B) Cazorla —> Walcott

C) A + B (-4pt)
D) Fletcher/Berbatov —-> Suarez

Any suggestions greatly appreciated, thanks.

Would anyone change anything from this team? 2.4 in the bank.

Foster (STO)

Mertesacker (SWA), Rafael (rea), Wisdom (SOT)

Sterling (SOT), Walcott (SWA), Mata (whu), Fellaini (mci)

Suarez (SOT), Berbatov (TOT), RVP (rea)

Subs: Guzan (qpr), Ramirez (liv), Nelsen (AVL), Gallas (ful)

How much do you think Baines will drop if he's only out for one week?
Scout Picks
For Gameweek 29
Snodgrass

Lallana

Mata

Hazard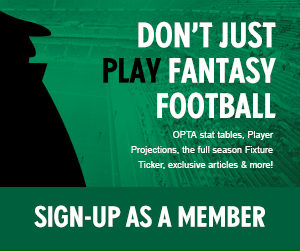 Watchlist
Goalkeepers
Player
Club
Factors

No Change

Boruc
SOT

B

,

Vs

Up

Begovic
STO

C

,

Vs

No Change

Ruddy
NOR

B

,

Vs

No Change

Cech
CHE

A

Up

Speroni
CPL

B

,

£

Up

De Gea
MUN

B

No Change

Howard
EVE

B

,

Vs

No Change

Adrián
WHM

B

,

£

Up

Mannone
SUN

B

,

Vs

,

£

No Change

Krul
NEW

C

Up

Foster
WBA

C

Up

Hart
MCI

B

Down

Marshall
CAR

C
Defenders
Player
Club
Factors

Up

Terry
CHE

A

Up

Evra
MUN

B

Up

Shawcross
STO

C

,

Vs

No Change

Fonte
SOT

B

,

Vs

No Change

Olsson
NOR

B

,

Vs

,

£

Up

Ward
CPL

C

,

£

No Change

Coleman
EVE

C

,

Vs

Up

Collins
WHM

A

,

£

Up

Bardsley
SUN

C

,

Vs

,

£

Up

Kompany
MCI

A

Down

Caulker
CAR

C

Up

Ridgewell
WBA

C

,

£

No Change

Skrtel
LIV

B

No Change

Williamson
NEW

C

,

£

Down

Koscielny
ARS

B

,

VsX
Midfielders
Player
Club
Factors

No Change

Hazard
CHE

A

No Change

Lallana
SOT

B

,

Vs

Up

Mata
MUN

C

Down

Snodgrass
NOR

B

,

Vs

,

Inj

Up

Brunt
WBA

C

,

£

Up

Walters
STO

B

,

Vs

No Change

Ince
CPL

C

,

Rest

,

£

Up

Y Touré
MCI

B

No Change

Nolan
WHM

A

Up

Johnson
SUN

B

No Change

Gerrard
LIV

A

Down

Mirallas
EVE

B

,

Vs

,

Rest

Down

Noone
CAR

C

,

Inj

,

£

Down

Cazorla
ARS

B

,

VsX
Forwards
Player
Club
Factors

Up

Suárez
LIV

A

Down

Sturridge
LIV

A

Up

van Persie
MUN

A

Down

Adebayor
TOT

A

,

VsX

No Change

Lambert
SOT

B

,

Vs

No Change

Rodriguez
SOT

C

,

Vs

,

£

Up

Crouch
STO

B

,

Vs

,

£

Up

Hooper
NOR

C

,

Vs

,

£

Up

Aguero
MCI

C

,

Inj

Up

Lukaku
EVE

C

,

Vs

,

Inj

Up

Remy
NEW

B

,

Vs

No Change

Jelavic
HUL

B

,

£

Up

Borini
SUN

B

No Change

Bony
SWA

B

Up

Carroll
WHM

C

,

Inj
Selection Factors
| | |
| --- | --- |
| A, B, C | Current Form |
| Vs | Favourable Fixtures |
| VsX | Unfavourable Fixtures |
| Rest | Rotation Risk |
| Inj | Injured/Returning from Injury |
| OoP | Out of Position |
| £ | Potential Bargain |
| Sus | Suspended/Near Suspension |
Suspension Tightrope
| Player | Team | YC |
| --- | --- | --- |
| Olsson | WBA | 9 |
| Delph | AVL | 8 |
| Luiz | CHE | 8 |
| Ramires | CHE | 8 |
| Chamakh | CPL | 8 |
| Barry | EVE | 8 |
| Rooney | MUN | 8 |
| Tioté | NEW | 8 |
| Walters | STO | 8 |
| Yacob | WBA | 8 |
"He's working hard at it and so are we. Sometimes we play well but not all the time. We don't have luck on our side. It's easy to point the finger at someone but I'm not like that. We have to do better ourselves."

Robin Van Persie on criticism of David Moyes.