Chelsea's Spanish schemer takes a rise in our weekly refresh of the Watchlist rankings, though Rafa Benitez's rotation dents the prospects of their new man up front. Arsenal's kind run of fixtures keeps them in our thoughts following on from the double, while Sunderland's new-found thirst for goals also plays a significant part in our update. As always, you can view our current standings in the sidebar on the right and read on for the details behind the recent movements and the factors at play behind our thinking.
Goalkeepers
Wojciech Szczesny retains his top spot, courtesy of three home games in the following four as Arsenal prepare to welcome Liverpool, Stoke and Villa to the Emirates. Simon Mignolet is close on the Pole's heels in second – one clean sheet in four has somewhat dented his appeal, though he continues to offer the most obvious and secure route into Sunderland's backline.
Asmir Begovic is a non-mover in third. While Stoke's recent poor defensive form has seen him beaten 13 times in his previous four, the Bosnian is afforded three favourable home games (WIG, REA, WHM) in the next five to cement his place at the top of the Fantasy Premier League (FPL) keeper standings. With Tony Pulis still uncertain over a return date for Marc Wilson and Andy Wilkinson missing out last weekend due to a recurrence of a back problem, we're currently without an obvious budget alternative in the Potters defence.
Michel Vorm takes a step up our Watchlist rankings. The Swansea stopper has been beaten just four times in five matches since returning from injury – Vorm may have three away games in the next four but his owners will be undeterred; the Welsh club have the best defensive record on the road, conceding just nine times. Ben Davies' form is the only downside to acquiring the Dutchman, however, with the left-back's budget appeal and attacking returns likely to deter many from investing in the Swans' goalkeeper.
Jussi Jaaskelainen remains in the mix – West Ham's next three (ful, SWA, avl) look prosperous, with the Finnish international offering the security of save points to fall back on should his side concede, while Adam Federici and Mark Bunn are our preferred budget stoppers in light of their respective schedules.
Defenders
Leighton Baines returns to the top of the pile thanks to back-to-back clean sheets in the past couple of Gameweeks. Everton seem to have rediscovered their resilience once again and with spot-kick and set-piece duties in his locker, Baines' double figure haul at Newcastle in Gameweek 21 served a reminder of his propensity to pick up points at both ends of the pitch. With two favourable home fixtures to come, including a clash with Villa – a side so vulnerable to set-piece delivery, Baines looks strong in the short-term.
United's favourable run of upcoming fixtures earns Patrice Evra a leap in our estimations. With the United midfield struggling to justify any level of investment this season, the Frenchman has racked up four goals and five assists and now faces five of the current bottom nine over the next six Gameweeks as Sir Alex Ferguson's side look to push on at the summit. Jonny Evans is a cheaper alternative but with concerns over his hamstring, we're leaving him out of the equation for now – Ferguson has hinted Evans is now his first-choice centre-half, though; when fit again, his cheaper price tag could tempt plenty new suitors. Rafael is, of course, the other route to explore – although with European football back on the agenda soon and Chris Smalling and Phil Jones both fit, there could be rotation on the horizon for the Brazilian.
Both Kieran Gibbs and David Luiz slide a little after their double Gameweeks but the pair stay in the top five thanks to their upcoming fixtures. Gibbs' five assists highlight his attacking potential and while Luiz is handed a stay of execution thanks to his set-pieces and share of spot-kicks, a move back to central defence somewhat dents his appeal. It remains to be seen if Luiz is recalled to a midfield role at Readin and Rafa Benitez's rest and rotation may force a reassessment of the Chelsea backline situation, with Cesar Azpilicueta staking a strong case as a cheaper alternative. John Terry's return to the side will, however, put matters in flux once again.
Ben Davies' 10 point haul against Stoke last weekend has already seen his price rise – nevertheless, a cost of just 4.3 continues to look a bargain ahead of Swansea's upcoming schedule and plenty more investment can be expected, with the left-back offering the cheapest route into Michael Laudrup's defence. Joey O'Brien's return from injury brings the West Ham full-back onto Fantasy radars once more. While Guy Demel is 0.5 cheaper, O'Brien's points per game average (4.5 to 2.9) highlights their respective displays so far.
Midfielders
Theo Walcott holds firm at the top here. Shifted back to the flank against Chelsea on Sunday, he still produced the goods – the expected return of Alex Oxlade-Chamberlain for tomorrow's game with West Ham should afford him the chance to move back up front once again. With returns in eight of his last 10, Walcott's superb form manages to stave off the threat of Juan Mata but there's not much between them. The Spaniard has now established a seven point gap at the top of the FPL midfield standings – his goal against the Gunners last weekend means he has now scored or assisted in 13 of his last 15 starts. Despite rotation concerns, Mata is firmly established as the weapon of choice amongst the Chelsea attackers, with Eden Hazard becoming a differential by comparison as the Belgian's ownership continues to drop.
Marouane Fellaini keeps third spot, despite a run of five games without a goal. The Everton man has chipped in with bonus or assists in his last three and welcomes West Brom, Villa and Reading to Goodison in the next five, in addition to a trip to Norwich. Similar to Fellaini, Michu stays in the top five thanks to a kind upcoming schedule – his form has been poor, with just one goal and an assist in the league from Gameweek 17 onwards, but we're backing him to come good once again with statistics showing that he remains amongst the most threatening midfielders on show, despite his recent drought.
Compared to Walcott and Mata, Gareth Bale has offered little consistency in the premium bracket of late. The Welshman has scored or assisted in just one of his last six appearances – nevertheless, that 21 point haul in Gameweek 19 served a reminder of his explosive qualities. With five sets of double figures to his name, Bale will be hoping to return to form ahead of games against Norwich, West Brom, Newcastle and West Ham in the next four, though there's no doubt he's testing the patience.
Steven Gerrard and David Silva both climb, with the Liverpool skipper in a remarkable run of form. A goal or assist in nine of his previous 10 keeps him firmly in our thoughts as the Reds make their way to Arsenal and City, while Silva's consistency of starts is a selling point as rotation up top at City remains an issue. Santi Cazorla plummets down the rankings with Walcott the preferred Arsenal midfield coverage of many, though the playmaker still has the potential to produce – his assist at the Bridge keeps him in the top five scoring FPL midfielders this season. If you wish to double on Arsenal's attacking potential, Cazorla will perhaps be preferred to Lukas Podolski up top.
Further down, plenty of mid-price protagonists are vying for our attention due to form and/or fixtures. Jon Walters, Adam Johnson, Adel Taarabt and Joe Cole are all worthy of consideration over the next few for Fantasy managers scouring the market for midfield alternatives.
Forwards
Robin Van Persie and Luis Suarez remain immovable objects at the top of the forward ranking, while Edin Dzeko also keeps his place in the top three. The Bosnian has started each of the last four for City and has scored or assisted in all of those fixtures – at just 7.5, he remains a strong value route into Roberto Mancini's frontline, despite the permanent threat of rotation.
Steven Fletcher moves to the front of the chasing pack. The Sunderland man has been in superb form of late and has an eye-catching schedule on his agenda – plenty have already snapped up the 7.0 priced Scot this week after his double at the DW on Saturday. Daniel Sturridge's first league start for Liverpool saw the former Chelsea man continue his run of a goal per game since moving to Merseyside – his mid-price appeal could sway many looking for ways to save budget, with the fixtures falling kindly from Gameweek 26 onwards for Brendan Rodgers' side. It's early days but there's no doubt that continued form from Sturridge and any marked decline in Suarez's output will shake things up when it comes to considering Liverpool's attacking assets.
Elsewhere, Demba Ba's sub role against Arsenal casts doubts over his consistency of game time under Rafa Benitez – his ability to produce is undbouted but Ba looks increasingly likely to be vulnerable from his manager's rotational whims on every third fixture. Wayne Rooney comes back into the picture after recovering from a knee injury, though Sir Alex Ferguson's decision to bench him at Spurs in favour of Shinji Kagawa is likely to deter many from jumping aboard any bandwagon, with Van Persie's game time looking far more assured and is returns ridiculously consistent.
The likes of Rickie Lambert and Pavel Pogrebnyak look appealing options for those eyeing up a five man midfield, while Jermain Defoe, Papiss Cisse and Dimitar Berbatov will be hoping to benefit from some kind upcoming fixtures to rebuild their standing with Fantasy managers.
Do you think Aguero will start or continue to be eased back in with another bench appearance?

Considering Suarez RVP Fletcher to turn into > Aguero RVP Sturridge

He should start.

Well we can wait and see this week. The teamsheet will be out before FPL deadline.

He'll start. A week and a half between matches so plenty of time to build his fitness even more. We'll have the teamsheet before the deadline anyway.

Yeah valid point. Guess I'll have Plan A and B in case he is or isn't starting.

Yeah finally got my defense and all WC sorted out.
I know you're not supposed to plan for long term transfer and all but meh I got them sorted out in this condition.

DDG - 3.9
Nasty - Dawson - Davies - Cameron - Pearce
Mata - Walcott - Michu - Bale - Fellaini
RVP - Aguero - Pogre

Transfers
GW 26: Fellaini Pogre -> Marveux Sturridge.
GW 28: Bale Dawson -> Fellaini A.Cole.
GW 29: Downgrade Cameron -> Wilson.
GW 31: DDG Davies -> Ruddy/Szeczny Enrique.

I'll have this squad by GW 31.

Sir Cezny 3.9
Nasty - A. Cole - Enrique - Wilson - Pearce
Mata - Walcott - Michu - Fellaini - Marveux
RVP - Aguero - Sturridge

Not looking too shabby is it?

I wouldnt get Aguero right now. I'd wait and watch for another week in all honesty.

Plus, your team is not going to look like that come GW 31 for sure.

He's looking good when he came of the bench last time around. You can say it's my punt, trying to beat the market. If he starts this week I'll get him.
But if not I have alternatives in Dzeko or Fletcher before getting him in.

Yeah I know I was just playing around with it and planning out some potential transfers

dont plan for that far!!!! there may be many hurdles!!!!

like injuries???bans???

Yeah I know I was just playing around with it and planning out some potential transfers.
My guideline for transfers so to say but I won't stuck with it 100% as there will definitely be unexpected conditions.

But yeah for my current team. Looking fine?

Guys,

Currently on my wildcard, which combo is the best going forward

A) Shaw, Sterling, Suarez

B) Nastasic, Fellaini, Benteke

Thanks

The Norwegian and Solskjaer "student", Vegard Forren, will probably come in around 4.0 in the Southampton defence. Could be interesting to follow him.

If im going for a soton def at 4.0 its clyne.

What do people make of BAE's stuff about Naughton?

Will AVB keep him out through spite? Was seriously considering bringing him in this week.

No. He has just kindly pointed out that Naughton is right-footed ...

Which is better

Current Team

Begovic (Jasskelainen)
Rafael Azpilicueta O'Brien (Shaw Cameron)
Santi Mata Walcott Michu (Puncheon)
RVP BA Podolski

WC Team

Begovic (Boruc)
Rafael Azpilicueta O'Brien (Shaw Cameron)
Bale Mata Silva Michu (Puncheon)
RVP Fletcher Suarez

WC team. I dont like Boruc though

In what order would you rate the following players over the next 2 gws -

Bale (nor, wba)
Fellaini (WBA, AVL)
Walcott (LIV, STK)
Mata (rdg, new)

Haha, I thought someone would say that. I cant afford them all with VP and Aguero,

sure can. cue my WC team.

.

already use your wc? i'm getting all 4 plus rvp aguero and studge. jafa-esque defense though

yyyep.

my WC tem so far:-

DDG Bunn
Zaba Gibbs Davies Demel Pearce
Mata Walcott Bale Afro Punch
RVP Kun Fletch

0.5 itb to do Fletch > Studge later on.

lemme see the jafa-esque defense. who knows, it might get more CS!

TV 108.7. used to be higher before i got rid of Michu & Suarez recently. selling value is 105.9.

0.6 itb actually, would have extra 0.3 if i keep Bego.

but I'd get 4 of them if I were you as TW pointed out. Mata and Wally is fixture proof, Bale is somewhat too and he's 'due', while Fellaini got the best fixture.

Mata at the bottom. The other three you have/get.

have Mignolet from GW14.. Federici or Boruc for 2nd goalie? is Boruc nailed in?

Federici. Boruc is totally crap, imo.

Whats your link all about TW

It's a bunch of H2H competitions for the FFS regulars, which is based on the Premier League, La Liga, Ligue 1, Bundesliga, Serie A and another league of other European teams. If you follow the site you will be notified of when applications open for next season, as sadly, this season has already commenced.

Feel free to take a look around the site to see what it involves.

Is Johnson a reasonable alternative to Fellaini or am I talking mad shit?

You are talking mad shit. Give A. J. a year or so.

Fell is defensive mid atm, not second striker

I posted this earlier...still funny though.

Granville's last 15 minutes on his WC...

19 Jan 11:30 Bale to Gerrard
19 Jan 11:29 Gerrard to Bale
19 Jan 11:15 Bale to Gerrard



He used to be indecisive ... but now he's not so sure ...

I like this 'power 5' mid feild but i always like at least one good def and 2 good good strikers. My WC as it stands is -

Begovic Foster
Cameron Baines Nasty Demel Davies
Michu Fellaini Taarabt Punch Mata/Bale
VP Aguero Berba/Fletcher

I prefer the balance there. Whats everyone elses thoughts?

I'm the same. I will have three. Berbatov's form is awful.

It really is but He has WHU, MUN. I'll likely sell for Sturr after that.

Djeko, Defoe(yes, Defoe!) or Fletcher.

If its Dzeko & Aguero up top v QPR I might just do that. I cant afford Defoe. Fletcher is an option but last time i checked his stats they were awful

Well, they are much better now!

We had to fire her, son. I'm sorry.

It makes the world go round,

(I used to be on board, until i remembered this)

Fergie would've got rid of him already if they get Lucas Moura. enough said.

Anyone else out there choose Hazard ahead of Mata?
I was so close to bringing Mata in before xmas(prior to ARS or spurs match where he scored 2) and decided to wait until after that GW but it never happened. not sure if im being stubborn now but i actually think Hazard is the better footballer and being overlooked considering such a small difference in points total and the fact he is 0.6 cheaper?

Also
anyone think Gibbs was excellent at the weekend? dont think he made 1 mistake and got in some great positions yet again..well worthy of a BP IMO and a cert in my squad for the rest of the season along with Shaw Michu and RVP.
Another really impressive player over the last few weeks has been Dembele..probably doesnt get enough assists or goals to warrant a place in a FFT but what a player!
That is all

i think mata is better in FPL terms and reality
however hazard is a bit of a differential these days so can be useful if ur chasing (at least until moses is back)
gibbs is great mostly coz he is the most guaranteed starts in the arsenal team, and he also goes forward
dembele imo wouldv sold a lot of problems for fergie if manu made a move for him in the summer

which all teamsheets will be in before the deadline this week??

So will there be a DGW for Swansea or Chelsea, or will their league game scheduled for GW26 (is it?) be played the midweek before/after so it's still in GW26?

Midweek after I reckon unless there's an FA Cup replay...

Say Whaaaat?

*Takes out bottle of vodka from drawer in office desk

I need to send you some decent whisky.

Its GW27.

I think both the Liverpool v Swans & the Chelsea v Man City could be moved to midweek (the same GW). I do remember this being the same last year (or the year before) and it was moved to later in the season.

*considers whether to go into the beta-blockers business*

Which WC front 8 seems better to you:

3-4-3 version:
Bale - Michu - Walcott - Mata - GUTHRIE
FLETCHER - SUAREZ - Rvp

3-5-2 version:
Bale - Michu - Walcott - Mata - SILVA
STURRIDGE - POGREBNYAK - Rvp

Cerny / Begovic
Nastasic / Onuoha / Azpilicueta / Davies / Demel
Mata / Fellaini / Walcott / Puncheon / Bale
Aguero / Benteke / Van Persie

Puncheon/Benteke rotate rather nicely and I can always make some wiggle room to get Sturridge in 2 weeks if it goes to pot. Beyond that, how does it look? Is Begovic/Cerny a viable combo or should I downgrade Nasty/Azpi and look at a better back-up?

I don't believe that Begovic/Cerny is a goer.

Why?

I'm thinking a 3.9 keeper is the way to go too

I'd downgrade one of the two, probably Azpilicueta (rotation risk when Terry is back), and look to get Fed.

Odds for tonight:

Anytime goal
Wally 1.91
Pod/Giroud 2.0
Caz 2.75
C Cole 4.33
Nolan 4.50
J. Cole 6.50

Clean sheet:
Ars 2.25
Wham 6.50

Correct Score:
Shortest odds are for Ars to win 1-0, 2-1, 2-0

To score 2 goals or more
Wally 5.00
Pod/Giroud 5.50

FYI there are grumblings on Spurs forums/twitter that Defoe has a minor injury that will keep him out for 2-3 weeks.

Might be bollox but just a heads up.

Oh. Bugger - thanks, Scroobius.

Hmmm ... Dempsey ... double Spurs ...

bale upfront isnt a bad shout

What do you guys think of this WC team? Got a few days to tinker with it.

Begovic-Bunn
Davies(Swa)-Bassong-Riether-Evra-O'Brien
Mata-Silva-Walcott-JCole-DeGuzman
Henriquez-RVP-Benteke

Also have 1.1 to spend.

looks nteresting alot of differentials in there attacking wise which hopefully pay off for you maybe consider sturridge in a couple weeks.

Yeah. Henriquez is a short-term plug. I should be able to hold off on a transfer next week and get Sturridge in the one after.

premature question but I'll ask anyway..

Small issue with my team this week is to play

A Gibbs(LIV)
or
B Davies (sun)

Thanks for your answers

WC team ..... 4-5-1

Any thoughts.

De Gea, (Rudd)
Zabaletta, Evra, Azpilicueta (Wisdom, Naughton)
Michu, Mata, Fellaini, Gerard, Walcott.
RVP, (Pogrebnyak, Anichebe)

Considering downgrading my 3 expensive defenders to upgrade one striker to Suarez for 4-4-2.

Hmmm really not sure about this one

plz help me with my team guys

KRUL/MIGNOLET
HARTE / MARIAPPA / DAVIES / O'"BRIEN / GIBBS
GERRARD / MICHU / NOBLE / WALCOTT / MARVEAUX
RVP / SUAREZ / AGUERO
PLEASE LEAVE YOUR CMNTS FR NECESSORY CHANGES
Scout Picks
For Gameweek 28
Mirallas

Lallana

Cazorla

Hazard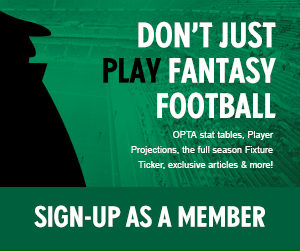 Watchlist
Goalkeepers
Player
Club
Factors

No Change

Boruc
SOT

B

,

Vs

Up

Begovic
STO

C

,

Vs

No Change

Ruddy
NOR

B

,

Vs

No Change

Cech
CHE

A

Up

Speroni
CPL

B

,

£

Up

De Gea
MUN

B

No Change

Howard
EVE

B

,

Vs

No Change

Adrián
WHM

B

,

£

Up

Mannone
SUN

B

,

Vs

,

£

No Change

Krul
NEW

C

Up

Foster
WBA

C

Up

Hart
MCI

B

Down

Marshall
CAR

C
Defenders
Player
Club
Factors

Up

Terry
CHE

A

Up

Evra
MUN

B

Up

Shawcross
STO

C

,

Vs

No Change

Fonte
SOT

B

,

Vs

No Change

Olsson
NOR

B

,

Vs

,

£

Up

Ward
CPL

C

,

£

No Change

Coleman
EVE

C

,

Vs

Up

Collins
WHM

A

,

£

Up

Bardsley
SUN

C

,

Vs

,

£

Up

Kompany
MCI

A

Down

Caulker
CAR

C

Up

Ridgewell
WBA

C

,

£

No Change

Skrtel
LIV

B

No Change

Williamson
NEW

C

,

£

Down

Koscielny
ARS

B

,

VsX
Midfielders
Player
Club
Factors

No Change

Hazard
CHE

A

No Change

Lallana
SOT

B

,

Vs

Up

Mata
MUN

C

Down

Snodgrass
NOR

B

,

Vs

,

Inj

Up

Brunt
WBA

C

,

£

Up

Walters
STO

B

,

Vs

No Change

Ince
CPL

C

,

Rest

,

£

Up

Y Touré
MCI

B

No Change

Nolan
WHM

A

Up

Johnson
SUN

B

No Change

Gerrard
LIV

A

Down

Mirallas
EVE

B

,

Vs

,

Rest

Down

Noone
CAR

C

,

Inj

,

£

Down

Cazorla
ARS

B

,

VsX
Forwards
Player
Club
Factors

Up

Suárez
LIV

A

Down

Sturridge
LIV

A

Up

van Persie
MUN

A

Down

Adebayor
TOT

A

,

VsX

No Change

Lambert
SOT

B

,

Vs

No Change

Rodriguez
SOT

C

,

Vs

,

£

Up

Crouch
STO

B

,

Vs

,

£

Up

Hooper
NOR

C

,

Vs

,

£

Up

Aguero
MCI

C

,

Inj

Up

Lukaku
EVE

C

,

Vs

,

Inj

Up

Remy
NEW

B

,

Vs

No Change

Jelavic
HUL

B

,

£

Up

Borini
SUN

B

No Change

Bony
SWA

B

Up

Carroll
WHM

C

,

Inj
Selection Factors
| | |
| --- | --- |
| A, B, C | Current Form |
| Vs | Favourable Fixtures |
| VsX | Unfavourable Fixtures |
| Rest | Rotation Risk |
| Inj | Injured/Returning from Injury |
| OoP | Out of Position |
| £ | Potential Bargain |
| Sus | Suspended/Near Suspension |
Suspension Tightrope
| Player | Team | YC |
| --- | --- | --- |
| Olsson | WBA | 9 |
| Delph | AVL | 8 |
| Luiz | CHE | 8 |
| Ramires | CHE | 8 |
| Chamakh | CPL | 8 |
| Barry | EVE | 8 |
| Rooney | MUN | 8 |
| Tioté | NEW | 8 |
| Walters | STO | 8 |
| Yacob | WBA | 8 |
"He's working hard at it and so are we. Sometimes we play well but not all the time. We don't have luck on our side. It's easy to point the finger at someone but I'm not like that. We have to do better ourselves."

Robin Van Persie on criticism of David Moyes.