It's a fair assumption that if QPR are to avoid the dreaded drop under Harry Redknapp, much will depend on the contribution of Adel Taarabt. While former Spurs boss has instilled a new-found resilience which has harvested four clean sheets in the last six, it's also telling that of the nine goals the R's have scored since the departure of Mark Hughes, Taarabt has had a hand in six of them.
Indeed, based on the data in the members area, which analyses Opta goals and assists, there's a greater than 50% chance that Taarabt will be involved in his side's goals when on the pitch. Quite simply, no other midfielder can match that contribution to their respective side, underlining his importance to the QPR cause.
Since Redknapp's first official match in charge in the Gameweek 14 draw at Sunderland, the maverick Moroccan has chipped in with two goals and four assists and, with 11 bonus points also thrown in, has averaged 4.4 points per game under the new regime. With Redknapp revealing only this morning that he "won't take any risks" with record signing Loic Remy's groin problem and with Bobby Zamora not yet fit enough for a starting berth, Taarabt's role in "the hole" offers us an intriguing mid-price prospect over the next few matches.
With a share of set-pieces and corners in his locker and with spot-kick duties still intact despite his recent miss against Norwich, Taarabt's upcoming schedule looks particularly enticing. The Loftus Road outfit now square up to six of the current bottom nine in the next nine Gameweeks, offering Redknapp plenty reason to be optimistic as he attempts to claw back a seven point deficit on fourth-bottom Aston Villa.
The R's play host to Sunderland, Wigan and Stoke and travel to Southampton, Villa, Fulham and Reading – plenty of proverbial six-pointers are on the cards, then, and with draws no longer good enough, Redknapp needs to go on the offensive. As the pressure begins to mount in the drop zone, these last few months tend to hand Fantasy managers some unexpected gems at the foot of the table – priced at just 5.8 in Fantasy Premier League (FPL) and 5.2 in Sky Sports game, there'd be no better time for Taarabt to finally dazzle.
Can I just say, I love footyroom. I was just gonna check how City did against Chelsea last season (who scored), cause that's who they are facing next weekend. So I type into the search area "Manchester City - Chelsea". Pops up instantly. Genius site. Aguero and Nasri scored btw.

They'd have to make the search area work first. Tried on 2 computers and it didn't work on either.

Works like a charm for me. Maybe it's your browser. There's a drop down menu that pops up instantly as you write on mine.

REPOST from last page:
So Harry's statement indirectly confirms 'Remy out for GW 27′?

If you think that some American Indie Rock will get you through the rest of your Friday afternoon, try some of The Hold Steady.

Their classic rock sound and intelligent storytelling lyrics make for great listening.

Oh yeah, listened to them for years. Very Springsteen and very good.

Big Springsteen fan here. *checking The Hold Steady on youtube*

quick genuine question. do you think the likes of bolt, blake heck all these 100m sprinters are on performing enhancing drugs?

Some of them are presumably but i'd like to think the best guys like bolt and Blake aren't

i was chatting to this guy and there was a big thread about it on another forum, he is very knowledgable and yes i know its his opinion but he was saying the chemists are ahead of the testing so they wont get caught, yes theese are great athletes these drugs will help push them that 1/10th of a second quicker

Hoping Sturridge can still repay my faith in giving him the armband this weekend!

Best way he can do that for me is to not show again!

Probably the only time I'll be wishing a player I got in for a hit and captained doesn't make it.

I stupidly moved my VC from Michu to Mata last minute.. Definitely need Sturridge to play and get a couple of goals!

I'm so homophobic I've even found a way to have a wank without touching my cock.

I get my mate, Dave, to do it for me.

Fair enough, now how about finding a joke for Jkisthe1.

They've found conclusive evidence outside Oscar Pritorious's house that PROOVES he didn't do it.

Footprints

but he can wear proper shoes, right?

i mean he's made a bit of money so he should have some decent prosthetics, surely.

this is a good point.

if it was in the middle of the night, was he wearing his limbs or not? i'd have thought not. so how did he get from his bed to where the incident took place in the house?

blows the whole investigation wide open.

Was sat opposite this stunning Thai girl on the train earlier, thinking to myself "please, please don't get an erection".

Unfortunately, she did.

Had that one sadly

Very good though

You also buggered it up

The punchline is

Unfortunately HE did

Thats not quite what Oscar Pistorious's girlfriend had in mind when she said he could shoot his load all over her on Valentine's day.

Which front 8 is better?

Bale, Mata, Walcott, Michu, Fellaini

A) RVP, Le Fondre, Suarez
B) RVP, Le Fondre, Aguero
C) RVP, Sturridge, Lambert

B for me. If you can get Aguero/RVP with the Power 5 without completely killing your defence I'd say you're onto a winner!

How are people feeling about the Swansea Liverpool game?

Deflated after the west brom result? Or full of belief that our Liverpool captain's will make up for Monday?

I'm deflated.

Harry's gone crazy.. I guess he signed Remy for upcoming Championship season

Remy is not fit, you already know that. Play him ahead of time and he will be out for the season.

I'd not play my only hope up-top when he's injured. Guess that's common sense.

Do you think Man City can up there game in PL?

Surely they have lost the PL, so there is no way they think united will lose in coming games? Is it?

I am tempted to go for Suarez Aguero for the first time this season i will take man city forward line... But will he deliever?.

If the ball goes over the wall it would need to be hit slower so it can stay on target. The keeper was covering the correct part of the goal, it's just the dip was so extreme that Bale was able to hit it very quickly. Little he could do.

Parm where have you been??

I was so lonely...and scared...

So you missed school and the banter on FFS!

Not even as much as a card, with bikini clad girls on it! Have I done something to offend you?

Everyone get a Swansea Kit
Everyone tell me who they are getting on the Back!
Me Davies33

Yeah sure but you getting one??

Sturridge confirmed fit for the weekend on the BBC

I don't know how to take this. So i will just wait and see how he plays.

Same here, just hope it works out well

I wish, confirmed by Brendan Rodgers himself according to the scout tweets

atleast he had a goal scoring defender so he won that mini duel, give credit to him

I played him last week. Just won. Phew

Um....this doubles thingy, do I have to find a partner?

He caught the sun alright!

Someone was looking for you. MJ i think.

Just go back to your holiday

I'm single

You just made my day, visually.

*puts on clean pair of underwear*

I'm sure you are!

Going to make a bottom 7 team can someone tell me the code and also what team players you can pik
Thanks Guys!!

I'm also interested in this!

Anyone here thinks Wilson will start against Fulham?

i have a sneaky suspicion that he might. if not, he most definitely will as a sub though.

And Demel? Basically, I have to play on of Wilson/Demel. And Demel's on the bench for now.

Kalouless Indian Sherlock

Like?

I came up with something similar, Indian Sherlock ain't got a kalou, that'd be too long. Yours looks like better. I like.

Call me biased but the best kit this season is Chelsea's European kit.
Luff this golden theme!

Any scouts around?

I joined the Members cup in January and got a confirmation email but didn't get a draw. I have emailed Akers but not had a reply.

Anyone else had this problem?

Do you think its worth doing michu to any midfield and then back for -4, i wont lose any value on michu and will allow me to play 11 this week, surely yes? the downside is a wasted transfer there and back

Not worth it. Get rid of one of your 3 Liverpool players.

"Peter Schmeichel will be like a father figure to Kasper Schmeichel" Jamie Redknapp.

Yes he did.
He also said

"Steven Gerrard makes runs into the box better than anyone. So does Frank Lampard."

So for a 4pt hit I need to do one!

Clyne (NEW) / Santon (SOU) / Wilson (FUL) instead of Jagielka (NOR)

or

Mirallas (NOR) / Lambert (NEW) instead of rooney (QPR)

my thought are the i cannot double on everton defence long term (I have baines) however Jags could see out this gw. Rooney's starting place is in contention but I might wait to see his contribution on monday!
Scout Picks
For Gameweek 35
Salah

Gerrard

Mata

Eriksen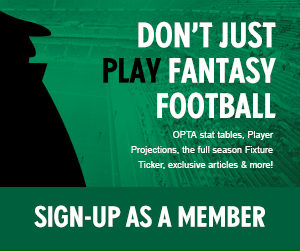 Watchlist
Goalkeepers
Player
Club
Factors

No Change

Hart
MCI

C

,

Vs

Up

Mannone
SUN

B

,

Vs

,

£

Up

De Gea
MUN

C

,

Vs

No Change

Szczesny
ARS

B

,

Vs

Up

Foster
WBA

B

,

Vs

No Change

Guzan
AVL

B

Up

Stockdale
FUL

B

,

Vs

,

£

Up

McGregor
HUL

C

,

Inj
Defenders
Player
Club
Factors

Up

Demichelis
MCI

B

,

Vs

Down

Ivanovic
CHE

B

Up

Koscielny
ARS

B

,

Vs

Up

Alonso
SUN

B

,

Vs

,

£

Up

Smalling
MUN

B

,

Vs

,

Rest

Up

Kaboul
TOT

B

No Change

Skrtel
LIV

B

Down

Baines
EVE

A

,

VsX

No Change

Vlaar
AVL

B

,

£

Up

Caulker
CAR

A

Up

Chester
HUL

C

,

£
Midfielders
Player
Club
Factors

Up

Eriksen
TOT

A

Up

Mata
MUN

B

,

Vs

Up

Ramsey
ARS

A

,

Vs

Up

Sterling
LIV

A

,

£

Up

Nasri
MCI

B

,

Vs

Down

Gerrard
LIV

B

Down

Lallana
SOT

C

No Change

Johnson
SUN

C

,

Vs

Up

Y Touré
MCI

C

,

Vs

,

Inj

Up

Amalfitano
WBA

A

,

Vs

,

£

Up

Arnautovic
STO

A

,

£
Forwards
Player
Club
Factors

No Change

Suárez
LIV

A

Up

Aguero
MCI

C

,

Vs

Up

Rooney
MUN

B

,

Vs

Up

Bony
SWA

A

Up

Borini
SUN

B

,

Vs

,

£

Up

Podolski
ARS

A

,

Vs

Down

Adebayor
TOT

B

Down

Lukaku
EVE

B

,

VsX

No Change

Rodallega
FUL

B

,

Vs

,

£
Selection Factors
| | |
| --- | --- |
| A, B, C | Current Form |
| Vs | Favourable Fixtures |
| VsX | Unfavourable Fixtures |
| Rest | Rotation Risk |
| Inj | Injured/Returning from Injury |
| OoP | Out of Position |
| £ | Potential Bargain |
| Sus | Suspended/Near Suspension |
"My team this year has been the Fantasy Premier League equivalent of a Morecambe & Wise sketch. I've played all the right players . . . but not necessarily in the right order."

Fantacity on his 2013/14 season