Filed under: Members - Posted by: Paul
The second instalment in out series of members articles focussing on team statistics takes a look at the defensive side of things. We analyse the last six Gameweeks, checking the key indicators to assess each side in terms of potential defensive returns…

Arsenal sucks

Cue 5-1 demolition of villa this week. giroud hat trick, walcott 2.

That only indicates they suck less than Villa. Whether Villa go down or not, the team the have is championship level. Without Benteke they would be down already.

My brother and nephew are Arsnel nuts, go over every year, I love the club, how they play. Its whats happening there I don't like.

Yep...

If Bayern had a good striker they'd be unreal. Mandzukic wouldn't be first choice at United or City.

agree about United, disagree about city.

did you seen his over head kick goal against wolfsburg?

be quite demi

he is not bayern 1st choice striker without a reason

and he wouln't be top goal scorer in bundesleaGUE

I scored one years ago, nearly broke my neck, and I'm shite!

Kiesling was top goalscorer in the Bundesliga at one stage. Does that make him great too?

Yes i saw it. It was a great goal, but i've seen it plenty times by other players. Tbh, the competition for the striker spot there is hardly great? Gomez isn't that good, and Pizzaro is past it? Fact is he wouldn't start over Rooney/RVP or Aguero/Tevez imo.

No wonder Bayern are chasing so hard to get Suarez.

i never once said that he is at RVP/Roo or Tevez/Aguero level even if i do belive that he could lead city forward line better than those 2

but he is in form and that's fact

Bayern game is good cause of mandy

You suck at everything!

ddg (bunn)
harte cueller onouha GJ (davies)
fellanii walcott bale maloney (michu)
rvp suarez (sturridge)

Am leading my monthly league by like 15 points...so in a tough choice. Thinking of taking a hit but if either cueller/onouha then even after 1 hit, i might not have a starting 11.

A: GJ + suarez >> sagna/santon/wilson(if fit) + augero..sagna has blank in gw29

B: GJ + suarez >> sagna/santon/wilson(if fit) + dzeko/benteke/lamby...will leave me with cash to
upgrade maloney >> mata and have the P5

C: GJ + sturridge >> sagna/santon + any striker upto 10m

D: GJ + sturridge >> wilson + augero..but i think having 3 big hitters in strike is too much

E: michu + suarez >> mata + giroud

Best defender for 5.3? Would need to play most weeks.

Thinking Sagna or Dawson?

Here's my Curb Your Enthusiasm take on what it will be like trying to find decent comments under the new system

http://www.youtube.com/watch?v=koOiHvn3UDc

I agree, i fear it will only re-inforce the current problems rather than alleviate them.

This is your best comment so far and has not been removed. This comment has received many +1's and soon your extremely low rep will be high enough for others to not ignore you any longer. Please continue to be amusing and we will allow you your freedom again. Fall below sticky standards however and you will be once again damned to anonymity.


Did you see the sparks flying from the knife when he's stabbing the table?

epl league reached bottom

la ligue
bundesligue
serie A

and even french league are now better than EPL

sad times for english football

Forca-who are you captaining this week?

In terms of quality, La Liga and Bundesliga are better imo (I don't agree that Serie A and Ligue 1 are). However, in terms of entertainment, the Premiership is still the best for me.

Was Cameron dropped or rested do we think?

I know he had a friendly prior away in USA or somewhere...

The suggestion is he was rested as a result of the US friendly which he arrived back tired from. I'm hoping that's true as I'm relying on him to be able to field 11 this week.

Same here... Would require a hit to shift Sturridge too and I don't want to do that as he's easily the best option at that price.

Cheers

Arsenal have scored 5 or more goals 5 times this season. And that's not even including that spectacular Reading cup match (5-7)

Villa on the other hand have conceded 3 or more goals 8 times this season, including an 0-8 loss to Chelsea.

Of course I've hand-picked these stats, but it still shows that there is a good chance Walcott could explode with a mammoth score this week.

Depends on whether they still have the killer instinct after getting knocked out of the FA Cup and almost knocked out of the UCL...

Missed out on the TV discussion earlier, so here's my 2 cents.

In terms of drama, The Wire stands out above everything else as the greatest show I've ever seen. Then, just below, I'd have:

The Sopranos
Six Feet Under
Breaking Bad
Deadwood

For comedy shows, I'd go:

The Office (original of course)
The Simpsons (specifically seasons 3-8)
I'm Alan Partridge
Peep Show
Brass Eye and The Day Today
Arrested Development
Curb Your Enthusiasm
Seinfeld
The Larry Sanders Show
Extras

An excellent list and I wouldn't disagree with any of those, although as is always the case I could easily add the same number of shows again and still have more I wish I could put on!

@ Forca Inter

04/05 LIV - mil
05/06 bar - ARS
06/07 mil - LIV
07/08 UTD - CHE
08/09 bar - UTD
09/10 int - bay
10/11 UTD - bar
11/12 CHE - bay

In the last 8 years, English clubs have been finalists 8 times.
Do a little maths now.
50% of the finalists in the last 8 years have been English teams.

well said.
german league has 2-3 very good teams, spain has the big two plus 4-5 decent teams, Italy is a mess but still 4-5 good teams, but EPL has 7 good teams and another 3-4 who compete well (everton, newc, etc.)

RVP.
i sold him for suarez (worked ok i guess) and now i have the money to bring him back, but:

gw27 - playing away to QPR - could be huge, but could be a very dull 0-0 after QPR parking a gigantinc bus.
Gw28 - probably rested for the madrid game a few days later - shame cause norwich can be a great game for him.
gw29 - potential blank - who knows
after gw30 - title probably close to being locked, and if they advance in CL he is likely to get a rest every 2-3 games.

thoughts?

He WILL miss at least one of those games, or the odds are extremely high. Thats what i am basing my decision on. The odds are quite high that Rooney will too. This makes it hard to get either back in if you have Suarez.
Scout Picks
For Gameweek 35
Salah

Gerrard

Mata

Eriksen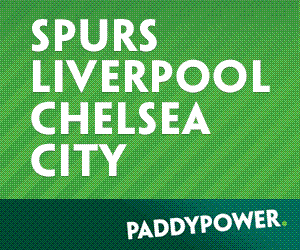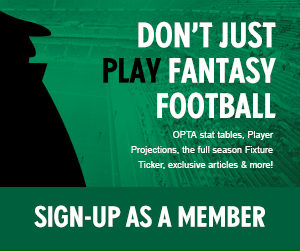 Watchlist
Goalkeepers
Player
Club
Factors

No Change

Hart
MCI

B

,

Vs

Up

De Gea
MUN

C

No Change

Cech
CHE

A

,

Vs

No Change

Szczesny
ARS

B

No Change

Mannone
SUN

B

,

£

Up

Foster
WBA

B

No Change

Guzan
AVL

B

Up

Stockdale
FUL

B

,

£
Defenders
Player
Club
Factors

Up

Terry
CHE

A

No Change

Zabaleta
MCI

B

,

Vs

Up

Koscielny
ARS

B

,

Vs

,

Inj

Up

Skrtel
LIV

A

Up

Evra
MUN

B

Up

Kaboul
TOT

B

,

Vs

No Change

Alonso
SUN

C

,

OoP

,

£

Down

Coleman
EVE

B

,

VsX

No Change

Vlaar
AVL

C

,

Vs

,

£

Up

Ridgewell
WBA

C

,

OoP

,

£

Up

Caulker
CAR

A

Up

Heitinga
FUL

B

,

£
Midfielders
Player
Club
Factors

Up

Eriksen
TOT

A

,

Vs

Up

Mata
MUN

A

Up

Gerrard
LIV

A

Down

Silva
MCI

B

,

Vs

,

Inj

Up

Lallana
SOT

B

Up

Sterling
LIV

A

,

£

Up

Ramsey
ARS

B

,

Vs

Down

Hazard
CHE

C

,

Vs

,

Inj

No Change

Johnson
SUN

C

Up

Amalfitano
WBA

A

,

£
Forwards
Player
Club
Factors

No Change

Suárez
LIV

A

Up

Aguero
MCI

C

,

Vs

,

Inj

Up

Adebayor
TOT

B

,

Vs

No Change

Dzeko
MCI

B

,

Vs

,

Rest

,

£

Down

Lukaku
EVE

B

,

VsX

Up

Giroud
ARS

C

,

Vs

No Change

Lambert
SOT

B

Down

Sturridge
LIV

B

,

Inj

No Change

Rooney
MUN

A

,

Inj

Up

Rodallega
FUL

A

,

£
Selection Factors
| | |
| --- | --- |
| A, B, C | Current Form |
| Vs | Favourable Fixtures |
| VsX | Unfavourable Fixtures |
| Rest | Rotation Risk |
| Inj | Injured/Returning from Injury |
| OoP | Out of Position |
| £ | Potential Bargain |
| Sus | Suspended/Near Suspension |
"A hit a week every week and finish in the top 50k is just fine and dandy for me. I play the game for the fun and how it improves watching Stoke vs Cardiff on a Monday night in November."

Wakey on his fantasy management style