It's a two-horse race at the top of this week's Captain Poll so far, with Robin Van Persie edging Theo Walcott into second spot by 34% to 31% ahead of the weekend deadline. The Dutchman has already topped the Poll on 15 occasions already this term; 13 more than any other player, with his average across those fixtures working out at 6.46, or 12.92 with the armband attached. We take a look at the votes cast so and analyse main protagonists' respective fixtures.
Robin Van Persie
Many have concerns over his game time but, having been handed a brief second-half sub appearance in Monday's FA Cup win over Reading, the Dutchman will be far from fatigued heading to Loftus Road this weekend. Van Persie will then have a seven day break before United's next game, at home to Norwich –the Canaries clash comes three days before the second leg of the Champions League showdown with Real Madrid; if Sir Alex Ferguson were to consider the possibility of omitting him from the first XI, it would surely be next weekend.
Harry Redknapp's side have racked up three back-to-back clean sheets at home, though, keeping out Spurs and City –intriguingly, QPR are one of just two teams Van Persie has yet to pick up attacking returns against this term. With a goal, assist or bonus in each of his last six on the road – in a run that harvested 46 points, or 7.6 ppg – Van Persie's owners will be confident he can replicate Michu's 18 point haul against the R's in the previous Gameweek. Bearing in mind Wayne Rooney is unlikely to feature, according to reports, the Dutchman's contribution will be more crucial than ever.
Theo Walcott
Fielded up front for the Gunners' disappointing defeat at the hands of Bayern in midweek, Walcott is expected to shift back to the flank, affording Olivier Giroud the chance to lead the line once again. Despite Arsenal's recent woes, Villa's dire defence offers Walcott plenty hope – Paul Lambert's side have conceded in each of their last 10 and have shipped 15 goals in their last four on the road, with Brad Guzan beaten at least twice in each of that quartet of matches.
Walcott has scored or assisted in nine of his last 10 – an incredible run of consistency – and has served up double figures in three of his previous seven at the Emirates. Giroud could be a real differential contender, though. The Frenchman has produced double figures in two of the last three at the Emirates but with Arsene Wenger's side low on morale, has just 2% of the votes cast so far, with Santi Cazorla selected by 1%
Gareth Bale
The Tottenham winger rolls up to West Ham on Monday evening in scintillating form. Bale has scored four times in the last three Gameweeks and has registered back-to-back double figure hauls – indeed, five of his seven sets of double figures have been on the road so far, a clear indication of his propensity for points away from White Hart Lane.
With a brace in the first leg of the Europa League win over Lyon, Bale (who has received 17% of the votes) has scored all of Spurs' last six goals and is up against a Hammers side with a single clean sheet in the last nine Gameweeks. Sam Allardyce's side could be buoyed by the return of James Collins and have been fairly resilient at home – they have conceded more than a single goal in just three of their 13 fixtures at Upton Park.
Dimitar Berbatov
The Bulgarian has just 2% of the votes cast ahead of a home clash with Stoke. Berbatov has decent form at the Cottage in recent weeks, having scored or assisted in three of the last four in front of his own fans but a move to "the hole" last time out, affording Hugo Rodallega to lead the line against Norwich, is a real concern. Stoke's recent defensive record boosts Berbatov's appeal, though; the Potters are without a clean sheet in eight matches now.
Moussa Sissoko
Newcastle's January acquisition has hit the ground running, with attacking returns in all three of his appearances. Sissoko squares up to Southampton at St James' Park next and will be looking to replicate the home debut display against Chelsea which harvested a 15 point return. The Saints are no easy touch, though; you'd need to go back to Gameweek 10 to find the last time they were beaten by more than a single goal and arrive on Tyneside having swept aside City. Nevertheless, there's been a definite upturn in form since a host of new arrivals and even Papiss Cisse has earned 1% of votes, despite scoring two home goals all season.
Other Contenders
Sergio Aguero has accrued just 1% of the votes cast ahead of City's clash with Chelsea. Aguero has been in decent form, though; his last five starts have produced three goals and a pair of assists, with two sets of double figures also thrown in.
As Everton prepare to travel to Norwich, Marouane Fellaini has received just 1% of the votes. The Belgian has scored in just one of his last eight appearances, though, and with the Canaries conceding just once in their last three, he'll need to step up if he's to return to scoring ways.
A mere 1% have opted for Juan Mata as Chelsea travel to City. Having been handed a brief sub role against Wigan last time out, though, he will surely start this one – Mata has produced three sets of double figures in his last five road trips, scoring or assisting in each of them.
Rickie Lambert is another who has earned a surprisingly low 1%. The Southampton forward travels to Newcastle with a superb away record – he has scored in five of his last six on the road and with the Magpies registering one clean sheet in their last five at St James' Park, Lambert's owners will be confident of further returns.
Edin Dzeko and Romelu Lukaku are further down the list, despite some solid displays of late. The City forward has started six of the last seven and has scored in five of those first XI appearances ahead of the visit of Chelsea, while Lukaku welcomes Sunderland to the Hawthorns having scored or assisted in five of the last six Gameweeks. As his display at Anfield in the previous match showed, the Belgian is more than capable of producing even if handed a sub role.
i can see a lot of people starting bego ahead of bunn.

i'm doing it again, so if i get third time unlucky again, i will be furious like hell!

Which one for next game week:
(Jagielka - Akapan - Rooney out)

a) Wilson - Dawson - Santon

b) Bale - Fellaini - Lampard - Mata

c) Studge - Adebayor - Cisse - Giroud

my views on the midfield are that Bale has tough matches but chelsea are unsure, fellaini is close to suspension.

ST - Ade is a punt that could pay off. Giroud could have a strong finish and so could the other 2....

HELP

I was going to do:
Bertrand > Wilson
GJ > Jevans (4pts)

But with potential blank for ManU in GW29 seems stupid to bring him in (will give me 4 Blank players for GW29) BUT if Betrand doesn't play I effectively have a 'blank' this week anyway fielding only 10.

Don't know what to do, I could also get rid of Davies.

Keep Davies I'd say because you'll want him gw29. I'd focus on getting out players who probably won't play either this week or 29 ie Bertrand. But I agree Wilson is not a wise choice quite yet if you need him this week. Anything in the bank?

I'd just do the first one then. No point getting JEvans until the GW29 blank is settled IMO. You could get a cheapie maybe, Norwich, QPR or Southampton, but not sure they warrant a hit since you're could easily get 2 or less.

If I don't get rid of GJ then I'll only be able to field 10 players this week BUT in defence 4pt hit could go horribly wrong. GJ > Zab could be good.

A. Wilson and Sissoko
B. Kebe and Evans.

Assuming fixtures and projected blanks happen.

I'm tempted by A at the mo...

ok, you asked for it:

Mig
Dawson, Pearce, Cam
Walcott, Mata, Bale, Sisso, Kebe
RvP, Aguero

Cerny, Bert, Studge, Davies

let's do this shit!

Well, I didn't but if you insist...

Quite similar to mine so I like it.

*goes and transfers out all common players*

Studge out

Lambert in

Welcome to my team Ricky Lambert, chuck in couple of goals vs Geordies will u?

he will. papiss will chuck in more, sorry.

Now I realise why you're after my nickname La Roja!
We're on same overall points & trying some mind games? 😉

and now that u tooka -4 hit

i shall stretch my lead ahead of u with a pleasure and will probably abuse ur nickname again

cos it's funny 😆

Game week 29 is such a mess. Why can't they just do away with it and amagilmate it into the previous or following week. Once again plays into my rivals hands!

Do they even know about it?

They don't have wildcards but both have more players than me. I currently only have Bale, oh and Bunn.... If they lose those other two games I just don't see the point of having that game week. Why not just double it up somewhere else

My team for this gw

Bego
Zab – Harte – Demel – Bardsley
Bale – Mata – Punch – Walcott
Rvp – Fletch

Bench: Bunn, Suarez, Michu, Davies

Taking a -4 hit to replace Bardsley, but for who?? 4.6m to spare

Na that looks fine! Good luck

On Manc vs Chelsea

"I don't think Man City can afford to lose it either and I think both of them would be fairly satisfied with a draw."

Paul Merson's got to be the worst expert on Sky, although Jamie Redknapp isn't that far away.

"We are trying our best because he is such a match-winner."

LR:

walcott can score too you know! in fact, theo has scored more this season in the epl than giroud or any other arsenal player….

but if you fancy giroud to do so well, and walcott will be supplying him with passes/crosses then walcott will get a fair number of assists so why don't you rate walcott over rvp?

Because i fancy Giroud to score more. Plus i love Ollie, plus he's a differential.
Somehow, i feel comfortable.

Like I said TW, if I had Oli this weekend, I'd give him the armband.

I don't know what to tell you. I don't overthink. I like RVP as an option, more reliable for me. Even though the stats suggest otherwise. I rely on what i have seen of the games.

i know that u asked LR but cannot resist

Pretty much everyone has Theo, so if he smashes, it will only be a half of a disaster for you.

Giroud had his rest midweek, vs weakest defence in EPL.

His ownership is % 5.3

fully agree with LR

but if i captain walcott and they both smash it hten i get walcott points over everyone that captained rvp aguero bale etc and i get giroud points on most everyone as barely anyone has him....

no

u gotta change the frequency here and look at the bigger picture.

almost noboy has Giroud.

hypothetically

Giroud had brace with Theo's assists.

Who would make more points here? you as Giroud captainer or theo captainers?

Think hard

if both score braces, walcott (c) will get me more points as mids get more points for goals. and he could even get a cs point too

but i can see walcott outscoring giorud!! and if giroud happens to outscore walcott, i'll still be happy as my differential punt worked out

Like many on here I'm looking to find a cheap replacement for Davies as a result of the blank. Its important that this replacement is nailed on for this GW and GW29 due to the blanks elsewhere. Because I already have Harte and Clyne, here's the shortlist and my thoughts on each prospect.

Dawson - Seems a good cheap way into one of the better statistical defenses in the league. Seems to have won the CB role at least for the short to medium term, there is always the potential he could be rotated/dropped down the line though. Unfortunately for Spurs they haven't quite lived up to their defensive potential and don't get as many clean sheets as they should. Fixtures aren't great either.

Wilson - Its very 50/50 as to whether he will start this week. Will be a waste of a transfer if he is eased back into action from the bench. Very unfortunate because he would be a very strong option otherwise

Turner/Martin - I'm leaning towards Martin here due to the higher attacking threat. Seems to have nailed down his spot at least for the short - medium term. Ok fixtures but like many fellow Bunn owners doubling up on Norwich may be a little much

Cuellar - Its hard to say whether he will walk back into the starting lineup so is a risky option in the short term. It will be a waste of a transfer if he doesn't start this week. Medium to long term he will be a good pick

Debuchy/Santon - I think we might be kidding ourselves somewhat to believe that Newcastle suddenly have a water tight defense. Granted they are looking a lot better, but this is in attack and these two do have attacking potential. However It remains to be seen whether they will be good enough to find last years defensive form.

Because of swansea and liverpool blank, I only have 3 playing defenders and mid/forwards of

mata walcott fellani marveaux michu
Rvp sturridge suarez

So I can only fields 9 players and with my 1freebie I can get 10 players, if Marveaux plays at all. But my question is what is my priority single transfer, I'm thinking its gotta be a striker and I'm currently thinking Suarez/sturridge > Dzeko.

Your thoughts please lads, thanks in advance.

1 + 3 + 4 + 1 = 8 before your FT.

Dzeko might not start. Aguero and Tevez are Mancini's favorite strike pair

With Rooney out injured, Van P is looking to be my leader this GW. Who are you guys captaining?

Its a toughie, RVP is my front runner followed closely by Theo but Bale on Monday Night Football is also tempting me

I think im going to be changing from Aguero to VP all bloody day. Captain woes

What do I do about this defence ??

Enrique - no GW
Cameron - will he play ???
Demel - will he play if so captain him !!!!!!!!!!!!!!!!!!!!!!!!!!!!!
J Evans - I have one good one maybe
Clyne - 2 pts

Help needed want to get rid of Demel or Cameron but for who. was going to do Demel to Azpi next week but this week with City playing Chelsea a clean sheet doesnt look likely ???????

alright people, i'm off to play with my little kid. i rarely be here on the weekend due to many, many commitments, so here's hoping for a great GW ahead.

Snake, papiss will make or break our team this GW, that's for sure.

ciao!

Good luck to us! See ya Berg.

goood luck to us! until then.

Sounds like you have a life outside of FF. I wonder what thats like

niiice. hasta la vista, all.

why would theo gets rested when arsenal only have 4th spot trophy (!) left?

so u think arsenal has a very strong chance of going to munich and winning 3-0 etc

fine mate, just fine...

easilly, 0-3 in münchen is no problem. i'm also gonna make a shitload of money with that bet, thank you arsenal

Please, no.

But it would be Poldi on the left probably giving way IF Gerv starts.

Need a ST to get in for this GWK under 9.0 and TO BE ABLE TO KEEP LONG TERM:

Giroud
Cisse
Studge
Adebayor

Im thinking ADE might be a punt that would pay offf

Cisse or not thats the question? Is he a nailed on 90 min starter? Currently have giroud and aguero. Need a good 3rd striker, but who? Got 9 mill to use. Adebayor maybe?
Scout Picks
Gameweek 25
Janmaat

Williams

Alderweireld
Wijnaldum

André Ayew

Dele Alli

Roberto Firmino

Sánchez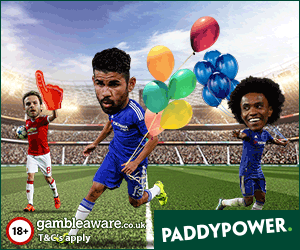 From the Community…
Comments
Hot Topics
Articles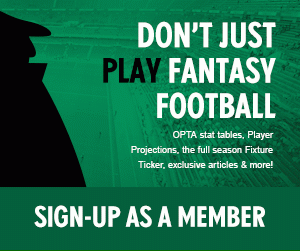 The Watchlist
Goalkeepers
Player
Club
Factors

Up

Hennessey
CPL

C

,

Vs

,

£

Down

Butland
STO

C

,

Vs

Up

Schmeichel
LEI

A

Up

Forster
SOT

A

Up

Courtois
CHE

B

,

Vs

Up

Fabianski
SWA

A

No Change

Boruc
BOU

B

No Change

De Gea
MUN

B

No Change

Cech
ARS

B

,

VsX

Up

Foster
WBA

C

,

VsX
Defenders
Player
Club
Factors

Up

Ivanovic
CHE

A

,

Vs

Up

van Dijk
SOT

A

Down

Baines
EVE

B

,

Vs

Up

Dann
CPL

C

,

Vs

Up

Cresswell
WHM

B

,

Vs

Up

Williams
SWA

A

No Change

Dawson
WBA

C

Down

Alderweireld
TOT

B

No Change

Daniels
BOU

A

,

£

No Change

Fuchs
LEI

A

No Change

Van Aanholt
SUN

A

,

VsX

Down

Bellerín
ARS

C

,

VsX

Down

Smalling
MUN

C

Down

Moreno
LIV

C

,

Vs

Down

Johnson
STO

B

Down

Kolarov
MCI

B

,

Rest

,

Inj
Midfielders
Player
Club
Factors

No Change

Payet
WHM

B

,

Vs

Up

Roberto Firmino
LIV

A

,

Vs

,

OoP

Up

Dele Alli
TOT

A

,

Inj

Up

Barkley
EVE

C

,

Vs

Up

André Ayew
SWA

A

,

OoP

Up

Eriksen
TOT

A

Down

Ozil
ARS

C

,

VsX

No Change

Mahrez
LEI

C

,

VsX

Up

Sánchez
ARS

C

,

VsX

,

Inj

Up

Antonio
WHM

A

,

Vs

,

Rest

,

£

No Change

Willian
CHE

B

,

Vs

,

Inj

No Change

Wijnaldum
NEW

B

Down

Arnautovic
STO

C

,

Vs

,

Inj

Up

Silva
MCI

C

No Change

Johnson
SUN

B

,

VsX
Forwards
Player
Club
Factors

No Change

Aguero
MCI

A

No Change

Kane
TOT

B

Up

Vardy
LEI

C

Up

Diego Costa
CHE

A

,

Vs

,

Inj

No Change

Ighalo
WAT

C

,

VsX

Up

Rooney
MUN

A

Down

Lukaku
EVE

C

,

Vs

No Change

Giroud
ARS

B

,

VsX

,

Rest

Up

Afobe
BOU

A

,

£

Down

Austin
SOT

B

,

Inj
Selection Factors
| | |
| --- | --- |
| A, B, C | Current Form |
| Vs | Favourable Fixtures |
| VsX | Unfavourable Fixtures |
| Rest | Rotation Risk |
| Inj | Injured/Returning from Injury |
| OoP | Out of Position |
| £ | Potential Bargain |
| Sus | Suspended/Near Suspension |
| Player | Team | YC |
| --- | --- | --- |
| Colback | NEW | 9 |
| Byram | WHM | 9 |
| Lucas | LIV | 8 |
| Jones | SUN | 8 |
| Yacob | WBA | 8 |
| Westwood | AVL | 7 |
| Diego Costa | CHE | 7 |
| Huth | LEI | 7 |
| Can | LIV | 7 |
| Mangala | MCI | 7 |
| Shelvey | NEW | 7 |
| Pieters | STO | 7 |
| Dele Alli | TOT | 7 |
| Dier | TOT | 7 |
| Noble | WHM | 7 |
"All players will blank a few times during the season. When almost all do it in the same Gameweek, it is tough to take, but that's just the dark side of probability."

Abreu 42 Community regular