Arriving from Borussia Dortmund early last summer, Shinji Kagawa looked primed to become a key midfield target for the 2012/13 season. Having helped steer Jurgen Klopp's side to the title in his final year in the Bundesliga, the Japan international's displays in the role in "the hole" suggested United were set to shift formation to 4-2-3-1 and hand him a place behind Wayne Rooney as Sir Alex Ferguson attempted to wrestle the title back from City:
Three days before their Gameweek 1 opener at Everton, however, the acquisition of Robin Van Persie turned the Fantasy landscape on its head and made a significant dent in Kagawa's prospects. While the Dutchman ran riot and grabbed the goals that recaptured the crown, the former Dortmund man struggled to settle in his debut season, with a knee injury and occasional game time on the left flank limiting his potential in what proved to be Ferguson's final term in charge at Old Trafford.
Key Factors
Wayne Rooney's decision to hand in a transfer request towards the end of last season looks key to Kagawa's prospects. Omitted from the United squad for the final couple of league games under Ferguson, Rooney seems determined to leave after a lacklustre campaign – having dropped deeper to accommodate Van Persie, his possible departure would free up Kagawa's preferred position in "the hole" and afford him the chance to slot in behind Van Persie.
New manager David Moyes' penchant for a lone striker system may also be advantageous. While it's all too early to ascertain just what sort of formation the former Everton boss has in mind as he takes the Old Trafford reins, his use of Marouane Fellaini as the most advanced central midfielder last term was hugely beneficial to Fantasy managers. Providing Rooney leaves, Kagawa's playmaking abilities seem the natural fit amongst United's current midfield crop – given that he produced 13 goals and eight assists from 31 appearances in his final year at Dortmund, his suitability to the role is more than apparent.
Having finished last season with just six goals and four assists over 20 appearances, it's possible that Kagawa is in line for a slight drop in price next time out. Starting last season at 8.5 in Fantasy Premier League (FPL), he racked up just 87 points and can resultantly be expected to slip to around 8.0 when the player lists are revealed next month. Given that previous mid-price options such as Fellaini, Michu and Kevin Nolan are set for a hefty price hike after their respective displays in a similar position, the Japan international could prove to be a little more budget friendly when assessing the midfield landscape.
Kagawa's hat-trick and 21 point FPL against Norwich in Gameweek 28 highlights his capabilities. Granted, six goals over 1,314 minutes was far from impressive but compared to United's other midfielders, it's positively prolific – Nani and Antonio Valencia both notched one goal apiece, while Ashley Young failed to find the net at all last season. New boy Wilfried Zaha also offers an option but after a campaign where Michael Carrick was United's highest scoring midfielder with a mere 101 FPL points, Kagawa could be primed to become a key player as the Moyes era gets underway.
As the "Is RVP worth it" debate keeps cropping up..here's my thoughts...I never had RVP all season last year...but i did have Benteke from day one..From 15 dec onwards Benteke was the best striker in the prem (16 goals to season end as oppose to RVP's 15 goals and Bale's 15 goals). Benteke was by a country mile the best value striker from mid season onwards...but...RVP's fixtures always looked better and he was totally consistent and so was an easy capt pick for everybody who owned him....I rarely captd Benteke because his fixtures always drove me elsewhere and so as far as FPL goes RVP was twice as good a pick as Benteke (?)...In addition RVP was rarely sensational last season, in terms of big goals hauls, scoring more than one goal on only three occasions...less than Rooney...less than Suarez...less than Michu...less than Lukaku..etc...and the same as Benteke... but he was always consistent with his goal a game,and again because of that an easy capt pick....By seasons end only 8% of teams had Benteke despite the fact he was outscoring RVP and was only half the price, so if only 8% had enough faith to buy the best budget striker in the game how low would the percentage be of people prepared to capt him be (or many of the other budget strikers) ? Final point is that, whether rightly or wrongly, the game is set up to reward clinical strikers with BAPS...so for the record...RVP attained 3 baps on 13 occasions last season as oppose to only four occasins for Benteke, So the real question isn't "is RVP worth 13-14 mil", the answer to that is no...what we should ask is "Is a reliable FPL capt pick worth 13-14 mill".... clearly after my experience of owning Benteke all last season the answer is yes...

yeah..all a bit long winded but that's how it was...I'm still not getting him though (RVP)..

and great graph btw...keeping that...

Benteke was suspended for the last game of the season, he was on about 16% ownership before he got himself sent off.

was he...thought it was low at 8%...but even 16% is ridiculously low for a player notching at a better rate than RVP and for the thick end of six months...

Yes, at the halfway point of the season, Benteke's ownership was just 3.7%. I think this reflects the fact that he was unproven talent coming into the season and RVP was FPL aristocracy. Given the number of casuals playing the game, their relative ownership shouldn't be a surprise.

In OOP Bale is as fixture proof as van Persie.

On the left he used to use the space on the counter away from home more profitably than with home fixtures; But this bias has gone now.

Result: RVP is surplus to requirements as far as consistent captain choices is concerned.

Yeah of course my argument for RVP/Benteke applies equally to Bale/Benteke...The real point i'm making is the danger of wallowing around amongst excellent but less consistent players when it comes to capt choices...RVP playing for United against any team is far more enticing than Benteke against any team....so i was always reluctant to capt him whilst RVP owners just carried on regardless...

You certainly need one fixture proof captain choice to avoid unnecessary hits, but Bale is sufficient.

I get your Benteke concern. Although he and Lukaku had fantastic conversion rates from SiB
how can you be sure they will get the requisite service in tough games?

Fact is you can comfortably afford 3 strikers of your choice and Bale if you forego RVP and have a Ubercheap defence. Given the starting fixtures this and Chelsea exposure seems the logical way to go.

I had Lukaku as well all season and Mirallas...I like to find some newbies...It all comes at a price though...Good and reliable capt picks...!!

But how long did it take to realise Benteke was a reliable (c) choice? Probably at least halfway through his run from 15 December. With proven performers there's much less risk.

I never did....that's my point. There was always what appeared better picks but in reality Benteke, just like RVP, was a good solid reliable capt pick...I never had the nerve to capt him very often despite him scoring all those goals...In the same way that an awful lot of people didn't even pick him despite scoring all those goals...RVP playing up front for United is an easy capt pick and i would have cashed in with far more pts had i gone for him over a better value player who actually outscored him in goals (from Dec 15)...

I guess it depends what else is available with the funds that not having RVP would free up. If a load of cheap def and mid are doing well then everyone can afford to have RVP in, but the tricky part is when all the other pricey options are doing really well, as chances are you wont be able to have Bale, Higuain, Cavani, Aguero, Isco, Coutinho, etc.

If you're talented at picking captains, RVP will be redundant for you. So if you want to go for gold in this game, going without may be a good idea.

Aye...but i'm not...i did OK but that's about it...With RVP in your team you didn't need much talent at capt picks last season...If anybody was unsure they stuck it on him anyway...

Southampton are loving Celtic players.

Boruc, Fox, Wanyama.

Keep your hands off Hooper.

Nah, Southampton FC are loving Sergio Ramos and Thiago Silva.

Next week? Cheers for the heads up man.

Dilla sound indeed. I'm liking this.

Taking a look at my FPL rankings since I started playing:

2009/10- 809,081 (when I had Michael Owen as my captain, because I liked him)
2010/11- 76.649 (when I actually started trying)
2011/12- 55,203
2012/13- 44,862

So it looks like anyone who actually tries at this game should make top 100,000 pretty easily, but climbing up from there is quite difficult.

Your progress Orm is heading in the right direction, top 30k this year fer sure.

Thanks, that will be my goal!

Because we don't have prices yet, and some people will jump on an excuse to have a good moan

It's not the RMT per se that ticks people off; in fact it's one of the most fundamental posts contained in a fantasy football forum.

It's the flood of RMT's during certain times of the season that gets on people's nerves. Like 1966 said, frequency and volume.

I don't mind them actually. Some individuals simply want feedback on their squads.

I don't mind them either

Because people expect others to pick their team for them, often without giving anything back.
Because people don't bother to think for themselves
Because it spams the site and crowds out more worthwhile discussion.
Because it creates groupthink
Because it usually generates far less meaningful discussion than people claim it does.

I think HC will prevent No 3 from happening this season.

Yes, one of the benefits of HC.

An RMT basically asks for surface-level feedback from knowledgeable players. Then issues and dilemmas concerning the squad are hashed out once a discussion gets going.

The primary concern here is the give-and-take factor; usually random RMT-ers merely ask for feedback without proving any help towards others.

& some folk post the same team over and over again. And again. A separate RMT article for those interested in posting one would help somewhat. If that kind of thing were possible. Probably some simple solution somewhere.

Anybody got the link to the rotation spreadsheet?

Oh geez, don't be saying stuff like that, you'll send this place into permanent meltdown

Can't see that happening.

Walcott has a slight chance of being classified as a forward, not Bale.

So what happens to either Reina or Mignolet with the pending medical? Who will be number 1? Is Reina purported to be leaving Anfield?
Scout Picks
Gameweek 26
Coleman

Ivanovic

van Dijk

Daniels
Payet

Oscar

Roberto Firmino

Ozil
From the Community…
Comments
Hot Topics
Articles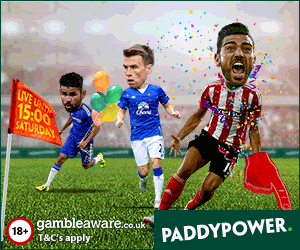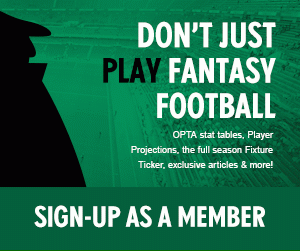 The Watchlist
Goalkeepers
Player
Club
Factors

Up

Forster
SOT

A

,

Vs

Down

Butland
STO

C

,

Vs

Up

Schmeichel
LEI

A

,

Vs

Up

Courtois
CHE

B

,

Vs

No Change

Boruc
BOU

B

,

Vs

Up

Hennessey
CPL

C

,

£

No Change

Cech
ARS

A

,

VsX

Up

Fabianski
SWA

B

No Change

De Gea
MUN

B

No Change

Adrián
WHM

B
Defenders
Player
Club
Factors

Up

Fuchs
LEI

A

,

Vs

,

£

Up

van Dijk
SOT

A

,

Vs

Up

Daniels
BOU

A

,

Vs

,

£

Up

Dann
CPL

A

No Change

Ivanovic
CHE

B

,

Vs

No Change

Alderweireld
TOT

B

No Change

Bellerín
ARS

B

,

VsX

Up

Johnson
STO

C

,

Vs

No Change

Cresswell
WHM

B

Up

Van Aanholt
SUN

A

No Change

Williams
SWA

B

,

£

Up

Smalling
MUN

C

Up

Coleman
EVE

B

,

Vs

Down

Dawson
WBA

C

Down

Moreno
LIV

C

,

Vs

Down

Kolarov
MCI

B

,

Rest

,

Inj
Midfielders
Player
Club
Factors

Up

Mahrez
LEI

A

,

Vs

No Change

Payet
WHM

B

,

Vs

No Change

Dele Alli
TOT

A

,

Inj

Up

Arnautovic
STO

C

,

Vs

,

Inj

No Change

Ozil
ARS

C

,

VsX

Up

Eriksen
TOT

A

Up

Antonio
WHM

A

,

Vs

,

Rest

,

£

Up

Sigurdsson
SWA

A

,

OoP

Down

Barkley
EVE

B

,

Vs

Down

Roberto Firmino
LIV

A

,

VsX

,

OoP

Down

Sánchez
ARS

C

,

VsX

Up

Lingard
MUN

B

,

Rest

,

£

Up

Khazri
SUN

B

Up

Oscar
CHE

B

,

Vs

No Change

Wijnaldum
NEW

B
Forwards
Player
Club
Factors

Up

Vardy
LEI

B

,

Vs

No Change

Kane
TOT

A

Down

Aguero
MCI

A

Up

Diego Costa
CHE

A

,

Vs

,

Inj

Up

Rooney
MUN

A

Down

Ighalo
WAT

C

,

VsX

Down

Lukaku
EVE

C

Up

Afobe
BOU

A

,

Vs

No Change

Giroud
ARS

B

,

VsX

,

Rest

No Change

Defoe
SUN

A
Selection Factors
| | |
| --- | --- |
| A, B, C | Current Form |
| Vs | Favourable Fixtures |
| VsX | Unfavourable Fixtures |
| Rest | Rotation Risk |
| Inj | Injured/Returning from Injury |
| OoP | Out of Position |
| £ | Potential Bargain |
| Sus | Suspended/Near Suspension |
| Player | Team | YC |
| --- | --- | --- |
| Colback | NEW | 9 |
| Yacob | WBA | 9 |
| Byram | WHM | 9 |
| Lucas | LIV | 8 |
| Jones | SUN | 8 |
| Westwood | AVL | 7 |
| Diego Costa | CHE | 7 |
| Huth | LEI | 7 |
| Can | LIV | 7 |
| Mangala | MCI | 7 |
| Shelvey | NEW | 7 |
| Pieters | STO | 7 |
| Dele Alli | TOT | 7 |
| Dier | TOT | 7 |
| Brunt | WBA | 7 |
| McClean | WBA | 7 |
| Noble | WHM | 7 |
"All players will blank a few times during the season. When almost all do it in the same Gameweek, it is tough to take, but that's just the dark side of probability."

Abreu 42 Community regular