Brendan Rodgers' recent shift to 3-4-1-2 has clearly made an impact up front for Liverpool. Luiz Suarez' return from suspension has allowed the Reds boss to pair the Uruguayan with Daniel Sturridge and with both players showing scintillating form, the Merseysiders have racked up eight goals in three games in their new formation, compared to five goals in the opening five fixtures whilst operating with a 4-2-3-1.
Suarez and Sturridge have understandably hogged the headlines. The former has produced 29 points in the Fantasy Premier League (FPL) game, whilst Sturridge continues to find the net at a remarkably consistent pace and has grabbed three goals and a pair of assists since operating as part of a front two.
The change in system, however, brings the Liverpool full-backs onto Fantasy radars. Glen Johnson's return from injury in Saturday's trip to Newcastle earned the 5.7 priced defender a spot on the right of the midfield four, whilst Aly Cissokho was afforded his first start on the opposite flank as a result of Jose Enrique's knee problem.
Ahead of a run of games which sees the Reds welcome West Brom, Fulham, Norwich, West Ham and Cardiff to Anfield in the next nine, in addition to a trip to Hull, we take a look at all three full-backs displays from midfield and, in the case of Johnson and Enrique, compare it to their previous performances as part of a four-man backline.
Average Positions versus Newcastle

As shown by the average position map from the St James' Park clash (left), Johnson (2) played a significant part in the visitors' attacking forays. Granted, Liverpool's prospects were boosted by the dismissal of the Magpies centre-half Mapou Yanga-Mbiwa just before the break but even compared to his team-mates, Johnson's advanced position when on the ball bodes well for those eyeing up his acquisition – he was further forward on the back Cissokho (20) on the left and, significantly, Victor Moses (12), despite the fact the latter was playing in "the hole" behind Sturridge (15) and Suarez (7). It also should be noted that Rodgers switched to a back-four late on in the St James' Park encounter.
Liverpool's Wing-Backs
First of all, let's take a look at Johnson and Cissokho's stats from the Magpies match and also factor in Enrique's couple of appearances in the role over Gameweeks 6 and 7 – where Liverpool faced 11 men for the entire 90 minutes.
| | | | | | | | | |
| --- | --- | --- | --- | --- | --- | --- | --- | --- |
| | Tchs | Tchs Final 3rd | Pass Rcvd Final 3rd | Succ Pass Final 3rd | Crosses | Chances Crtd | Tchs Box | Shots |
| Johnson GW8 | 65 | 28 | 20 | 17 | 3 | 3 | 1 | 2 |
| Cissokho GW8 | 64 | 32 | 18 | 16 | 6 | 1 | 1 | 0 |
| Enrique GW6-7 | 78 | 23.5 | 16 | 8.5 | 6.5 | 1 | 2.5 | 0 |
Against Newcastle, Johnson and Cissokho were more or less identical for many key indicators. In terms of touches (65 to 64), touches in the final third (28 to 32), passes received in the final third (20 to 18) and successful passes made in this crucial attacking area (17 to 16), there was little to separate the pair. Cissokho, however, had a tendency to deliver ball from out wide with far greater regularity, making double the number of crosses (6 to 3) than Johnson but in terms of overall Fantasy potential, it's Johnson who looked the more dangerous. The fit-again defender created 3 goalscoring opportunities for his team-mates compared to Cissokho's 1 and whilst Johnson also managed a couple of attempts on goal, the Frenchman failed to register a single shot.
Looking at Enrique's stats against Sunderland and Palace over the previous two, he average more touches (78) per game than either of the two wing-backs yesterday. While he received a similar number of passes in the final third as Cissokho down the left (16 to 18), the Spaniard made less touches in this area (23.5 to 32) and registered more or less half the number of successful passes (8.5 to 16) – a sign that his distribution doesn't quite compare in the danger area. Enrique's 6.5 crosses per game and average of a single key pass was virtually mirrored by Cissokho (6 and 1) yesterday, though his ability to forage forward allowed him 2.5 touches in the box over his couple of appearances at wing-back, compared to Cissokho's grand total of 1 on Tyneside.
Johnson and Enrique – Full-Back versus Wing-Back
As the graphics above illustrate, both Johnson (Gameweek 8) and Enrique (Gameweeks 6 and 7) have benefitted from the shift to 3-4-1-2 in terms of average position when on the ball. While Johnson seen less of the ball on Saturday than usual – an average of 79.3 touches over the first three Gameweeks dropped to 65 at Newcastle – the stats in the final third are encouraging for those looking to invest.
A previous average of 23 touches in this area rose to 28 (this equates to 43% of all touches in the final third compared to 29% beforehand), while the upturn in both passes received further up the pitch (13.7 up to 20) and successful passes made, in particular (from 9.7 to 17) bode well. Again, this pattern continues when you look at Johnson's previous crossing (1.3 up to 3) and "key passes" – he failed to provide a single goalscoring opportunity for his team-mates over the first three matches compared to Saturday's tally of 3. Perhaps surprisingly, his touches inside the box failed to improve, though his eye for goal also rose – he had previously managed 4 shots over the first trio of league fixtures.
| | | | | | | | | |
| --- | --- | --- | --- | --- | --- | --- | --- | --- |
| | Tchs | Tchs Final 3rd | Pass Rcvd Final 3rd | Succ Pass Final 3rd | Crosses | Chances Crtd | Tchs Box | Shots |
| Johnson GW1-3 | 79.3 | 23 | 13.7 | 9.7 | 1.3 | 0 | 2 | 1.3 |
| Enrique GW1-5 | 65.4 | 11.8 | 9.6 | 7 | 1.2 | 1.2 | 1 | 0.6 |
Enrique's touches in the final third have risen substantially from the tactical alteration. The Spaniard managed just 11.8 per game at full-back – more or less half Johnson's 23 – but this rose to 23.5 as a result of his midfield move. Indeed, whilst Johnson's overall touches dropped, Enrique's improved from 65.4 to 78, with his final third stats for passes received (9.6 to 16) also seeing a significant increase.
In spite of the upturn, the number of successful passes in the final third barely rose, from 7 per game to 8.5 (half of Johnson's 17 at the weekend), though a more advanced berth has seen Enrique deliver 6.5 crosses per game, compared to just 1.2 beforehand. In terms of creating chances for others, the Spaniard has remained steady (1.2 to 1 key pass) and while he has registered a total of 5 touches in the box over his two appearances at wing-back, compared to an identical amount across five matches at full-back, Enrique has failed to produce a single attempt on goal from his more advanced position – previously, he had managed 3 over the first five fixtures.
Liverpool Attack and Defence Stats – Gameweek 1-5 versus Gameweek 6-8
Finally, we take a look at the overall team stats over the two featured periods. Liverpool started off with a run of three clean sheets but have now conceded in each of their last five – however, as mentioned above, the shift to 3-4-1-2 has helped increase their attacking potential and with goals arriving a little easier now, it may well be that Rodgers decides to retain the new formation.
Certainly, as the data shows Liverpool have improved across many areas. An average of 748.2 touches per game has risen to 821.7, whilst the Reds have seen far greater possession in the crucial final third – an improvement of 60 touches per game, from 177 to 237 highlights the offensive potential on offer.
| | | | | | | | | | |
| --- | --- | --- | --- | --- | --- | --- | --- | --- | --- |
| | Tchs | Tchs Final 3rd | Tchs Box | Shots | Shots Box | Mins Chance | Shots Conceded | Shots Box Conceded | Big Chances Conceded |
| GW1-5 | 748.2 | 177 | 22.4 | 12.6 | 7.4 | 7.5 | 13.8 | 7 | 1 |
| GW6-8 | 821.7 | 237 | 36 | 17 | 10.3 | 5.6 | 16 | 5 | 1.7 |
Liverpool have improved markedly when it comes to touches inside the box – a total of 112 over Gameweeks 1-5, or average of 22.4, has jumped to 108 over Gameweeks 6-8; up to 36 per game now. Furthermore, this has led to an increase in shots of 12.6 to 17 over the two windows and with Suarez installed alongside Sturridge and the two wing-backs pushing on, the Reds new approach has led to 10.3 attempts in the box compared to 7.4 beforehand.
At the back, while Rodgers' side have conceded slightly more attempts (from 13.8 to 16 per game), a move to a three-man backline means they have actually afforded their opponents less efforts inside the box (down from 7 to 5 per game), though the number of big chances conceded, ie – where opponents are expected to find the net, has increased from 5 conceded over the first five Gameweeks to a similar tally over the last three.
Going by the upturn in offensive output, it seems likely that Rodgers will continue with the same system, as he looks to hand Suarez and Sturridge the chance to wreak havoc on opposition backlines – perhaps against tougher opponents, a back-four will be re-installed but the positives certainly outweigh the negatives here.
Potentially, the stats suggest the wing-backs should benefit from an offensive perspective and as the shots conceded in the box above indicate, the Reds haven't been quite as porous as we'd assume.
With Enrique and Cissokho likely to battle it out for the role on the left, Johnson may be the one to profit most going forward – Fantasy suitors will be hoping that his final third statistics, creativity and goal threat against the Magpies are a sign of things to come.
The Arsenal defense is exceptionally frustrating. One sloppy goal every bloody game.

Avoid ARS defense, they will concede. They are good for attack that's about it. Don't even bother w/a def from them for "goal threat". Better options elsewhere.

Yea I actually agree. I foolishly started with Szczesny from GW1 and haven't had a chance to ship him.

I'm not normally one for posting RMT's, but I would REALLY appreciate some suggestions on this team. - a sign of how desperate I'm getting!

I have 2 FTs to play with?
.

Mignolet (WBA),

Clyne (FUL), Evra(STK), Distin (avl), Turner (CAR), Wilson (mun)

Barkley (avl), Ozil (cry), Moses (WBA), Michu (WHM), Wittingham(nor)

Rooney(STK), Suarez (WBA), Lukaku (avl)

.
Contemplating ditching Wilson for a Swans defender, but need to free funds......0 in the bank

Any thoughts?

Ta

I'm worried the Lallana ship may have sailed?

Chose Moses instead of him a few weeks ago. Urgh

Moses has to go surely?

Moses to Lallana for me. Save the other.

I'm feeling pretty confident in a brace from Ward tonight..2 points that is

so, optimus, how was your last night... did u delete your browsing history 😉

sorry for re-post, lost on last page!

Hey Guys would love some help. I have 2 FT's.

Mignolet Harper
Walker Coleman Clyne Williams Figueroa
Ozil Michu Ramsey Paulinho Amalfitano
Suarez Rooney Lukaku

I have 0.0 in the bank! I love Paulinho and in my eyes he looks very dangerous but for the sake of making a transfer + boosting team value should i do Paulinho -> Townsend??

As a second sub i could do Williams -> GJohnson if Williams is ruled out.

Love some input, cheers

Thanks Mili and Karl. Murner it is. Cheers.

WARD, you beauty !!!

*just practicing* 😀

LOL @ Ward non-owners 😆

*just practicing*

It would take a Ward goal and 3 bonus, plus clean sheets for him and Speroni and maybe a save point or two to win my FFS UEFA FA CUP tie. Or Gabbidon playing too and sharing some bonus with the other two. How did it come to this?

Boruc mcgregor
Zab coleman dawson williams burner
Ozil michu ramsey barkley eriksen
Giroud sturridge lukaku

2fts 2.5 mil in bank thinking zab or williams to glen and eriksen to oscar?

Or just the 1st and save 1for next week?x

wait for news for williams. zab>glen is good

I'm looking to take out HBA today before the fall for another MF. I have 1.4m in the bank. Here is my current team.

Mignolet/Lewis
Coleman, Koscielny, Shaw
Barkley, Eriksen, Ben Arfa, Michu
Sturridge, Giroud, van Persie
(Morrison, Collins, Chester)

Any suggestions? I'm looking at Ramsey but he surely can't keep up this pace, can he? Plus Walcott in just 2 weeks. Should I even spend the FT? Maybe on another spot? Stuck a bit here. Getting closer and closer to jumping ship on the RVP group.

Seriously, I don't like fpl values. My early acquisition of giroud should be rewarded, not reprimanded in the form of painful price losses 😈

How are you punished? Just like everyone else you can sell and buy back later. You have gained more money in the process. The punishment is all in your head.

I personally feel SP should equal purchase price (at time of sale). And yes TV would increase, but surely that benefits the savvy player?

Funniest thing I've heard in a long time, give it a listen see what ya think http://95rockfm.com/best-voicemail-giving-play-by-play-of-car-accident/?trackback=fbshare

Loved it! My kids pissed themselves as well, cheers!

Sky game:

So I went from Ozil > Soldado captaincy this weekend - which worked out very well. But what do I do now?

Soldado plays on Sunday so would only have one capt for next weekend unless I transfer him out?

I don't fancy any ful or palace strikers but they would give me 2 extra captaincy attempts. I also can't afford berba (as he is more expensive than Soldado in sky game) so would need to go with Ruiz

Anyone familiar with the sky game that could help?

Go Big OR Go Home

I'm doing Whittingham ➡ Paulinho for free this GW

2 Pool Strikers
2 Everton Midfielders
2 Spurs Midfielders

Mignolet
Terry, Mertesacker, Clyne
Michu, Eriksen, Paulinho, Mirallas
Suarez (C), Sturridge, Giroud

Barkley, Coleman, Chester

For GW 10 finally I'll say goodbye to Eriksen & will welcome once again "The Defenders' Nightmare" to my midfield

Well done Ramsey owners. You're absolutely spot on but I won't swallow my pride. I'll die stubborn.

"I refuse to buy Ramsey"

New Article Posted

Thinking of taking another hit to swap Rooney for Giroud this week.

Worth it?
Scout Picks
Gameweek 26
Coleman

Ivanovic

van Dijk

Daniels
Payet

Oscar

Roberto Firmino

Ozil
From the Community…
Comments
Hot Topics
Articles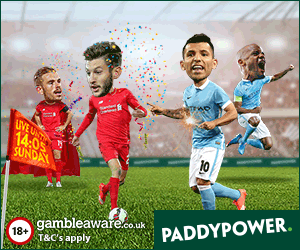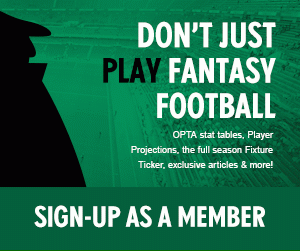 The Watchlist
Goalkeepers
Player
Club
Factors

Up

Forster
SOT

A

,

Vs

Down

Butland
STO

C

,

Vs

Up

Schmeichel
LEI

A

,

Vs

Up

Courtois
CHE

B

,

Vs

No Change

Boruc
BOU

B

,

Vs

Up

Hennessey
CPL

C

,

£

No Change

Cech
ARS

A

,

VsX

Up

Fabianski
SWA

B

No Change

De Gea
MUN

B

No Change

Adrián
WHM

B
Defenders
Player
Club
Factors

Up

Fuchs
LEI

A

,

Vs

,

£

Up

van Dijk
SOT

A

,

Vs

Up

Daniels
BOU

A

,

Vs

,

£

Up

Dann
CPL

A

No Change

Ivanovic
CHE

B

,

Vs

No Change

Alderweireld
TOT

B

No Change

Bellerín
ARS

B

,

VsX

Up

Johnson
STO

C

,

Vs

No Change

Cresswell
WHM

B

Up

Van Aanholt
SUN

A

No Change

Williams
SWA

B

,

£

Up

Smalling
MUN

C

Up

Coleman
EVE

B

,

Vs

Down

Dawson
WBA

C

Down

Moreno
LIV

C

,

Vs

Down

Kolarov
MCI

B

,

Rest

,

Inj
Midfielders
Player
Club
Factors

Up

Mahrez
LEI

A

,

Vs

No Change

Payet
WHM

B

,

Vs

No Change

Dele Alli
TOT

A

,

Inj

Up

Arnautovic
STO

C

,

Vs

,

Inj

No Change

Ozil
ARS

C

,

VsX

Up

Eriksen
TOT

A

Up

Antonio
WHM

A

,

Vs

,

Rest

,

£

Up

Sigurdsson
SWA

A

,

OoP

Down

Barkley
EVE

B

,

Vs

Down

Roberto Firmino
LIV

A

,

VsX

,

OoP

Down

Sánchez
ARS

C

,

VsX

Up

Lingard
MUN

B

,

Rest

,

£

Up

Khazri
SUN

B

Up

Oscar
CHE

B

,

Vs

No Change

Wijnaldum
NEW

B
Forwards
Player
Club
Factors

Up

Vardy
LEI

B

,

Vs

No Change

Kane
TOT

A

Down

Aguero
MCI

A

Up

Diego Costa
CHE

A

,

Vs

,

Inj

Up

Rooney
MUN

A

Down

Ighalo
WAT

C

,

VsX

Down

Lukaku
EVE

C

Up

Afobe
BOU

A

,

Vs

No Change

Giroud
ARS

B

,

VsX

,

Rest

No Change

Defoe
SUN

A
Selection Factors
| | |
| --- | --- |
| A, B, C | Current Form |
| Vs | Favourable Fixtures |
| VsX | Unfavourable Fixtures |
| Rest | Rotation Risk |
| Inj | Injured/Returning from Injury |
| OoP | Out of Position |
| £ | Potential Bargain |
| Sus | Suspended/Near Suspension |
| Player | Team | YC |
| --- | --- | --- |
| Colback | NEW | 9 |
| Yacob | WBA | 9 |
| Byram | WHM | 9 |
| Lucas | LIV | 8 |
| Jones | SUN | 8 |
| Westwood | AVL | 7 |
| Diego Costa | CHE | 7 |
| Huth | LEI | 7 |
| Can | LIV | 7 |
| Mangala | MCI | 7 |
| Shelvey | NEW | 7 |
| Pieters | STO | 7 |
| Dele Alli | TOT | 7 |
| Dier | TOT | 7 |
| Brunt | WBA | 7 |
| McClean | WBA | 7 |
| Noble | WHM | 7 |
"All players will blank a few times during the season. When almost all do it in the same Gameweek, it is tough to take, but that's just the dark side of probability."

Abreu 42 Community regular