It's the ScoutCast vs Adversity. Granville drags himself out of his sick bed and we scramble into a makeshift studio, determined to return to the airwaves after our absence last week.
Apologies in advance for the echo, the faint background hiss and Granville's Bonnie Tyler-like tones. If you can see your way past that little lot then you might just find some worth in this week's episode as we grill the Gameweek 29 blank, sauté the Gameweek 31 doubles, boil down the Suarez vs Sturridge debate and lament our joint decision to choose Edin Dzeko from the lavish striker buffet, ignoring the sumptuous Sturridge in the process.
In between that particular call to Captain Hindsight, we rinse through the regulars, although Granville's poorly state has us clean forget to credit the Scout League leaders or offer our thoughts on our new Fantasy Football squeeze – Ultimate Fantasy Premier League. Please accept this note from our respective Mum's and the promise that we'll return to full fitness next week.
Dose yourself up via this link or take your medicine via the player below…
I have made a monumental - and probably wrong - decision. I have decided to keep hold of Silva for the DGW. No more torturing myself and others with questions. I've decided. Finito. Sorry Bob, I will not be requiring your services.

Well if you look at the fact they have man united in the DGW
Look at the type of players that have punished united this season, the common factor is they all had their boots on the correct feet and had the ability to run slightly faster than dog poo rolling downhill
Now I am no expert but I am sure silva plays like that, so i think you may be onto something

Just trying some permutations for the dgw.

Whichever way I do it, I end up having to either sell Hazard or miss a dgw player.

Should I aim for:

A. Sell Hazard and keep Mata, Nolan, AJ and Yaya
B. Lose Mata

I wish I knew. I'm hoping the future DGW landscape will become clear before GW31 and make these decisions easier

Could someone put up a long post with lots of interesting points until first article of the day please

I'm really struggling what to do with this lot:

Boruc K.Davis

Azpi Kos Reid Ward Bruce

Hazard Mata Yaya Nolan Noone

Sturridge Suarez Lambert

2.3m in the bank and 2FTs

I can get 11 out this week if Bruce plays, which isn't likely? Reid sitting on the bench is a waste of money. I could do Bruce > MOlsson (save FT) and/or Reid > Ivanovic for 2FTs. This would give me 8 players for next week.. Is that enough?

8 should be ok. The transfers sound reasonable. Unless you want to do only 1 transfer this week(M.Olsson) and then do the other one next week , retaining your two FTs for 30,31.

this is what it comes down too, i think i'm only on 4 DGW players so far so priority will be that really. Everyone will be in same boat gw29. Kos needs to go as well at some point, blank and hideous fixtures. In conclusion my defence is actually just rubbish 😀

8 will be more than most, I think, and many, like me, will be taking hits on top of that

Repost from bottom of last page

Adrian
Azpi Sagna shaw Ward
Hazard Lailana Noone
Ade c Suarez Studge.

Manonne Bruce mata Yaya

2 FTs 0.3 ITB

Not sure what to do. Want to keep mata and Yaya for DGW. Can't be bothered with headache trying to get them back in.

Any advice welcome. Might just stick or swap Noone for Bruce?

Keep Yaya for sure, Mata depends on your opinion on United and how many points they can get.

You can do 1 FT and carry over the other, so I would probably try to change Sagna for someone , due to their fixtures.

Noone over Bruce, Bruce might not even play with Chester back

Thanks for the advice everyone

Nice pic MUM'S

I'd certainly use the second ft, perhaps Bruce -> Dann or chambers. For me it'd be Adrian-> Speroni, contentious advice that though!

What would you think of the following transfers

GW 28 , Mignolet - Ruddy ; Mertesacker - Evra for -4
GW 29 no transfers
GW 30 Giroud -> Sturridge
GW 31 Fonte - Demel, Lallana -Nolan , Adebayor - Aguero and Hazard - Silva/Mata for -8?

Would give me 9 players in 29 and 10 DGW players in 31 filled in by Coleman.

As for the hits, I am still planning a -4 this week so not concerned there. The -8 as its a DGW I guess, thats reasonable?

This week, only Migno to Ruddy, not sure abt Mert-Evra, would rather bring a chelsea or Soton defender

Thanks,The other option would be to double up on Chelsea with Terry and Ivanovic (I have Ivan at the moment)

I was considering Evra, but Man U dont look strong at back, He is more attacking when Januzaj play as they both pass to each other unlike Young and Evra combo
So his attacking return would depend on Januzaj's gametime
Also, to do Mert-Evra, u r taking -4pts hits, is that bcoz mert can fall in price?
I think u can start Mert this week, not bad choice and transfer him out next week
Double up with Cahill, it will cover both, baps and attacking threat and cheaper option
good luck

It's actually, because I do not want to do a transfer next week, I'd rather risk the -4 now and then have 2fts for 30 and beyond.

Plus, I am thinking that if I don't do transfers/take hits next week I can only prosper from it. Many people will go into panic mode.

Cahill isn't a bad idea, I'll consider.

Thanks a lot!

Good luck to you too!

Logic is good, dont see any flaws in that
I think u should do that move with either cahill/Terry as Evra dont have any match this week

Thanks a lot!!!

I think you're right. At the end of the day they have scoring potential and Mourinho tends to lock it tight against top half teams.

Anelka's quenelle got me thinking... What would the EPL worst XI look like?
A jerk hall of fame... drumroll...

THE TOXIC XI

Nicolas Anelka, Carlos Tevez, Mario Balotelli

Joey Barton, Roy Keane, David Bentley, Lee Bowyer

Jaap Stam, John Terry, Jose Bosingwa

Mark Bosnich

Bench: Emmanuel Adebayor, Ashley Cole, Craig Bellamy, El-Hadji Diouf.
Manager: Paulo Di Canio.
Director: Joe Kinnear

Miss anyone?

The list is more about players who are destructive to their own team... otherwise I'd have to include Robbie Savage, Denis Wise etc

Why is it always the fwds who make the biggest dicks?

Carragher has the most own goals. That seems fairly destructive.

Whatabout Lee Cattermole? Walking red card.

Possibly, but Fergie would disagree

I don't think he would - Fergie himself has admitted that he made a mistake selling Stam when he did.

That was more because he wasn't able to find a quality replacement... don't think it says anything about Stam's character

Repost from bottom of last page:

Got 2FT , want to use one this GW.

A) Demel -> Olsson / Ward
B) Do nothing and lose one FT

Who to dump out of:

Boruc - Mannone
Demel - Williamson - Olsson - Figuora - Yoshida
Hazard - Mata - Lallana - Eriksen - Noone
Suarez - Sturridge - Giroud ..
I have 2 FT & 0.3 but no transfer in mind (after Eriksen's performance yesterday!!) ..

Adrian Mannone
Kosc Olsson Gabbidon Ivanovic Coleman
Sterling Hazard Noone (Mata,Silva)
Saurez Adebayor (RVP)

As of now I have 11 playing (if gabbi and kosc plays)

Was thinking of taking a 4point hit to swap Silva out for a midfield that I can use the rest of Season

Whos the best ? Lallana?

yes, I'd be suprised if Silva even drops

Boruc
Kosc, Bruce, Ivanvovic
Hazard, Mirallas, Lallana, Noone
Adebayor, Suarez, Sturridge

4.0, Ward, Kolarov, Mata

1ft, 1.6m in bank.

Team good to go? Or should I spend the transfer on anything?

Save as we won't know how Bruce or Noone's competition for places goes until next week.

Mirallas should start surely, in his form I can't believe he'll be rested.

You'd have to be unlucky not to field eleven so I'd hold for next week where it'll really help.

Confident on Bruce starting?

The whole Reid bandwagon was a complete and utter disaster

Eikrem... super cheap... solid stats.. abysmal team...

anything else to add?

I would put emphasis on the abysmal team part.

Major rotation risk. Look at the team news section and count the number of contenders for Cardiff's midfield, madness!

Which midfielder to get for 5,1 or less? Needs to play GW 29 and hopefully has a nice fixture in GW 28 as well.

Currently on Puncheon but I guess there's a slight risk of him being suspended.

Any better options out there?

New Article Posted

How likely is it that Demel and Kosc play this weekend?

I have no cover on my bench if one of them doesn't play. Is this worth a hit?

Mariappa -> Dann/Parr?

How many times will free transfers roll over? Just seen someone post they have 2FTs and if they didnt use one this week they would lose it!!? I was under the impression they kept rolling over every week!! Can someone clear this up please as i fear i may have made a fatal error the last couple of weeks by not using them

Love the addition of the coughing at the end of the podcast!

Btw thanks for answering the question guys

Have Toure -- considering transferring out to Snodgrass for next two game weeks.

Which two players would you play out of this lot:

Snodgrass, Ince, MOlsson, JRodriguez.

Is it worth holding on to Toure and just play Ince and MOlsson this week?
Scout Picks
Gameweek 25
Janmaat

Williams

Alderweireld
Wijnaldum

André Ayew

Dele Alli

Roberto Firmino

Sánchez
From the Community…
Comments
Hot Topics
Articles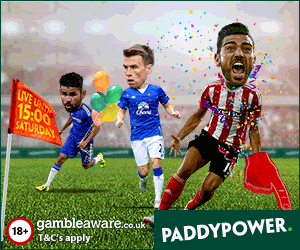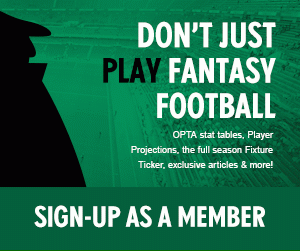 The Watchlist
Goalkeepers
Player
Club
Factors

Up

Forster
SOT

A

,

Vs

Down

Butland
STO

C

,

Vs

Up

Schmeichel
LEI

A

,

Vs

Up

Courtois
CHE

B

,

Vs

No Change

Boruc
BOU

B

,

Vs

Up

Hennessey
CPL

C

,

£

No Change

Cech
ARS

A

,

VsX

Up

Fabianski
SWA

B

No Change

De Gea
MUN

B

No Change

Adrián
WHM

B
Defenders
Player
Club
Factors

Up

Fuchs
LEI

A

,

Vs

,

£

Up

van Dijk
SOT

A

,

Vs

Up

Daniels
BOU

A

,

Vs

,

£

Up

Dann
CPL

A

No Change

Ivanovic
CHE

B

,

Vs

No Change

Alderweireld
TOT

B

No Change

Bellerín
ARS

B

,

VsX

Up

Johnson
STO

C

,

Vs

No Change

Cresswell
WHM

B

Up

Van Aanholt
SUN

A

No Change

Williams
SWA

B

,

£

Up

Smalling
MUN

C

Up

Coleman
EVE

B

,

Vs

Down

Dawson
WBA

C

Down

Moreno
LIV

C

,

Vs

Down

Kolarov
MCI

B

,

Rest

,

Inj
Midfielders
Player
Club
Factors

Up

Mahrez
LEI

A

,

Vs

No Change

Payet
WHM

B

,

Vs

No Change

Dele Alli
TOT

A

,

Inj

Up

Arnautovic
STO

C

,

Vs

,

Inj

No Change

Ozil
ARS

C

,

VsX

Up

Eriksen
TOT

A

Up

Antonio
WHM

A

,

Vs

,

Rest

,

£

Up

Sigurdsson
SWA

A

,

OoP

Down

Barkley
EVE

B

,

Vs

Down

Roberto Firmino
LIV

A

,

VsX

,

OoP

Down

Sánchez
ARS

C

,

VsX

Up

Lingard
MUN

B

,

Rest

,

£

Up

Khazri
SUN

B

Up

Oscar
CHE

B

,

Vs

No Change

Wijnaldum
NEW

B
Forwards
Player
Club
Factors

Up

Vardy
LEI

B

,

Vs

No Change

Kane
TOT

A

Down

Aguero
MCI

A

Up

Diego Costa
CHE

A

,

Vs

,

Inj

Up

Rooney
MUN

A

Down

Ighalo
WAT

C

,

VsX

Down

Lukaku
EVE

C

Up

Afobe
BOU

A

,

Vs

No Change

Giroud
ARS

B

,

VsX

,

Rest

No Change

Defoe
SUN

A
Selection Factors
| | |
| --- | --- |
| A, B, C | Current Form |
| Vs | Favourable Fixtures |
| VsX | Unfavourable Fixtures |
| Rest | Rotation Risk |
| Inj | Injured/Returning from Injury |
| OoP | Out of Position |
| £ | Potential Bargain |
| Sus | Suspended/Near Suspension |
| Player | Team | YC |
| --- | --- | --- |
| Colback | NEW | 9 |
| Byram | WHM | 9 |
| Lucas | LIV | 8 |
| Jones | SUN | 8 |
| Yacob | WBA | 8 |
| Westwood | AVL | 7 |
| Diego Costa | CHE | 7 |
| Huth | LEI | 7 |
| Can | LIV | 7 |
| Mangala | MCI | 7 |
| Shelvey | NEW | 7 |
| Pieters | STO | 7 |
| Dele Alli | TOT | 7 |
| Dier | TOT | 7 |
| Noble | WHM | 7 |
"All players will blank a few times during the season. When almost all do it in the same Gameweek, it is tough to take, but that's just the dark side of probability."

Abreu 42 Community regular