There's no doubt our final three differentials of the 2013/14 campaign are very much in the punt category. For many Fantasy managers, it's now or never, though, and as many mini-leagues go down to the wire, we turn to a trio of midfielders and take inspiration from last season, where West Ham skipper Kevin Nolan fired a hat-trick on the final day of the campaign:
Andre Schurrle
On his day, the Chelsea midfielder has proven to be one of the most explosive Fantasy options around. So far this season, Schurrle has produced a 15-point haul at Stoke, a 20-point return away to Fulham and 12 points in a 6-0 home hammering of Arsenal in Gameweek 31 – seven goals from just 1,303 minutes, compared to Oscar's eight in 2,046 minutes suggests that with greater game time, the German could flourish further as an attacking option.
After a frustrating end to the season, both domestically and in Europe, Jose Mourinho's side have the chance to take out their frustrations on relegated Cardiff in Wales later this afternoon. Schurrle – who is available for 6.8 in Fantasy Premier League (FPL), 8.0 in the Sky Sports game and 4.0 in the Sun Dream Team, – has now started six of the last seven Gameweeks and is likely to retain his spot in the first-team as the Blues square up to a porous Bluebirds backline that has conceded three or more goals in five of the last seven league fixtures.
Yannick Bolasie
Can Palace's wide man finally break his drought in the final match of the campaign? Bolasie has fired 44 shots over the course of the campaign – the same number as Raheem Sterling, for example, though the Liverpool winger has notched nine by comparison. Indeed, no other player in the Premier League has registered shots that the Eagles winger without finding the net.
Certainly, Bolasie will be hopeful as Tony Pulis takes his side to Fulham – a team that have conceded 83 times this season on their way to the Championship. Having delivered three assists in the last five, he's picked up in consistency of late but remains firmly in the Fantasy shadow of team-mate Jason Puncheon. Costing a budget-friendly 4.9 in FPL, 4.5 in the Sky Sports game and 1.5 in the Sun Dream Team, Bolasie may finally earn the goal his recent contributions have more than merited.
Emanuele Giacherrini
A peripheral figure for Sunderland over the last few months, the Italian has relied on brief appearances off the bench to remind us of his capabilities. With Gus Poyet confirming his intentions to rotate for the home game against Swansea, Giacherrini's chances of a start look likely – all the more so given that both Lee Cattermole and Seb Larsson are struggling with knocks in midfield.
The summer signing will be hoping to replicate the form that only recently served up a pair of assists against City in Gameweek 34, followed by a goal and assist against Cardiff 11 days later. Available for 6.2 in FPL, 6.2 in the Sky Sports game and 3.0 in the Sun Dream Team, Giacherrini's talents could help the Wearsiders take advantage of a Swans defence which has been breached 11 times in the last 12 Gameweeks, as Poyet attempts to steer his in-form outfit to a fifth successive victory.
does a team of look capable of beating the below one by 12 points guys? really unsure weather to click transfers

mannone
flan stones ward (azpi chester)
schurrle yyt eriksen gerrard nasri
aguero suarez (wickham)

(worried about wickhams gametime, and rival has azpi) vs (predicted)

boruc
dawson azpi zab
sterling ramsey mata yyt
dzeko suarez (rooney replacement)

Ramsey > Sterling for free?

Mannone
Ward Zabaleta Bruce
Mata Eriksen Ramsey Silva
van persie Aguero (c) Suarez

I'd be more concerned over Aguero's game time.

I´d be more apt to ship Mata or Eriksen and not Ramsey.

Mannone
Demichelis / Coleman / Evra
Eriksen / Mata / Yaya Touré / Puncheon
Dzeko / Suárez (C) / Rooney

Boruc / Barkley / Davies / Olsson

Rooney > A) Sturridge B) RVP

Chasing a 5 point lead.

Hey guys.

Defending a 13 point lead. Team as linked except Studge is in for Wickham. Good to go, or any potential hit worthy moves? Suarez right for (c)

for -8,

Boruc
Coleman Ward Azpi
Silva Mutch Ramsey Yaya(vc)
Suarez(c) Aguero Sturridge
Adrian John Chester Ki

Done with my final GW transfers..

All the best everyone!

Chasing a 20 pt lead. Rival has Suarez Sturridge Dzeko.

I have RVP Suarez Dzeko. He will captain Suarez.

Who do I capt?

RVP and hope for the best

Captain out of Yaya, Suarez, Aguero?

Thanks!

Ramsey & Rooney -> Gerrard & Dzeko? (-4)

Already have
Eriksen, AJ, Yaya
Aguero, Suarez, Dzeko

Talksport are at the Ethiad and they are saying Agureo has done 50 laps of the pitch.Is he Fit?:-)

Probably too knackered to start after that!

Play Mata or go -4 for sturridge.

After being 10 points ahead of my rival, I've now dropped a load of points..
He will be Captaining Yaya for sure, so do I captain Yaya aswell and hope for the best or go for Suarez or someone else?

Begovic,
Azpi, Cahill, Zaba
Mata, Eriksen, Sterling, Yaya
Aguero, Giroud, Suarez

Davis, Amalfitano, Stones, Chambers

Thanks

Head says Suarez will do the biz, Captain and settle for second place or heart says go for it with Dzeko......

differential choice for captain

A Toure
B Eriksen
C Baines
D Lukaku
E Dzeko

Last minute panic switch to Eriksen captain!!!

Fortune favours the brave?!

My options were Aguero, Yaya, Suarez, Ade, Sterling...and I went Eriksen. Wow.

Trailing ML by 19 points.

I wake up today and see that I had Sterling (C) and Yaya (VC). Then I thought about the poor form/fitness my three strikers have had the past 3-4 GWs and then I wasn´t too chuffed.

Boruc

Baines, Rosenior, Kos

Ramsey, Amalfi, Yaya (vc), Sterling (c)

Aguero, Sturidge, Suarez

Will 47 (-4) be enough to see me creep into the top 10k? Currently 10,107.

Can't wait up for updates..
Scout Picks
2014/15 Team of the Season
Clyne

Ivanovic

Terry

Bertrand
Cresswell

Sigurdsson

Giroud
From the Community…
Comments
Hot Topics
Articles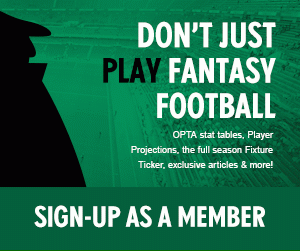 "All players will blank a few times during the season. When almost all do it in the same Gameweek, it is tough to take, but that's just the dark side of probability."

Abreu 42 Community regular