We may be in the midst of a gripping World Cup but yesterday's announcement of the 2014/15 Premier League fixture list served a reminder of footballing life after the lifting of the Jules Rimet. Next season, as ever, we'll be scanning the horizon on a weekly basis to ascertain the teams with the best and worst schedules over the forthcoming four to six Gameweeks.
This afternoon, we roll out our first look at next season's fixtures and focus on teams with the kindest opening schedules. New United boss Louis van Gaal receives a very generous welcoming gift from the FA, while Chelsea can also be optimistic of a flying start and the likes of Stoke and Palace will be hopeful of continuing the form that saw both sides finish the previous campaign strongly.
Man United
Last season's ignominious false dawn for life after Sir Alex has been consigned to history and Old Trafford has been rebooted with the installation of fiery Dutchman Louis van Gaal. His spectacular steering of the Dutch World Cup campaign, combined with his relationship with talisman Robin van Persie has seeded high hopes from fans and media alike, and their opening schedule can only stoke the flames. The Red Devils' first six games include all three of the promoted sides plus home games against Swansea and West Ham and a trip to Sunderland.
Of course with the transfer window in embryonic stage and a feeling that van Gaal will want (and can attract) an all all-star dressing room refit, our Fantasy targets are merely tentative – changes to personnel and tactics will cause a re-think nearer the season kick-off. It's a fair bet that van Persie will be sticking around, though, and we can expect very high ownership from the get go, especially if he continues his eye-catching World Cup form. In midfield, it remains to be seen if and how van Gaal uses Juan Mata but his undoubted talent still makes him a contender, while at the back, David De Gea could be a profitable early season goalkeeper if you're prepared to splash the cash.
Hull City
Steve Bruce guided his promoted team to some very respectable heights before eventually slipping to 16th place in 2013/14. The Tigers' opening fixtures provide hope for a good start – the first six fixtures include home games against Stoke and West Ham as well as trips to QPR, Aston Villa and Newcastle, although the visit of champions Man City in Gameweek 6 heralds the beginning of a marked downturn in fixtures.
Last season, the Tigers were a solid, if unspectacular, source of budget defenders and we can expect more of the same, though we might hope for better away form in that respect. Curtis Davis's goalscoring exploits could see his price rise beyond budget bracket but James Chester will hope to be fully fit again and may be more affordable. Few of Steve Bruce's midfielders emerged as Fantasy options last season but up front, Nikica Jelavić and Shane Long both performed admirably and with those opening fixtures, either one could be a solid budget enabling third striker.
Chelsea
The Blues had a mixed campaign under the returning Jose Mourinho due in no small part to a lack of real bite in attack. With the capture of Cesc Fabregas and Mourinho's widely-reported aim to land a world class striker, Chelsea are poised to pose a bigger threat to next season's title chasers. Their opening schedule ought to give them a head start, with three tasty looking home games in the first six (Leicester, Swansea and Aston Villa) as well as a trip to Burnley. Visits to Everton and Man City will prove a sterner test, though.
Mourinho's playing style and preference for a stable defence made all four of his chosen defenders profitable options and despite a likely price-hike, they are still likely to attract investment from the off. In midfield, Eden Hazard will compete for our attentions with Fabregas and, to a lesser extent, Oscar, whose World Cup showing is demonstrating his ability – if he can finally bring that talent to bear on the Premier League, he could be a real Fantasy asset. Up front, speculation is rife that Mourinho will bring Diego Costa to London. Opinions on his suitability for the role are mixed and if he does don the Chelsea kit, it is likely that many Fantasy managers will prudently forgo the promise of these early fixtures in favour of waiting for evidence of goals.
Southampton
The departure of over-performing manager Mauricio Pochettino is a blow to the Saints but Ronald Koeman is widely regarded as a good bit of business, bringing a CV brimming with European success. Certainly, Southampton's prices will inevitably take a hike across the Fantasy games after last season's exploits but Koeman is no beginner and even if one or two first-teamers leave, it'd be folly to write off their prospects in light of a kind opening schedule. After a testing first game at Anfield, Koeman can bed his methods in with home fixtures against West Brom, Newcastle and QPR as well as trips to West Ham and Swansea.
Such matches could be profitable at both ends of the pitch, bringing Artur Boruc into contention again, though his price will undoubtedly be rather high, whilst Jose Fonte may be best of the centre-backs. If Adam Lallana departs St Mary's, James Ward-Prowse may the biggest beneficiary and, with limited game time last term, is likely to remain relatively budget-friendly. With Rickie Lambert gone and Jay Rodriguez sidelined through injury, acquiring a new forward is clearly crucial for Koeman and his dealings in the transfer market may well tempt us to invest up front.
ALSO CONSIDER
Crystal Palace
Tony Pulis' arrival half-way through last season brought a dramatic turnaround in the Eagles' fortunes, as he rapidly turned Selhurst Park into a fortress for visiting teams and a source of much Fantasy profit with cheap clean sheets galore. Palace's away form needed work but saw some improvement towards the end of the season and the opening fixtures cater marvellously for such a Fantasy profile – splendid home games against West Ham, Burnley and Leicester interweaved with nasty trips to Arsenal and Everton. If Fantasy managers can find a good rotation partner (QPR have perfect dovetailing fixtures but have big question marks over their defence) then Joel Ward and Julian Speroni may well be worth their inevitable price rises.
Stoke City
Mark Hughes did a great job of silencing the critics last time around, steering the Potters to their best-ever Premier League finish in his first season in charge. A series of gradually improving performances, as Stoke slowly moved away from Tony Pulis' defensive pragmatism towards a more attractive brand of football, suggests the Staffordshire outfit could be worth our consideration this term – a theory heightened by the first few fixtures. The opening six games includes just one big name – Man City – to detract from the appeal of home games against Aston Villa, Leicester and Newcastle and visits to Hull and QPR. Such fixtures bring the burgeoning talents of Marko Arnautovic firmly onto Fantasy radars; something of a disappointment in the first half of the season, the Austrian gradually settled and finally turned in some eye-catching performances. At the other end of the pitch, Asmir Begovic's shot-stopping talent should be priced more kindly this time around, and likewise the bonus points of Ryan Shawcross may become more affordable. If new boy Mame Biram Diouf can oust Peter Crouch from the starting XI, Fantasy managers may well be eyeing up the former United man as a legitimate third striker.
Tottenham
Tim Sherwood achieved some decent results out after replacing Andre Villas-Boas but an over-candid media persona and perceived tactical naiveté led to his departure late last month. Given how quickly new manager Mauricio Pochettino made an impact at Southampton, there is plenty of optimism for his tenure at Spurs and the opening schedule looks fairly kind too, with four of their first six games quite favourable. Many are hoping that the defensive resolve he instilled into Southampton will translate to Spurs, bringing Kyle Walker into contention as an attacking full-back, while Jan Vertonghen can expect a price dip after a poor showing in 2013/14 – with luck the pre-season campaign will tell us more about the favoured defensive partnerships. In midfield, Christian Eriksen's wildly successful second half of the season makes him favourite for a slice of our Fantasy budgets, whilst up top, Emmanuel Adebayor is always a contender, though whether his work-rate will fit in with Pochettino's high pressing game is yet to be seen.
Change captain to Juan CUADRADO from Neymar?

Yes or No?

of course 7 points is a poor score

How many times can you change your captain on the MCFiFa?

My captain in the McD league is 20pts (2x10), but I have Cuadrado, Messi & Hazard to go (amongst others) .

Is it viable to chase the game and keep changing my captain until I hopefully get more than 2x10 ?

I know that in the short term, it will knock me well down the rankings.

SAFC-Lawyers
OVERALL
Points 174
Rank 148

Well in match day 1 , a total of 8 strikers scored over 10 pt, with Mueller highest at 18. So figure 32 teams and 2 or 3 strikers per team and you see the odds of exceeding 10. These are rough numbers, based on an inexact spreadsheet, but the best we have.

Thanks Jack - food for thought

Drog left on the bench again & money to be made off this, some serious value:

Btts and Colombia @ 4.75
Btts and over 2.5@ 2.30
2-1 Colombia @ 10.00
Colombia over 1.5 goals @2.10

In last 12 Colombia have only failed to score in 3 (Argentina, Uruguay, Venezuela) and have scored 22 goals in the other nine games. Currently in good goalscoring form, while Ivory Coast are susceptible at the back with arguably the tournaments worst keeper. Ivory Coast have the impact of Drog off the bench as well to test a slow Colombian defence with pace abundant in their wingers/forwards.

Could be a good game to beat the bookies!

2-1 and 3-1 Columbia with J-Rod first scorer for me

I guess you haven't seen the Iranian keeper on monday

Bari is worse, yes even worse than Casillas 😉

I have accu on Columbia to win to nil vs ivory coast, to beat japan and to win the group.

Portugal are probably in damage control mode while USA are full of confidence. That being said, Portugal still have far more quality than the USA and USA were 2nd best against Ghana for most of the game.

Therefore, I predict a draw.

I've got money on it. I think USA weren't the best team vs Ghana and if Ronaldo plays he will be a lot more clinical than the guys from Ghana.

Am in a local Game where i can pick only 1 cpt for the day. Need to lock it in the next 30 mins and still unsure who to pick:

A) Bony
B) J Rod
C) Sturridge
D) Suarez

all are categorised as strikers, no baps are given, money is no object

your thoughts would be very much appreciated!

Telegraph, who would you put in tonight out of these
Bony
Rooney
Sturridge
Suarez

hmm, I don't know if its worth it
might try a pop at Guiterrez ( have J.Rod)

Don't think anyone's worth a transfer today. Get Balotelli and Benzema tomorrow instead

Since the cheap defender of choice seems to be Trippier I thought I'd look for a decent 3 play 1 rotation we can use him in. Burnley, Palace and QPR looks good

HUL, WHM, SUN, BUR, SUN/STO, LEI, lei/hul/whm, WHM, AVL, SUN, HUL, sto/new, AVL/LEI, NEW/AVL, BUR, SOT/STO, WBA, SOT, CPL

West Ham also not a bad 3rd choice over QPR

Taken a photo and using that, thanks! To go along with cahil and a nailed on united defender!

if you want a nailed on United defender get DDG at this point. DO NOT, I repeat DO NOT buy Jonny Evans

Haha ok I will take your word for Johnny evans 😀 one good option will present itself in the defense over the next month, im a rotating keepers type guy so probably wont go with ddg as I like the save points from lesser keepers if they concede which you dont get from the top guys if they concede.

I haven't yet found a keeper rotation I like bar Stoke and Swansea but I think Bego will be too expensive to rotate.

You could always play a Speroni type keeper ever week?

Im looking for the dream team like sporoni/mannone combo to appear 😀 if not Speroni is a great shout by himself!

Burnley and Hull looked good until I remembered that Hull have Europa

Might work in the beginning and then swop out mcgregor when Europa starts. How many games in till europa?

They have to qualify so they start on July 31st. If they qualify throw at least 10 more games in, if they don't that could be the one

Well in match day 1 , a total of 8 strikers scored over 10 pt, with Mueller highest at 18. So figure 32 teams and 2 or 3 strikers per team and you see the odds of exceeding 10. These are rough numbers, based on an inexact spreadsheet, but the best we have.

I'm not a great statistician but round 1 was quite a big outlier in terms of number of goals scored. The most ever at a World Cup, if I recall correctly.

I'm not sure it would be a good idea to use that as a baseline average for probabilities of points.

Yea Beavis is right, roughly mid July

Change Mcd captain from vargas (20) to cuadrado? got valbuena, di maria, pjanic, messi, de bruyne to come

Betsson now offering MOTM odds on both Columbia v Ivory Coast match & Uruguay v England.

J rod and sturridge for me.

Thanks. Finding it hard to pick today, Yaya is an obvious choice but I fancy Colombia to win this and they have quite a few players that could score well (J Rod and Cuadrado being the favourites I'm guessing)?

The England game's even tougher. Rooney, Sturridge, Gerrard, Suarez all have a good chance IMO. Even Muslera - he plays for Galatasaray (who have a bigger twitter following than Liverpool!) so if the Uruguay keeper's on form even he could get it.

I agree it's very tough today and the odds are very poor. TBH I think today i'm just going to put a single MOTM on the Uruguay v England game with paddypower as they are offering alot better odds on most players I would pick from.

Thanks, good advice. I really don't fancy picking one out of Japan v Greece either!

Wait for line ups. Wouldnt stick with 10 personally.

Has anyone tried the reportedly improved formation change? If so than, any glitches?

Most will have set up their teams properly so think we will have to wait and see

Well it's not physically possible to change positions if by doing so someone who has already played will be removed, so unless you manually sub someone out there's no issues. Then when you change formation it removed the blank slot created by subbing out that player.

Say you've had 2 strikers who have played, you can't select a formation with 1 striker until you manually sub one of them. Here's what my formation box shows: http://i.imgur.com/P1d2JdS.png

So you have to remove the player then change formation.

You obviously don't speak McDonalds.

If you have set up a player further east right and switch formations he goes automatically... I think kostja was questioning whether this has now been fixed

I tried it out and if their is a empty space say, in 442 formation, one mid player is not assigned and an empty space lies b/w two positions then you can switch to 433 formation and empty space will be consumed thus no mess... In no case you can remove a player who has already played while changing formation, thus a full proof system(unless something else comes out :P)....

Hey guys just wondering where the Macyd's fantasy points spreadsheet went. Hoping someone can link it ... thanks ereone

Hey guys! need help!
I'm not at all familiar with betting and all and want to start the shit now :D... so any site suggestions?? any newbie advice??
and the last, these sites offer betting for every country, right? or are there only a few eligible countries?
Well, I would want to read the rules or something which I can't find on betting Kingdom at the moment.

definitely one to watch for next season

When can we pick our team for game week one?
Scout Picks
Gameweek 25
Janmaat

Williams

Alderweireld
Wijnaldum

André Ayew

Dele Alli

Roberto Firmino

Sánchez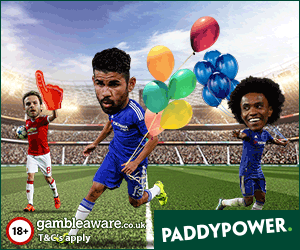 From the Community…
Comments
Hot Topics
Articles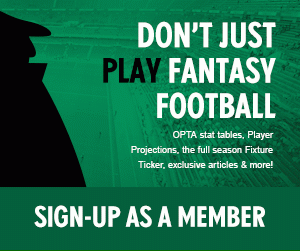 The Watchlist
Goalkeepers
Player
Club
Factors

Up

Hennessey
CPL

C

,

Vs

,

£

Down

Butland
STO

C

,

Vs

Up

Schmeichel
LEI

A

Up

Forster
SOT

A

Up

Courtois
CHE

B

,

Vs

Up

Fabianski
SWA

A

No Change

Boruc
BOU

B

No Change

De Gea
MUN

B

No Change

Cech
ARS

B

,

VsX

Up

Foster
WBA

C

,

VsX
Defenders
Player
Club
Factors

Up

Ivanovic
CHE

A

,

Vs

Up

van Dijk
SOT

A

Down

Baines
EVE

B

,

Vs

Up

Dann
CPL

C

,

Vs

Up

Cresswell
WHM

B

,

Vs

Up

Williams
SWA

A

No Change

Dawson
WBA

C

Down

Alderweireld
TOT

B

No Change

Daniels
BOU

A

,

£

No Change

Fuchs
LEI

A

No Change

Van Aanholt
SUN

A

,

VsX

Down

Bellerín
ARS

C

,

VsX

Down

Smalling
MUN

C

Down

Moreno
LIV

C

,

Vs

Down

Johnson
STO

B

Down

Kolarov
MCI

B

,

Rest

,

Inj
Midfielders
Player
Club
Factors

No Change

Payet
WHM

B

,

Vs

Up

Roberto Firmino
LIV

A

,

Vs

,

OoP

Up

Dele Alli
TOT

A

,

Inj

Up

Barkley
EVE

C

,

Vs

Up

André Ayew
SWA

A

,

OoP

Up

Eriksen
TOT

A

Down

Ozil
ARS

C

,

VsX

No Change

Mahrez
LEI

C

,

VsX

Up

Sánchez
ARS

C

,

VsX

,

Inj

Up

Antonio
WHM

A

,

Vs

,

Rest

,

£

No Change

Willian
CHE

B

,

Vs

,

Inj

No Change

Wijnaldum
NEW

B

Down

Arnautovic
STO

C

,

Vs

,

Inj

Up

Silva
MCI

C

No Change

Johnson
SUN

B

,

VsX
Forwards
Player
Club
Factors

No Change

Aguero
MCI

A

No Change

Kane
TOT

B

Up

Vardy
LEI

C

Up

Diego Costa
CHE

A

,

Vs

,

Inj

No Change

Ighalo
WAT

C

,

VsX

Up

Rooney
MUN

A

Down

Lukaku
EVE

C

,

Vs

No Change

Giroud
ARS

B

,

VsX

,

Rest

Up

Afobe
BOU

A

,

£

Down

Austin
SOT

B

,

Inj
Selection Factors
| | |
| --- | --- |
| A, B, C | Current Form |
| Vs | Favourable Fixtures |
| VsX | Unfavourable Fixtures |
| Rest | Rotation Risk |
| Inj | Injured/Returning from Injury |
| OoP | Out of Position |
| £ | Potential Bargain |
| Sus | Suspended/Near Suspension |
| Player | Team | YC |
| --- | --- | --- |
| Colback | NEW | 9 |
| Byram | WHM | 9 |
| Lucas | LIV | 8 |
| Jones | SUN | 8 |
| Yacob | WBA | 8 |
| Westwood | AVL | 7 |
| Diego Costa | CHE | 7 |
| Huth | LEI | 7 |
| Can | LIV | 7 |
| Mangala | MCI | 7 |
| Shelvey | NEW | 7 |
| Pieters | STO | 7 |
| Dele Alli | TOT | 7 |
| Dier | TOT | 7 |
| Noble | WHM | 7 |
"All players will blank a few times during the season. When almost all do it in the same Gameweek, it is tough to take, but that's just the dark side of probability."

Abreu 42 Community regular