Whilst bragging ranks and top 10K finishes are the main aims for most managers, it doesn't hurt if you can also win a little cash or scoop some prizes with your Fantasy skills!

We have £10k worth of cash and prizes on offer across a variety of Fantasy games, including a £1,500 Fantasy Football Scout (FFS) mini-league, two FFS cups, a UCL Fantasy game, new predictor games and multiple other offers!
So whatever game you're playing, you'll have a decent chance to win some cash, a Premium Membership or some cool merch!

In fact, there are over 450 chances to win something with Fantasy Football Scout this season as a Standard Member (free) or Premium Member!
11 Competitions: Over 450 Chances to Win!
1. Fantasy Premier League
Our Fantasy Premier League mini-league is open for the 2023/23 campaign and we'll provide details on how to sign up below.
We're dishing out £1,500 worth of prizes for the top 10 podium finishers overall in our Fantasy Football Scout mini-league, plus an extra prize for whoever tops the table at the end of August (i.e. Gameweek 3). Anyone will be able to enter this mini-league but only those who have registered an account with us, be it paid or free, before the cut-off date will be eligible to win the prizes.
LEAGUE NAME: FANTASY FOOTBALL SCOUT
League Code: 5k0l6n
Eligibility: Open to all
Yearly prizes: 1st (£500), 2nd (£350), 3rd (£200), 4th (£100), 5th (£50) (6-10: Premium Memberships worth c. £250 in total)
Month 1 prize: 1st at the end of Gameweek 3 (£50)
Eligibility: Open to all, only those who have registered a Fantasy Football Scout account (paid or free) are eligible for the prizes. Fantasy managers must be registered as a Standard Member or Premium Member one month in advance of the awarding of a specific prize to be eligible. In the case of the 'Month 1' prize, you must be signed up by the Gameweek 2 deadline.
HOW TO JOIN
Make sure you have an existing FPL account
To be eligible for a prize, register a paid or free account with us
Click here
Enter the league code provided above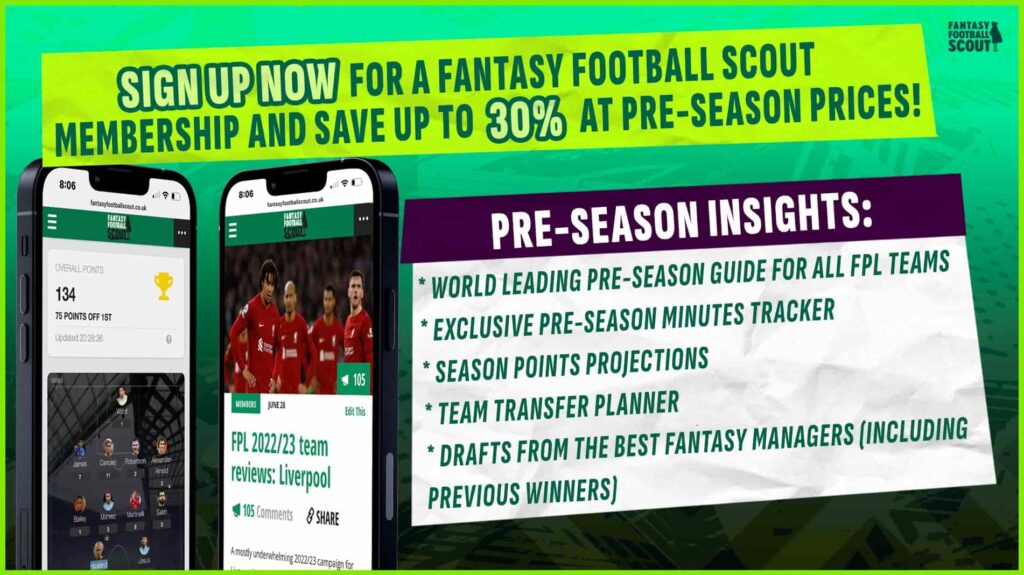 2. PlanFPL Predictor Games
As part of bringing PlanFPL into the Scout Network, not only can FFS Members blend projected points into the awesome visual transfer planning tool but they can also now take part in two predictor games – each of which will have a monthly prize for the top-ranked player of a £50 Amazon voucher (provided they are already FFS Premium Members before the start of the latest Gameweek; FFS Standard Members get to win a free month of Premium Membership instead).
i) Score Predictor: Couldn't be simpler: just predict the scores for the Premier League games that week and lock them in before kick-off. You'll get points for each correct score. The person with the most correct selections at the end of each month wins the prize!
ii) Line-Up Predictor: Think you can do a better job than our team news maestro Neale and his team of experts? Here's your chance to prove it! Simply select the line-ups for each game from the drop-downs and you'll get points for each correct starting player. The person with the most correct selections at the end of each month wins the prize (and our admiration!).
3. £500 FFS YouTube Subscriber Giveaway
Okay, so it's not a competition per se, but each month we're going to be doing a random draw of FFScout subscribers on our YouTube channels to give away a Premium Membership (or extension if you're already a Premium Member) worth £50.
To kick things off in August, we're going to sweeten the pot with £200 cash on top of the Premium membership. Everyone is eligible, all you need to do is subscribe to the channel and make a comment on a video (keep it clean!) during the relevant month. We'll then draw a lucky winner!
Existing subscribers are obviously included too – you just need to comment!

HOW TO JOIN
Sign up as a subscriber at Fantasy Football Scout on YouTube
Make a comment in the relevant month
Wait and hope! Oh and you may as well enjoy all the awesome video content whilst you're there!



4. Take the GoalScorer Challenge – win an FFScout Premium Membership monthly!
We also have 10 Premium Memberships (worth c. £500) on offer for the monthly winners of GoalScorer Challenge, the popular game where you pick a different player each week who you think will haul.
It's harder than it sounds as you can only pick each one each week – and can't pick them again.
This is open to all Standard or Premium Members. If you win as a Premium Member, we'll sort you a free extension for next season.
>> Play Goalscorer Challenge here
5. £150 Twitter Promotion
Like Fantasy Football? Like Twitter (or X or whatever it's called now)? Then all you need to do now is make sure you like and follow our channel, comment and repost this linked Tweet here before Gameweek 1, and you could win yourself £100 plus an FFScout Premium Membership account!
Open to all comers, including existing Twitter followers who comment and retweet.

6. £5,200 of Good Team On Paper Giveaways!
Everyone likes free stuff, and Fantasy managers are no exception – which is why we've teamed up with the awesome merch-makers at Good Team on Paper to provide a gamut of giveaways across the season.
First up we have 300 sets of Fantasy beermats (worth £12) to give away to everyone who registers as an FFS Premium Member (or already is one) and fills out this form during August. Everyone gets entered into a draw, so you obviously have a good chance to win!
Then each and every month, we're going to do a random draw of Premium Members and send one of them cool gift from the GTOP stockpile. You could pay back your FFS Premium Membership subscription in one swoop!
7-11. FFS Cups, UCL, Community Competitions & More (£1,000+)
We also have…
Two FFS Cups (with £300 worth of prizes in each) which we'll launch later in the season
A brand new UCL Fantasy League challenge we're running with Fantasy Football Community (£200 worth of prizes there)
£100 for the Scout Picks Community champion (the person who enters and beats our picks up the biggest margin)
A £100 prize for the best published Community Article of the season
Plus a few more exciting giveaways we'll be unveiling later
So stay tuned to our various channels and make sure to sign up as Standard or Premium Member in the run-up to Friday's deadline.
N.B. We also ran a 'Guess the FPL Price' competition earlier this summer but you've missed your chance there – probably be a bit too easy now!