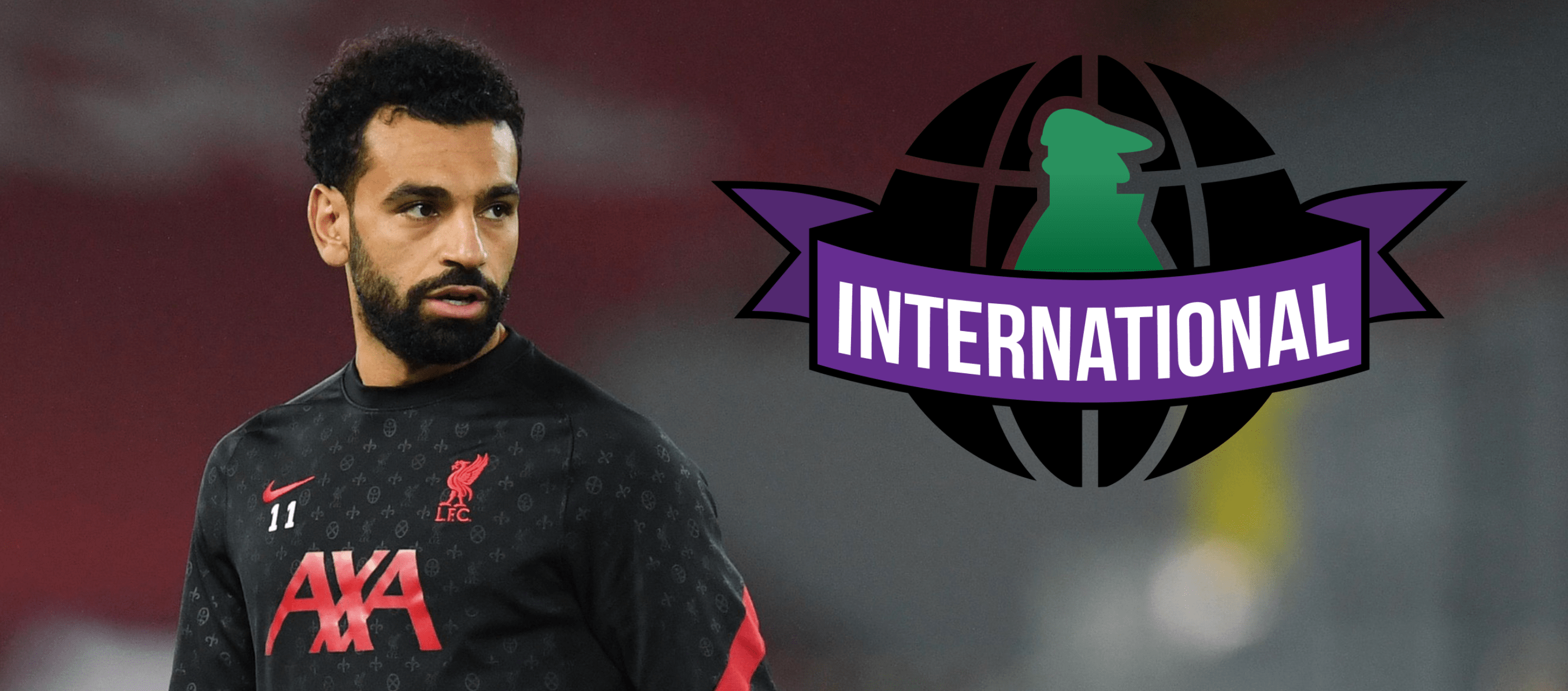 ---
Fantasy Football Scout is committed to celebrating Fantasy Premier League enthusiasts from across the globe.
Fantasy Football has become a truly global passion in recent years, which has created a beautifully diverse readership on our site.
We now have a genuinely international following, as regular visitors from 234 different countries have formed a part of the circa 4.7 million visitors to the site over the last 12 months.
From Australia, Brazil and Croatia to the Western Sahara, Yemen and Zambia, it is clear there are Fantasy managers fretting ahead of each Gameweek regardless of their geographical setting.
And with that in mind, we have set up a new initiative to reflect, celebrate and better serve this international audience.
FFS International is a new branch of the Scout Network dedicated to featuring the best content creators from around the world.
There is Fantasy advice, insight and entertainment going out all over the planet, tailored to their local communities, languages and timezones and we want to help play a part in connect creators with their audiences.
To find the existing channels check out the detailed map below.
But remember, we really are just getting started on this initiative, so if you are interested in shining a light on the Fantasy fanatics in your region please do get in touch USING THIS FORM.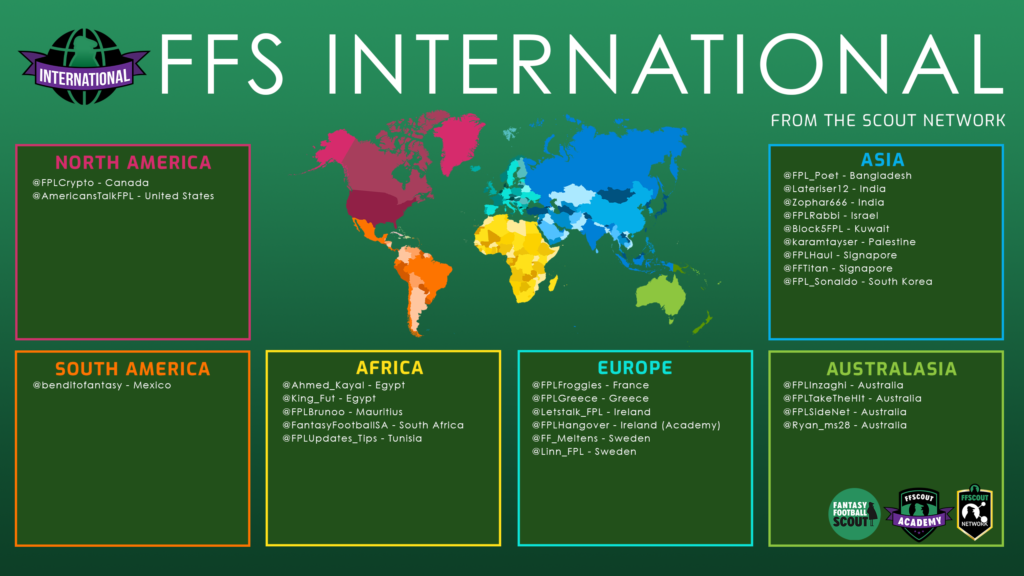 FFS International Map of Content Creators
Continent: Europe
FPL Froggies is a weekly French speaking FPL audio podcast hosted by Romain and Benjamin who combine more than fifteen FPL seasons and several top 10K finishes. Based on friendly disagreements, we aim through our discussions at exploring all the strategic sides of the game and its mechanisms, learn from our errors but also brag and whine as all true FPL fans do. We consider the game as an ever-evolving puzzle in which every concept is worth being studied. Every week FPL Froggies navigates with fun but conscientiousness between the thin frontiers of precise statistical data and sofa analyses.
Deux joueurs francophones chevronnés de Fantasy Premier League se retrouvent pour un podcast mêlant analyse des matches et stratégie de jeu.
Avec plus de quinze saisons cumulées entre eux et plusieurs top 10K finishes, Romain et Benjamin analysent chaque semaine les dynamiques de jeu, les meilleures options à considérer mais reviennent aussi sur leurs erreurs. Nous considérons le jeu comme en évolution permanente, sans
solution unique, d'où son intérêt premier. Jonglant avec maestria entre statistiques pointues et l'analyse de canapé, les FPL Froggies vous font plonger dans la Premier League et son environnement à travers le jeu.
FPL Greece is the largest community about the Premier League and its Fantasy Football game in Greece. They stream daily during pre-season at their Twitch channel. Join their Discord server (in Greek) to learn more.
With 13 seasons of FPL management under their belts, the two Irish podcasters continue to raise the bar for FPL content while – in their words – lowering the tone. Weekly episodes are available across all audio platforms and in glorious HD on their newly created YouTube channel. Come for the FPL, stay for the craic.
Let's Talk FPL is the second-most-viewed Fantasy Premier League channel on YouTube, producing weekly content throughout the year. To subscribe, click here.
Linn_FPL is a Fantasy Football addict with a passion for heat maps and pass maps. She loves a good discussion and a differential punt. Linn produces weekly podcasts where they discuss the good and the bad after each Gameweek. As well as the Official FPL game Linn also plays the Bundesliga and Eliteserien versions of the game, as well as Fanteam and Fantrax.
Born and raised in Stockholm, Meltens is part and parcel of the English community surrounding Fantasy Allsvenskan, writing articles and raising the profile of the Swedish league. He loves a cheeky punt on a perceived high-ceiling differential and is prone to letting nostalgia picks get the better of him, which swings him from the top 10k to around the 200k mark season to season. His top finish in FPL is 1,546 and in Allsvenskan Fantasy is 218.
Continent: Asia
Block 5 is a Twitter account dedicated to connecting Arabic FPL managers to the best content that the FPL community has to offer. Block 5 translates some of the best FPL podcasts into Arabic and also provides a weekly podcast that offers opinion backed up by stats and analytics on the major talking points of the Gameweeks. Most recently, Block 5 has started an Arabs Elite League, where the performance and decision-making of some of the top Arabic FPL managers are analysed to provide valuable lessons for the rest of the community.
DreamSetGo is a sports travel and experiences platform from the house of Dream Sports – India's leading sports technology company, which also hosts Dream11, FanCode, DreamX and DreamPay – that aims to make sports fans live the dream.
Dardashet Fantasy (or Fantasy Chat) is a YouTube channel that aims to deliver high-quality, unique and entertaining content to FPL managers in Arabic. The channel is run by a team of five dedicated managers with 17 top 10k finishes between them. There are weekly videos including FPL tips, game strategies, captain picks and differentials. The channel aims to support FPL managers by providing professional thoughts backed up by eye-test and stats in order to improve their rank as well as their decision-making process.
FPL Live Wire is a new Fantasy Football YouTube channel and live stream powered by DreamSetGo. The FPL Wire is a place where Fantasy managers Lateriser12 (three-times top 200 finishes), Zophar666 (seven-times top 10k finishes) and BigManBakar (world number four in 2014/15) discuss Fantasy Premier League on a weekly basis, hoping to give FPL managers all the insight, information and banter needed to make key decisions.
FPL_Milanista has over 15 years experience across both FPL and UEFA Fantasy. He most notably finished 2nd in EURO 2016 and 4th in UFPL 2015. On his Twitter feed he provides tips from basic team preparation to detailed scenario assessment and contingency planning in an aim to change the crowds approach to the game and hence allowing them to reap fantasy rewards. He explores the correct weight to put on the ever-present fantasy dilemma of fixtures vs form as well as how to read/analyse individual player and team stats in a way that pushes FPL managers into making the more educated decision, neglecting all the surrounding noise around him/her but factoring in the eye-test too.
Quamrul Hassan is a poet, journalist, sportswriter and Fantasy Football enthusiast from Dhaka, Bangladesh. The winner of ESPN Star Sports Knockout Cup 2009-10, he co-founded Fantasy Football Players of Bangladesh (FFPB) and has literally taught the game to thousands in his country in the last decade.
FPL Rabbi (Israel – Academy)
Ever since his debut season in 2016/17, FPL Rabbi has partially succeeded in not overthinking FPL. As a Shabbat-observing Jew he treats every weekend deadline as a Friday deadline, and he has managed three consecutive 0.5% finishes. His Twitter page, in three languages (English, Hebrew & Spanish), documents his FPL season; from being helplessly addicted to a differential attacking-fullback option to taking too many hits.
FPL Rabbi is also part of the FPL podcast Doubtful – 75%⚠️ (מופיעים בספק) which is available on YouTube and across all audio platforms. In this first of a kind video podcast recorded in Hebrew, the Rabbi, alongside Omer and Avihay, look back at their Gameweeks and talk through their plans.
מופיעים בספק הוא פודקאסט פנטזי פרמיירליג ראשון מסוגו בישראל המיועד לקהל דובר עברית בארץ ובעולם.בכל פרק אביחי, עומר ודניאל עושים סקירה קצרה של הקבוצות שלהם, נוגעים בנושאים החמים, מביאים נתונים סטטיסטיים ייחודיים ומתכוננים למחזורים הבאים, והכל בצורה קלילה ומשעשעת מסלון ביתם.
FFTitans was conceptualised in a small café in downtown Singapore. It started with a group of lifetime friends with a passion for FPL who wanted to share their love and insight for the game. The contributors and collaborators have evolved over time and now the FFTitans have become a community of international team members with the same mission statement as they had on day one: to share their Fantasy knowledge, stats and understanding and develop friendships in the FPL community.
FPL_Sonaldo (Andy Park) finished an impressive 4th in South Korea last season and broke into the Top 10k. He loves discussing the meta-strategies involved in FPL and enjoys studying how Premier League managers' in-game tactics affect the fantasy value of a player.
Located in South Korea, Andy routinely stays up until the wee hours of the morning to catch all the games. His main goal is to grow the game of FPL in Korea and, to that end, has been pushing out Korean FPL content on YouTube with his good friend, Hyung Seo and co-hosting a weekly twitter space called, "The Enablers Show", with @FPLBrunoo. FPL_Sonaldo is also committed to writing threads/articles and hopes to contribute to the FPL community in whatever way he can!
Continent: Australia/Oceania
Football Chatbox is a YouTube channel created by Ryan for his love of the sport and FPL. Together with a group of friends they have a mixture of experiences like top 100k, top 50k finishes, and various playing styles. With regular video uploads, and live streams happening every Monday, Wednesday, and Friday, you can be sure to get your questions answered so don't be a stranger and feel free to drop comments anytime. To get more, you can subscribe to our channel, follow us on Instagram and Twitter. If you would like to listen to our podcast on Spotify, you can check us out there as well.
FPL Inzaghi is a YouTuber out of Melbourne, Australia. A newcomer to the world of FPL content creating he is producing brand new FPL content each week to help you soar up the rankings and win your mini-leagues! Check it out here.
FPL Side Net is a new, Australian-based podcast from hosted by Peterson, who decided to start a podcast dedicated to his love of FPL and the Premier League. With over a decade of experience and top 10K finishes (2019/20) the weekly podcast focuses on the big topics of the week, team reviews, transfers, captain picks and a lot of laughs.
Mick are Joff are two FPL veterans from Australia who have been racing the circuit for 14 years. Both have amazing records and a passion for the game and life, while they offer a uniquely hilarious take of events in their live stream every Thursday evening (Melbourne time).
Continent: Africa
Egyptian engineer and FPL manager Ahmed is a stats man, who started content creating from 2011/12 onwards. Ahmed finished in the top 13k during the 2018/19 campaign. He is the creator and host of FantasyTalks Show, which has been on YouTube since 2017.
مهندس ومدرب فانتسي مصري..رجل احصائيات..بدأت فانتسي البريميرليج من موسم 2011/12..أفضل مركز حققته كان 13 ألف على مستوى العالم موسم 2018/19..مقدم وصانع محتوى على اليوتيوب من خلال برنامج كلام فانتسي الاسبوعي على اليوتيوب من عام 2017
KingFut.com is an Egyptian and African football website founded in 2012, which evolved from its roots to become a digital sports media agency. They have previously worked with the likes of Football Manager and Stoke City, and currently partner Juventus FC in the Middle East and North Africa (MENA) region. Their team comprises of Egyptian football gurus who've been playing FPL since the early 2010s and recently launched our own weekly FPL series 'King El Fantasy' on YouTube for the Arabic-speaking community.
FPLBrunoo (Keshav) is the co-host of the renowned "Enablers Show" on Twitter Spaces with @FPL_Sonaldo. The dynamic duo founded their show with the aim of offering a platform for random folks of the FPL Community (Enablers) to meet and interact with the legends of the game (Premiums).
The Enablers Show hopes to give a voice (literally) to FPL managers and provide a platform for them to speak directly with Content Creators and Hall of Famers.
Aside from co-hosting, FPLBrunoo also writes data-driven threads and articles on the hot topics of the week. Based in Mauritius, his end goal is to grow the FPL Community on the island.
FPL Updates_Tips is social media network consisting of Facebook, Twitter, Instagram, YouTube and Telegram accounts. They provide FPL updates and tips on a daily basis. FPL Updates_Tips started back in 2014 as a small Facebook page and today it's one of the biggest FPL social media pages, managed by 20 admins from all over the world. FPL Updates_Tips is proudly the biggest FPL page over on Instagram with over 42k followers.
Fantasy Football South Africa was founded in 2020 and was the first of its kind in Southern Africa. FFSA is made up of friends playing football together since 2010 and managing since 2013. It contains a diverse blend of managers including a statistician, a differential maestro, an eye-test guru and everything in between.
FFSA strike up conversations on their weekly YouTube content and Instagram posts in order to help managers achieve greater success in their mini-leagues.
Continent: North America
Americans Talk FPL (United States of America – Academy)
Americans Talk FPL is run by Jason and Beraht, who produce video content for every Gameweek of the Fantasy season on their YouTube channel. The duo also cover football action that impacts on FPL such as the UEFA Champions League and Europa League. Americans Talk FPL focuses on improving you team and achieving those coveted green arrows.
Bendito Fantasy is an FPL podcast and YouTube channel that started in 2018. Created for the Hispanic market, it is currently the longest-running FPL show in Latin America. Bendito Fantasy is comprised of six members of different ages and FPL background, including a winner of the Mexican league, while their mini-league has grown to 100+ members and has hosted the champions of Costa Rica, Venezuela and Spain. They create weekly podcasts, videos, interviews, and collaborations with community members in the Hispanic world as well as exclusive content for Patreons.
Bendito Fantasy es un proyecto de FPL de origen mexicano y pensado para un mercado hispanoparlante que carecía de eco. Actualmente el más longevo en nuestro idioma. El equipo está compuesto por 6 integrantes, todos de distintas edades y expertices, lo que nos permite diversificar la visión y trabajo. Al día de hoy nuestra liga tiene más de 150 equipos, 3 emisiones semanales, entrevistas, contenido creativo en todas las plataformas y redes. Contenido, una plataforma exclusiva y beneficios adicionales para patreons. Además de colaboraciones con otros proyectos hermanos.
¡Bienvenido a Bendito Fantasy y esperamos te diviertas como nosotros lo hacemos¡
An FPL obsessive who has played Fantasy Premier League for 11 seasons now, FPL Crypto (AKA Cathal) is regularly producing and delivering FPL content on YouTube and Twitter. Look out for the free FPL side-games and contests run over the course of the season, most of which come with a cryptocurrency prize. Irishman Cathal, who lives in Canada, accredits his 2019/20 overall rank of 1.8k to a simplistic and patient approach to FPL.