Tonight we have four of the eight double Gameweek teams on show, and the Dugout Discussion opens to follow all the action as it unfolds. There may be little real-life significance in the two fixtures, but with our Fantasy campaigns on-the-line, here is the all-important team news…
Liverpool XI: Doni, Kelly, Coates, Skrtel, Aurelio, Henderson, Shelvey, Spearing, Maxi, Carroll, Kuyt.

Fulham XI: Schwarzer, Kelly, Hangeland, Hughes, John Arne Riise, Duff, Murphy, Dembele, Kacaniklic, Dempsey, Pogrebnyak.
Kenny Dalglish shuffles his pack with this weekend's FA Cup final in mind, and Martin Jol makes three changes to his side, as Danny Murphy, Stephen Kelly and Alex Kacaniklic are all handed starting berths.
Stoke XI: Begovic, Huth, Upson, Shawcross, Wilson, Walters, Whitehead, Delap, Etherington, Jones, Crouch.

Everton XI: Howard, Hibbert, Heitinga, Jagielka, Distin, Anichebe, Osman, Fellaini, Pienaar, Cahill, Jelavic.
Matthew Upson, Rory Delap and Kenwyne Jones all earn starts for the home side this evening, with Tim Cahill and Victor Anichebe coming in for the visitors.
The Dugout Discussion chatroom is open and can be accessed right here.
Hangeland deserves the 3. Won every header and made many clearances and tackles. When will a big team take a punt on him?!

Arsenal were after him a couple years ago. Got Koscielny and Squillaci that summer.
Why, oh why, Squillaci.

95 points with Mata,Terry Friedel,Petrov ans Simpson to play. Is 100 a possibility?

Not a chance mate. See you next season, unlucky.

What do you think? Go with your gut feeling.........

i reckon you'll finish on 109

Grade A moron. Jump off a cliff

This week has been a major letdown fantasy-wise.

incorrect

the bitching and moaning this DGW has been of the charts..managers rotate, players are rested.get over it people! mata has two cup finals on the way, what did you expect?? i had suarez, i knew he wouldn play tonight but still felt it was worth palying him for that one game becasue norwich leak goals for fun. i think its been one of the best GW's yet because its been so unpredictable and teams have been so varied.everyone thought Jelavic would hit the forties after scoring a double against fulha, but he didnt now bale/vdv captainers have a chance to catch up.fantasy is a beautiful game!enjoy it.

*Baps Predictions*

3 Hangeland 2 Kelly 1 Riise
3 Osman 2 Huth 1 Hibbert

Anyone hit the century yet?

I'm only 46 points off with 3 players to go

Until Pienaars last minute booking I had 100, it led to Howards 3rd save so ended up on 99

Watched Fulham vs Liverpool game I reckon bonus points will be
3 Hangeland
2 Riise
1 Kacaniklic

*sorry lost on last page*

i think no-one should get them
woeful

I hate people who support like man u or chelsea who are not from england and have never been to there stadium GLORY HUNTERS

There are a lot of "supporters" who live in England and have never been to there stadium and barely watch there team on t.v. Does seem to be mostly United fans.

Depends how old you are. Loads of peple my age are Liverpool fans and they've never been to Liverpool. Luckily for them

Trust me when I started supporting Liverpool Graeme Souness was our manager. If I was going to go for glory I would have gone for United.

Think you will find that is why these teams can have such glory, with all funds from Asia merchandise market etc. and foreign tv rights. But chances are they can at least spell

I hate people who are grammatically incorrect time and time again and some more than once in a single comment, here's looking at you go to sleep. It's their not there...

http://www.wikihow.com/Use-There,-Their-and-They're



Thank you Pennywise very informative. Where is the link to your team?

You're allowed a foreign team to support, no? I'm a Dundee Utd fan north of the border, does that make me a glory hunter

I dont really care what you think. But maybe you should go to that proud Englishman owner of your club Chelsea and tell him you dont want any club shirts or the like sold outside of England to none english fans that maybe cant afford to fly to another country to watch the match live. And while your at it tell him you want the players who are not english sold or sent back to the country your club bought them from. You Dip Stick

Right guys.My rival has Rooney Rvp Jelavic for this week. Ive Cisse Agureo Jelavic. I have a 35pt lead at the min. I have Bale Walker Cisse and Vdv to play. He has Simpson Mata and Vdv(c) to play, My Question is Would any of you take a 8pt hit to match his front 3 if i still had a lead of around 35pts? Also who do i captain? Thanks for any help given

I would try get RVP for sure and keep Aguero for 38, limit the hit to 4 points

A train is travelling westward at 89kph at 4pm. At the same time, a 10yo child on a bike (4 gears only) is travelling angle of 23 degrees South Eastwards to the train tracks, starting his journey 10miles away 58mins and 21 seconds later. He stops for ice cream, which takes 8mins to queue for and 9mins 12seconds to eat (during this time he only pedals at 34% of his average speed). My questions is: What was the ice cream flavour he chose and why?

Been away for a few days not be reading on here. Mata really 4 assists? A friend of mine says 2.. probably 4 will stand for sure now?

naaaa they just gonna take them off and remove his bap

105 points so far this week, with a few to play will i make 100 ? oh wait.....

Tidy darts.

Mine bumped me up the rankings after a sh1te first 12dgw, but I like to play late.

Question. Was there a double gw like this towards end of last year? Just thinking as impact from fa cup?

which one has a big chance to win this h2h?

A : Cisse + 11 points
vs
B : Simpson + Mata + Ade (c)

On 81 with 6 to play. If Moses wasn't on the bench would be on 91 :-/

So Liverpool are 6pts above 14th place. Erm.

64 years of age - managed 18 teams in 8 different countries and yet won bugger all except some Scandinavian Sunday league titles-everyone eager to say what an out and out gentleman he is - yet he has to manage boozing, gambling and wife-cheating scumbags -

good luck Woy cos you'll need it

Ps.

Did they ask for Terry, Lampard and Gerard's permission to select him? After all, it's player-power that manages teams.

CAN THIS DGW END ALREADY.. i hate it

Walker on my bench has 3rd sub has more points for me than the combined points of Rooney, Cisse, Ben Arfa, Vorm, Simpson and Turner....

any idea why rvp is ahead of rooney in the captains poll? maybe its just me but i thought rooney was the nailed on pick

Both good - but I agree with you. I feel a tumbling Young/Rooney penalty coming. Playing a captain home v Norwich has failed more than succeeded this year.

Rooney was pretty dire last night, RVP at home against an out of form Norwich...

dunno if the fixture came 2 months ago i'd be all over rvp but i prefer rooney this week! either way i'm not captaining either because im chasing a 30 point gap in my ML so ill do something more dangerous! nani or adebayor perhaps

England

All the negativity surrounding Hodgsons appointment is really pissing me off. It's done, accept it and get behind him and the team.
'Arry is a wideboy just waiting for the next skeleton to escape from his cupboard and hardly has a great track record.
It's a tough job and feeding the media with anti Roy shit will make it harder. Give the guy a chance....

It doesnt matter who is in charge. The media will always make it harder.

agreed, but just think they've missed a trick. England would have gone into the Euros with a feelgood factor under Harry, now they'll be nervous as hell as usual

and they deserve to be.. they are underdogs -200
no fricking chance

Totally agree. The fact that people even have to say 'let's give him a chance' says alot about the red top reading mouth breathers that buy the tabloid crap that perpetuates the wild media fervour surrounding the squad. I feel sorry for Roy already. It's like Liverpool all over again.

quick question, all ya yappies saying that it's a Hibbert's assist. did you even watched the game ?

All I need is a cleanie form Krul, a hat trick from Cisse(c) and a an assist from VDV and....BOOM - triple digit score, here I come.

my plan was that both liverpool and chelsea would be shit second half of dgw so rake it in
not worked so far

Whos a must. Rvp or Rooney

rooney is a lazy sod at the mo
vp definetly

Why all the love for rvp? Utds only hope is to go all out for a sh1t load of goals

disagree, all the hope is on newcastle now.

it will need two 5-0 match from united and city only win both games by 1 goal. not realistic, and i think fergie knows that
Scout Picks
For Gameweek 29
Snodgrass

Lallana

Mata

Hazard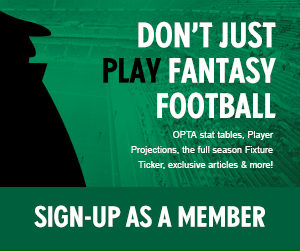 Watchlist
Goalkeepers
Player
Club
Factors

Up

Mannone
SUN

B

,

Vs

,

£

Up

Howard
EVE

B

,

Vs

Up

De Gea
MUN

A

Up

McGregor
HUL

C

,

£

Up

Adrián
WHM

B

,

£

No Change

Cech
CHE

A

Up

Vorm
SWA

B

,

Vs

No Change

Ruddy
NOR

B

Up

Hart
MCI

B

No Change

Speroni
CPL

B

,

£

Up

Krul
NEW

C

Down

Boruc
SOT

B

No Change

Foster
WBA

C

,

Vs
Defenders
Player
Club
Factors

Up

Coleman
EVE

B

,

Vs

Down

Terry
CHE

A

No Change

Evra
MUN

A

Up

Bardsley
SUN

B

,

Vs

,

£

Up

Kompany
MCI

B

Up

Davies
HUL

B

,

£

Up

Collins
WHM

B

,

£

Down

Olsson
NOR

B

,

£

Down

Ward
CPL

C

,

£

Up

Skrtel
LIV

B

Up

Williams
SWA

B

,

Vs

,

£

Down

Shawcross
STO

C

Up

Williamson
NEW

C

,

£

Down

Fonte
SOT

B

Up

Kolarov
MCI

B

,

Rest
Midfielders
Player
Club
Factors

No Change

Hazard
CHE

A

Up

Y Touré
MCI

A

Up

Johnson
SUN

B

Up

Gerrard
LIV

A

Up

Nolan
WHM

A

Down

Mata
MUN

C

Down

Lallana
SOT

B

Up

Mirallas
EVE

B

,

Vs

,

Rest

Up

Sterling
LIV

B

,

£

Up

Cazorla
ARS

B

,

VsX

Up

De Guzmán
SWA

B

,

Vs

,

Rest

No Change

Brunt
WBA

C

,

£

Down

Snodgrass
NOR

B

Up

Sissoko
NEW

B

,

Vs

,

£
Forwards
Player
Club
Factors

No Change

Suárez
LIV

A

Up

Aguero
MCI

C

Down

Sturridge
LIV

A

Up

Lukaku
EVE

B

,

Vs

No Change

van Persie
MUN

B

Up

Remy
NEW

B

,

Vs

Up

Jelavic
HUL

B

,

£

Up

Bony
SWA

B

,

Vs

Up

Giroud
ARS

A

,

VsX

Up

Carroll
WHM

C

,

Vs

,

Inj

Down

Adebayor
TOT

B

,

VsX

Down

Rodriguez
SOT

C

,

£

No Change

Borini
SUN

B

,

£

Down

Crouch
STO

B

,

£

Up

Anichebe
WBA

B

,

£
Selection Factors
| | |
| --- | --- |
| A, B, C | Current Form |
| Vs | Favourable Fixtures |
| VsX | Unfavourable Fixtures |
| Rest | Rotation Risk |
| Inj | Injured/Returning from Injury |
| OoP | Out of Position |
| £ | Potential Bargain |
| Sus | Suspended/Near Suspension |
Suspension Tightrope
| Player | Team | YC |
| --- | --- | --- |
| Olsson | WBA | 9 |
| Flamini | ARS | 8 |
| Delph | AVL | 8 |
| Luiz | CHE | 8 |
| Ramires | CHE | 8 |
| Chamakh | CPL | 8 |
| Barry | EVE | 8 |
| Rooney | MUN | 8 |
| Tioté | NEW | 8 |
| Schneiderlin | SOT | 8 |
| Walters | STO | 8 |
| Yacob | WBA | 8 |
"He's working hard at it and so are we. Sometimes we play well but not all the time. We don't have luck on our side. It's easy to point the finger at someone but I'm not like that. We have to do better ourselves."

Robin Van Persie on criticism of David Moyes.