Filed under: Members - Posted by: Mark
Theo Walcott's return helps Olivier Giroud to claim second spot in our ICT Index rankings, denied only by the talents of Dimitar Berbatov. The full ICT Index and all the weekend's data from Opta is available to our Members, with custom tables here listing the most creative and threatening players on show. Members can also read on for our chosen selection of the numbers on offer…
I need some advice for my team. I thought it looked alright, but I am just getting further and further behind my minileague leader!

Foster begovic
Cole baines hangeland cuellar clyne
Mata bale pienaar michu noble
Rvp ba pogrebnyak

Any suggestions? No money in the bank.

Bench Morrison (CHE) or Sterling (WIG) this GW?

I think its time to play my first WC... Have been on a really poor run of Gameweeks now..
Is now a good or a decent a bad or depends on time to do a Wildcard in the grand scheme of things..?

I wouldn't worry about past points. I'd look at your potential for future points.

Link us your GW history and we'll have a look at your team!

What is your total value of your team which will help you when wc.

What is the total value of everyones teams online at mo and everyones rank?

Any more questions, the answer is Sterling.

I want more Liverpool cover, I already own Sterling, who else would you recommend? 😉

I stopped reading when I got to "Liverpool cover" 😉

My decision to save 0.2m and get Puncheon ahead of him when I WC'd back in GW6 is looking rather foolish

Never mind. Most weeks you'd want him on your bench anyway!

What currency do they use in America?

Anyone else having the problem of transfering players in, who do nothing while you own them but when you sell them, they go back into form?. As it has happenend on numerous occassions this season. For example, I've owned:
- Bale the whole season apart from-GW4-6(2 goals 9 baps)
- Hazard GW4-6(no assists/ goals), then 9, 9, 5
- Felliani GW6-9 (3 points), then goes onto 5, 15, 13
- Tevez whole season apart from GW6-10- (25 points), but now I've transferred him in 2, 2
- etc

I know patience has been an issue with me, which is now making me reluctant to make any changes.

I think you have to decide who you think will perform well and stick with them. Easier said than done.

Yep, I've got a similar problem now with Pienaar and Michu who I think will be outscored by Feliani, but with my form this season, he'll probally get a yellow and then miss Norwich, while Pienaar and Michu rake in the points.

Optimistic about this alternative front line of Rooney and Aguero to the more common RVP+Tevez. Had Rooney stuck away that Penalty last week, it would almost look peachy.

Course, Aguero could get rotated this week if he plays midweek, thus is the high risk/high reward you get with him. I'm cautiously positive though that Mancini won't drop the striker in form who alongside Silva makes City tick.

I think Rooney is more the concern. Aguero will come good soon

Rooney is more of a home form player since last year, at home his stats are more impressive then RVP's!

Did okay this weekend, but in general a bit naff away from home, ala last year.

Would not be too worried about his injury, was tweeting about one direction Saturday night. Odd bloke.

Could be a popular switch for the January WC!

Morning Y'all,

Well, after such high hopes for this weekend, it was almost grotesque. Every well owned player seemed to do something, except for the ones I hold.

Please convince me my team is still ok on paper and I should hold my nerve:

Foster
Baines - Hughes - Demel
Bale - Valencia - Pienaar - Ramirez
RVP (c) - Ba - Tevez

(Henderson) Noble - Cameron - Cuellar

you need some work on your plan, the backline is good, Bale is a key player and second or third highest midfielder last season, RVP is exceptional, but lets take a look at the rest.. since RVP came to united this means Valencia's role will be downsized since he was a saviour last season when there wasn't much stardom at the frontline.. Pienaar is a good choice but is not currently in form, but I recommend you keep him for the next GWs since Everton are having a good run of fixtures and he is still a great play maker.. Ba is injured yet still a good long term choice, Tevez is one of the best but with 4 top class strikers at City beside attacking midfielders like david silva and nasri + playing champions league, so this means rotation is usually expected, so in my opinion get a regular squad player that even scores or assists a little less and save some money for midfield and still get a scorer in form. My recommendations: get rid of Valencia, Tevez, Ramirez, and I'm sure you will find tons of alternatives

Current best Two cheap defenders at 4.1mil or less??

Gorks
Obrien
Demel
Nelson
McCartney
Other

To play or to be backup on your bench?

West Ham defender to rotate with Stoke + Gorkss seems a good idea.

Based on fixtures Nelsen and Gorkks

Shorey at 4.1 is a real assist threat. Ask Doos.

And yet again a keeper is raking in the transfers. Jaaskelainen to hit 5.2 in no time. 😯

Crazy when he has Tottenham, Man Utd, Chelsea and Liverpool in 4/5 games. But, when you can get a clean sheet vs Man City, I guess anythings possible.

Those Jussi / Bego owner such as yourself are laughing all the way to the bank

I cashed in on Juusi (for Tremmel), I bought him at £4.5m and hoping to get him back in the January WC.

I just sold him for Tremmel...

Not sure what changes to make?
Foster / Federici
Gorkss / Baines / Cuellar / Clyne / Demel
Santi Cazorla / Guthrie / Hazard / Bale / B.Johnson
Berbatov / Van Persie / Tevez

1 FT, £0.0m in the bank.
a. Haz--->Mata
b. Haz--->Silva
c. Anything else?
d. Save transfer

I think it's closer than you make it sound!

I'm waiting another week or two for that I think. It'll probably coincide with me shifting Tevez.

Cant decide if the do the following transfers, any thoughts?

Cazorla to Fellaini
Ba to Suarez

My team:

Bergovic - Ruddy

Hangaland - Shawcross - Simpson - Cuellar - Clyne

Hazard - Bale - Cazorla - Michu - Sterling

RVP - Berbatov - Ba

What is the total value of everyones teams at the moment and everyones rank?

West Ham snippet: Tomkins(4.2) form is now excellent, and he should keep his place.

Do you reckon Demel will get 90 minutes next game? I saw he was subbed on for 20 minutes last game, so I'm thinking he's ready to go and is first choice?

He should. However, BFS is proving a law unto himself, this Season. Can't argue with his results, though.

I'm in the position of having double-up of both West Ham and Stoke defense next round. Thinking Bego + Demel to spread the risk and hope for save points. Maybe just double on West Ham?

No. Look at the fixtures. I know it sounds crazy, but I have doubled on Reading. 😉

Current team, how am I looking? Knee-jerked Pienaar -> Fellaini on Saturday.

Bego Fossi
Baines Riise Cameron Demel Davies
Cazorla Hazard Sterling Michu Fellaini
Berba RVP Ba

I have 0.8 in bank and 0 FT. My current plan is Riise -> Rafael after this GW (Riise has SUN this GW so hoping Rafael won't rise by 0.2 and I can do it after for free). Thoughts?

I've seen a lot of "Mata is better than he was last season, he is the new Silva" sort of stuff..but I can't understand the with Silva.
It's not as if Silva was a class above (FPL wise) Mata in 2011/12. Last season Silva had 6 goals and 17 assists in 2801 minutes, Mata had 6 goals and 16 assists in 2516 minutes.
Either way, Mata is a freak. 7 goals and 10 assists in 11 games since his rest.

I think they will score similarly all season, closely followed by Cazorla. Bale will score the most though IMO

I think this year Mata is looking far better than Silva from an FPL perspective now that he is getting forward and into dangerous goal-scoring positions a lot more. Silva's never really looked a goal threat.

I think Silva's goal-threat depends on the team's shape. Earlier this season he was playing a little further forward and was looking a little more threatening. It's also questionable whether Mata will keep his advanced position all season.

Big hauls come in waves. I expect Mata to hit a quiet patch, while Silva looks set to explode. Over the season Mata will score more I think, if he maintains that goal threat.

Missed alot of football this weekend. Can anybody tell me, did the following players look dangerous/on form:

- Ramirez
- Ba
- Pienaar
- Tevez
- Valencia

They are in my squad, and on paper they comprise a decent set, but I'm worried other alternatives are now coming to the fore.

I watched both the United a City games.

Tevez looked decent. He had a golden opportunity but didn't finish it. He was coming wide into the channels and also playing ahead of Aguero at times. I wouldn't be in a rush to sell him unless the general consensus is that he won't play.

Valencia also looked pretty solid. Scholes was pinging the ball wide to him at every opportunity and it took a good defensive performance from Villa to keep him from getting into more dangerous positions. The interplay with Rafael looked particularly dangerous.

Valencia received 39 passes in the final 3rd, most of all players this week. Sure that doesn't equate to points, but you know he is heavily involved in attacks for the most potent side.

No one wants to risk buying a player that hasn't scored double points the week before.

Cazorla>Valencia. Nor(A) might be the game. No you dont get it, THE game.

Nice to finally see some point gaps in the overall rankings. You can have a bad week and get away with it now 😀

1st (746) to Top 100 53 points (693)
Top 100 to Top 1K 28 points (665)
Top 1K to Top 5K 23 points (642)
Top 5K to Top 10K 11 points (631)
Top 10K to top 50K 32 points (599)
Top 50K to top 100K 16 points (583)

Just finished season 2 of Breaking Bad. Did not see that coming? Great show. Really enjoying it.

Bring on season 3.

Team look OK for this week:

Jaas (bego)
Baines Ivan Nelson (Fonte Davies)
Nolan Bale Mata Fellaini (sterling)
RVP Ba Berba

0.8 with 1FT

A. Save the FT
B. Ivan > Rafael
C. Something else?

need help for my team
doing shite this gw

bego ruddy
ivanovic ridgewell clark nelsen clyne
hazard cazorla michu pienaar ramirez
rvp jelavic berbatov

2FT 0.0M

any suggestions for my team?
Scout Picks
Gameweek 25
Janmaat

Williams

Alderweireld
Wijnaldum

André Ayew

Dele Alli

Roberto Firmino

Sánchez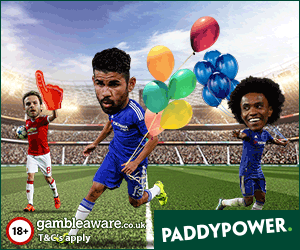 From the Community…
Comments
Hot Topics
Articles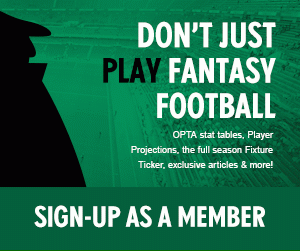 The Watchlist
Goalkeepers
Player
Club
Factors

Up

Hennessey
CPL

C

,

Vs

,

£

Down

Butland
STO

C

,

Vs

Up

Schmeichel
LEI

A

Up

Forster
SOT

A

Up

Courtois
CHE

B

,

Vs

Up

Fabianski
SWA

A

No Change

Boruc
BOU

B

No Change

De Gea
MUN

B

No Change

Cech
ARS

B

,

VsX

Up

Foster
WBA

C

,

VsX
Defenders
Player
Club
Factors

Up

Ivanovic
CHE

A

,

Vs

Up

van Dijk
SOT

A

Down

Baines
EVE

B

,

Vs

Up

Dann
CPL

C

,

Vs

Up

Cresswell
WHM

B

,

Vs

Up

Williams
SWA

A

No Change

Dawson
WBA

C

Down

Alderweireld
TOT

B

No Change

Daniels
BOU

A

,

£

No Change

Fuchs
LEI

A

No Change

Van Aanholt
SUN

A

,

VsX

Down

Bellerín
ARS

C

,

VsX

Down

Smalling
MUN

C

Down

Moreno
LIV

C

,

Vs

Down

Johnson
STO

B

Down

Kolarov
MCI

B

,

Rest

,

Inj
Midfielders
Player
Club
Factors

No Change

Payet
WHM

B

,

Vs

Up

Roberto Firmino
LIV

A

,

Vs

,

OoP

Up

Dele Alli
TOT

A

,

Inj

Up

Barkley
EVE

C

,

Vs

Up

André Ayew
SWA

A

,

OoP

Up

Eriksen
TOT

A

Down

Ozil
ARS

C

,

VsX

No Change

Mahrez
LEI

C

,

VsX

Up

Sánchez
ARS

C

,

VsX

,

Inj

Up

Antonio
WHM

A

,

Vs

,

Rest

,

£

No Change

Willian
CHE

B

,

Vs

,

Inj

No Change

Wijnaldum
NEW

B

Down

Arnautovic
STO

C

,

Vs

,

Inj

Up

Silva
MCI

C

No Change

Johnson
SUN

B

,

VsX
Forwards
Player
Club
Factors

No Change

Aguero
MCI

A

No Change

Kane
TOT

B

Up

Vardy
LEI

C

Up

Diego Costa
CHE

A

,

Vs

,

Inj

No Change

Ighalo
WAT

C

,

VsX

Up

Rooney
MUN

A

Down

Lukaku
EVE

C

,

Vs

No Change

Giroud
ARS

B

,

VsX

,

Rest

Up

Afobe
BOU

A

,

£

Down

Austin
SOT

B

,

Inj
Selection Factors
| | |
| --- | --- |
| A, B, C | Current Form |
| Vs | Favourable Fixtures |
| VsX | Unfavourable Fixtures |
| Rest | Rotation Risk |
| Inj | Injured/Returning from Injury |
| OoP | Out of Position |
| £ | Potential Bargain |
| Sus | Suspended/Near Suspension |
| Player | Team | YC |
| --- | --- | --- |
| Colback | NEW | 9 |
| Byram | WHM | 9 |
| Lucas | LIV | 8 |
| Jones | SUN | 8 |
| Yacob | WBA | 8 |
| Westwood | AVL | 7 |
| Diego Costa | CHE | 7 |
| Huth | LEI | 7 |
| Can | LIV | 7 |
| Mangala | MCI | 7 |
| Shelvey | NEW | 7 |
| Pieters | STO | 7 |
| Dele Alli | TOT | 7 |
| Dier | TOT | 7 |
| Noble | WHM | 7 |
"All players will blank a few times during the season. When almost all do it in the same Gameweek, it is tough to take, but that's just the dark side of probability."

Abreu 42 Community regular