With two double Gameweeks distorting the Fantasy landscaspe somewhat, we've taken time to update our mid-term player rankings. Arsenal and Chelsea assets flourish, then, with Fantasy defences in particular, set to enjoy a shake-up as a result of the early New Year schedule as Wildcards flutter.
Read on for the thinking behind the current ladder standings and look out for our in-depth Wildcard articles. We've published those discussing Goalkeepers and Defenders earlier this week, with a look at the midfield options to follow.
Goalkeepers
Simon Mignolet climbs to the top of the goalkeeper rankings off the back of two clean sheets in four and with strong fixtures to come. With both Kieran Gibbs and Bacary Sagna offering options in the Gunners' back four, Wojciech Szczesny, suffers a slight dent in his stock to slip below the Black Cats stopper but still remains a prize Fantasy asset with the double fixture in Gameweek 23 beckoning.
Stoke's Asmir Begovic maintains his posiiton in our top three, despite going five league encounters without clean sheet returns. Investment continues to flow the Bosnian's way and, with fixtures improving, returns should be back on the agenda. The potential return of Marc Wilson as a 4.0 option in defence could severely damage his value, however. That situation requires monitoring.
West Ham's Jussi Jaaskelainen has the double in Gameweek 23, with a decent run of fixtures up to Gameweek 27, when matters stiffen considerably. Norwich City's Mark Bunn has yet to earn a clean sheet but has four home matches in the next six Gameweeks – his stock remains strong, then, although news of John Ruddy's return to fitness would rapidly end his term as a Fantasy option.
Along with Bunn, Villa's Brad Guzan and Reading's Adam Federici remain strong budget options. Guzan has three home fixtures to come in the next five; as does Federici, who is playing in front of a Reading defence that has shown recent improvement. As mentioned in our recent Wildcard article, this pairing rotate to offer a full budget route between the sticks.
Defenders
Arsenal's Kieran Gibbs is enjoying a rich vein of form and has the double Gameweek to come to boost his stock further. While Sagna remains a cheaper option, Gibbs' form swings favour in his direction and, along with Szczesny in goal, looks an obvious route ahead of Gameweek 23. With three home games in four to follow the double Gameweek, Gibbs makes a strong case on top of our defender rankings.
Two goals in two games in all competitons underlines Leighton Baines' attacking potential, although an ankle problem prevents him from threatening Gibbs for top spot in our rankings. Everton's fixtures are very strong over the next four and Baines looks set to prosper if he can play through the pain barrier for the Toffees. We may even see David Moyes' side register that belated clean sheet: they've gone 15 league matches without one.
Chelsea's David Luiz has his Gameweek 22 to help build on stock that has been boosted considerably by a shift to a central midfield role. While Luiz's start is perhaps not totally secure withing Rafa Benitez's lineup, he remains an option that's hard to ignore, even beyond Chelsea's two fixtures.
There's a string of strong budget and mid-price options on offer, not least West Ham's Guy Demel who benefits from the injury to Joey O'Brien to reinstate himself in our rankings. Swansea's Ben Davies and Wigan's Emmerson Boyce also look solid acquisitions, the latter now back in his right wing-back role and with two favourable home fixtures on offer.
Reading's Ian Harte, Norwich City's Seb Bassong and Ciaran Clark of Villa are also on hand for those willing to take a gamble on attacking returns, although all three have fixtures which could also deliver clean sheets.
The emergence of these cheaper options, combined with stiffening schedules, finds the likes of Glen Johnson and Jan Vertonghen spinning down our rankings to the lower reaches.
Midfielders
Chelsea's Juan Mata and Arseanl's Theo Walcott sit in the top two spots with double Gameweeks on offer. It's hard to argue against their acquisition, with team-mates Eden Hazard and Santi Cazorla now reduced to offering alternatives only for those seeking differentials.
Eveton's Marouane Fellaini made his return to action at Newcastle following a three-match suspension and immediately featched an assist to underline his importance to the Everton cause. With three attractive Goodison clashes in the next four, further attacking returns look likely and that's enough to rank the Belgian above Gareth Bale.
Both remain in our top five, with Swansea's Michu completing what would seem a settled and powerful Wildcard midfield five.
The likes of David Silva and Steven Gerrard threaten to break in, with the Liverpool skipper enjoying a flood of points in recent weeks to promote his claim for Fantasy acquisition. Ultimately, however, Gerrard remains in the shadow of Luis Suarez in Fantasy terms and, with Daniel Sturridge also now an option for consideration, it seems unlikely that we'll see Gerrard climb further this season. He remains a differential – albeit a potentially effective one.
Lower down, we've an array of mid-price options that offer the opportunity to break the template midfield. Robert Snodgrass of Norwich, Kevin Nolan of West Ham and Stephane Sessegnon of Sunderland all have fixtures on their side and are clear options for those looking to take a chance with their fourth and fifth midfield slots.
Forwards
There's no shifting the ridiculously consistent Robin Van Persie from the top of the forward rankings, with Chelsea's new acquisition, Demba Ba, coming closest to the Dutchman in this week's reckoning. The double Gameweek promotes Ba, even with the threat of rotation a real factor when considering investment. We're convinced that Ba will get around 120 minutes form his two Gameweek 22 fixtures, however, and that's enough to hold off Luis Suarez for second spot.
The Uruguyan's form is nothing short of sensational but, with Sturridge also now available as an option and talk of Suarez moving to a support role, there are new variables to consider here. That almost has Fulham's Dimitar Berbatov ranking above the Liverpool man, as the Bulgarian goes into the weekend clash with Wigan at the Cottage with returns in his last three – fixtures with City and United in the next four dull his potential somewhat, however.
Edin Dzeko looks safe in the City lineup for the time being and, with three goals in two matches, he stands out as a strong differential with a modest 7.4 FPL price tag. Sunderland's Steven Fletcher, in the same price bracket, looks well placed with strong fixtures to come, while Christian Benteke remains in our thinking with obliging Villa Park fixtures in the next five.
Reading's Pavel Pogrebnyak, having now seemingly established himself in the Royals starting XI with two goals in two games, looks to be offering extraordinary value at just 4.3 – he is a viable alternative to Rickie Lambert for those shopping on a budget here.
Everton's Nikica Jelavic is your ready-made differential. Having struggled for form this season with just a single goal in the last 10 league outings, the Croatian notched in Everton's FA Cup win and has the opposition over the next four to kick on. At 8.1, he still represents a major gamble when Fellaini can be acquired for less in midfield.
Newcastle's Papiss Cisse is another name worth monitoring. Now established in the central striker role, at least until Alan Pardew can recruit and assimilate a new signing, Cisse has struck twice in three matches and will likely welcome the new focus following the departure of compatriot Demba Ba.
Best Chelsea combo for this GW?

a) Mata & Azpilicueta
b) Mata & Cahill
c) Hazard & Luiz
d) Hazard & Cole

Defence is a real bugger on the WC. Been through soo many options. Now i am looking at:

Szczesny Bunn
Baines Luiz Davies Demel Shaw

Still doesn't look right...

Looks aight to me...

I'm toying with Baines + Luiz post WC but Gibbs for a mil less could come in...

Can't go wrong with Davies + Demel

I'm thinking of getting baines back in long term also but with walker

Not sold on Walker. Got him at the moment and he's done OK for me but I don't think he's that great. If Naughton gets dropped for BAE then he could compete with Walker for the RB spot. Personally think Gibbs is a better shout

A) Caz > Mata, Pie > Nolan (will be benched this GW)
B) Caz > Mata, Torres > Ba

Cant afford Caz > Mata straight swap

Repost.

Someone can help me with my defence? Attack is in place i reckon.

Begovic Federici
Luiz Davies Wilson Demel Shaw
Bale Walcott Michu Mata Puncheon
RVP Suarez Ba

0.7 in the bank and more cash to come through Luiz -> Gibbs.

Shaw > Cuellar (did he recover from his injury?) Sund have good fixs?

Lambert Lambert Lambert Lambert Lambert Lambert Lambert LaLambert mbert Lambert Lambert Lambert Lambert Lambert Lambert Lambert Lambert Lambert Lambert Lambert Lambert Lambert Lambert Lambert

IS MY C

LaLambert mbert who does he play for?

Luiz the best choice for a Chelsea def? About to do Nelsen -> Luiz for free..

Hopefully this is a breath of fresh air with all the DGW talk:

Foster (rdg) or Bego (CHE)

Got to be Bego, oui?

Would appreciate a little input on my team guys.

DAVIS
AZPILICUETA – CLYNE – SAGNA
CAZORLA – MATA – WALCOTT – PUCNHEON
RVP – DEMBA BA – DEFOE

SUBS: JAASKILAINEN – DEMEL – CAMERON -STERLING

will switch davis clyne and puncheon for jaskilainen demel cameron in gw 23, whilst graduually taking some of them out of the squad after the dgw. also , i have wc active and will change ba if signs are he is not playing. what i am thinking now is changing ba or defoe for berbatov and upgrading sterling to fellaini. any thoughts would be appreciated

We all know that Ba will start the Stoke game and make a short cameo during the Soton game.....

atleast he will start vs the gunners then so 2 out of 3 games

I think he'll start both.

seems like the rafa rotation has already begun for the cfc forwards. ba to face stoke at the weekend.

RMT

Mignolet - Szczesny

Zabaleta - Gibbs - Demel - Clark - Luiz

Walcott - Michu - Puncheon - Mata - Bale

Ba - Lambert - Berbatov

My WCT at the mo

Turnbull Begovic

Ivanovic Gibbs Rafael Demel Davies

Bale Michu Fellaini Walcott Puncheon

RVP Suarez Ba

What you guys reckon thinking to switch Ivanovic to Luiz although will loose 0.3m on Ivan

Hopefully the highlights can help me decide lol

ive got luiz and reaaally tempted to get ivan in as well

I didn't sadly. anything of interest happen? A bit worried about what a potential terry return will do to the team

I'm not going to be using turnbull as it will very quickly take one of my transfers away and probably at a time where I need it most. I'd say have a look at your keepers and get 2 that rotate well and will stay between the sticks. Other than that looks like a standard and decent wc team. Maybe shift Rafael though

Rate my testicles: out of 10 pleeeeeeease

Turnbull (Bego)
B.Jones, Demel, Gibbs (Davies,Wilson)
Walcott, Fellani, Mata, Bale (Marouvex :/)
Ba (c) Berba, RVP

Let me guess.... New post

My plane to captain Ivanovic looks promissing now. :/

RMT please

Mignolet – Szczesny

Zabaleta – Gibbs – Demel – Clark – Luiz

Walcott – Michu – Puncheon – Mata – Bale

Ba – Lambert – Berbatov

Bale -> Fellaini and upgrade strike force, perhaps

Turnbull (Bego)
Azpi Huth Gibbs (Davies Demel)
Mata Michu Bale Fellaini Walcott
Ba Rvp Ruiz

On my WC. Keep my team as it is for this week?

Not many captaining RVP! Are we mad?

Would you put money on RVP as top scorer in a week where Chelsea play twice?

You should have Michu and Fellaini. In value terms, they are currently must-haves.

Should I use my wildcard?

About to click confirm....

quickly though... some votes on my differential please?!?

a) Shorey, Arteta & Lampard
or
b) Turner, Santi & Ramires
Scout Picks
For Gameweek 29
Snodgrass

Lallana

Mata

Hazard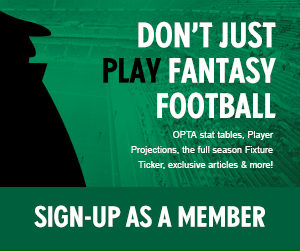 Watchlist
Goalkeepers
Player
Club
Factors

Up

Mannone
SUN

B

,

Vs

,

£

Up

Howard
EVE

B

,

Vs

Up

De Gea
MUN

A

Up

McGregor
HUL

C

,

£

Up

Adrián
WHM

B

,

£

No Change

Cech
CHE

A

Up

Vorm
SWA

B

,

Vs

No Change

Ruddy
NOR

B

Up

Hart
MCI

B

No Change

Speroni
CPL

B

,

£

Up

Krul
NEW

C

Down

Boruc
SOT

B

No Change

Foster
WBA

C

,

Vs
Defenders
Player
Club
Factors

Up

Coleman
EVE

B

,

Vs

Down

Terry
CHE

A

No Change

Evra
MUN

A

Up

Bardsley
SUN

B

,

Vs

,

£

Up

Kompany
MCI

B

Up

Davies
HUL

B

,

£

Up

Collins
WHM

B

,

£

Down

Olsson
NOR

B

,

£

Down

Ward
CPL

C

,

£

Up

Skrtel
LIV

B

Up

Williams
SWA

B

,

Vs

,

£

Down

Shawcross
STO

C

Up

Williamson
NEW

C

,

£

Down

Fonte
SOT

B

Up

Kolarov
MCI

B

,

Rest
Midfielders
Player
Club
Factors

No Change

Hazard
CHE

A

Up

Y Touré
MCI

A

Up

Johnson
SUN

B

Up

Gerrard
LIV

A

Up

Nolan
WHM

A

Down

Mata
MUN

C

Down

Lallana
SOT

B

Up

Mirallas
EVE

B

,

Vs

,

Rest

Up

Sterling
LIV

B

,

£

Up

Cazorla
ARS

B

,

VsX

Up

De Guzmán
SWA

B

,

Vs

,

Rest

No Change

Brunt
WBA

C

,

£

Down

Snodgrass
NOR

B

Up

Sissoko
NEW

B

,

Vs

,

£
Forwards
Player
Club
Factors

No Change

Suárez
LIV

A

Up

Aguero
MCI

C

Down

Sturridge
LIV

A

Up

Lukaku
EVE

B

,

Vs

No Change

van Persie
MUN

B

Up

Remy
NEW

B

,

Vs

Up

Jelavic
HUL

B

,

£

Up

Bony
SWA

B

,

Vs

Up

Giroud
ARS

A

,

VsX

Up

Carroll
WHM

C

,

Vs

,

Inj

Down

Adebayor
TOT

B

,

VsX

Down

Rodriguez
SOT

C

,

£

No Change

Borini
SUN

B

,

£

Down

Crouch
STO

B

,

£

Up

Anichebe
WBA

B

,

£
Selection Factors
| | |
| --- | --- |
| A, B, C | Current Form |
| Vs | Favourable Fixtures |
| VsX | Unfavourable Fixtures |
| Rest | Rotation Risk |
| Inj | Injured/Returning from Injury |
| OoP | Out of Position |
| £ | Potential Bargain |
| Sus | Suspended/Near Suspension |
Suspension Tightrope
| Player | Team | YC |
| --- | --- | --- |
| Olsson | WBA | 9 |
| Flamini | ARS | 8 |
| Delph | AVL | 8 |
| Luiz | CHE | 8 |
| Ramires | CHE | 8 |
| Chamakh | CPL | 8 |
| Barry | EVE | 8 |
| Rooney | MUN | 8 |
| Tioté | NEW | 8 |
| Schneiderlin | SOT | 8 |
| Walters | STO | 8 |
| Yacob | WBA | 8 |
"He's working hard at it and so are we. Sometimes we play well but not all the time. We don't have luck on our side. It's easy to point the finger at someone but I'm not like that. We have to do better ourselves."

Robin Van Persie on criticism of David Moyes.