As always, Friday evening closes with some overlooked alternatives for your consideration. Our trio of protagonists all have favourable home games on their respective agendas and while a couple of them are looking to maintain their impressive displays, our final selection will be hoping for a return to the form that ripped apart Premier League defences in the latter part of the previous campaign:
Bryan Ruiz
With many Fantasy managers opting for Dimitar Berbatov as a route into Fulham's attack, the Costa Rican has been significantly overlooked. The statistics, however, highlight just how consistent Ruiz has been for Martin Jol's side this season – he has scored or assisted in eight of his 12 appearances so far and averaged 4.8 Fantasy Premier League (FPL) points per game. Indeed, his pivotal role for the Cottagers is summed up by their goal returns – Fulham have found the net 25 times in the 12 games with Ruiz in the side in comparison to seven goals in the 10 games without him.
Having recovered from a recent hamstring injury, Ruiz has made an immediate impact, producing a goal, an assist and a couple of bonus points since returning to the starting XI in Gameweek 20. Tucked in behind Berbatov, his creativity makes up for the fact he has found the net just twice – Ruiz has eight assists to his name, a tally beaten by only two other forwards; Robin Van Persie and Carlos Tevez, with 10 and nine respectively. Coming in at just 5.4 in FPL and 7.5 in the Sky Sports game and with an ownership of around 1% in both games, he looks a strong differential for tomorrow's home clash with Wigan and looks a real alternative for those Fantasy managers eyeing up a 3-5-2 first choice formation with their winter wildcards.
Steven Fletcher
The summer signing from Wolves has been key to Sunderland's attacking forays this term. Since making his debut in Gameweek 3, Fletcher has played a part in 11 of the Black Cats' subsequent 19 goals, finding the net eight times and supplying a trio of assists. The Scot has been something of a talisman for Martin O'Neill's side this term – Sunderland have yet to lose a game in which he has scored and, as a result, Fletcher has also picked up 20 bonus points; only Van Persie, with 25, has collected more.
Coming in at just 7.0 in FPL, he's the seventh top scoring forward, having racked up 94 points so far – an average of 4.9 points per game. While a home clash with West Ham affords him the chance to further his appeal, Fletcher has a favourable schedule over the next few Gameweeks which could see him continue to rack up the points. Priced at 7.7 in the Sky Sports game and with an ownership of 5% in FPL, he may prove a canny acquisition in the mid-price bracket as O'Neill looks Fletcher to provide the goals to engineer a scramble up the table for the Wearsiders.
Papiss Cisse
Demba Ba's departure to Chelsea brings his former Newcastle team mate back on the radar after an admittedly disappointing 2012/13 campaign so far. Arriving at Tyneside in last season's winter transfer window, Cisse took the Premier League by storm, grabbing 13 goals and a pair of assists in just 14 appearances as the central forward in a 4-3-3.
Alan Pardew's decision to shift Ba into the middle, either in a 4-4-2 alongside his compatriot or as the lone striker in a 4-3-3, proved hugely detrimental to Cisse's prospects, with the former SC Freiburg man mustering a mere four goals over 19 appearances so far. Tomorrow's trip to Norwich offers Cisse the chance to finally return to his favoured role and with the Canaries conceding in each of their last nine, he looks an enticing option, with a home game against Reading to follow next time out. Coming in at 8.8 in FPL and 9.3 in the Sky Sports game, Cisse's lowly FPL ownership of 3% is understandable given his exploits so far, but he could be a different proposition altogether if he comes anywhere close to replicating last terms displays.
A) azpilicueta

B) cashley

Can't decide who is more nailed on. I think ivan will be benched vs saints. So expecting azpili to keep his spot

Azpi has slightly better attacking threat. A.Cole is slight more nailed on. I'd gamble on Azpi

Unfortunately for all of us, it is Benitez who decides who is more nailed on.

I'd guess ACole.

I was expecting Gaston in the differentials. Hmmm. Anyone else taken a punt on him?

Very tempted, but finally got Lambert instead..

Expected same and a little surprised but it's just opinion. I think several factors put people off saints, not all of which are solid. First the lallana injury, I think that's a blow but they are still scoring. Also below average goalscoring and shot totals of late. Also the perception that goals spread out too much. They have huge potential though and once Ramirez puts his bloody dead leg behind him (another annoyance) they will provide excellent value. They looked extremely threatening against arsenal, frankly they outplayed us.

Night!

I have him in since about two days. He's my vice. Night 😀

I am soon keen on this...wanna do sterling >> gaston...bt it's for a hit and will mean I have to bench michu:(..burnt before so scared of doing it again...ur thoughts?

Hello Doctor, what's the prognosis?

Foster (Begovic)
Luiz Hughes Cameron
Mata Bale Walcott Michu Nolan
RVP Berbatov
(CCole, Cuellar, O'Brien)

0FT, 0.4M

Will you prescribe any hits?

Nolan -> Gaston if anything at all. But you will want Nolan back next week. So, No.

Why are you backing Gaston so much ?

A differential that makes sense.

Cheers. Might be a good backing, but hard to justify a sideways move for a hit.

Shall i go for Suarez ➡ Ba for free transfer... ?

Who should i bench out of these five:

Bale Pienaar Silva Valencia Carzola.

Any suggestion who should i get?

For GW22 only... Ba or Berba?
If Ba only plays v Stoke, returns could be limited...
Berba looks likely to register something v Wigan...
I'm tired.

Start R martin vs newc

Or

Start clyne

The thing is saints shipping goals for fun, so i expect clyne to get 1 or 2 pts over dgw

Thoughts?

R. Martin, imo. Saints can only attack. Could you please explain why him over Turner though?

okay guys i desperately need your help and advices. im last place in the league i'm playing, losing by about 150 points to the first place. So obviously I kinda need a differential here and I'm having a hard time choosing my captain. I have 3 options, Mata/Ivanovic/Hazard. I'm leaning towards Ivanovic because I'm kinda in need of a 'jackpot' to catch my friends up. What do you think? Thanks guys
btw my team is
Howard
Bassong-Baines-Ivanovic
Michu-Mata-Hazard-Snodgrass
Suarez-Berbatov-Chicharito

wow you have all your priorities messed up, and the reason you are so far behind, is the same as mine, and that is that you have no RVP. I missed out on RVP for almost half the season. You have no Fellaini....no Bale....no Walcott or Santi.......and no RVP.

Mata and Hazard I like for this week, you should then do one of them for Walcott or Santi.

Berbatov good, Chich good for another week but then ROoneys back.

Get rid of Baines or Ivanovic, downgrade bassong to a 4m/4.1m, and do some work.

Do you have either WC left?????

Fellas this is my final WC. It has been a long week of chopping and changing, and wondering what if, and selling and buying etc. etc.etc............

Time for bed. Let me rest at ease gents please..............................

Bunn
Harte Gibbs R.Martin
Mata(c) Michu Walcott Fellaini Bale
Ba RVP

vorm, pog, davies, demel.

Big gamble on Norwich cleanie.
Harte over Demel for this week.
Subs rotate great, and goalies rotate well.

Figured id go Vorm/Davies and Bunn/Martin, as both pairs rotate perfectly, and ill either get 4pts of each pair a week, or 12 plus. The rest of my team should pay off, and of course I can always upgrade/downgrade/shift along.

Slim pickings for with the big 5 (whats this bloody P5 mean) and RVP n Ba in

I havent managed my money well AT ALL this season. In fact, I have just lost over 1m in the space of 2 days by taking out Michu and bringing him back (rather than playing, I confirmed at lost .7m), and selling Begovic.

Im gonna have a bit of fun to end this season...probably writing the whole thing off here soon.

Michu..

Trust me he will not deliver that much in rest of the season left.

Last time Aatish and me benched him, he scored twice.

Also, with due respect, your last sentence is a whole lotta sh*t. 😉

Chances that O'Brien will be back for the dgw? not sure whether to keep him or ship him for dawson/collins

In a predicament here on who to captain and who to bench:

Begovic
Vertonghen Reid McAuley
Mata Walcott Fellaini Snodgrass Michu
RVP Ba

Bench: Ruiz

Do I captain Ba or Mata?

Do I bench Michu or Snodgrass for Ruiz?

WC Team:

Bego, Bunn
Luiz, Davies, Martin, Demel, XXX
Mata, Bale, Walcott, Michu, XXX
RVP, Ba, Lambert

Alright.. Not sure if I should go for:

A) Punch+Gibbs (No Nolan next week)

or

B) Nolan+Clyne

ok ok ok ok im not going to bed.....damn ive just taken Bale out and I can get such a great team imo......

Mignolet
Sagna Evans Azpi
Mata Michu Walcott Fellaini
Berbatov RVP Ba

Azpi to Zaba

. . . Migs
Sagna Evans Zaba
Mata Michu Walcott Fellaini
RVP Ba Berbatov

Anyone?

This lineup/line of thinking or stick with the 3-5-2......Bunn, Harte, Gibbs, Martin, Mata michu walcott fellaini bale rvp b?

Not a bad team but Sagna is in poor form, United will probably (hopefully!) concede v The Mighty Reds so Evans is chancey, Azpilicueta isn't nailed on now Terry's return is imminent.

Get the likes of Gibbs, Demel, Davies, Cole/Cahill and AN Other in defence, Puncheon as your 5th mid cos the rest is quality.

Well then it just goes right back to the above mentioned team mate

Bunn Vorm
Demel Harte Gibbs Martin Davies
Michu Bale Mata Walcott Fellaini
Pog RVP Ba

Thats it then Green N Red. Three Swans :O

This is so tough, I'm currently on wc with Lambert and Punch, the option is Fellani and and Pog ( I play pog, if play my fifth midfielder) but if I stick with my current team I can do punch to Cole next week and use two frees to get Fellani the week after.

Southampton have a home fixture next week so I'm better of sticking aren't I?

If I go with pog I won't play him I'll play Walcott my fifth midfielder.

Which 2 to play among Nasty, Hughes, Nelson, Davies (& What order ) ???

Hi guys, I'm new here and need some help. Are there any Southampton fans who can tell me which of your three GKs are likely to play this week?

Chaps what is the general consensus on Demba Ba?

Just finished my early transfer and here's my team for ARS double:
Jussi
Luiz Gibbs Davies
Walcott (C) Bale Fellaini Mata
Suarez RVP Pod

Bego Punch McCartney Nelsen

My only worry if Luiz get rotated, no one will be there to back up him with Nelsen and McCartney out...
Scout Picks
Gameweek 25
Janmaat

Williams

Alderweireld
Wijnaldum

André Ayew

Dele Alli

Roberto Firmino

Sánchez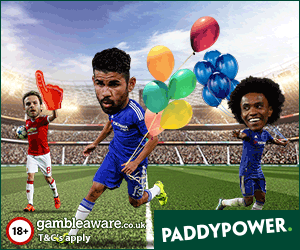 From the Community…
Comments
Hot Topics
Articles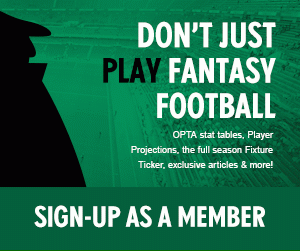 The Watchlist
Goalkeepers
Player
Club
Factors

Up

Hennessey
CPL

C

,

Vs

,

£

Down

Butland
STO

C

,

Vs

Up

Schmeichel
LEI

A

Up

Forster
SOT

A

Up

Courtois
CHE

B

,

Vs

Up

Fabianski
SWA

A

No Change

Boruc
BOU

B

No Change

De Gea
MUN

B

No Change

Cech
ARS

B

,

VsX

Up

Foster
WBA

C

,

VsX
Defenders
Player
Club
Factors

Up

Ivanovic
CHE

A

,

Vs

Up

van Dijk
SOT

A

Down

Baines
EVE

B

,

Vs

Up

Dann
CPL

C

,

Vs

Up

Cresswell
WHM

B

,

Vs

Up

Williams
SWA

A

No Change

Dawson
WBA

C

Down

Alderweireld
TOT

B

No Change

Daniels
BOU

A

,

£

No Change

Fuchs
LEI

A

No Change

Van Aanholt
SUN

A

,

VsX

Down

Bellerín
ARS

C

,

VsX

Down

Smalling
MUN

C

Down

Moreno
LIV

C

,

Vs

Down

Johnson
STO

B

Down

Kolarov
MCI

B

,

Rest

,

Inj
Midfielders
Player
Club
Factors

No Change

Payet
WHM

B

,

Vs

Up

Roberto Firmino
LIV

A

,

Vs

,

OoP

Up

Dele Alli
TOT

A

,

Inj

Up

Barkley
EVE

C

,

Vs

Up

André Ayew
SWA

A

,

OoP

Up

Eriksen
TOT

A

Down

Ozil
ARS

C

,

VsX

No Change

Mahrez
LEI

C

,

VsX

Up

Sánchez
ARS

C

,

VsX

,

Inj

Up

Antonio
WHM

A

,

Vs

,

Rest

,

£

No Change

Willian
CHE

B

,

Vs

,

Inj

No Change

Wijnaldum
NEW

B

Down

Arnautovic
STO

C

,

Vs

,

Inj

Up

Silva
MCI

C

No Change

Johnson
SUN

B

,

VsX
Forwards
Player
Club
Factors

No Change

Aguero
MCI

A

No Change

Kane
TOT

B

Up

Vardy
LEI

C

Up

Diego Costa
CHE

A

,

Vs

,

Inj

No Change

Ighalo
WAT

C

,

VsX

Up

Rooney
MUN

A

Down

Lukaku
EVE

C

,

Vs

No Change

Giroud
ARS

B

,

VsX

,

Rest

Up

Afobe
BOU

A

,

£

Down

Austin
SOT

B

,

Inj
Selection Factors
| | |
| --- | --- |
| A, B, C | Current Form |
| Vs | Favourable Fixtures |
| VsX | Unfavourable Fixtures |
| Rest | Rotation Risk |
| Inj | Injured/Returning from Injury |
| OoP | Out of Position |
| £ | Potential Bargain |
| Sus | Suspended/Near Suspension |
| Player | Team | YC |
| --- | --- | --- |
| Colback | NEW | 9 |
| Byram | WHM | 9 |
| Lucas | LIV | 8 |
| Jones | SUN | 8 |
| Yacob | WBA | 8 |
| Westwood | AVL | 7 |
| Diego Costa | CHE | 7 |
| Huth | LEI | 7 |
| Can | LIV | 7 |
| Mangala | MCI | 7 |
| Shelvey | NEW | 7 |
| Pieters | STO | 7 |
| Dele Alli | TOT | 7 |
| Dier | TOT | 7 |
| Noble | WHM | 7 |
"All players will blank a few times during the season. When almost all do it in the same Gameweek, it is tough to take, but that's just the dark side of probability."

Abreu 42 Community regular