While the top outfield player was a budget midfielder on loan from Spurs, the day saw the likes of Christian Benteke, Loic Remy and Romelu Lukaku deliver the goals, although the latter blotted his copybook with a missed penalty to deny another sizeable haul for his owners. With clean sheets all round at Carrow Road, there were at least some points on offer from today's four matches. Here's the Stock Check from Saturday's action…
On the Up
Christian Benteke
Kept out by the Arsenal and City defences, Benteke returned to the scoresheet in in the win at Reading to justify the Fantasy faith shown in him this week. The Belgian has now scored 12 for the season, seven in his last nine starts. With three home matches in the next four, his owners will surely be holding, with yet more investors about to come sniffing.
Romelu Lukaku
While Lukaku turned villain by missing a second-half spot-kick, that doesn't detract from the fact that his opener was his fourth goal in his last three league starts. It could have been so much rosier, of course, but Lukaku's owners will at least take comfort from the fact he's maintained his run of goals going into trips to Stoke and West Ham, even if he may have lost penalty duties.
Loic Remy
The other Scout Pick forward also delivered, leveling matters at Loftus Road with a smart finish – his third goal in the hoops of QPR. With fixtures strong and motivation for goals and points high, Remy could easily go on justifying his modest 5.8 Fantasy Premier League (FPL) price tag.
Andros Townsend
Dropped to the bench at Southampton, the loanee from Tottenham was recalled by Harry Redknapp for today's home clash with Sunderland and rewarded the faith with two assists and a sublime strike for the R's winner. At 4.4 in the FPL, Townsend could yet earn some attention as a budget fifth midfielder for those favouring three up front.
The Norwich Defence
While the Canaries remain desperate for a cutting edge, defensively, Chris Hughton's side have rediscovered their resilience. Todays' shut-out was their third clean sheet in the last five with the likes of Mark Bunn, Russell Martin and Seb Bassong offering strong value in recent weeks with decent fixtures to come.
Artur Boruc
Having nailed down regular starts in the Saints goal, the Polish stopper has been simmering as a budget keeper option. Today's first clean sheet in six league starts, coupled with a dramatic late penalty save from Grant Holt, will surely promote him in the thinking of the masses and the hardcore Fantasy manager alike. It's Liverpool and Chelsea up next, however.
Going Down
Jason Puncheon and Nathaniel Clyne
Recalled to the Southampton starting lineup against QPR having been benched at Newcastle, it looked as though Puncheon was back in favour, only for him to be dropped to the bench again at Carrow Road today, with Jay Rodriguez handed the start. Puncheon came on at the death and duly gathered a booking to rub salt into the wound for his owners. As for Clyne, there are suggestions that a knock, sustained earlier in the week, kept him on the bench today.
Charles N'Zogbia
Hauled off on the hour-mark in the defeat to City, it still appeared that N'Zogbia would be a key figure for Villa at the Madjeski today. However, Paul Lambert opted for the assured passing of Barry Bannan, dropping the Frenchman to the bench and casting doubt over his security of starts from here on in.
The Sunderland Defence
Another three goals conceded today mean that Martin O'Neill's side now having conceded ten in the last five league outings, with four defeats in that spell. Suddenly Simon Mignolet has lost his shine as a choice stopper and with Chelsea and United in the next three, prospects of a return to form rest on next weekend's home clash with goal-shy Norwich.
Anthony Pilkington
Having regained his place on the left-flank in Hughton's 4-4-2, today his day was cut short by injury, with Wes Hoolahan replacing him on 35 minutes. Neither player has a secure start right now, although the Canaries switch in formation has failed to bring the goals required so a return to the familiar 4-5-1 could be on the cards.
Why is there a delay in announcing the rescheduling of the Manchester club's postponed EPL games?

Surely with no European commitments, it should be easy enough to identify when they can play the midweek game...

Le Fondre to:

A) Sturridge
B) Benteke
C) Lukaku
D) Tevez
E) Remy

Have up to 9.1mil to spend.

Benteke or Lukaku imo..
Tevez (rotation risk)
Sturridge(injury prone,Liverpool are inconsistant)
Remy(Not better than benteke or lukaku)

But go for tevez if they have dgw soon

When will we know if Carlitos is going to prison?

Who are you planning to get for the DGW?

I'm looking at getting Baines, Mirallas, Theo and Santi.
Nobody too left wing apart from Mirallas then I guess

Baines Fellaini(if not suspended)/ Pienaar(if suspended)
Wally, Santi, Giroud(if on form)/Sagna

Was in there's lots of DGWs on the horizon. Getting Mirallas would be madness.

His stats aren't that bad really, just forgot about his fitness. Also its odd but I value my midfield spots more than the striker spots because of the money I've made on them.

His stats have been good all season but unless he gets a decent run up top he's POO.

what would you prefer to have next week? the ELLIOT bread or the sweet BUNN

Superfragacagilisticexpealadocious

Hoping Suarez(C) does the work..... Once more...... 😉 😉 😛

Le Fondre to:

A) Sturridge
B) Benteke
C) Lukaku
D) Tevez
E) Remy

Have up to 9.1mil to spend

Guzan is a great GK.

Discuss.

I wouldn't use the word 'great' - decent yes.

Great keepers...

Schmeichel
Shilton
Southall
Buffon
Etc...

Ok ok you got me 😆

Very underrated imo

The most underrated keeper in the league IMO is Lloris, he's so quick of line, great shot stopper and hasn't made a mistake.

LOL He isn't underrated.. rated one of the top keepers in the world. Where have you been?

I think he'a already better than Howard in terms of shot-stopping ability. We have a worthy successor.

Leagues Update
==============

FPL Open (closed): 562 entered, 256 spots, 256th spot @ 10,037th @ 1,667 pts.

Elite 64 (closes GW31): 305 entered, 64 spots, 64th spot @ 998th @ 1,745 pts.

Millionaire Club (closes GW31): 31 qualified. Closed until GW ends.

Don't like your chance. Captain played, Sissoko & Enrique have to do well.

captain played is the biggest worry. but i've got 7 left to play:: suarez studge enrique bale dawson sissoko and marv (?).

Your problem is all your picks counter each other...

Wish Fellaini gets a yellow against City and then gets suspended for GW31 and GW32... Can then bring him at a lot cheaper price for the DGW33...

Agreed. Or even GW32. Then I'll get Pienaar.

Off to bed.

Wish list:
-Bale goal
-Suarez goal
-GJ goal
-Pool win 2-1

Night lads.

bale goal
suarez goal
studge goal
dawson goal
enrique goal
sissoko goal
marv brace

too much to ask for? 😉

night aqua!

And the only item on my wishlist just got accomplished.

Gnite 😀

Do you actually want both to score? Many on here have one of the 2 as captain.

Hmm. Both blank with a Dawson OG, GJ assist will do.

1-0 Pool.

Sissoko hat trick, suarez and bale 5 goals after 60 minutes when dawson and enrique are taken off......that only will do I guess..... 😉

Just use all your FTs and don't take a hit...

***NOTE: If you make your team prior to the GW29 deadline, you will be limited to "ONLY FREE TRANSFER(s)" between GW29 and GW30. You also MUST NOT save a FT in GW30, as this will give you an unfair advantage. Any team that does not comply with these 2 rules will be disqualified. ***

Dr Isacki's currently running a massive script with his time machine to predict the best team for the next 8 gameweeks. It is also able to predict when the DGWs are likely to take place and provide the best captaincy choices for each week. Of course, Captain Hindsight's help has been massive.

This week for example, we tested the time machine. It accurately predicted Boruc and Townsend to be the best captaincy choices.

Watch out, folks! We're coming really hard...

Testing phase so they can win next season... 😉

Dr Isacki says he isn't completely sure of its accuracy when there is heart and vested interests attached to it. Apparently, Dr I needs to form some sort of connection with the time machine else it wouldn't work well.

planning on leaving it late

when's the absolute final deadline? I mean, the deadline after the final deadline?

1.Lambert>RvP
2.Benteke>Rvp
3.Michu>Mata

Which is a better transfer for next gwk?

"Winner goes to UCL Last 16" tie coming down to:

Him: Suarez(c),Debuchy,Begovic +5 points

Me: Bale,Sissoko,Cisse,Cameron.

I reckon if Suarez does nothing, i'll just about nick it.

that's a close one. even if suarez scores you could manage to win, though it'll be tough. who are you playing btw?

for me its:

me: suarez + enrique + dawson + marv + 4
vs
LR: GJ + wilson

1966, i would have been through had Valar won last week.

You have it in the bag and you know it, you're up against LR,right?

unlucky mate. good luck though! hope you manage to sneak by.

I hope so. don't wanna count my eggs before they hatch though. yupp! winner of our game progresses.

Sturridge better start >:( I really want a Liverpool CS and Suarez to stay relatively quiet rather than a Bale (c) hat trick. Everyone has him.

High scoring epic, with Suarez, Sturridge, Bale and GJ in on the act. 😀

Has anyone mapped out he most likely scenarios yet - or still too early?

Has anyone mapped out he most likely DGW scenarios yet - or still too early?

am planning for that. I want all players to be double gwkers. you??

which teams are going to have dgw 34??

Davies->Riether
and
Lukaku->Rooney ? for-4 hit

Good transfer?

Thanks in advance.

none is good. for thhe sake of fantasy rooney is not usually well positioned. now that kagawais back, he could play on the wing where he is simply crap.

OR Michu -> Kagawa?
but I like to keep Michu.

dont buy kagawa either stay clear just get rvp and sit like a boss.

Suarez blanking today is oh so crucial to me. Checked 20 teams above me. 16 have him as captain.
And none of those 16 have Sturridge.

Crucial, oh so crucial.

+1 .Need Sturridge and Bale to outscore Suarez.

i reiterate, which teams have double gameweeks

All the one who didn't play in the PL this weekend. Plus maybe whoever Wigan, Man City and the winner of United/Chelsea play in GW 33.

Guys, Is Townsend real good OR you think it was fluke & he'll go down eventually?

Go down where? All the pits have closed in the UK.

Ok!

Taarabt or Puncheon OUT for Cazorla? thinkin Puncheon.. RVPless so dont really need the extra money

fletcher,+lambert+mignolet>elliot anichebe rvp(C)+ 1.2 for -8 gives me two doublegameweekers + i get rvp. yay or nay.

what's good places to go in Frankfurt and München?
Scout Picks
Gameweek 25
Janmaat

Williams

Alderweireld
Wijnaldum

André Ayew

Dele Alli

Roberto Firmino

Sánchez
From the Community…
Comments
Hot Topics
Articles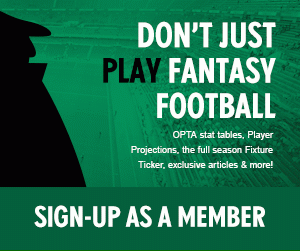 The Watchlist
Goalkeepers
Player
Club
Factors

Up

Hennessey
CPL

C

,

Vs

,

£

Down

Butland
STO

C

,

Vs

Up

Schmeichel
LEI

A

Up

Forster
SOT

A

Up

Courtois
CHE

B

,

Vs

Up

Fabianski
SWA

A

No Change

Boruc
BOU

B

No Change

De Gea
MUN

B

No Change

Cech
ARS

B

,

VsX

Up

Foster
WBA

C

,

VsX
Defenders
Player
Club
Factors

Up

Ivanovic
CHE

A

,

Vs

Up

van Dijk
SOT

A

Down

Baines
EVE

B

,

Vs

Up

Dann
CPL

C

,

Vs

Up

Cresswell
WHM

B

,

Vs

Up

Williams
SWA

A

No Change

Dawson
WBA

C

Down

Alderweireld
TOT

B

No Change

Daniels
BOU

A

,

£

No Change

Fuchs
LEI

A

No Change

Van Aanholt
SUN

A

,

VsX

Down

Bellerín
ARS

C

,

VsX

Down

Smalling
MUN

C

Down

Moreno
LIV

C

,

Vs

Down

Johnson
STO

B

Down

Kolarov
MCI

B

,

Rest

,

Inj
Midfielders
Player
Club
Factors

No Change

Payet
WHM

B

,

Vs

Up

Roberto Firmino
LIV

A

,

Vs

,

OoP

Up

Dele Alli
TOT

A

,

Inj

Up

Barkley
EVE

C

,

Vs

Up

André Ayew
SWA

A

,

OoP

Up

Eriksen
TOT

A

Down

Ozil
ARS

C

,

VsX

No Change

Mahrez
LEI

C

,

VsX

Up

Sánchez
ARS

C

,

VsX

,

Inj

Up

Antonio
WHM

A

,

Vs

,

Rest

,

£

No Change

Willian
CHE

B

,

Vs

,

Inj

No Change

Wijnaldum
NEW

B

Down

Arnautovic
STO

C

,

Vs

,

Inj

Up

Silva
MCI

C

No Change

Johnson
SUN

B

,

VsX
Forwards
Player
Club
Factors

No Change

Aguero
MCI

A

No Change

Kane
TOT

B

Up

Vardy
LEI

C

Up

Diego Costa
CHE

A

,

Vs

,

Inj

No Change

Ighalo
WAT

C

,

VsX

Up

Rooney
MUN

A

Down

Lukaku
EVE

C

,

Vs

No Change

Giroud
ARS

B

,

VsX

,

Rest

Up

Afobe
BOU

A

,

£

Down

Austin
SOT

B

,

Inj
Selection Factors
| | |
| --- | --- |
| A, B, C | Current Form |
| Vs | Favourable Fixtures |
| VsX | Unfavourable Fixtures |
| Rest | Rotation Risk |
| Inj | Injured/Returning from Injury |
| OoP | Out of Position |
| £ | Potential Bargain |
| Sus | Suspended/Near Suspension |
| Player | Team | YC |
| --- | --- | --- |
| Colback | NEW | 9 |
| Byram | WHM | 9 |
| Lucas | LIV | 8 |
| Jones | SUN | 8 |
| Yacob | WBA | 8 |
| Westwood | AVL | 7 |
| Diego Costa | CHE | 7 |
| Huth | LEI | 7 |
| Can | LIV | 7 |
| Mangala | MCI | 7 |
| Shelvey | NEW | 7 |
| Pieters | STO | 7 |
| Dele Alli | TOT | 7 |
| Dier | TOT | 7 |
| Noble | WHM | 7 |
"All players will blank a few times during the season. When almost all do it in the same Gameweek, it is tough to take, but that's just the dark side of probability."

Abreu 42 Community regular