As the Champions League final approached extra-time last weekend, Arjen Robben's late winner for Bayern Munich over Borussia Dortmund not only proved pivotal for Jupp Heynckes' side, it also played a part at the top of the TotelFootball Scout Pool standings. With the competition now at a close, we give a final heads-up to our top five performers.
Thanks to their scoring system, TotelFootball affords Fantasy managers the occasional off-week. Rather than taking a cumulative tally for the overall Champions League campaign, the Scout Pool accounts for each player's highest four hauls. Furthermore, TotelFootball added a nice little twist prior to the semi-final stage – from that point on, Fantasy managers were allowed no more trades and had to assemble their squads for both sets of semis and the final, taking in three rounds of "Final Series" action.
The Fantasy Football Scout team went all in on Barcelona and Real Madrid before the last four got underway and, needless to say, our decision was cruelly punished as we plummeted to 32nd in the Scout Pool. Our top five protagonists all had the foresight to look to the Bundesliga, however, and were ultimately rewarded by loading up on Bayern and Dortmund players.
Scout Pool Standings
Ali Kaz took top spot with an overall score of 483 points. He had five players return 20+ points over the Final Series, with Dortmund's soon-to-be-Bayern forward Robert Lewandowski the top performer on 39 points. Bayern's Thomas Muller chipped in with 29 points, while Robben was joined by his keeper Manuel Neuer on 28 points. Philipp Lahm's 22 points also made a difference for Ali Kaz, who produced 225 over that last trio of fixtures to earn himself an iPad3 as the inaugural winner of the FFS Champions League competition.
Tucked in behind in second was Mile High. Our site regular has been solid in the cup competitions all season and was in strong form once again as a Final Series haul of 225 points took his tally to 472 points overall. Incredibly, our top two selected 10 of the same starting XI – MileHigh opted for Dortmund full-back Lukasz Piszczek, while Ali Kaz went for Mats Hummels at the heart of Jurgen Klopp's defence. Mile High, along with every Fantasy manager placed between second and fifth, wins a subscription to the Fantasy Football Scout members area next season.
Former leader slipped to third over the run in. He racked up 469 points overall after scoring 212 points in the Final Series – his decision to select Mario Gomez over Thomas Muller made all the difference. Gomez served up a nine point haul while Muller produced 29 points; frustratingly for JKane89, picking the latter would have kept him ahead of the pack and clinched the top prize.
Dandandand takes fourth after a Final Series score of 224 points. He arrived at Saturday's final sitting in second place in the Scout Pool but, without Robben in his side, slipped back in the pecking order with an overall score of 468 points. Further back, DLL18 and Lamps92 tied for fifth spot on 459 points. The former's decision to leave Robben on the bench proved costly, while the latter made a late surge to stake his claim, with a Final Series score of 232 points the best of our featured players.
For those of you who took part in the Private Pool, or those who have previously played TotelFootball, we'd welcome your feedback on the game. We may well go on supporting it next season, particularly if the official Champions League game continues to suffer from the issues of this season's campaign. Drop us a line with your thoughts at support@fantasyfootballscout.co.uk.
Any starting 4.0 mids other than Altman?

Morning,

Can anyone name the top ten teams (in order preferably) who have conceded the least punt of shots on target.

Enjoy

oops didn't mean to press post.

Liverpool
Man UTD
Arsenal
Swansea
West Ham
Chelsea
Southampton
Everton
City
QPR

I've used different tactics and pick the strongest 11 possible with a cheap bench as I won't bother with the sub rule.

Butland
Bartra, Dawson, Nuytinck, Biraghi
Isco, Holtby, Shelvey
Rodrigo, Destro, Pedersen

Subs:Nyland, Dasa, Sallalich

What do ya think?

Almost the same front 6 (shelvey > maher). pretty good, only that i don;t think you need BOTH butland and dawson.

Maybe your right - especially against Italy, but they do have a very good defence.

nice to see another Nuytinck owner.

How come no one seems to have him? He played the most in qualifying.

everyone seem wants the cheapest one.

he won't play. v Rhijn, Martins Indi, de Vrij, Blind is the back 4. He played in qualifying because this back 4 was busy starting for the full team!

So Prince Charles and Camilla coming up to my work for an opening mid June?

Anyone got any questions I can ask? What the heck are you supposed to talk to them about?

Go the Blues more like it. Really need to bead the highlanders this season. Are you a Chiefs fan? Aren't you based in Auckland?

Is that joke about the 20 question based on actual events, you know the one which is feature in the office with ricky g.

Hum.. Might get moderated.. Il pos a link to it

Ask why did the queen decide to give herself a £5m pay rise this year!!

While the majority of folk are struggling in the worst recession ever, she decides to take more money of them for herself!!

What does she do to justify this increase? Or even her previous massive salary for that matter?!

You know what im really tempted to say something like this as I HATE the royal family and everything it stands for and represents, but i dont want to get sacked

We can organise something that I will be there at the same time, so I could ask it.

I could deliver sandwiches, then shout out my question

Ask them if they wouldn't mind getting rid of themselves & making us a republic soon. Cheers.

Back 5 for next season: Clyne, Shaw, 1 SWN, 1 CAR and a cheap Stokie.

Sorted

@Ryan & Jafalad
Interested in being a part of Man City's project?

Barcelona have spoken to both ter Stegen and Pepe Reina regarding a new goalkeeper. [via GuillemBalague]

I am surprised with both, pepe the same age and worst than valdes. I would go for courtois of I was them, but hey, there's a reason I don't work in football... Yet!

Probably but I would still look into, plus he would probably rather be at barcaleona. I would anyway.

ter Stegen is the favourite, majority of barca fan voted him. even De Gea is their target.

I'd like ter Stegen or Courtois.
No DDG please!!

Courtois, no way! Cech replacement.

Maybe but if I was him I would be like this is rubbish I want first team football adios chelsea!

RMEU21T

De Gea, Ostbo
Martins Indi, Dawson, Sorg, Chalobah, Biraghi
Isco, Holtby, Maher, Altman, 4.0
Rodrigo, Pedersen, Wijnaldum

I know I'm punting with Wijnaldum since he's reverse OOP, but he looks good. Have 2.5 banked to get Destro for Pedersen. If anyone sees a way of getting De Jong instead of Wijnaldum that would be awesome

Official: Victor Valdes stays at Barcelona until the end of his contract in June 2014

No one seems to be looking at Florenzi for Italy. He seems pretty nailed on, plays for a team with a very potent attack, and chips in with goals and assists.

You, me and another 5% of the 672 managers. Nice little differential hopefully.

I'm in disarray! I sleep in a bit late and feel I'm already behind

I am owner of Liverpool with Shipstontrev as my Manager. We are actively recruiting a Chief Scout and any other scouts. If you want to apply for the position please email 4vets @c8.com

Many thanks!

Yawn.

Ah now thats another way of doing it. Get people to apply for a job instead of actively recruiting.

We have to explore all avenues

The Norwegian manager puts a question mark regarding the keeper situation. All three goalkeepers have playing for their respective clubs, and it's a close competition over who might start. Østbø might therefore not be as secure as we'd hope. But we'll know the line-ups before the deadline right?

Source (in Norwegian): http://fotball.aftenposten.no/landslaget/article281900.ece

Yeah should do, although Ive picked butland and then picked a 3.0 mill bench fodder to free up cash so it doesn't affect me thankfully.

sorry Villa, I've only had an email from Southampton so far, so I'm signing on the dotted line with them!

Slow down, some people have even got up yet! You may get other offers too

sounds good to me! we could give you a short feature article in a couple days to advertise your services

When Homecrowd goes live we will have a new thread ever day with can be found in the "hot topics" tab.

Until then shoot away.

Homecrowd FTW

Ok, so. Whether you're Hull (like me) or City everyone has the same amount and 0 players yeah and whether we have 2 or 20 scouts we can just submit 5 targets for a position? That makes the list. So all scouts are in a way working for everyone as the list will be made up of their combined work. Is that right yeah? I mean say if we didn't think of someone but someone's club has it on the list.

Yeah thats correct, so it will be important to have enough scouts to build profiles on all the transfer targetted players.

The reason this system was chosen is so that players like Iniesta dont slip under the radar and get bought for pittance. Sure it does slightly undermine the point of bidding for low value future risers, however, the other teams do not have your information and wont be wasting their tokens on your punts.

Sunderland on a massive hiring streak with 5 scouts already in their paybook including Gargamel and McNulty!

Where can you find this info out?

nowhere yet unfortunately but it'll be up on the interface when we go live with that (hopefully this weekend).

so far the hirings have been as follows:

Gargamel Sunderland Scout
Sehn82 (TFPL) Sunderland Scout
Rvpp (TFPL) Sunderland Scout
Dadoune30 Sunderland Scout
McNulty Sunderland Scout
Shipstrontrev Liverpool Manager
stilicho Tottenham Hotspur Scout

So is Destro nailed on or do people just think he is. He didn't play much during qualifying, and I know this doesn't mean much he has the number 14 shirt (I know henry did) but strikers are normally number 9 or 10.

I think Destro is not nailed on maybe he'll play as a sub.
Scout Picks
For Gameweek 15
Hazard

Gerrard

Ozil

Shelvey

Nasri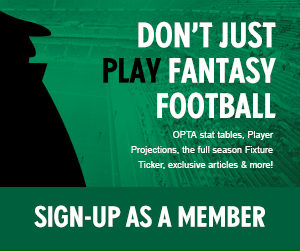 Watchlist
Goalkeepers
Player
Club
Factors

Up

Howard
EVE

A

,

Vs

,

Sus

Up

Marshall
CAR

B

,

Vs

Up

Krul
NEW

A

,

Vs

Down

De Gea
MUN

C

,

Vs

No Change

Cech
CHE

C

Up

Guzan
AVL

B

Up

Ruddy
NOR

B

Up

McGregor
HUL

C

,

Vs

,

£

Up

Lloris
TOT

B

No Change

Speroni
CPL

A

,

VsX

Up

Pantilimon
MCI

B

,

Rest

,

£

Down

Szczesny
ARS

A

,

VsX
Defenders
Player
Club
Factors

Up

Coleman
EVE

A

,

Vs

Down

Terry
CHE

B

Up

Williamson
NEW

B

,

Vs

,

£

Down

Evra
MUN

C

,

Vs

Down

Mertesacker
ARS

A

,

VsX

Up

Olsson
NOR

B

,

Vs

,

£

Up

Turner
CAR

C

,

Vs

,

£

Up

Bardsley
SUN

B

,

£

No Change

McAuley
WBA

C

,

Vs

Up

Walker
TOT

B

Up

Zabaleta
MCI

B

,

Rest

Up

Davies
HUL

C

Up

Ward
CPL

A

,

VsX

,

£
Midfielders
Player
Club
Factors

No Change

Hazard
CHE

A

Up

Y Touré
MCI

A

Up

Ozil
ARS

A

,

VsX

Down

Ramsey
ARS

A

,

VsX

Up

Nasri
MCI

B

Up

Fer
NOR

A

,

Vs

Up

Walcott
ARS

B

,

VsX

,

Inj

Up

Bannan
CPL

B

,

VsX

,

£

Down

Sessegnon
WBA

C

,

Rest

Up

Whittingham
CAR

C

,

Vs

,

£

Up

Michu
SWA

C

,

Inj

,

OoP

No Change

Lallana
SOT

C

,

VsX

Up

Morrison
WHM

B

,

Rest

,

£

Up

Brady
HUL

C

,

£

,

Sus

Up

Barkley
EVE

C

,

Vs

,

Rest

,

Sus
Forwards
Player
Club
Factors

No Change

Suárez
LIV

A

,

VsX

No Change

Aguero
MCI

A

No Change

Lukaku
EVE

A

,

Vs

No Change

Rooney
MUN

A

,

Vs

No Change

Remy
NEW

B

No Change

Giroud
ARS

B

,

VsX

No Change

Negredo
MCI

A

No Change

Rodriguez
SOT

A

,

£

Up

Deulofeu
EVE

A

,

Vs

,

Rest

,

£

Up

Hooper
NOR

A

,

Vs

,

£
Selection Factors
| | |
| --- | --- |
| A, B, C | Current Form |
| Vs | Favourable Fixtures |
| VsX | Unfavourable Fixtures |
| Rest | Rotation Risk |
| Inj | Injured/Returning from Injury |
| OoP | Out of Position |
| £ | Potential Bargain |
| Sus | Suspended/Near Suspension |
Suspension Tightrope
| Player | Team | YC |
| --- | --- | --- |
| Wilshere | ARS | 4 |
| Agbonlahor | AVL | 4 |
| Westwood | AVL | 4 |
| Ivanovic | CHE | 4 |
| Barkley | EVE | 4 |
| Barry | EVE | 4 |
| Howard | EVE | 4 |
| Parker | FUL | 4 |
| Javi García | MCI | 4 |
| Valencia | MUN | 4 |
| Sissoko | NEW | 4 |
| Turner | NOR | 4 |
| Fonte | SOT | 4 |
| Wanyama | SOT | 4 |
| Cameron | STO | 4 |
| Huth | STO | 4 |
| Colback | SUN | 4 |
| Gardner | SUN | 4 |
| Rangel | SWA | 4 |
| Williams | SWA | 4 |
| Paulinho | TOT | 4 |
| Dawson | TOT | 4 |
| Yacob | WBA | 4 |
"I'm delighted, having time to re-evaluate his future, Christian has decided to commit to the Club. It's a huge bonus and I'm sure the supporters are every bit as delighted as me to have him on board and raring to go."

Paul Lambert revels in convincing Christian Benteke to revoke his transfer request