With the Fantasy Premier League (FPL) game now up and running, Fantasy managers are scouring the market for value as they piece together their pre-season squads. After running the rule over Goalkeepers, we now take our time to look at defenders – splitting our analysis over three separate articles, we begin with the budget options as we cast an eye over those under the 5.0 mark.
Having racked up a mere five clean sheets in 2012/13, it's no surprise to see Villa centre-halves Ron Vlaar and Ciaran Clark come in at 4.5. Looking at the new acquisitions so far this summer, left-back Antonio Luna is the most appealing cheap option in Paul Lambert's squad, though. Providing he can cement a regular role at left-back, the Spaniard should be afforded plenty license to forage down the flank if, as anticipated, Paul Lambert maintains a 4-3-3 formation.
Cardiff duo Matthew Connolly and Mark Hudson carried plenty goal threat last term. The centre-halves notched five and four goals respectively for Malky Mackay's side and have been slapped with a 4.5 price tag, with the Bluebirds registering 18 clean sheets in their Championship-winning season. If they can replicate their attacking endeavours, they look decent alternatives to David Marshall (4.5) between the sticks.
Over at fellow promoted club Palace, only Damien Delaney is 4.5, thanks to his three goals and two assists in 2012/13. The rest of Ian Holloway's current defenders are listed at a mere 4.0, with Jonathan Parr looking the most viable cut-price option – he provided four assists from left-back before sustaining an ankle injury last term and is hoping to be ready in time for the new campaign. Parr could afford us a cheap, fifth bench-warming defender and is less expensive than Julian Speroni (4.5) – the keeper option at Selhurst Park.
Holloway's side also rotate with Hull, where former Man United youth prospect James Chester featured 44 times last term. At 4.0, he seems secure for starts, though Steve Bruce's summer shopping spree, which has so far seen Curtis Davies and Maynor Figueroa arrive (both priced at 4.5) is a little worrying, bearing in mind Bruce plans to play three at the back again. If Chester, as expected, keeps his place, a potential rotation pairing with the likes of Parr looks eye-catching at 8.0 for the duo, though with clean sheets a concern, many may choose to pick up just one player from Palace or Hull as bench fodder material.
Providing he can remain injury-free, Antolin Alcaraz could play a major part in Everton's season if Roberto Martinez moves to 3-4-3. While the Paraguayan's 4.5 price is cheaper than any other Toffees regular, he may struggle for investment due to potential out of position prospects elsewhere in Martinez's defence – Fantasy managers will be keeping an eye on the goalkeeper situation at Goodison, however, with Joel Robles similarly priced. There's more potential in Fulham's summer signing Fernando Amorebieta, though. The Spaniard has been handed a kinder price tag than the rest of Martin Jol's regulars – he sets you back 4.5 and is expected to be installed alongside Brede Hangeland at the heart of the back-four, with the Cottagers boss looking for a little more assurance in possession at the back.
Both Javier Garrido and Michael Turner offer a cheap route into the Norwich backline, coming in at 4.5 apiece. Turner undoubtedly looks the most appealing of the pair – he scored three times in 26 appearances last season and with Chris Hughton bringing in Martin Olsson (also 4.5), Garrido looks to have real competition for the left-back slot. With home games against Everton, Southampton and Villa allied with a trip to Villa in the opening five, the Norwich defence looks a strong shout for investment, with Turner also cheaper than keeper John Ruddy (5.0).
Newcastle's Steven Taylor may prove a cheap option at the back for Alan Pardew's side. The centre-half has been priced lower than most of the Magpies' defensive regulars but could face real competition for a starting berth from Mapou Yanga-Mbiwa – whoever wins the battle to partner Fabricio Coloccini in the heart of the back-four could be a budget-friendly acquisition at 4.5 and will, of course, offer a home/away partnership with Sunderland over the 38 Gameweeks. Newcastle need to improve considerably from last term, though, having conceded 68 goals – if they can even begin to approach the resilience that harvested 15 clean sheets in the 2011/12 campaign, there could be real value in the Magpies' cut-price assets.
Southampton's raiding full-backs Nathaniel Clyne and Luke Shaw both look enticing at 4.5. The Saints conceded just nine times in the last 10 Gameweeks of 2012/13 and with the likes of Dejan Lovren and Victor Wanyama added to the ranks, confidence is high in their defensive potential – Clyne and Shaw should also offer attacking threat down the flanks in Mauricio Pochettino's 4-2-3-1, with their pace and creativity in the final third key to their manager's formation. For those eyeing up a Southampton/West Ham rotation plan, the Hammers' James Collins also comes in at 4.5 – teaming him up with one of Clyne or Shaw will set you back 9.0, compared to a Ruddy/Jussi Jaaskelainen combination at 10.5. Both sides rotate over the entire 38 Gameweeks and would hand you (CAR, SUN, STO, WHM, EVE, CPL, SWA, MCI, FUL, AVL) over the opening 10 Gameweeks of the season.
For the Black Cats, new recruits Valentin Roberge and Modibo Diakite are also ones to consider in the budget bracket, though their prospects are somewhat hampered by a tricky first few months. With Arsenal, Liverpool, United, City, Chelsea and Tottenham all rolling up to the Stadium of Light by Gameweek 15, it's difficult to justify any level of investment in Paolo Di Canio's backline for the first few months, denting the prospect of a Tyne-Wear defensive partnership for just 9.0. Swansea's fit-again Neil Taylor also comes in at 4.5. The left-back spent the vast majority of last term in the treatment room but, with Europa League duties and the Capital One Cup to defend, there's the fear that Michael Laudrup will rotate Taylor with 5.0 priced Ben Davies from one game to the next, thus denting both players' Fantasy potential over the upcoming campaign.
Anyone think they have a better team than this?

Boruc Mannone
Baines Yanga-Mbiwa Parr Turner Chester
Bale Hazard Silva Walcott Brady
Sturridge Kone JRod



clyne. has extra attacking potential, should be nailed on, and southampton have decent fixtures.

"Defense is for suckers"

Mannone

Clyne // Turner // Parr

Bale // Hazard // Silva // Walcott

Sturridge // Torres // Lambert

Subs: Boruc, Thomas, Chester, Baker

"Defence is for suckers" Seems to be the trend this year.

For me I never have the best defence but I always make sure to have at least 1 big hitter (A.cole, Evra, Baines, Kompany) Someone who plays for a big team, will start every game and get me a could haul at a relatively decent price.

Every season during the cup or in any of my head to head leagues, when I need a win I seem to get beat by that one guy who stacked his defence. If your playing a league that is based totally on points, then defence may be for suckers. But if your playing in a head to head league, I would prefer to have a more balanced team.

I like your team your d sucks but you know that haha. Your midfield is obviously Great and all four should be within the top 10 points for midfielders. Your forwards a good Lambert is solid, Sturridge should be good. Torres is an expensive punt. I would transfer him out even if it was to Lukaku. Not sold on Torres starting.

What do you guys think about Silva?
a) Silva+Koren+Thomas
b) Snodgrass+Nolan+Thomas

Silva is great to have but having two newly promoted teams midfielders is a bit worrying.
Silva worth the risk?

i keep flipflopping between him and walcott myself. i already have aguero though, if you don't have any other city coverage then silva's probably a must. their fixtures are beautiful.

Think I am finally done with my team, any major critiques suggestions? Is the defence a little thin?

Vorm Davis

Coleman Parr Chester M.Turner Collins

Walcott Mata Bale Bellamy Thomas

Rvp Anelka Berbatov

Keepers - Before I could afford Migs in my team I had Vorm and think coming off injury last year a lot of people have forgotten about him. At 5 points could be a steal. His game fixtures are tough to start but his saves should be huge every game. Davis won't start, but I have no idea which 4 point goalie will.

Defence - It's a bit week. But no one seems to be going for strength at the back. There mostly cheap, Coleman and Collins are you only decent point guys. I always try to have at least one constant starter form one of the big clubs, but you have spend the money wisely that you have saved from your defence.

Mid - Walcott, Mata and Bale are obviously going to produce BIG!

Forward - RVP will do what he does! Berbatov is a target man and I feel he will do well.

My only transfers would be Bellamy for Koren or another 5 point starter, and then use the funds to Upgrade Anelka to J-rod. I know Anelka could do well and some people are really on him right now I'm just not convinced by him.

Your defence could use a little upgrading but it's all about the offence and Walcott, Mata, Bale and RVP should be enough to counter anyones lineup.

jussi boruc
zaba collins clyne coleman (parr)
mata bale walcott wanyama (thomas)
aguero sturridge (proschwitz)

pls advise on my team! would greatly appreciate it

Here is my first crack at a team this year:

Mignolet, Mannone
Turner, Mertesacker, Dawson, Ivanovic, Toure
Bale, Whittingham, Tettley, Lampard, Yaya,
Cisse, Sturridge, Podolski

I've basically gone for a team where most players have quite favorable fixtures early on, hence, I haven't got any United players, but without marginalizing my whole team to get RVP I can't think of a way around this.

I also know Lampard is a risk, but i'm thinking just have him for a couple of weeks then probably swap him out if he isn't starting regularly which is most likely..

Lastly, I haven't got much City coverage, but I struggle to think who to go for up top with rotation surely an issue?

Any advice welcomed

Hi guys,

This is my first post. Just signed up and read some great advice. What do you think of my team? I'm uncertain about my defence (is gabbidon my worst choice?):
Game week 1:

MINGOLET / boruc
COLEMAN / AMOREBIETA / MERTESACKER / chester / gabbidon
BALE (v) / MICHU / WALCOTT / COUTINHO / lucas
DZEKO / LAMBERT / LUKAKU (c)

I've since decided as I wont be rotating keepers - boruc > given and gabbidon > turner

look better?

I think there could be huge value in rotating Migs with Boruc. I'm not sure that down grading Boruc makes your team better. Instead of Gabbidon for Turner, I would keep Boruc and transfer Gabbidon for Parr.

Coutinho has better fixtures

Couti - Has better fixtures, and with the addition of Bony to Swansea I'm not sure how forward Michu will play and if he will be the main target man this season.

RMT

Mignolet (Boruc)
Toure Baker Shaw Parr Turner
Hazard Mirallas Oscar(C) Coutinho Koren
Lukaku Van Persie(V) Rodriguez

£0.5 in bank

Keepers - Mig and Boruc rotate really well. Migs will be in the top 3-5 keepers points wise this year imo

Defence - At best it's week. Toure isn't nailed down. Baker,shaw, parr, turner are all super cheap and I wouldn't expect many points out of them if I was you.

Mid - Haz, Couti, Mirallas should produce well this year. Koren has penalties and free kick duties, I don't think he or Hull will produce much as far as attacking is concerned, but if Hull does score Koren should be a part of it. Oscar could be good value into Chelsea. I would wait till Chelsea and Mourinho have a more set line-up before I spent 8.5 on a player who may not be nailed down.

Forwards - J-Rod could be the best value this season. RVP is a champ. Lukaku can be super explosive and is a beast, however like Oscar I'm not sure where he fits in with Chelsea especially if they sign Rooney or another top class forward.

Imo I would drop Oscar down to Snodgress, morisson, lallana, or any midfielder who is grarenteed starts and should produce 120-135 points and is under 7. I would use the money to upgrade one or two defenders. Having said that Oscar could be good value this year if he starts. So really it's a though call but go with what you think is best.

I would lose Toure (even though a lot of people think he will start, I'm not so sure). And I would again look into someone who is nailed down.

You have a good core group. Haz, RVP, Couti, Migs should do well.

RMT

Mignolet (Gazziniga)
Collins Terry (v) koscielny A.Cole (Clyne)
Hazard (C) Bale Walcott (Snodgrass, Pozuelo)
Anelka Aguero Gayle

Any advice?

thanks

does anyone have any advice over my team

gk: hart (butland)
defense: ayala, agger, amorebieta, azpilicueta (walker)
midfield: navas, silva, morrison, mata (lucas leiva)
foward: podolski, giroud (deulofeu)
Scout Picks
For Gameweek 29
Snodgrass

Lallana

Mata

Hazard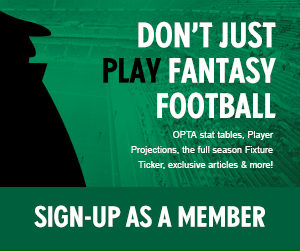 Watchlist
Goalkeepers
Player
Club
Factors

Up

Mannone
SUN

B

,

Vs

,

£

Up

Howard
EVE

B

,

Vs

Up

De Gea
MUN

A

Up

McGregor
HUL

C

,

£

Up

Adrián
WHM

B

,

£

No Change

Cech
CHE

A

Up

Vorm
SWA

B

,

Vs

No Change

Ruddy
NOR

B

Up

Hart
MCI

B

No Change

Speroni
CPL

B

,

£

Up

Krul
NEW

C

Down

Boruc
SOT

B

No Change

Foster
WBA

C

,

Vs
Defenders
Player
Club
Factors

Up

Coleman
EVE

B

,

Vs

Down

Terry
CHE

A

No Change

Evra
MUN

A

Up

Bardsley
SUN

B

,

Vs

,

£

Up

Kompany
MCI

B

Up

Davies
HUL

B

,

£

Up

Collins
WHM

B

,

£

Down

Olsson
NOR

B

,

£

Down

Ward
CPL

C

,

£

Up

Skrtel
LIV

B

Up

Williams
SWA

B

,

Vs

,

£

Down

Shawcross
STO

C

Up

Williamson
NEW

C

,

£

Down

Fonte
SOT

B

Up

Kolarov
MCI

B

,

Rest
Midfielders
Player
Club
Factors

No Change

Hazard
CHE

A

Up

Y Touré
MCI

A

Up

Johnson
SUN

B

Up

Gerrard
LIV

A

Up

Nolan
WHM

A

Down

Mata
MUN

C

Down

Lallana
SOT

B

Up

Mirallas
EVE

B

,

Vs

,

Rest

Up

Sterling
LIV

B

,

£

Up

Cazorla
ARS

B

,

VsX

Up

De Guzmán
SWA

B

,

Vs

,

Rest

No Change

Brunt
WBA

C

,

£

Down

Snodgrass
NOR

B

Up

Sissoko
NEW

B

,

Vs

,

£
Forwards
Player
Club
Factors

No Change

Suárez
LIV

A

Up

Aguero
MCI

C

Down

Sturridge
LIV

A

Up

Lukaku
EVE

B

,

Vs

No Change

van Persie
MUN

B

Up

Remy
NEW

B

,

Vs

Up

Jelavic
HUL

B

,

£

Up

Bony
SWA

B

,

Vs

Up

Giroud
ARS

A

,

VsX

Up

Carroll
WHM

C

,

Vs

,

Inj

Down

Adebayor
TOT

B

,

VsX

Down

Rodriguez
SOT

C

,

£

No Change

Borini
SUN

B

,

£

Down

Crouch
STO

B

,

£

Up

Anichebe
WBA

B

,

£
Selection Factors
| | |
| --- | --- |
| A, B, C | Current Form |
| Vs | Favourable Fixtures |
| VsX | Unfavourable Fixtures |
| Rest | Rotation Risk |
| Inj | Injured/Returning from Injury |
| OoP | Out of Position |
| £ | Potential Bargain |
| Sus | Suspended/Near Suspension |
Suspension Tightrope
| Player | Team | YC |
| --- | --- | --- |
| Olsson | WBA | 9 |
| Flamini | ARS | 8 |
| Delph | AVL | 8 |
| Luiz | CHE | 8 |
| Ramires | CHE | 8 |
| Chamakh | CPL | 8 |
| Barry | EVE | 8 |
| Rooney | MUN | 8 |
| Tioté | NEW | 8 |
| Schneiderlin | SOT | 8 |
| Walters | STO | 8 |
| Yacob | WBA | 8 |
"He's working hard at it and so are we. Sometimes we play well but not all the time. We don't have luck on our side. It's easy to point the finger at someone but I'm not like that. We have to do better ourselves."

Robin Van Persie on criticism of David Moyes.