Wednesday's announcement of the 2013/14 Premier League fixture list has already given Fantasy managers plenty to ponder. Having rolled out our guide to the principles of rotation on Thursday, our attentions now turn to some of the most favourable pairings in accordance with the season's schedule – to start things off, we take a look at the potential offered by West Ham and Southampton.
The Fixtures
The Hammers and Saints' respective schedules complement each other perfectly, offering a home/away rotation pattern for all 38 Gameweeks across the upcoming campaign. Significantly, both sides have been handed strong schedules in front of their own fans over the opening few months – alternating in accordance with home fixture, you would face only three of last term's top six in the opening 14 Gameweeks in a run that would read (CAR, SUN, STO, WHM, EVE, CPL, SWA, MCI, FUL, AVL, HUL, CHE, FUL, AVL).
Indeed, the West Ham/Southampton rotation pairing hosts one of the previous season's top six sides just six times over the first half of the campaign – on one of these occasions, where West Ham host Arsenal in Gameweek 18, Mauricio Pochettino's side travel to Cardiff and could take the place of our Hammers assets. In terms of fixture difficulty, then, that's 14 home matches with a shade of blue on our tickers, plus one favourable away match from the opening 19 fixtures – an eye-catching partnership which will surely be utilised by many.
Long-term, the schedule does tighten up from Gameweek 31, though. The partnership would host United twice, in addition to home clashes with Liverpool, Everton and Tottenham over the final eight matches – something to consider when planning for the final few months, then.
Defence
West Ham
For the Hammers, the likes of Jussi Jaaskelainen, Joey O'Brien and new boy Razvan Rat look the main protagonists. While Allardyce has snapped up new keeper Adrian from Real Betis, the Fin is still expected to remain as first-choice but his appeal across the Fantasy games is price-dependant. Although he registered 11 clean sheets last term, Jaaskelainen's propensity for picking up save points in Fantasy Premier League (FPL) helped accrue 144 points, joint-second for keepers. Starting last term at 4.5, he was a real budget favourite – a hike to 5.0 would be acceptable to most but 5.5 is likely to severely dent his prospects.
Thanks to a starting price of 4.0 and 123 point haul, O'Brien was the best value FPL defender of 2012/13 and a price rise is also on the cards here, with 5.0 the likely result. With Rat set to take his place on the left, O'Brien should vie with Guy Demel for game time on the right – his attacking potential certainly offers more than the Ivorian and could see him knock the site favourite down the Hammers' pecking order.
From a Fantasy perspective, West Ham were a little difficult to predict when it came to clean sheets. Only six of last term's 11 arrived in front of their own fans, though given that one of those arrived against City, they clearly are capable of nullifying any side at home – on the road, a Gameweek 32 goalless draw at Liverpool was their most impressive backline performance.
Southampton
Having conceded 60 goals over the previous season, the Saints' defensive assets will surely remain in the budget bracket. Analysing their results a little closer, though, there's reason for optimism at St Mary's – as the players became accustomed to Mauricio Pochettino's high pressing game towards the end of last term, they shipped just nine goals in the last 10 fixtures. The Argentine guided his side to four clean sheets in 16 matches, though after a goalless home draw with Everton on his debut at the helm, Pochettino's defensive record was more impressive on the road, with just two goals conceded in the last five away matches.
The installation of new boy Dejan Lovren will add further stability to the Southampton backline, though there's a fear that the Croatian's big-money move could convince some Fantasy games to price him higher than his team mates. In all likelihood, though, a cost of 4.5 seems realistic but with Nathaniel Clyne and Luke Shaw pushing on from the full-back areas, Lovren's appeal may be somewhat diminished. Clyne will be hoping to improve upon last term's goal and three assists, while Shaw now seems nailed-on at left-back ahead of Danny Fox and may be set to step up after establishing himself as a regular.
Between the sticks, Artur Boruc seems to be Pochettino's preferred choice, starting all but one of Southampton's matches since the dismissal of Nigel Adkins last January – again, a 4.5 price looks likely but if Jaaskelainen comes in at 5.5, may are likely to baulk at the idea of spending 10.0 for a pair of keepers.
Attacking Options
The Main Men
Andy Carroll and Kevin Nolan are likely to remain the Hammers' chief goal threats but with a mere 11 strikes away from home all season, West Ham were the poorest of any side on their travels. Trips to Newcastle, Southampton and Hull in the opening six offer Allardyce's side the chance to remedy their abysmal form on the road but with both likely to come in around the 7.5 to 8.0 mark, they'll be a little too pricey to bench. Carroll's home form towards the end of the season offers plenty promise, though; he produced attacking returns in six of the last seven in front of his own fans, racking up four goals and four assists in the process.
As mentioned in yesterday's article, Rickie Lambert produced 98 points away from home compared to 89 at home, scoring on the road against the likes of City and Chelsea – despite climbing off the bench in both games. Considering he finished last season as the third highest scoring forward in FPL, a significant price hike looks on the cards – starting last term at 6.0, a jump to 8.5 or even 9.0 looks likely. The schedule still remains in his favour, though, and with trips to West Brom, Norwich and Stoke in his opening 10 fixtures, Lambert – with spot-kicks and a share of set-pieces – could still prove a canny acquisition.
Mid-Price and Budget Targets
In terms of potential rotation targets, Matt Jarvis could be an option for the Hammers. Subject of a recent Sleeper article, the Hammers winger created chances aplenty last season without being rewarded – a drop to 5.5 would heighten his appeal in light of Nolan's imminent hike, though spot-kick taker Mark Noble is unlikely to rise beyond last term's initial 5.0 and could be utilised as a cheap fifth midfielder.
Depending on budget, Gaston Ramirez and Adam Lallana could prove a viable midfield partner for either of those two – both began last term priced at 6.0 but, similar to Jarvis, there's hope they may dip in price after disappointing seasons. Up front, Jay Rodriguez's four goals and six assists in 14 starts under Pochettino suggest he could come to the fore this term and offer an alternative to Lambert up top; if he comes in around 6.0, the former Burnley man is another one to watch as a rotation option with a budget midfielder.
However, with the Saints currently courting names such as Roma's Pablo Osvaldo, Celtic's Victor Wanyama and ex-Chelsea winger Miroslav Stoch, Fantasy managers will be advised to keep their provisional plans flexible, whilst being mindful of the potential they offer in tandem with West Ham's assets.
There's been some fantastic insights and debate on here since the arrival of HC. So much so that even I, a "lurker" (I prefer to think of myself as more of an "absorber") of over 4 years feel like throwing my own musings out there as well.

How to combine form and fixtures?

The old form v fixtures debate has been discussed in detail here making for great reading but I haven't seen anyone else describe using the same approach as myself, perhaps in idea but not in method.

I like to keep a spreadsheet which has a ticker for each of my players. I use the ticker from here but then use my own judgement to simplify it into only three states; green, amber and red. Then I see a team table which shows at a glance a visual fixture rating for my squad each week. Very simply if a player has a run with too much red I plan to transfer them out before. As long as these planned exits mean that in each column there is no more than 3 red outfield players I know that in that week no transfers are "necessary".
How does form come into this? Planning weeks in advance only really takes in fixture difficulty as a factor but. Form is crucial....this is why I have the amber fixture rating. If a player has amber but good form going into a game week I consider the amber green, conversely with poor form and red. This stops me taking out a player who has a run of amber, red, amber, green, green if they are in good form. Treat those ambers as greens and bench for the red. If in that red week there are four others with red cells...do the same analysis of the coming weeks for those players too, taking their form into account.

This method is very easy to have as a constant guide with minimal effort and has helped me better prepare for when to take out certain players and which weeks to roll over a transfer as the following needs it much more.

Hey Heartbreak...great to hear that HC has tempted you out of lurking state

Throwing form over fixtures is pretty much essential, the trick is how you weight each factor. Adapting a ticker is a very valid approach and it's one of the reason's we make the members ticker customisable so that folk can create their own ratings - perhaps based on form - and layer this over the ratings we provide. We've had a similar feature to yours - the ability to view players fixtures in the ticker - in test for months but have been unable to roll that out. It's going to be one of the focus' once the squads are published and before the season starts. We're also going to look to incorporate Rate My Team ratings for Gameweeks into the Members ticker so you can actually view how RMT is viewing players in addition to getting the colour ratings.

Frisking the fixtures is essential reading for me but some players I.e. RVP, Bale are above fixtures

Thanks mark. One thing I love about this site and the members area is how many different tools it provides for each individual manger to use in the way that suits their approach to the game best. I guess everything is about finding the right balance...form/fixtures, skill/luck, following advice/trusting your own judgement.

Good point. This past season my biggest regret was selling players on form because they had bad fixtures coming up. You have a good way to prevent the temptation to sell in such circumstances and vice versa.

I used to do that all the time. This approach gave me a bit more discipline.
The first season I adopted it gave me a jump in rank from over 75k to 308....although last year saw me slip back a bit again so it isn't the only factor, obviously.

I might be wrong but looking back over the history of players im my team, fixtures seem to work for defenders but for mids and strikers form looks much more important.
Probably because a large component of a defenders score revolves around the team keeping a clean xheet

Exactly what I think.....

Totally agree.
I tend to use this approach far more for planning when to swap out my rotating defenders or cheaper attackers. It helps when building an idea of, say, in a months time who is likely to have needed to have maintained form between Walcott and Mata to keep their place if I know I want to bring in a different premium mid by that point. So often good form can be a symptom of good fixtures and vice versa.
But, it's only a tool, and like any, is not always the best one for the job.

Anyone going to review my earlier comment? Or has TM managed to sit on it?

'Ello, mate. Over to you.

So ... the Trolls are now going for stickies? It would be funny - if it weren't so sad!

That headline

Just looking at Cardiff's stats for last season, and there may be some attacking potential in their defence.

Leftback Andrew Taylor got 6 assists.
Centreback Mark Hudson got 4 goals.
And rightback Matthew Connolly scored 5.

I know.

Anyone else like to see changes to FPL this year?

I'd love the UEFA system of changing players and captains mid GW - now that would be fun!

Sorry, I down voted you.

If that happens I'm not playing.

Would completely wreck FPL.

Why? Would make it better for us addicts - casuals wouldn't be bothered to make the changes

Casuals wouldn't bother to play. FPL aim to have the most teams involved.

Play CL fantasy for a year and then we talk again.

Might just be me but my weekend is ruined if I make a poor captaincy choice on Saturday - not asked her and she wouldn't understand the question but the wife thinks it's a great idea!!

Several FF games have that already JR.

How much Michu will be next season?

First guess is at least 9.

that's high, I'm hoping he'll be starting at 8m.

No way.

Nolan is rumored to be 8m.

9 m is my guess.

Doen't matter with those opening fixtures.

Not a starter.

Michu loves to score against United

he often play in the hole position.

The % putting the armbad on Bale for week one of this season is going to have to be some sort of record (barring any friendly injurues, of course).

Chelsea DGW means Bale for the casuals as captain.

Not believing the Chelsea DGW 'til I see it after what happened last season.

It happened last season so likely to happen again.

Yes, they didn't pan out as it was first proposed they would.

Obviously, if Chelsea have DGW it load up on Chelsea time.

But how many times have I put the armband on a sure fire DGW player to find many, many players surpassed their total for the week? Too many times.

Have you seen the Chelsea fixtures? No brainer. Which player is the hard part.

It's amazing how much HC has improved the site. The quality of the posts has rocketed. Even people who never bothered to post something informative before are now busy thinking of ways to improve their rep. Pure genius from FFS

Does that qualify for an amazon voucher?

You need to collect it in the jungle.

Bear in mind it's the off season, so we're going to be a bit more contemplative anyway. The real test will be once the season's up and running.

I'm not expecting anything other than stream of knee-jerk at 11am or 3.30pm on a Saturday, but I'm hoping we can retain some quality input and genuine dialogue postmatch and midweek.

Aston Villa also will have a DGW in GW1, like Chelsea?

yes but they have arsenal and chelsea I believe so pretty ugly fixtures combined with a blank in gw 3, i think i'll be avoiding. especially since we'll need 2 transfers to transfer out 2/3 chelsea players before the blank

hmm... that's right.
but I'll be considering if they have a cheap 5th mid option.

but ideally you'd want a 5th mid from another team so that they can play when your chelsea attacker that you end up keeping has a blank in gw 3

hmm.. good point.I hate blank gw

Goalkeeper a good option - save points and no problem with bank GW

If you get Cech, that's plenty on the keeper combo.

oohh, I get it. Guzan is on my watchlist

who has the best fixture in GW3 to rotate with Guzan?

the fixtures are out, so yeah I can confirmed that

As of this moment, not yet.

But it's not lock in your team time so that's ok, unlike last season.

What was wrong with last season?

Doing some research on penalty takers;
Arsenal- Arteta
Aston Villa- Benteke
Cardiff-Wittingham or Maynard
Chelsea- Lampard
Crystal Palace- Murray
Everton- Baines
Fulham- Berbatov
Hull- Koren
Liverpool-Gerrard
Man.City- Aguero
Man.Utd- RVP
Newcastle- Ben Arfa/Cabaye
Norwich- Holt
Southampton- Lambert
Stoke- Walters
Sunderland- Larsson
Swansea- DeGuzman if he Joins
Tottenham- Dempsey
West Brom- Long
West Ham- Noble
Hope you find this useful

Tremendous stuff. Hope it gets a sticky!

Murray is out, need another option.

I don't think a penalty was taken while both Murray & K.Phillips were off the field.

I'm curious Thomas. What research led you to conclude that Dempsey will take penalties for Spurs (if we ever actually get another one that is).

Thought Bale now takes the pens for Spurs?

Looking at defenders with attacking potential from Palace and Hull...

Hull have centreback Abdoulaye Faye with four goals.

Palace seem to get a lot of assists from leftback, with Jonathan Parr and Dean Moxey both playing that position and getting 3 and 4 assists apiece.

Centrebacks Peter Ramage and Damien Delaney chipped in with 4 and 3 goals respectively.

Faye. Been there before. Not going again.

Decent points made Teddy but a step up in level at the Premiership surely decreases these potential gems !

PS .... any signs of Iron Man happening this season in a more solid form ??

*waves*

Maybe PDM, still only a maybe. Also if it does, it's unlikely to be the same as the first couple of seasons. Depends how much time I have over the next month tbh.

Fair enough Anorak .....
I understand the draft thingy was hard work for Andy and of course all YOUR great work

What is your view to extending it beyind football? I'm playing some Fantasy Tour de France this year....

Wow that would be a curve ball entry maybe UK tiddlewinks as well

I`ve always wanted a Fantasy Athletics version linked in with the olympics myself (not kidding on this one)

Now you're on the right track!

My thought process so far this summer has got as far as:

12(?) month game
Multiple fantasy games (10?) included across a number of sports (Football, Rugby, Tennis, Cycling etc.) and a number of formats (FPL, UCL, UEL, U21, Confeds etc.)

Play as many games as you like, but your best 5 performances count towards your overall total. Winner is the player with the best total at the end of 12 months.

Scoring needs a little bit of thought, but basic premise is as above.

No idea. I reckon there would be plenty of interest, perhaps time for a recruitment drive. There are a few regulars who I'm sure would Love it. The type who do Confederations and u21s...

I have no high hopes for these defenders really, but worth knowing if looking at possible rotation or if they come in at 4.0.

I assume theres been no mention of any or likely rule changes for this year that we should consider? We (ie Mark) would know by know yar?!

Hints of bringing in managers to the squad #gulps#

Mourinho gets bonus points for taking Torres off at half time and bringing on a striker

I guess its not really a rule change but certainly would impact how BP's are awarded and would be its own scout topic.

I can see it being similar to this year's MLS now that Opta are taking over bonus points.

http://fantasy.mlssoccer.com/rules/

Sidenote: defenders are probably the highest scoring position in the MLS game.

Surely Opta could collect the stats but FPL would determine how they are used. They could simply change the weightings and it needs 12 clearances instead of 6 etc

Is it madness to consider having neither Bale or RVP to get a better value spread?

All season or the early part of the season?

30 mins until the final of the cricket.

Cheers, didn't know. Should be a good game.

Great toss to win, weather looks iffy so DL may come into play

Bowling first. I know it's the strong suit, but so is the Indian batting. This game could be all over by the interval now.

Precisely the reasons above. Bowling is already strong - batting doesn't go deep enough. Morgan, Bopara and Butler are explosive - not always consistent. Bresnan allows some back up if they all blow up.

I think Bresnan weakens the bowling though, poor at the death especially. Swann(I know he's not playing)/Broad are no mugs with the bat either. Finn's i think second in the ODI rankings, and is our fastest/best bowler on form after Anderson

Agree. Unbelievably stupid. May make the difference.

The very first RMT of the season deserves a sticky

Ha I noticed. First legit one

Only if it has correct prices.

Any WBA fans here? Is Yacob nailed on?
Scout Picks
For Gameweek 15
Hazard

Gerrard

Ozil

Shelvey

Nasri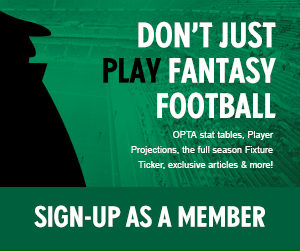 Watchlist
Goalkeepers
Player
Club
Factors

Up

Howard
EVE

A

,

Vs

,

Sus

Up

Marshall
CAR

B

,

Vs

Up

Krul
NEW

A

,

Vs

Down

De Gea
MUN

C

,

Vs

No Change

Cech
CHE

C

Up

Guzan
AVL

B

Up

Ruddy
NOR

B

Up

McGregor
HUL

C

,

Vs

,

£

Up

Lloris
TOT

B

No Change

Speroni
CPL

A

,

VsX

Up

Pantilimon
MCI

B

,

Rest

,

£

Down

Szczesny
ARS

A

,

VsX
Defenders
Player
Club
Factors

Up

Coleman
EVE

A

,

Vs

Down

Terry
CHE

B

Up

Williamson
NEW

B

,

Vs

,

£

Down

Evra
MUN

C

,

Vs

Down

Mertesacker
ARS

A

,

VsX

Up

Olsson
NOR

B

,

Vs

,

£

Up

Turner
CAR

C

,

Vs

,

£

Up

Bardsley
SUN

B

,

£

No Change

McAuley
WBA

C

,

Vs

Up

Walker
TOT

B

Up

Zabaleta
MCI

B

,

Rest

Up

Davies
HUL

C

Up

Ward
CPL

A

,

VsX

,

£
Midfielders
Player
Club
Factors

No Change

Hazard
CHE

A

Up

Y Touré
MCI

A

Up

Ozil
ARS

A

,

VsX

Down

Ramsey
ARS

A

,

VsX

Up

Nasri
MCI

B

Up

Fer
NOR

A

,

Vs

Up

Walcott
ARS

B

,

VsX

,

Inj

Up

Bannan
CPL

B

,

VsX

,

£

Down

Sessegnon
WBA

C

,

Rest

Up

Whittingham
CAR

C

,

Vs

,

£

Up

Michu
SWA

C

,

Inj

,

OoP

No Change

Lallana
SOT

C

,

VsX

Up

Morrison
WHM

B

,

Rest

,

£

Up

Brady
HUL

C

,

£

,

Sus

Up

Barkley
EVE

C

,

Vs

,

Rest

,

Sus
Forwards
Player
Club
Factors

No Change

Suárez
LIV

A

,

VsX

No Change

Aguero
MCI

A

No Change

Lukaku
EVE

A

,

Vs

No Change

Rooney
MUN

A

,

Vs

No Change

Remy
NEW

B

No Change

Giroud
ARS

B

,

VsX

No Change

Negredo
MCI

A

No Change

Rodriguez
SOT

A

,

£

Up

Deulofeu
EVE

A

,

Vs

,

Rest

,

£

Up

Hooper
NOR

A

,

Vs

,

£
Selection Factors
| | |
| --- | --- |
| A, B, C | Current Form |
| Vs | Favourable Fixtures |
| VsX | Unfavourable Fixtures |
| Rest | Rotation Risk |
| Inj | Injured/Returning from Injury |
| OoP | Out of Position |
| £ | Potential Bargain |
| Sus | Suspended/Near Suspension |
Suspension Tightrope
| Player | Team | YC |
| --- | --- | --- |
| Wilshere | ARS | 4 |
| Agbonlahor | AVL | 4 |
| Westwood | AVL | 4 |
| Ivanovic | CHE | 4 |
| Barkley | EVE | 4 |
| Barry | EVE | 4 |
| Howard | EVE | 4 |
| Parker | FUL | 4 |
| Javi García | MCI | 4 |
| Valencia | MUN | 4 |
| Sissoko | NEW | 4 |
| Turner | NOR | 4 |
| Fonte | SOT | 4 |
| Wanyama | SOT | 4 |
| Cameron | STO | 4 |
| Huth | STO | 4 |
| Colback | SUN | 4 |
| Gardner | SUN | 4 |
| Rangel | SWA | 4 |
| Williams | SWA | 4 |
| Paulinho | TOT | 4 |
| Dawson | TOT | 4 |
| Yacob | WBA | 4 |
"He has qualities modern football demands, he is fast, he has a good shot, he can also play on both sides or through the centre. He is multifunctional in attack and I'm very happy the club signed him."

Jose Mourinho talks up his new German forward