After firing United to victory in last Saturday's 2-1 win at Sunderland, Adnan Januzaj has barely been out of the headlines. Handed his first league start by David Moyes, the youngster's impact against the Black Cats has sparked the latest Fantasy bandwagon as managers scramble for his signature. So far, the 18-year-old has acquired over 105,000 new owners in the Fantasy Premier League (FPL) game – his price has already risen to 4.7 but, given, the level of interest, it looks a near-certainty he'll be 4.9 by the time Gameweek 8 gets underway:
With just seven league fixtures done and dusted, it's obvious that Moyes has been struggling to find a balance to United's left flank – Januzaj was the fifth player to be handed a start there already. In our latest Technical Area article, we take a look at his display last weekend and compare it to the other four players to start on United's left thus far.
United Average Positions versus Sunderland
As shown by the map (left), Januzaj (44) isn't the type of wideman who merely hugs the touchline. While Nani (17) afforded United far more width on the opposite flank, the youngster drifted into central areas and was more or less on a par with Wayne Rooney (10) in terms of his advanced average position when on the ball. By moving inside, Januzaj also allowed Patrice Evra (3) greater license to forage forward from the left-back berth, as the Frenchman looked to support the visitors' attacking plays on many occasions.
United's Starters on the Left, Gameweek 1-7
| | | | | | | | | | | | | | |
| --- | --- | --- | --- | --- | --- | --- | --- | --- | --- | --- | --- | --- | --- |
| | Mins | Tchs | Tchs Final 3rd | Pass Rcvd Final 3rd | Succ Pass Final 3rd | Dribb | Suc Dribb | Cross | Suc Cross | Key Pass | Tchs Box | Shots | Shots Box |
| GW1- Giggs | 62 | 42 | 16 | 10 | 6 | 2 | 0 | 1 | 1 | 1 | 1 | 1 | 1 |
| GW2- Welbeck | 78 | 46 | 21 | 17 | 14 | 1 | 1 | 0 | 0 | 1 | 2 | 2 | 1 |
| GW3- Young | 63 | 49 | 21 | 11 | 4 | 4 | 0 | 9 | 1 | 2 | 2 | 1 | 0 |
| GW4- Young | 67 | 51 | 31 | 14 | 10 | 6 | 2 | 8 | 0 | 1 | 3 | 2 | 1 |
| GW5- Young | 51 | 28 | 11 | 9 | 4 | 1 | 0 | 2 | 0 | 0 | 0 | 0 | 0 |
| GW6- Kagawa | 45 | 36 | 12 | 10 | 10 | 1 | 1 | 0 | 0 | 2 | 1 | 1 | 0 |
| GW6*- Januzaj | 50 | 35 | 15 | 10 | 5 | 4 | 4 | 2 | 0 | 0 | 4 | 1 | 1 |
| GW7- Januzaj | 77 | 60 | 34 | 18 | 16 | 7 | 5 | 1 | 0 | 0 | 4 | 6 | 3 |
*Appeared as substitute
The table above list the players per Gameweek who have started on the left for United so far, with Januzaj's stats for Gameweek 6 also included after he climbed off the bench to replace Shinji Kagawa at the break against West Brom. Comparing him to each of the other starters, it's immediately noticeable that the youngster is looking to get on the ball as much as possible – a total of 60 touches against Sunderland was superior to any of his rivals, with Ashley Young's 51 against Palace in Gameweek 4 the nearest.
Granted, Januzaj's 77 minutes on Saturday is the second highest tally here but his impact is obvious. His 34 touches in the final third is more than double Ryan Giggs managed in the season opener at Swansea where United won 4-1 – Young's 31 against Palace is again the closest any of our featured players can manage. In terms of passes received in the final third, the 18-year-old once again leads the way – he registered 18 against the Black Cats, with Danny Welbeck's 17 back in Gameweek 2 at home to Chelsea the closest match.
It's when we look at successful passes in the final third that the youngster's contribution starts to stand out – particularly against the much-maligned Young. Januzaj made 16 over his 77 minutes at the Stadium of Light – Young has managed a total of 18 (4, 10, 4) in his three starts, while Giggs' tally of 6 at the Liberty hardly impressed either.
Analysing each player's delivery from the flank, Young once again fares poorly. Over his three first XI appearances between Gameweek 3-5, the former Villa man produced 19 crosses, with only 1 finding its target – indeed, his stats, in comparison to the other, indicate his different approach to the role on the left.
Januzaj's ability to beat his opponent stands out considerably here and shows just what he brings to United. Incredibly, he managed more successful dribbles against Sunderland than Moyes' other starters combined (5 to 4) over the previous six Gameweeks -indeed, in the past game-and-a-half alone, he has attempted 11 dribbles, with 9 successful – Young has produced 11 over his three starts, with just 2 successful.
The only aspect of Januzaj's game that has failed to impress is his ability to tee up chances for others, with not a single key pass produced since replacing Kagawa against the Baggies. This, however, merely underlines his direct style of play – his ability to beat his opponent is allied with an attacking instinct that saw him produce 4 touches inside the box at the Stadium of Light; putting that into perspective, United previous six starters on the left managed a combined 9 touches in the box (1, 2, 2, 3, 0, 1) by comparison. Against West Brom, Januzaj managed 4 to Kagawa's 1, in addition to registering 4 successful dribbles to the Japan international's single successful take-on.
Januzaj's eye for goal is also obvious here. His total of 6 shots against the Black Cats was double the number of Robin Van Persie and Wayne Rooney combined and, unsurprisingly, analysing his numbers against his rivals on the left bodes well – United's previous six starters managed a total of 7 attempts between them, with 3 inside the area equalling Januzaj's haul last Saturday.
Indeed, over 155 minutes game time thus far, his 9 attempts on goal equate to an average of 17.2 minutes per shot – second for midfielders with more than two appearances this term. Crucially, though, it's not just long range efforts he's firing – 5 of those have arrived inside the area. Compared to other midfielders, this is the same number as City's Yaya Toure over 666 minutes and more than Everton's Ross Barkley (657 minutes, 4 shots in the box) and Arsenal's summer signing Mesut Ozil (343 minutes, 3 shots in the box) for example.
The Impact on Evra
As the average position map (left) shows, the Frenchman enjoyed one of his most advanced positions of the season so far in Gameweek 7. With Januzaj shifting inside, Evra was afforded far more freedom to attack – although his overall touches were markedly down (65 from 74), Evra had more touches in the final third, up from an average of 22.6 to 28, while he was found by his team-mates more often in the attacking third, with 19 passes received to a previous 13.8 across the first six Gameweeks.
| | | | | | | | |
| --- | --- | --- | --- | --- | --- | --- | --- |
| | Tchs | Tchs Final 3rd | Pass Rcvd Final 3rd | Succ Pass Final 3rd | Crosses | Succ Crosses | Chances Crtd |
| GW1-6 | 74 | 22.6 | 13.8 | 9.4 | 4.2 | 1.2 | 1.6 |
| GW7 | 65 | 28 | 19 | 9 | 10 | 3 | 3 |
Although his distribution was still the same – 9 successful passes in the final third to 9.4 beforehand – Evra was able to supply the width from deep as a result of Januzaj's forays inside and delivered 10 crosses (3 successful) against the Black Cats, compared to his previous average of 4.2 and 1.2 respectively. Indeed, with a total of 3 key passes – almost double his Gameweek 1-6 average of 1.6 – Evra also picked up his first assist of the season; an indication that he could also benefit from the youngster's installation to the United XI as he looks to replicate the form that harvested 4 goals and 6 assists in the season gone by.
REPOST:

Who attacks more often and has more potential from scoring in open play:

Baines OR Coleman

After watching the match last night I really think it's time to pension off Gerrard/Lampard from international duty. They are in decline and besides never working well together I think we should take a fresh, hungry team to the world cup.

Swap out Gerrard for Barkley which would give us two players (with Townsend) who are at least happy to run at defences and as much as I never thought I'd say it I think I'd prefer Barry to Lampard for some defensive cover. Same for Baines -> Cole. Even look at bringing in some of the younger talent like Tom Ince/Luke Shaw.

I would rather take a young and hungry team than so much of the tired old one we've been fielding for a decade with no real result. Sure you could take some of the old guard for the bench/experience but if we roll out a Lampard/Gerrard spine to our team again I can't see us getting through qualifying.

I completely disagree with you. A midfield of Townsend, Barkley, Barry, Wellbeck would be completely over run. To play Barkley you would need to play him off the striker. Hodgson played a very attack minded formation and needed 2 players to sit. Gerrard and Lampard have both calmed their attacking instincts recently and that makes then more useful England players especially in that formation. I don't agree that Barry is better than either. However, I do believe you could make a case for including Carrick over one.

I know exactly what you're saying but I thought Gerrard in particular was sloppy, the precision he used to have seems to have gone. I do agree that with Welbeck in addition to Studge and Rooney that midfield would be overrun but I wouldn't have Welbeck up front as well - last night it worked but the opposition weren't up to much.

In the modern game I think pace is crucial and having a spine of midfield and defence getting on for their mid-30's we'll also be overrun but the better teams, I'd rather put some out that will go for it than those who've done it a hundred times and never achieved anything. I wouldn't expect that team to win a world cup (and as much as Carrick has his uses he can only pass 5 yards backwards) but it's the passion that has been missing from the England team and what they've been criticized for over the last few years. I'd rather them go for it and lose than seemingly not be bothered and lose.

I don't really agree. England's best quality that we compete as well with any country is pace. There is not a country in the world that can compete for our strength in depth in pace. Spain don't win games because of pace, neither do Brazil.

What is key is the ability to move into good space, pressurize quickly, keep the ball under pressure, and lass it quickly and incisively when needed. Also patience is key. England in recent times have been unable to do none of those things particularly well. Bringing Barry in wouldn't solve that. Nor would bringing youngsters in. I do think they are things that Carrick can do fairly well and I would look to bring him in for possibly Gerrard or Lampard if you didn't want to drop the captain.

As for England pace is important. If we are going to make a mark on the World Cup it has to be using pace effectively on the counter attack. We are not good enough to beat the top teams by doing all the things I mentioned above so we have to use our strength which is pace. But pace isn't important in deep lying midfielders. Spain won the 2010 World Cup with Marcos Senna holding everything together. Pirlo was fantastic for Italy in Euro 2012

Totally disagree! Gerrard was great last night, he has been for the last few matches. Possibly, Lampard could be rotated with others but finally they have a decent enough formation and can play Gerrard and Lampard together.

Too many greedy players yesterday. Luckily Woy must of told them that they are playing well enough to find each other in the box at half-time, for the first 25 minutes of the second half was pretty good. Flattering result though with deflections, OG and a dubious penalty helping the assisting or scoring of goals.

Why did fat Frank Rob Baines of right side corners during the first half. Baines put in a couple of very good ones.

Drop fat frank. I suppose Townsend was bound to score eventually but he is clearly a stop gap.

Sturridge and Rooney had good movement off the ball and look like the best attacking pairing on offer. The main positive from the evening I thought.

I'd like to see:

Agbonlahor - Sturridge - Walcott

Rooney

Wilshire Gerrard

Baines ? ? ?

Ruddy

The defence is a problem. Please offer suggestions & feedback

Wiltshire is too attacking to play in the two man midfield. I don't think Roy was far wrong with his team.

However, I did wonder why Gerrard and Lampard were taking corners when Baibes was on and taking some excellent corners early on.

At this formation will offer the possibility of good possession and a very fast ruthless counter attack.

All England players need to be comfortable on the ball. My problem with Wilshire would be more his lack of goal threat than his inability to play in the double pivot.

Fat frank can't even waddle effectively or tackle by comparison.

Someone needs to move the Beach booty post up top. I'm tired of scrolling down and down and down to find it.

Aint it at the top in the featured articles?

I can't be bothered to check.

Just noticed the top article changes every few seconds...still irritating to wait for it.

Btw, now that i have you on here...plse send thru your team early next week...

I popped you a couple of mails. I'm assuming you were busy.

Yeah there were about 50 emails to read through when Ilogged on, so I just skim read them and no doubt missed some information due to my laziness.

International break is dam boring!
My mrs and I have only just recently moved in together, yet to get foxtel organized. Oh how I miss my sport channels.

The key to living with the mrs successfully is sharing duties.

She looks after the cleaning - you look after the remote control
She looks after the cooking - you concentrate on the eating
She provides for you upstairs - you provide sky sports

There are other rules to follow but I have found it to be a good existence cohabiting with the missus following those rules.

Love it !!

Right, time for a little 'whaddaya think of my lot' post so....

Whaddya think?

Boruc.

Vidic, Dawson, Nasty.

Rambo, Eriksen, Ozil, Meshoooeeee

Rooney, Suarez, Lukakaaaaa

Subs (useless): clyne, Turner, Canral. £0 in bank.

I'm thinking no trades this week, keep for a double later and maybe downgrade a defender and get a Jalfrazi ?

Thoughts?

Good Morning folks. As I wait in vain for Beach Soccer replies, I am off to Dubai for a short break. Anyone recommend any places worth seeing? Never been there before. Cheers!

Oooh I'm a member now.. Time to check out the members section!

Woah too late. Crazy info

Be careful.

When I first became a member about a year ago I went on a ridiculous spending spree because - remember - if you try hard enough you can use stats to prove anything!

Great info once you learn how to apply it

Very good advice

Congratulations Mersey....

http://www.gamesinasia.com/report-foxconn-using-forced-student-labor-to-build-sonys-ps4/

Students being forced to manufacture ps4's .. interesting read

My mid is currently HBA / Moses / Michu / Eriksen / Jedinak

Need to get rid of HBA - want to bring in Wally or Oscar (maybe both later on), who should be the priority for GW8?

Walcott is playing norwich at home, should be goals but is coming back from injury and may be eased back in, coming of the bench a possibility?

Oscar is playing cardiff at home, in form, but some on here think he may be rested?

Would be interested to hear some opinions on this.

Have we had any news on Walcott yet?

I'd do HBA > Barkley then Jedinak > Wally week after

haven't heard anything about walcott, just that fpl reckon he'll be back 19 oct.

Yeah may just do HBA > Barkley and roll the transfer over, cheers tommy.

Last time Oscar came back from international duty he was rested to the bench. His game on Tuesday is in China so a long trip back. By comparison Mata didn't get off the subs bench yesterday and will only be travelling back from Spain even if he plays on Tuesday.

There are three straight weeks of two games per week after the international break so it might be wise to retain three midfielders who aren't playing in Europe and subject to rotation. At least for the time being.

Time to hit the treadmill.

Au revoir(in Senegoal accent)

Hywl Fawr.

Btw they speak French !

So then, choices for 2 cheapy mids:-

Adnan and amalfitano
Or
Arunotovic and ravel.

Thoughts?

Hi guys, I have 2FT and was thinking of using just one this week by downgrading Nasty to Williams or Riether, then next week upgrading Moses and or Roo. Sound like a good idea?

Boruc
Vidic, Nasty, Baines
Whitt, Ozil, Michu Ravel
Roo, Suarez, Lukaku

Subs:- Davis Moses Burner Clyne

0.3 in bank

*Upgrading Moses and maybe Roo, the week after!!

Sounds like a terrible idea (sorry). Nasty is nailed on with Kompanys injury and Williams is out for 3 weeks. As for Fulhams defence....I think I would stick with City's.

Take your point but ultimately my defence is pretty good and could cope without Nasty. Nasty won't stay in the City team long term anyway. Plus I need the funds to upgrade the nuisance Moses!! Unless I just swap Moses for Lallana or Hernandez. I may as well use at least one of the 2FT somewhere?

Assuming Williams is fit after the break also!

Williams is out for at least 3 weeks. Its on the ticket at the side of the main page somewhere.

Moses - Barkley and upgrade Nasty?

Yes but I already have Baines and Lukaku, but I am warming to the idea of upgrading the defender and actually improving the midfielder by getting someone for less doh! Cheers all!

Yeah there are no real options north of 6.5m up to 9m. Terry could be a shout if you can find the cash

If you want Swansea coverage at the back (which I also do) then Chico is probably the best option (though he is a bit of a card magnet). Rooney to Tekkers is indeed one way to upgrade Moses. Lallana and Hernandez are decent options. So are the tried and trusted eg Rambo and Barkley. I don't see there is a lot around to 'upgrade' Moses to.

Good point, most of the best replacements for Moses are less money, unless you have 3.5m sitting around. Not a big fan of Chico, is Williams not gonna be back soon I thought he might be.

I thought there were murmurs that he might be ok after Laudrup's comments but we'll see

I agree.

Chico a better shout , or Davies.

You could downgrade too to Tekkers (same forward live as my WC team then) and upgrade Moses to someone ace. Although there isn't a lot between 7m and 9m.

When is Tekkers back mate?

Apart from Mrs Demel I have 2 women in life. 1 is Annabelle Wallis who is starring in Peaky Blinders. It has been a great series and she has looked fantastic but unfortunately that series is coming to and end next week. The other is Clemence Posey who just happens to be starring in the tunnel which starts this week. What a great few months of tele!

Ah was looking for a 1920's gangster series to pass my time until tomorrow's Boardwalk empire.. It did not pop up on Metacritic so i kinda missed it. Will give it a go now.. Cheers

So guys i need a bit of help,thanks in advance! So here is my team for gameweek 8 as of now,with 1 free transfer and 0.9 in the bank

Boruc
Ward Dawson Zaba
Ozil Barkley Walcott(if fit) Eriksen
Rooney Bent Soldado

Subs:Nolan Chester(injured) Collins(out of favour)

My h2h rival has Lukaku,Giroud,Sturridge,Oscar,Coleman all in his team after a 4 point hit

Please help me rate the priority in which i should get rid of these players!As of now,im looking for a -4 this week with the following being my priorities:

1.Bent,as Jol has already admitted that he wont start
2.Walcott,if not fit
3.Collins,hasn't played in the last 2
4.Soldado,the reason him being ranked #4 is that i believe that AVB must have realised his importance after the west ham drubbing.A bit optimistic though but will have to do with the price losses as well
5.Chester,I'll probably hold as he is back due by gameweek 9

Change Bent
I wouldn't take Wally out, he must be back soon.
Leave Soldado

Don't take a hit if you have a fit eleven.

I don't agree. He needs to get some inform players in. In this situation, hits are worth it, since he has at least five-six transfers he needs to make and doing them one per week means he will never get on top of it.

I know, but I think your eleven comes first, surely you don't take a hit for a player who will sit on the bench anyway?

He hasn't got a bad team at present IMO

Bent and Soldado out are definitely the priority. I guess you don't have enough for a hit to bring Sturridge and Lukaku in? How about Lukaku and Benteke?

I would have done at least three transfers if I were you. Bent, soldado collins out. Lukaku for soldado, distin or chico in for collins and if you can afford, sturridge for bent

A bit of advice if no-one minds?

Thinking of rolling the FT over and having two next week but Lukaku is nagging at me. Still hoping to do the Giroud - Benteke trade in a couple weeks after Norwich and Palace. Wouldn't mind a Swans defender in there as well?

0.3 in the bank

Boruc
Baines Vidic Wilson (Clyne, B.Turner)
Ozil Michu Rambo Barkley (Ravel)
Suarez Giroud Rooney

Cheers all

I am in a similar predicament with Lukaku, and it would be impossible to tell you which one will be the correct decision. Id say sit tight this week unless one of your forwards gets injured or you get some gut feeling which to switch out.

It's a really tricky one isn't it. The problem is Giroud and the fact he is nailed on with those two tasty fixtures coming up. I just know that three Arsenal is not really that sustainable Seems risky to take him out before Norwich though and a bit knee jerky to take out Rooney after one blank

I agree, with you. Liverpool actually have the toughest fixtures, and I will be removing one of SAS, but can you go without either- I dont think so. In your position I would probably sit tight or risk it with Giroud out as he is shaite and Roo could make way for Tekkers as he only has 3 good fixtures too in the early going

It could go either way if you change one of your strikers this week. I would wait till next week and allow yourself the extra flexibility

Yep that's the way I'm leaning as well.

I went Rooney to lukaku.just feel Hull are due a beating and if Everton do score a few lukaku will get them.plus Rooney has Southampton to deal with

Lukaku scored 2 last night vs Croatia.

As its nice and quiet, it may be a decent time for me to get a RMT in.

http://gyazo.com/b7125e79b5c35cc864870078f428b5af.png

So Soldado has dropped another 0.1 mill, my FT was knee jerked Saturday night RVP > Lukaku. If i'd waited a day it would have been Soldado > Lukaku.

Anyway 6.8mill to spend but no FT. Shall I hold Soldado/HBA, or is there a risk I wont even get an XI out this week.....

Also I wont lose any value on HBA or Brady as I caught the price rises initially anyway.

Thanks.

May have been worth wildcarding earlier in the week with those injuries and players not playing. Probably worth holding and hoping that HBA/Soldado make it back in.

Unfortunately the wildcard has gone.

This nightmare has been a total nightmare as I avoided too many bandwagons while replacing injuries.

I guess its going to be a case of avoiding logging in if I do want to 'stick'. I'm confident Soldado will play..and I'd only want Giroud for this week and then would want Tekkers..so I agree best to wait in that scenario

I would look at Tekkers in a couple of weeks. Lukaku, Sturridge and Benteke looks a very decent frontline to me.

Ship might have sailed with Giroud and the fixtures stiffen up in a few weeks as well.

you made it tough on us with the worst early transfer possible. Id say Soldado to Lukaku is the best long term transfer. HBA to Januzaj, Amatifiano is another option

Has there been any significant injuries over the internationals yet?

Someone asked on the last page and the name Tom Cleverly was mentioned.

Another way of answering that question was 'No'.

I agree

Cheers.

Boruc • Lewis
Vertonghen • Baines • Terry • Turner • Faye
Ozil • Michu • Oscar • Barkley • Morrison
Suarez • Giroud • Lukaku

Thoughts on this? Would you get someone like Whittingham (or Brady when fit) over Morrison?

That's super. I'd go whittingham. I might also downgrade baines(liv defender) and upgrade a 4.0 personally. Great team though

Baines>GJ was something I thought about with him playing further forward. More nailed on than Toure even if they play 3,4 or 5 at the back.

Yep, I'm devising an entry route for glen. I think baines is overpriced so I think that's a good trade

Why is Baines overpriced? Same price as last year...better players around him(Eg Lukaku/Barkley)....new BPS suits him.

He's a good option sure, but I think his CS potential isn't great and that's what you really need to look for. Johnson, in a better defence, nearly as attacking, at under 6:0 is a better option IMHO

Well Mign is even better then for Livp cover.

Baines/Eve averages 10 CS a season over the last 3 years. No reason why it won't happen again a he has 3 from 7 already.

Baines attacking potential makes up for the 5 CS or so that everton will have less then Lpool.

Why? I just don't agree, you could get boruc and Johnson for under 11.5 (I think) or baines and mignolet for nearly 14m. They'll be similar on points, but I'll take that extra cash

Mign to match Boruc over the season.

No way will GJ match Baines. No way.

South's CS should run out now. ManU/Ars/Chel/Citeh up in the next 8 fixtures.

He is a decent pick, but a tad expensive for a run of games such as:

2,2,2,6,2,13

For example.

You need a strong stomach as baines owner for sure. I held him through a run of 7 or so games of solid 2's. I sold him, and the rest is history.

You need to hold him LT.

Good team. I'd be tempted do do Giroud -> Benteke in due course, But you lack Arsenal mids.

That's what I thought. Looking at these moves:

• Faye>Clyne
• Baines>GJ
• Giroud>Benteke
• Morrison>Whittingham

Ozil not enough for you?

don't sell Baines.

He is going to score 170+ pts over the season

I like Ravel, he looks good and nailed on for West Ham and at 4.4 is an absolute steal. No need to take him out right now

I'd be tempted to squeeze Walcott in too.

I have Clyne want Benteke and certainly would seriously consider GJ.

Walcott Ozil Oscar Michu

Benteke Lukaku Suarez

is a Beastly combination

You sure you can afford this?

Have been planning to save over the break. Still sound ok?
Speroni
Koscielny walker Vidic
Ozil Michu gylfi whittingham
Giroud Rooney suareZ

Boruc/JWP/burner/ Chester

Main concerns being:
- sigurdsson, silly punt
- no lukaku (planning on benteke)
Whit vs chels

Thanks!

Siggy should rise and has 2 good fixtures. definite hold

Lukaku & Benteke are both essential.

I'm afraid I don't think they are essential

Good luck with that idea. Stats say otherwise.

Good options yeah, don't think they're essential yet

Regardless of what Martinez says you have to think Lukaku will be subbed early/rested/rotated occasionally simply due to his past history for this and the fact that they have 3 strikers for 1 spot. Thats not to say hes still not a great option, especially in current form. Long term however i have minor doubts.

New Post

Some of the analysis here is very poor. Evra's advanced position might just be due to United playing against Sunderland (who were playing very defensively for the first 60 minutes) and nothing to do with Januzaj playing instead of Young or whoever else.

How can you make these analyses on one game? "The average no. of touches in position X for player Y in this one game is higher than his average for last season..." - how many times have I read something like that here... it's just utterly ridiculous... one game... wow. big deal... this is a crime against mathematics and statitistics
Scout Picks
For Gameweek 29
Snodgrass

Lallana

Mata

Hazard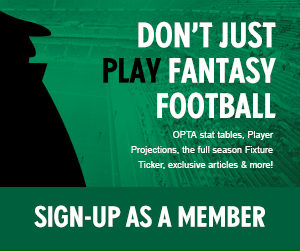 Watchlist
Goalkeepers
Player
Club
Factors

Up

Mannone
SUN

B

,

Vs

,

£

Up

Howard
EVE

B

,

Vs

Up

De Gea
MUN

B

Up

McGregor
HUL

C

,

£

Up

Adrián
WHM

B

,

£

No Change

Cech
CHE

A

Up

Vorm
SWA

B

,

Vs

No Change

Ruddy
NOR

B

Up

Hart
MCI

B

No Change

Speroni
CPL

B

,

£

Up

Krul
NEW

C

Down

Boruc
SOT

B

No Change

Foster
WBA

C

,

Vs
Defenders
Player
Club
Factors

Up

Coleman
EVE

B

,

Vs

Down

Terry
CHE

A

No Change

Evra
MUN

B

Up

Bardsley
SUN

B

,

Vs

,

£

Up

Kompany
MCI

B

Up

Davies
HUL

B

,

£

Up

Collins
WHM

B

,

£

Down

Olsson
NOR

B

,

£

Down

Ward
CPL

C

,

£

Up

Skrtel
LIV

B

Up

Davies
SWA

B

,

Vs

,

£

Down

Shawcross
STO

C

Up

Williamson
NEW

C

,

£

Down

Fonte
SOT

B

Up

Kolarov
MCI

B

,

Rest
Midfielders
Player
Club
Factors

No Change

Hazard
CHE

A

Up

Y Touré
MCI

B

Up

Johnson
SUN

B

,

Vs

Up

Gerrard
LIV

B

Up

Nolan
WHM

B

Down

Mata
MUN

C

Down

Lallana
SOT

B

Up

Mirallas
EVE

B

,

Vs

,

Rest

Up

Sterling
LIV

B

,

£

Up

Cazorla
ARS

B

,

VsX

Up

De Guzmán
SWA

B

,

Vs

,

Rest

No Change

Brunt
WBA

C

,

Vs

,

£

Down

Snodgrass
NOR

B

,

Inj

Up

Sissoko
NEW

C

,

Inj

,

£
Forwards
Player
Club
Factors

No Change

Suárez
LIV

A

Up

Aguero
MCI

C

Down

Sturridge
LIV

B

Up

Lukaku
EVE

A

,

Vs

No Change

van Persie
MUN

B

Up

Remy
NEW

B

Up

Jelavic
HUL

B

,

£

Up

Bony
SWA

B

,

Vs

Up

Giroud
ARS

A

,

VsX

Up

Carroll
WHM

C

,

Inj

Down

Adebayor
TOT

A

,

VsX

Down

Rodriguez
SOT

C

,

£

No Change

Borini
SUN

B

,

Vs

Down

Crouch
STO

B

,

£

Up

Anichebe
WBA

C

,

Vs

,

£
Selection Factors
| | |
| --- | --- |
| A, B, C | Current Form |
| Vs | Favourable Fixtures |
| VsX | Unfavourable Fixtures |
| Rest | Rotation Risk |
| Inj | Injured/Returning from Injury |
| OoP | Out of Position |
| £ | Potential Bargain |
| Sus | Suspended/Near Suspension |
Suspension Tightrope
| Player | Team | YC |
| --- | --- | --- |
| Olsson | WBA | 9 |
| Flamini | ARS | 8 |
| Delph | AVL | 8 |
| Luiz | CHE | 8 |
| Ramires | CHE | 8 |
| Chamakh | CPL | 8 |
| Barry | EVE | 8 |
| Rooney | MUN | 8 |
| Tioté | NEW | 8 |
| Schneiderlin | SOT | 8 |
| Walters | STO | 8 |
| Yacob | WBA | 8 |
"He's working hard at it and so are we. Sometimes we play well but not all the time. We don't have luck on our side. It's easy to point the finger at someone but I'm not like that. We have to do better ourselves."

Robin Van Persie on criticism of David Moyes.