The Premier League gave Fantasy managers plenty to plan for earlier this afternoon after announcing new dates for a couple of postponed fixtures. Arsenal's home clash with Swansea and Newcastle's game against Everton at St James' Park will now take place on Tuesday, March 25 – handing all four clubs a double Gameweek 31:
Both matches were due to take place this weekend but have been cancelled due to the Gunners' FA Cup Quarter-Final clash with Roberto Martinez' men. This means that 10 teams will now play twice in Gameweek 31 – here's a quick round-up of the updated fixture-list, which has now been reflected in a refresh of our Season Ticker on the right of your sidebar:
Arsenal – travel to Chelsea before hosting the Swans in midweek.
Everton – entertain Swansea before making their way to St James' Park.
Hull – play at home to West Brom before travelling to West Ham.
Liverpool – visit Cardiff and host Sunderland at Anfield.
Man City – welcome Fulham to the Etihad prior to their midweek Manchester derby at Old Trafford.
Man United – travel to West Ham and square up to City at home.
Newcastle – one of two sides with a pair of home games, the Magpies entertain Palace and Everton.
Sunderland – Gus Poyet's side are on their travels twice, first to Norwich then to Liverpool.
Swansea – Garry Monk's side face two testing trips to Everton and Arsenal.
West Ham – Big Sam's side play twice at Upton Park, as United and Hull come calling.
Looking at the four new teams to consider, whilst Arsenal's home clash with Swansea looks promising, the trip to Chelsea almost negates their double. Given that Arsene Wenger's side also face Everton, Spurs and City between Gameweeks 30-33, many may choose to avoid investing in the Gunners.
Everton, on the other hand, have a home clash with Cardiff and trip to Fulham on either side of their double. With another double still to factor in, they look poised for investment, with Seamus Coleman, Leighton Baines and Romelu Lukaku the safest options. Kevin Mirallas' lack of game time last weekend is a real worry for his owners, though some may choose to hold in light of today's news, with the Belgian potentially rested against West Ham due to the Toffees' upcoming cup clash with the Gunners.
Newcastle have trips to Fulham and Palace on either side of their two home fixtures, with the likes of Loic Remy staking a claim for a third forward berth after scoring in each of his two appearances since returning from suspension.
Swansea have great fixtures before and after their double. Garry Monk's side play West Brom and Norwich in Gameweek 30 and 32 respectively but those two road trips look set to pose problems aplenty, with few willing to take a punt.
As always, we'll have an in-depth look at each of the 10 teams nearer the time as Fantasy managers brace themselves for a Gameweek that may well prove pivotal to the outcome of many a mini-league.
if they don't play in gw29, they play twice in gw31. that basically wipes out quantity, so quality is really all that matters. get rid of the dross, fingers crossed with injuries

So shall I bring in Nolan instead, as I'm really tearing my hair out trying to find a decent midfielder for 7.1 or under for this GW..

He's got the form in that budget. Add big Andy Carroll to the mix for knock downs.

I'm certainly tempted. Thing is I've only got 6 guaranteed players this GW, plus Ryan Bennett and Ward-Prowse who probably won't see any action, and have two free transfers to make.. But can't get the player I want up front for this GW without making two subs. It's frustrating!

Manchester United have 3 fixtures between the 2 weeks and Aston Villa have 1.

Evening Lads,

I'm sitting on Cazorla and a FT for this week. I'd love to shift him, but have little enthusiasm for the available mids that are playing this week. Is shifting him for Dejagah or Richardson silly? Basically a one week punt, however it does free up cash for the DGW's. Don't want Cazorla for GW31 and have but 8 playing this week.

considering richardson if hes not fullback again.......total punt, but could work out

I'm in a very similar situation with Caz. Who is the best midfield option for GW29? I have Hazard, Lallana, Puncheon and Snoddy.

Save FT and put it to better use for dgw player.

Are people completely overlooking Arsenal and Newcastle assets for the dgw?

Someone like Ramsey or Remy could be a good bet.

Bruce
Coleman
Mata
Yaya
Sterling
Suarez
Sturridge
Aguero

These are the 8 DGWers I am planning for GW38 and without any hits

My other 3 players should be

Boruc
Terry
Hazard
(Subs...Davis (GK), Ward, Burner, Puncheon)

Question is....any other DGW players worth getting for a hit?

Cheers.

Worth a hit though?

E.g. Adrian (MUN HUL)

Vs

Boruc (tot) + 4

Could be worth it.

Best team possible..

Maybe if I had the budget I would have done boruc to Howard if I had the budget or Adrian just coz of his dgw..

Worth the gamble I reckon..

Rest its perfect ..well done mate

Bruce. u sure bruce is nailed...
one of these 3 will be benched who: 3.9 Rosenior, Bruce and 3.8 Chester?

Sterling game time is negative though?

2 questions

1) Komps worth 0.3 over Zaba or 0.4 over Demichelis?

That extra bit of cash could be the difference between getting Gerrard or not getting Gerrard.

2) Sterling or AJ if I get Gerrard (will have Lukaku as 3rd striker with Suarez and Kun)

1 not imo over zaba, but yes over demi ....tbh im thinkin of goin without city def gw31

2 AJ im gettin gw30, nice run so you wouldnt have to ship immediately

I'm getting City defence purely for the fact that they have other DGWs, so it saves it later on.

I agree totally on AJ, you think Gerrard over Sterling?

thankyou thanyou to the ffs cup organisers for skipping gw29 as a round. definitely the right thing to do imo

good point, wonder if ginks cup of tea is doin the same.....

that said its a gw like any other, weve had time to plan.........not like a weather cancellation, not counting it maybe favours those hopin to get away with 7

This , it should be left . I got hammered with the wind cancellation games

29 was there for all to preplan

Once again , season of the casual !

Baines: In order to have Baines as of gw 30, if you had to choose one of these , who would it be for yor 4th Mid: thx

1--ince
2--Livermore
3--Puncheon ( pending news as to why he was benched last gw)
4--Noble (odd assist to Nolan & Cahill)

Can get the following out this week.
Marshall
Burner Ward Cahill Shaw
Ince Januzaj Haz(C) Lallana
Ade

Lloris Suarez Sturridge Coleman Cazorla

Already spent a transfer to get Shaw (this was before the other DGW game was announced.

Worth for a -4

A) Caz > Mata (Don't really fancy any DGW players other than Rooney
B) Keep Caz
C) Caz > YYT (spread the cost of the hits)
D) Caz > Hoolahan (then keep him as my cheap mid and spend 4 getting rid of Januzaj and Ince for YYT and Nolan next week)

Cheers

I would fancy mata over Rooney just coz he plays deep and secondly

Aguero with SAS for dgw

I want to get Aguero over Rooney, Rooney is my 2nd choice depending on affordability. I think I would rather than Nolan over Mata for the DGW. Gives me more cash for Aguero and YYT.

Does this look good for the dgw?

Boruc (Davis)
Distin Kosc Demel (Azpil Dann)
Hazard Yaya Nolan Lallana (Puncheon)
Aguero Sturridge Suarez

Same as mine..

Just 3 differences I have Cahill over kosc and Collins over demel.
Have mata over lallana.

New post

My plan for gw31

Thoughts?

Mannone

Kos Collins Coleman

Haz mata lallana colback

Suerez augero lukaku

Kolarov: anyone going for KOL for mci 's DGW as of gw 31?

for those gw kolarov that does not start for clichy, i will have either Ward or a Hul 3.9 Def.
rest of Def: Baines - Ivan -

1--go for Kolarov
2--dont go for kolarov

Really unsure tbh,doubt he will play both,bit risky with Pellegrini in rotation mode

I think Liverpool have one of the best DGW fixtures. (Suarez, Sturridge, and Sterling :D)

Which teams do you think will be most important to invest in, and who should we rightfully ignore?

I think Everton, Hull, and Liverpool look to have the most profitable DGW fixtures.

Liverpool definitely. I'll have SSS too. Hull are unpredictable but could do very well. Everton look one of the best for gw31 and 32 but good fantasy options are limited, I'll probably just get Baines. City should be gold but rotation can bite hard, I'll just go with Kun who is easily their best fantasy asset, and maybe Kolarov if I hold him.

My point about holding kolarov for the long haul. I've had him since gw22. He's scored 12 0 1 1 1 11. That's over 4 ppg, which is acceptable but he's also come very close to another assist and goal at least. The potential in holding him until seasons end now is huge imo with 3 extra games. Think I'm gonna sell him for Baines though next week then swap back in gw33, hopefully in time for his 2 dgw's

Hi guyz,

Team GW31 (have 2 FT) =

Szczesny
Distin (in for Clyne), Flanagan (in for Azpi), Coleman, Williamson
Mata, Livermore (in for Snodgrass), Hazard/Ince
Suarez, RVP, Sturridge (in for Adebayor)

OR

Szczesny
Baines (in for Clyne), Flanagan (in for Azpi), Coleman, Williamson
Mata, Livermore (in for Snodgrass), Hazard/Ince
Suarez, RVP, Lukaku (in for Adebayor)

OR

u decide. have fun.

thnx.

Looking ahead to GW31:

I have Mannone & Adrian as my two GKs. Who's the best option to start and who should be benched?
Scout Picks
Gameweek 25
Janmaat

Williams

Alderweireld
Wijnaldum

André Ayew

Dele Alli

Roberto Firmino

Sánchez
From the Community…
Comments
Hot Topics
Articles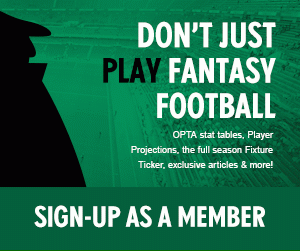 The Watchlist
Goalkeepers
Player
Club
Factors

Up

Forster
SOT

A

,

Vs

Down

Butland
STO

C

,

Vs

Up

Schmeichel
LEI

A

,

Vs

Up

Courtois
CHE

B

,

Vs

No Change

Boruc
BOU

B

,

Vs

Up

Hennessey
CPL

C

,

£

Up

Fabianski
SWA

B

No Change

De Gea
MUN

B

No Change

Gomes
WAT

B

No Change

Cech
ARS

B

,

VsX
Defenders
Player
Club
Factors

Up

Huth
LEI

A

,

Vs

,

£

Up

van Dijk
SOT

A

,

Vs

No Change

Dann
CPL

A

,

Vs

Up

Johnson
STO

C

,

Vs

No Change

Ivanovic
CHE

B

,

Vs

Up

Daniels
BOU

B

,

Vs

,

£

No Change

Williams
SWA

B

,

£

Up

Coleman
EVE

B

,

Vs

Up

Smalling
MUN

C

Down

Alderweireld
TOT

B

Up

Cresswell
WHM

B

No Change

Dawson
WBA

C

Down

Moreno
LIV

C

,

Vs

No Change

Van Aanholt
SUN

A

,

VsX

Down

Bellerín
ARS

C

,

VsX

Down

Kolarov
MCI

B

,

Rest

,

Inj
Midfielders
Player
Club
Factors

No Change

Payet
WHM

B

,

Vs

Up

Roberto Firmino
LIV

A

,

Vs

,

OoP

Up

Dele Alli
TOT

A

,

Inj

Up

Barkley
EVE

C

,

Vs

Up

André Ayew
SWA

A

,

OoP

Up

Eriksen
TOT

A

Down

Ozil
ARS

C

,

VsX

No Change

Mahrez
LEI

C

,

VsX

Up

Sánchez
ARS

C

,

VsX

,

Inj

Up

Antonio
WHM

A

,

Vs

,

Rest

,

£

No Change

Willian
CHE

B

,

Vs

,

Inj

No Change

Wijnaldum
NEW

B

Down

Arnautovic
STO

C

,

Vs

,

Inj

Up

Silva
MCI

C

No Change

Johnson
SUN

B

,

VsX
Forwards
Player
Club
Factors

No Change

Aguero
MCI

A

No Change

Kane
TOT

B

Up

Vardy
LEI

C

Up

Diego Costa
CHE

A

,

Vs

,

Inj

No Change

Ighalo
WAT

C

,

VsX

Up

Rooney
MUN

A

Down

Lukaku
EVE

C

,

Vs

No Change

Giroud
ARS

B

,

VsX

,

Rest

Up

Afobe
BOU

A

,

£

Down

Austin
SOT

B

,

Inj
Selection Factors
| | |
| --- | --- |
| A, B, C | Current Form |
| Vs | Favourable Fixtures |
| VsX | Unfavourable Fixtures |
| Rest | Rotation Risk |
| Inj | Injured/Returning from Injury |
| OoP | Out of Position |
| £ | Potential Bargain |
| Sus | Suspended/Near Suspension |
| Player | Team | YC |
| --- | --- | --- |
| Colback | NEW | 9 |
| Byram | WHM | 9 |
| Lucas | LIV | 8 |
| Jones | SUN | 8 |
| Yacob | WBA | 8 |
| Westwood | AVL | 7 |
| Diego Costa | CHE | 7 |
| Huth | LEI | 7 |
| Can | LIV | 7 |
| Mangala | MCI | 7 |
| Shelvey | NEW | 7 |
| Pieters | STO | 7 |
| Dele Alli | TOT | 7 |
| Dier | TOT | 7 |
| Noble | WHM | 7 |
"All players will blank a few times during the season. When almost all do it in the same Gameweek, it is tough to take, but that's just the dark side of probability."

Abreu 42 Community regular