Our final look back at Gameweek 35 shines the spotlight on Arsenal's top performer from the first half of the season as he makes a late return onto Fantasy radars. The Black Cats' resurgence is also acknowledged, whilst the current lack of form from many of the upcoming double Gameweek sides may potentially alter our Fantasy plans:
THE PLAYER
Aaron Ramsey is back. For the first half of the season, the Welshman defied his doubters by consistently scoring and assisting in both the domestic and European stages. Fantasy managers who acquired him early saw big gains in their team value and overall ranking as Ramsey propelled Arsenal to top spot at Christmas and looked a sure candidate for a Player of the Year nomination.
Injury on Boxing Day and a subsequent setback during his recovery kept him sidelined for over three months but, on his first league start since Gameweek 18 at the weekend, Ramsey's class and importance to the Gunners midfield was telling. A 16-point return – his highest haul of the season – came courtesy of a goal, clean sheet, a pair of assists and two bonus points kept the Gunners in the driving seat to seal a seventeenth consecutive Champions League qualification and brings the Welshman back onto our radars as Arsenal look forward to three favourable fixtures to close out the campaign.
Ramsey has the potential to explode at the Emirates, in two consecutive home games against out-of-form Newcastle and West Brom before making a final away trip to Norwich. With concerns still hanging over premium-priced options such as Eden Hazard, David Silva and Yaya Toure, Ramsey, at just 7.2 in the Fantasy Premier League game, offers outstanding value as Fantasy managers consider their options and perhaps look to free up funds for a heavy hitting striker for the upcoming double Gameweek.
THE TEAM
Seven days ago, the prospects of Sunderland being chosen as 'The Team' by the Digest seemed laughable. Firmly bottom of the Premier League's form table at the time, with seven defeats in eight games, Gus Poyet's charges looked set for certain relegation and were adrift from their rivals at the foot of the table.
What a difference a week makes. Four unlikely points taken from title-chasing duo Manchester City and Chelsea is surely the stuff of miracles and the Wearsiders now have a fighting chance of staying up in the top flight following outstanding displays at the Etihad and Stamford Bridge, the latter ending Jose Mourinho's 77-match unbeaten Premier League home record.
Sunderland have come through a horrific sequence of fixtures that saw them play five of the current top six in just six weeks and thankfully the opposition eases a little as they continue their battle for survival. Three of their remaining four games come at the Stadium of Light, and crucially these are all against relegation rivals. A massive 'six pointer' against Cardiff is next up for the Black Cats which is followed by a double Gameweek 37, where a trip to United precedes the visit of fellow-strugglers West Bromwich Albion. The final and possibly crucial fixture is also at home, against a Swansea side who may have secured their own safety by this time and could have their minds on the beach already.
Vito Mannone continues to offer outstanding value in goal at just 4.5, returning a remarkable 14 saves against Chelsea last weekend and a haul of six points despite the lack of a clean sheet. Phil Bardsley returns from a two-match ban this weekend to offer potential returns at either end of the pitch at just 4.3 in the FPL game. Further up the pitch, Adam Johnson will surely start the remaining matches and remains a tempting option at just 6.4, but it is Connor Wickham's confidence that will be sky-high after scoring three times against City and Chelsea and, providing he shakes off a knock, at just 4.6 he offers a great differential and third striker option for Fantasy managers looking to move funds around and acquire premium priced players for the final run in.
THE TALKING POINT
With six teams set for a pair of fixtures in the penultimate Gameweek of the season, Fantasy managers are, as always, keen to restructure their squads to take advantage. Whilst double Gameweek 31 proved a major success, the recent disappointment brought about by double Gameweek 34 served a reminder that teams stocked full of players with a pair of fixtures apiece don't come with success guaranteed.
As we assess the lay of the land, however, it's fair to say that the majority of sides that are set to play twice are in poor form as we approach the double. Manchester United have been far from convincing in recent matches, though their decision to dismiss David Moyes earlier today may now persuade many to re-assess their options ahead of a trio of successive home games against Norwich, Sunderland and Hull. Sunday's display at Goodison was dire but surely, you'd reckon, the Red Devils will be back on the attack for the last few matches – with Ryan Giggs handed the reins on a short-term basis, the likes of Wayne Rooney and Juan Mata could be set to flourish as the champions look to finish the season on a positive note.
While many already have a full quota of Man City options and Sunderland look full of fight and offer cut price options and home games aplenty, Hull, Villa and West Brom have done little to suggest that, even with an extra game apiece, they'll bring home the Fantasy returns.
Arsenal's recent resurgence and push for a fourth place finish highlights just how key form is at this time of year. As nerves become increasingly frayed and the finishing line edges within sight, those sides with momentum and plenty still to play for are equally, if not more, crucial to our planning. Ramsey and Lukas Podolski, for example, may have one match less than the likes of Hull but are more than capable of outscoring Steve Bruce's charges – indeed, the German's four goals in the last two matches mirrors the Tigers' tally over their last six games altogether. Little wonder over 23,000 managers have already acquired Podolski ahead of Monday's encounter with Newcastle.
Elsewhere in north London, Tottenham's hopes of clinching a European slot may be slim but the recent displays of Christian Eriksen (55 points in the last five Gameweeks) and Harry Kane, who has now scored in each of his three starts for Tim Sherwood's side, will also be on Fantasy managers' minds as we map out our plans for the run-in. Liverpool and Everton also may have just three games left but, given how vital their remaining matches are to both sides' ambitions, owners of the likes of Raheem Sterling, Steven Gerrard, Leighton Baines and Romelu Lukaku may choose to hold rather than gamble on a double Gameweek option with far less impressive form.
Typically, double Gameweeks fill Fantasy managers with hope and expectations of triple-figure hauls, the chance to take a punt or two and back the courage of our convictions. Whilst this one hands us a final throw of the dice before the campaign draws to a close, the real lack of genuine in-form contenders may persuade many to adopt a slightly more risk-free strategy over these last few rounds of matches instead.
UCL RMT. 😀

Courtois,3m
Juanfran,Miranda,Azpilicueta,Carvajal,3.5m
Bale,Rooben,Oscar,Raul Garcia,4m
Ronaldo,Costa,Muller

Mannone
Coleman, Cahill, Ward
Silva, Mirallas, Eriksen, Mata
Suarez, Lukaku, Aguero
(Adrian, Mccartney, Chambers, Parker)

1 FT & 6m ITB

A) Mirallas, Silva & Lukaku -> Ramsey, Nasri & Rooney for -8
B) Mirallas & Silva -> Ramsey & Nasri (-4)
C) Mirallas/Silva & Lukaku -> Ramsey & Rooney

atm it's looking like this will be my team for GW36:

....................Speroni
........Kosc - Chester - Baines
Nasri - Ramsey (c) - Eriksen - Mata
......Rooney - Podolski - Aguero

Davis; Ivanovic, Cahill, Noone

feeling punty yet confident

Sinik, I am very similar
...........Mannone
.....Coleman, Chester, Ivanovic
... Nasri, Ramsey (C), Gerard, Eriksen
... Suarez, Rooney, Ageuero

Mcgregor; Jedinak, Ward, Burner

Did Silva-> Ramsey and -4 hit Lukaku -> Rooney. My defence looks horrid. Who could I bring in? I'm 60 points away from leader in 2nd place. I need to take some big risks to pay off! Shall I make it a -8 hit for Mirallas to Eriksen, Ozil or Nasri?

Mannone (Adrian)
Coleman - Dummet - Zabaleta (Chester, Baker)
Gerrard - Mata - Ramsey -MIRALLAS (Ki)
Suarez - Rooney - Adebayor

A) Mirallas, Silva & Lukaku -> Ramsey, Nasri & Rooney for -8
B) Mirallas & Silva -> Ramsey & Nasri (-4)
C) Mirallas/Silva & Lukaku -> Ramsey & Rooney (-4)

Feck. Only just remembered I have a UFPL team - had a quick look and it's lying in ruins after a period of neglect.

In its defence it was already lounging at an outrageous angle in a condemned building at the point I last actively managed it but it's still a sad sight

I have always been a connoisseur of ruins ... 😀

On -4 for this

Mannone Adrian

Coleman, Cahill, Zab, Chester, Ward

Ramsey, Silva, Mata, Eriksen, Puncheon

Suarez, Rooney, Aguero

Take another hit to replace Silva or wing it for this week?

3 weeks left to climb 6K and burst into the top 10K. Which is the best move this week?

A) Lallana > Ramsey

B) Lallana > Nasri

Cheers

Anybody else see the new GoT?
Episode by episode, it really manages to amaze me even more.
The production, the acting and the writing is astounding and as a reader of the books it hasn't drifted too far from the story.
Do non-readers also think it's the greatest TV series ever made?
It's not even half way through and I already thinks it's head and shoulders above the rest - and I've seen more or less everything but Prison Break (the little of which I saw, I hated.)

have you seen the wire or the sopranos?

Never seen, never read, never will.

Any of the stuff mentioned above, for that matter.

Sorry, definitely not in the top 5 even.

Petty and completely lacking in class imo. Rabble rabble

Only funny part, and even that only moderately, here was Manchester United removing letters of David Moyes from its name.

You obviously have far more sophisticated and advanced sense of humors than me

Or then I'm just less sensitive to fun.

To me this was pretty cheap and incoherent ramble without a structure or clever punchlines. Seems to me that very little thought had been put to it.

Next you'll be telling me Norman Wisdom isn't funny.

who the f is Norman Wisdom?

Btw, that sounds like a fake name referring to the cleverness of the high class of England (after the conquest).

Mirallas to Ramsey for a -8? Already taken a hit for Rooney this GW but with Ramsey's fixtures he could easily pay back the hit in the first week...

What do you all make of this team? It has 4 changes for a -8. They'd need to be done today as I'd literally be left with 0.0 itb.

Szczesny (Adrian)
Zabaleta, Coleman, Azpil (Chester, Ward)
Mata, Eriksen, Nasri, Ramsey (3.9)
Aguero, Rooney, Suarez

Changes are Silva –> Nasri, Mirallas –> 3.9, Dzeko –> Aguero, Lukaku –> Rooney.

Also considering Eriksen –> AJ (would also allow Amalfitano for his DGW instead of the 3.9).

why am I tempted by Torres over Diego Costa?

Any reason to wait a bit longer or should I just go for this right now?

Silva/Lukaku => Ramsey/Agüero
(-4)

Begovic, Davis
Zaba, Azpi, Cahill, Stones, Chambers
Hazard, Lallana, Eriksen, Sterling, Silva,
Suarez, Lukaku, Sturridge

Hazard -> Ramsey or Mata? = 0pt hit
Hazard+Silva -> Ramsey+Mata = -4pt hit
Hazard+Silva+Sturridge -> Ramsey+Mata+Aguero = -8pt hit

Which seems the best? Thanks!

What's the word on the street. Lukaku or Rodney?

Begovic, Davis
Zaba, Azpi, Cahill, Stones, Chambers
Hazard, Lallana, Eriksen, Sterling, Silva,
Suarez, Lukaku, Sturridge

Hazard -> Ramsey or Mata? = 0pt hit
Hazard+Silva -> Ramsey+Mata = -4pt hit
Hazard+Silva+Sturridge -> Ramsey+Mata+Aguero/Rooney = -8pt hit

Which seems the best? Thanks!
Scout Picks
2014/15 Team of the Season
Clyne

Ivanovic

Terry

Bertrand
Cresswell

Sigurdsson

Giroud
From the Community…
Comments
Hot Topics
Articles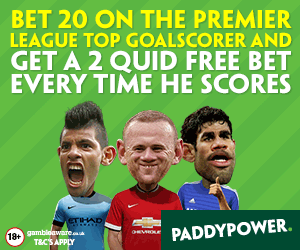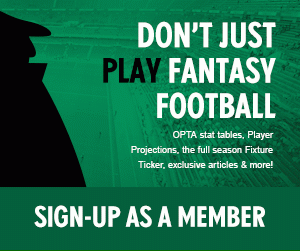 "All players will blank a few times during the season. When almost all do it in the same Gameweek, it is tough to take, but that's just the dark side of probability."

Abreu 42 Community regular