As six teams brace themselves for a pair of fixtures, the Fantasy transfer market is picking up pace as we look to the doubles for one last throw of the dice. In the first of two articles, we run the rule over the men most likely to deliver:
The Defence
Brad Guzan's performances in goal look vital for struggling Villa as Paul Lambert attempts to stave off the threat of relegation. Having conceded 15 times and picked up a single clean sheet in the last six fixtures, faith in the Midlands outfit is understandably minimal ahead of a home game with Hull and trip to the Etihad – whilst the City clash offers little to no appeal, the Tigers have failed to score in two of their last four. Priced at 5.1, Guzan's average of 3.5 points per game is – Christian Benteke aside – greater than any team-mate.
Curtis Davies' eye for goal has seen the centre-half score four times in all competitions this term for Hull. Granted, at 4.8, he's the most expensive option at the back for Steve Bruce's side, but he's justified that price-tag by picking up more points than any team-mate this season. Hull's trip to Villa looks the best bet for defensive returns, with the Midlands outfit scoring just twice in the last four, though their midweek trip to Old Trafford looks unlikely to bring home the clean-sheet points.
For City, Martin Demichelis, Pablo Zabaleta and Vincent Kompany are nailed-on in the back-four. Despite a 2-0 win at Palace on Sunday, it's fair to say Manuel Pellegrini's side have failed to convince defensively in recent matches and had conceded in each of their five fixtures prior to their trip to Selhurst Park. Demichelis' average of 4.5 ppg is easily the best of any City backline option, though, and if you are looking to invest in this area, a mere 1% ownership highlights his differential appeal – two goals in his last eight also illustrates his attacking intent.
The only team to play twice at home, United will be buoyed by their 4-0 win over Norwich last weekend – a first Old Trafford shut-out since Gameweek 23. Games against Sunderland and Hull bode well for their prospects, though the Black Cats' recent exploits against the likes of City and Chelsea on the road have shown they are more than capable of notching one or more goals. The security of starts offered by David de Gea in goal may persuade some to invest in the 5.8-priced Spaniard, whilst Patrice Evra and Nemanja Vidic look the likeliest defenders to start each of the two matches, with the likes of Chris Smalling and, potentially, Rafael, vying for Phil Jones' game time on the right. At 6.5, Evra is the priciest option in Ryan Giggs' backline, though his attacking intent and suitability to the bonus points system could reap reward, whilst outgoing skipper Vidic has the chance to say his farewells to the home faithful before moving to Inter in the summer.
In spite of the fact that Saturday's clean sheet against Cardiff was his first in eight attempts, Vito Mannone has still averaged 4.6 ppg thus far. The Italian's save points have proven crucial to his appeal and helped him to six 10+ hauls already this season, with 18 bonus points also accrued – at 4.6, he remains outstanding value as Gus Poyet's side roll up to Old Trafford before hosting West Brom in midweek.
Back-to-back trips to Arsenal and Sunderland are hardly straightforward for West Brom's Ben Foster, given both sides' recent attacking form. Nonetheless, the Baggies stopper is the league's form keeper right now, with two clean sheets, a couple of penalty saves and eight bonus points in his last six appearances – priced at 4.7, Foster has averaged 4.1 ppg this season; putting that into perspective, Gareth McAuley's 2.7 ppg is the closest of any defensive team-mate.
Midfield
Having scored two or more goals in all but one of their last nine, City's offensive players will be heavily backed to earn the Fantasy points. Yaya Toure's return from a brief groin problem served up a 14-point haul last weekend and the Ivorian's bandwagon is at full pace once again, though his manager has admitted he will continue to be cautious with his game time, having subbed him off on 60 minutes at the weekend. With David Silva still injured, Samir Nasri's contribution looks increasingly crucial – the Frenchman has two goals and an assist in his last five, and with a 9% ownership and 8.7 price tag, looks a strong City double-up option in midfield for those Toure owners who don't fancy the defence and are keen on Rooney, Luis Suarez and Sergio Aguero up front.
Five goals and two assists in his last four appearances underline Juan Mata's form. The Spaniard has registered 46 points over that run, and despite being introduced from the bench last weekend, has already risen 0.2 in price as Fantasy managers scramble for his signature. Certainly, his two-goal display as a substitute strengthens his chances of replacing Danny Welbeck in the pecking order, though Robin van Persie's potential return may force the Spaniard out wide and surely diminish his appeal – given that the Dutchman has been out of action for so long and has a World Cup on the horizon, though, Giggs may well decide to tentatively ease him back into the action and hand Mata the central role that has served him so well of late.
Whilst Emmanuel Giaccherini is in better form for Sunderland, the Italian seems likely to settle for a bench role behind Adam Johnson. Granted, the 6.4-priced former City player has struggled in recent matches and has now failed to produce any returns in his last five, but prior to that run, Johnson was in outstanding form, with seven goals and a trio of assists in the previous 10 fixtures. The Black Cats' recent displays against City and Chelsea have shown they have no reason to fear a trip to Old Trafford, and with midweek visitors West Brom conceding three times in three of their last five, Gus Poyet's side will be looking to go on the attack to secure their safety and Johnson could still yet play a major part in the closing fixtures.
With two goals and a pair of assists in his last five, Morgan Amalfitano has been vital to West Brom's run of form. Crucially, those returns have been spread out over four matches and highlight the consistency of the 4.3-priced Frenchman – with the onus on securing survival, Pepe Mel's men will be looking to attack and should take encouragement from the fact that weekend opponents Arsenal have one shut-out in the last five at the Emirates, whilst, as mentioned above, Sunderland have conceded in seven of their last eight league fixtures.
Forwards
Gabby Agbonlahor has played a part in each of Villa's last two goals when he's been on the pitch, finding the net once and providing an assist. The 6.7-priced striker scored his side's only goal at Swansea last weekend and looks the one player guaranteed to start up front, regardless of whether Paul Lambert rolls out a 4-3-3 or 3-5-2 formation.
Nikica Jelavic and Shane Long are both ineligible for Hull's upcoming FA Cup final against Arsenal and are therefore guaranteed starters over the two league fixtures. At 6.5 to 5.5, the Croatian is the costlier of the pair but has spot-kicks to boost his appeal – he's delivered five goals, an assist and eight bonus points since arriving from Everton in the winter transfer window. Long has four goals, an assist and seven bonus points since moving to Humberside from West Brom in January though, like his strike partner, travels to Villa in decent form, having headed the leveller at Craven Cottage on Saturday.
Sergio Aguero is the one City forward who looks certain to start both matches. The Argentine may have drawn a blank away to Palace last weekend but a 12-point return in just 63 minutes in his last home appearance is indicative of the damage he can deal, with only Luis Suarez managing to eclipse the Argentine's 7.1 ppg this term. A distant second in this week's Captain Poll, he's already served up seven double-figure hauls this term and could prove a real differential armband option as Pellegrini's side attempt to fire their way to the top.
Wayne Rooney's brace against Norwich last weekend took his tally to eight strikes in as many matches. With Robin van Persie still uncertain to feature and Danny Welbeck liable to take time away from Mata's role in the centre, Rooney's security of game time is key to his appeal. Sunderland have shown they are not prepared to sit back and will come out fighting, which will suit Giggs' side, whilst the midweek match with Hull is the last Old Trafford fixture of a hugely disappointing season and one which United will be desperate to turn on the style for. Those who overlook Rooney altogether risk a real tumble down the rankings if he picks up from where he left off against the Canaries.
Five goals, an assist and eight bonus points in his last three appearances has afforded Connor Wickham a significant bandwagon this week. Still priced at a mere 4.7 and owned by 1% of Fantasy Premier League managers, the Sunderland youngster approaches the double in irresistible form, and with Gus Poyet's side determined to seal their great escape, he looks likely to get amongst the goals once again, with the home clash against West Brom particularly enticing. Fellow Black Cats' frontman Fabio Borini has benefitted from spot-kick duties in two of the last five Gameweeks – his underlying stats are superior to Wickham's, which may just give him the edge over the two matches.
Missed the price rises last night so need to re-think my transfers for this week. Initial plan was to do Mutch + Baines -> Yaya Toure + Demichelis but now I'm 0.1 short off that.

Would you rather
A) Mutch, Baines -> Yaya Touré, Koscielny (-4)
B) Mutch, Coleman -> Yaya Touré, 5.2 def (Kolarov punt?)
C) Mutch, Baines, Coleman -> Yaya Touré, Demichelis, Evra (-8)?

hey, I would go for A, Arsenal are likely to get a clean sheet.

Now what do you thing about my situation.

Iam on -4 already coz i bought Rooney but he is injured.
I am 16 points ahead of my rival and I have the following option

A. Keep Roo, Sturridge and Lallana
B. Roo, Sturridge and Lallana out -> Aguero, Yaya and Wickham in

Please let me know what you think, I am desperate for opinions.
Ps. My rival has Aguero, Ericksen, Sturridge, Suarez, Silva, Sterling.
I have Roo, Studdidge, Suarez, Ramsy, Mata, Lallana and Nasri

Gameweek 37's key matches.

Very intrigued about many games this round. Would like to hear some opinions about:

WHU - TOT - normally, i would be content with Ade here, away games suit him well, plus WHU is not the fortress it appears to be: they conceded at least two at home against all top teams. But BFS's words about strengthening the defence, needing one point and looking for a CS worry me. Watching a bit of WBA-WHU, at times it seemed like there could be goals in it, defences looked fragile, then nothing.

MUN - SUN and SUN - WBA - will Poyet learn anything from the cups situation earlier this season? Will he pick his battles? It's true that they saved their position by getting 4 points away from home against 2 top teams, but that doesn't mean it will happen every week; playing at 100% on the 3rd in an almost impossible game seems madness when you have two relatively accessible ones at home on the 7th and 11th.

EVE - MCI - i have no idea what will happen here. Normally, i would say EVE won't score, because i can't see it, the way they were playing last few weeks: solid in defence (with one exception), but no real threat except for counterattacks. Can't think about one single missed opportunity for EVE in the last few weeks. On the other hand, MCI aren't exactly confortable against this type of teams either, especially away from home. With EVE's defence almost surely restored, i'm very nervous about Aguero here, i just don't see it happening. I like the way they've tried to progressively build his fitness (23-56-63-78 minutes since his comeback), but except for a few minutes against WBA, he didn't look the monster from earlier this season.

CRY - LIV - the one that puzzles me the most. Pulis denied that he will make changes, but the very fact that rumours about such a thing appeared in this first place is a problem. In the interview quoted by FFS he also says something which worries me: "It's difficult, I've been in this position before once you reach safety". I'm scared that they will be more relaxed now - and obviously he knows it too. Normally, if the game was played 4-5 rounds ago, i would be pleased to go without Suarez, the chances of him scoring against such a tough opponent were much lower than against his favourite "clients". 0-1, 1-2 maximum. But now something like 1-4 is not completely impossible imo, with Suarez and even Gerrard extremely hungry after what happened a few days ago (actually Gerrard was so hungry in the second half as well, he continuously tried to find shooting positions and i actually think it was a good idea, sometimes extreme ambition and spirit can be more important than tactics).

I'm interested in your views about these games. Thanks.

Very good...pretty much nailed some of the issues at this time of year.

The combination of teams playing for either..The title, CL qualification, Relegation, or Nothing at all makes for some very unpredictable games...So no comment....

I can see Palace getting a 5-0 hammering. Liverpool will come close to winning the league but agonizingly wont have the goal difference City have.

That's my problem with considering Suarez > Wickham...The only thing Liverpool can do is go for goals.Useless pursuit given the gap but that has to be the strategy.

They won't score 15 goals in 2 matches, no matter how bad Newcastle are.

Nice post mate!

In my opinion..

Spurs will put 2 or 3 past West Ham, they're a better team and West Ham are out of form and vulnerable, 0-2 to Spurs.

United should beat Sunderland at home but Sunderland will be well up for it and will put in a spirited performance, 2-1 to United.

Sunderland should beat West Brom, both very spirited at the moment but Sunderland just seem to have more of an edge about them, 3-2 to Sunderland.

Everton are City's bogey team, but Gareth Barry missing is a big loss. Everton will be buoyed by the returning defenders and after last week's disaster they'll be well up for it to prove a point. I also think Everton want to get Europa league so they'll have something to play for. On the other hand, it's a City side challenging for the league title. Very tough to call, 1-2 to City but anything could happen.

Liverpool will beat Palace, but not by much, and they won't score 4.. 0-2 to Liverpool.

Thanks, it's something like that i was interested to hear. For example, i completely ignored the Barry situation, which is quite important. Slightly more optimistic about Yaya and especially Aguero.

I was looking for more opinions about these, but it appears the new post killed any appetite for something like that. Sometimes i wish this was a forum.

WHU 1 TOT 2
Dogged affair with the Hammers on the back foot early on perhaps as a result of a set piece. A goal forces the Hammers to attack creating a slightly more open affair than perhaps anticipated

MUN 3 SUN 1
United continue where they left off against Norwich but Sunderland put in a more determined display as they attempt to stay up. Competitive match where United seal the game in the last 20 minutes

SUN 1 WBA 1
Both sides are evenly matched where WBA continues their good run of form. Sunderland's determination gets them a well earned point.

EVE 0 MCI 3
Everton are almost without hope of making the champions league. They play as if they have missed their chance and City play like they have just won the premier league.

CRY 0 LIV 4

Liverpool go all guns blazing but are frustrated time and again by a tenacious defence. The shear quantity of chances however still ensures a comfortable victory.

Thanks. I wish i was so sure about the last one; i'm under the impression that no matter what i'll choose there, the opposite will happen.

B with someone other than Kolarov..Gibbs might return!! get him..but first wait on his news!

this 'impossible' save jose was banging on about? anyone seen it coz ive looked and cant find it. All I saw was a point blank header that even hilario would have stopped.

yes he was making it out to be more than it was

Is Mannone, Chester, Demichelis, Yaya, AJ, Rooney and Aguero enough doubles for the gw?? Made my transfers early...

Good...I have a feeling Hazard, Silva and RVP will have a much bigger say in this DGW than we think....

Cant decide which looks better as a complete team this DGW, A or B folks?
Same amount of hits for both.

A)
Boruc
Baines Ivanovic Vidic
Mata YYT Nasri Eriksen
Suarez Rooney Aguero
Subs: Speroni Chester Mutch Mariappa

B)
DDG
Baines Ivanovic Demichelis
Mata YYT Eriksen Ramsey
Suarez Rooney Aguero
Subs: Speroni Chester Mutch Mariappa

cant see city keeping a clean sheat against everton. think kolarov might actually be best pick out of city defence this dgw. cheap, will most likely start second easier game. attacking potential too.

Good point, but Demi has attacking potential and bap potential too.. and he'll play both games just for safety.

Need advice guys. Am 35pts behind ml leader. The have Yaya so I'm going without him & hoping he keeps quiet. My team after -4:

Mannone*
Evra* Kolarov* Azpi
AJ* Mata* Eriksen Rambo
Kun* Rooney* Suarez

bench: Adrian, Chester, Ward, Punch

Worth another hit to get Nasri into midfield to go all-out for the double?

Thanks, their squad is:

Foster/Speroni
Coleman/Cahill/Fonte/O'Shea/Vlaar
YYT/Lallana/Puncheon/Nolan/Livermore
Suarez/Dzeko/Sturridge

On paper mine looks really strong...what do you think?

you have a really good chance of catching him imo. your team is much stronger.

has he made any transfers?

Not yet I was looking similarly strong last week and they got 10pts for Foster, 6 for Fonte, 14 YYT...

Would you say it looks strong without the Nasri move? Reluctant to take too many hits

I reckon you can still catch him without nasri. however they are playing for the league and him and yaya are best mids for city. nasri guranteed most mins aswell and 2 bites at the cherry. saying that eriksen could still do well but west ham at home will be tough

Thanks for your advice, it's made me feel better about my situation going into the gameweek. Would want Eriksen for the final game and West Ham have been a bit poo recently, though I accept they are stronger at home. If they concede early and the crowd get on their backs it could be messy.

Can you do AJ -> Nasri?

Eriksen is a better choice than AJ this week, AJ is soooo out of form.

Anyone worried about Rooney's minutes considering we are so close to the world cup?? not sure he's best captain choice anymore

Not because of the world cup, but because of RVP + Mata.

New Article Posted

Which back 3 should I go for? My defenders: Williamson, Evra, Flanagan, Baker, Stones

Also Suarez -> Rooney? (-4)

Current forwards: Suarez, Dzeko, Aguero

So, who's the best dgw defender for 5.6 or less?

Really need help here

REDDONKEYHAM
Mannoe
Demi iva davies
Nasri aj mata erikson
Giroud rooney suarez

Adrian shaw puncheon demel
Got zilch in the bank !!
Scout Picks
Gameweek 25
Janmaat

Williams

Alderweireld
Wijnaldum

André Ayew

Dele Alli

Roberto Firmino

Sánchez
From the Community…
Comments
Hot Topics
Articles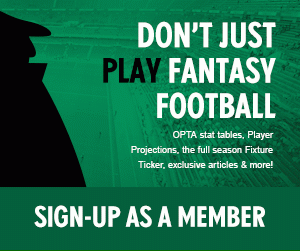 The Watchlist
Goalkeepers
Player
Club
Factors

Up

Forster
SOT

A

,

Vs

Down

Butland
STO

C

,

Vs

Up

Schmeichel
LEI

A

,

Vs

Up

Courtois
CHE

B

,

Vs

No Change

Boruc
BOU

B

,

Vs

Up

Hennessey
CPL

C

,

£

No Change

Cech
ARS

A

,

VsX

Up

Fabianski
SWA

B

No Change

De Gea
MUN

B

No Change

Adrián
WHM

B
Defenders
Player
Club
Factors

Up

Fuchs
LEI

A

,

Vs

,

£

Up

van Dijk
SOT

A

,

Vs

Up

Daniels
BOU

A

,

Vs

,

£

Up

Dann
CPL

A

No Change

Ivanovic
CHE

B

,

Vs

No Change

Alderweireld
TOT

B

No Change

Bellerín
ARS

B

,

VsX

Up

Johnson
STO

C

,

Vs

No Change

Cresswell
WHM

B

Up

Van Aanholt
SUN

A

No Change

Williams
SWA

B

,

£

Up

Smalling
MUN

C

Up

Coleman
EVE

B

,

Vs

Down

Dawson
WBA

C

Down

Moreno
LIV

C

,

Vs

Down

Kolarov
MCI

B

,

Rest

,

Inj
Midfielders
Player
Club
Factors

Up

Mahrez
LEI

A

,

Vs

No Change

Payet
WHM

B

,

Vs

No Change

Dele Alli
TOT

A

,

Inj

Up

Arnautovic
STO

C

,

Vs

,

Inj

No Change

Ozil
ARS

C

,

VsX

Up

Eriksen
TOT

A

Up

Antonio
WHM

A

,

Vs

,

Rest

,

£

Up

Sigurdsson
SWA

A

,

OoP

Down

Barkley
EVE

B

,

Vs

Down

Roberto Firmino
LIV

A

,

VsX

,

OoP

Down

Sánchez
ARS

C

,

VsX

Up

Lingard
MUN

B

,

Rest

,

£

Up

Khazri
SUN

B

Up

Oscar
CHE

B

,

Vs

No Change

Wijnaldum
NEW

B
Forwards
Player
Club
Factors

Up

Vardy
LEI

B

,

Vs

No Change

Kane
TOT

A

Down

Aguero
MCI

A

Up

Diego Costa
CHE

A

,

Vs

,

Inj

Up

Rooney
MUN

A

Down

Ighalo
WAT

C

,

VsX

Down

Lukaku
EVE

C

Up

Afobe
BOU

A

,

Vs

No Change

Giroud
ARS

B

,

VsX

,

Rest

No Change

Defoe
SUN

A
Selection Factors
| | |
| --- | --- |
| A, B, C | Current Form |
| Vs | Favourable Fixtures |
| VsX | Unfavourable Fixtures |
| Rest | Rotation Risk |
| Inj | Injured/Returning from Injury |
| OoP | Out of Position |
| £ | Potential Bargain |
| Sus | Suspended/Near Suspension |
| Player | Team | YC |
| --- | --- | --- |
| Colback | NEW | 9 |
| Byram | WHM | 9 |
| Lucas | LIV | 8 |
| Jones | SUN | 8 |
| Yacob | WBA | 8 |
| Westwood | AVL | 7 |
| Diego Costa | CHE | 7 |
| Huth | LEI | 7 |
| Can | LIV | 7 |
| Mangala | MCI | 7 |
| Shelvey | NEW | 7 |
| Pieters | STO | 7 |
| Dele Alli | TOT | 7 |
| Dier | TOT | 7 |
| Noble | WHM | 7 |
"All players will blank a few times during the season. When almost all do it in the same Gameweek, it is tough to take, but that's just the dark side of probability."

Abreu 42 Community regular