Having started just 20 of Arsenal's league matches in the previous campaign, Laurent Koscielny was mainly overlooked by Fantasy managers as the 2013/14 season got underway. Hampered by calf, back and thigh problems, the Frenchman seemed a little too injury-prone for our liking as Per Mertesacker kicked off the season as many managers' preferred route into Arsene Wenger's back-four:
This time round, though, Koscielny was able to steer clear of the treatment room for the majority of the season and started 32 of the Gunners' 38 league fixtures – despite ending two points behind his fellow centre-half, the Frenchman proved his worth by serving up an average of 4.8 point per game, eclipsing Mertesacker's 4.5 ppg.
The Statistics
Perhaps surprisingly, given their comparative game time in the previous season, Koscielny started off at the same price as Mertesacker in the Fantasy Premier League (FPL) game. Whilst the likes of Aaron Ramsey and Mesut Ozil were quick to shine further up the field, Wenger's team struggled to justify our interest and by the end of Gameweek 8, Koscielny had treated his owners to a single clean sheet and one bonus point, helping him to a measly 15 points.
Arsenal then found their feet defensively and embarked on a run which saw them concede just once in the following six fixtures. Having dropped to 5.3, Koscielny climbed to 5.4 before the 6-3 mauling at City forced us to reassess their prospects – immediately, though, the north London club bounced back with a run of two goals against in the subsequent six matches earning the Frenchman a further 0.2 price rise.
By the end of the season, Koscielny had scored twice for the fourth successive season – equalling Mertesacker's two-goal haul – and had earned 24 bonus points to the German's 23. A total of 155 points was his best return since arriving on these shores and considerably greater than the 2012/13 tally of 83 points, though Koscielny remained fairly under the radar all season – rising to a season high of 5.7 compared to Mertesacker's 6.6, Koscielny ended with an 8% ownership, whilst the German resided in 25% of Fantasy teams.
The Prospects
Given that Arsenal's two centre-halves finished in the top six defenders positions and Wojciech Szczesny ended second amongst keepers, it looks odds-on that Wenger's main men are set to move out of last term's mid-price bracket.
Having served up 11 clean sheets at home (compared to six away) and conceded only 11 times at the Emirates, the Gunners' home record bodes well for their defensive prospects next time round. The main concern surrounding investment in Wenger's defence – particularly if they are to move into the premium price bracket – is their poor record on the road against sides near the top of the table. Considering that Wenger's men shipped 20 goals away from home against the rest of the top five, benching their defenders for such matches, whilst looking the safest option, dents Koscielny's appeal a little, given that we'd have no qualms over playing Chelsea's backline or Everton's full-backs in the same games, for example.
In terms of defensive alternatives, neither Kieran Gibbs or Nacho Monreal have nailed down the left-back berth, though the situation regarding Bacary Sagna's contract situation may prove of interest. If the Frenchman ends up departing the Emirates, Carl Jenkinson could be handed a chance to finally cement a regular role in the back-four and potentially offer us a cheaper option into Wenger's defence.
Ultimately, though, Koscielny and Mertesacker will be the main targets again, with a move to 6.0 or over ruling Szczesny out of the picture. Providing Koscielny can keep pace with the German's goal threat, his ability to deliver clean sheet bonus points on a more regular basis may persuade more to acquire his talents next time round – the Frenchman picked up bonus from 12 of his 17 clean sheets. Whilst Mertesacker collected bonus from only nine of his 16 clean sheets – highlighting how favourably the Bonus Points System is weighted towards the former's style of play.
Which 6 defenders averaged more than 1 shot per game this season?

Kolarov and Ivan right so far

Night of Drinking :
A man and his pet sheep walk into a bar. It's about 5pm, but they're ready for a good night of drinking. They start off slowly, watching TV, drinking beer, eating peanuts. As the night goes on they move to mixed drinks, and then shooters, one after the other. Finally, the bartender says: "Last call." So, the man says, "One more for me... and one more for my sheep." The bartender sets them up and they shoot them back. Suddenly, the sheep falls over dead. The man throws some money on the bar, puts on his coat and starts to leave. The bartender, yells: "Hey buddy, you can't just leave that lyin' there." To which the man replies: "That's not a lion, that's a sheep."

Since were doing Welsh jokes..

"I you hear the price of lamb in Wales has just gone up?

It's now £4.95 per hour"


What do you call a sheep tied to a lamp post in Wales.
Answer. A sex club !

Movies, Front Row or How Do You next?

I am but your copy & paste jokes are putting me to sleep if that's the plan.

Explains why I haven't been posting much or pasting terrible jokes.

I dunno opti - I feel every time I post TMs like a shadow , always critical of anything I say , I think he picks on me at times , I'm not sure why tbh.

Anyone had a look at World Cup FF games? Me and my mates usually do the McDonald's one. I'm assuming there will be a run down of them on the site at some point...

check hot topics and articles , many people analising the teams and rules about mcdonalds game

An update on the FFS World Cup 2014.

http://www.fantasyfootballscout.co.uk/2014/05/12/ffs-uefa-summer-update/

We're aiming to launch on 23rd May 2014

Did we reach a conclusion if those that wildcarded in GW31 benefited more than those that used it earlier in the season?

GW30 here. Paid off decently!

Thank you Opti! Another consistent one for you too bud.

Maybe GW31 was second best.

GW30 was the correct answer. Won FPL for Tom.

You certainly killed it with yours.
If only Tom planned with GW31 in mind then he would have won FPL much easier.

I had the same problem. Playing WC in GW30 looked ahead to all three remaining DGW so targeting a strong GW30 was a low priority.

The multiple DGWs towards the end of the season this year was good for late WCers, and the fact that the players doing well at the start of the season were a small group which didn't change means that an early WC wasn't necessary in most cases.

I think it all depends on the season though and there's no best practice, rather we just have to adapt depending on the season

But perhaps you might have already have been in the top 25k before GW31 if you had played an earlier wildcard? Probably impossible to tell!

The ideal might be to have such a strong squad in the early GWs, and so few injuries, that there is no need for an early wildcard: the wildcard can then be saved for the late DGWs.

But in the real world few of us manage to achieve that, so it becomes a difficult decision as to when is the best time to play it, or to tell afterwards whether or not we got it right.

Was just reading AB's excellent piece on scouting Belgium, and he seemed to think Witsel is nailed on.
With the mad points available for recovered balls along with regular attacking points, can anyone tell me if Witsel is a good option for the McD game ?

On an aside, are we supposed to restrict WC comments to posts tagged "World Cup" ?

In the "Articles" tab next to the usual Hot topics. It's where the community submissions go now

There is practically nothing else to talk about, so no need for that.
Yep, should be a great option if the rules stay the same

Well, if this player is good at doing things that gets lots of points, then he may get lots of points.

I've not seen them posting at the same time.

When is JRod expected back?

He's not the main worry, the potential loss of Pochettino, Lovern, Shaw & Lallana(Maybe Schneiderlin too) in one summer will be detrimental, there's only so much that can be fixed in one summer.

and Hull and Swansea - Bony

Are we ever going to get a "View All" button for the Hot Topics like we have for the Articles ? Might be useful with the surprisingly quick rate at which Hot Topics are moving along ..

How much do we reckon Diego Costa will cost if/when he moves to Chelsea?

And would you pay it?

I'm not too sure about him personally, I'd prefer Hazard, especially with Mourinho's counter-attacking approach plus set-pieces.

Arsenal to go behind then win 3-1 is my prediction.

Ave a bang on that

Hull scorer? Nice odds for the scorecast.

Hull wont attack.

They will set up defensively & reply on set pieces for a goal.

2-0 Arsenal.

Bookmark this!!

Costa has played most of his career in Spain, slow paced footy & you get too much time on the ball.

He could struggle to adjust to the hustle of the EPL.

He is a wait & see for me.

Have to agree.

I'm hoping many will be tempted and lower Hazard's ownership!

Looked clueless against Chelsea despite the peno goal

Maybe you're just a little over sensitive?

I hate it when people are supercilious.

K guys, first goalscorer for the London Arsenals:

a) Podolski
b) Giroud
c) Ramsey
4) someone else

Answers on a postcard please.

him or kos is a good shout

What do we think of the rumour doing the rounds that Robben will sign for United ?

Sounds like lazy journalism

LVG set to be United manager

LVG is Dutch and has a history of signing Dutch players

Robben is the best Dutch player along with RVP

Therefore United will sign Robben

(Also Hummels, Depay and Strootman)

Oh yeah, true! I would still like him at United! Dutch, German, all the same really.

😆 Don't let the Dutch or Germans hear you say that 😆

Hummels would be great but my impression from a few channels at Dortmund is he's loving life at the club. Now if United offer him insane wages, perhaps but I think a lot of Dortmund players are starting to realise the grass isn't greener. Sahin nearly ruined his career leaving, Kagawa is similar and may well return in a season or two, even Gotze has been frustrated with the lack of time he gets at Bayern. My gut feeling is Lewandowski has made a big error leaving Dortmund too. I'd be surprised if we see many departures.

He's still fecking class though.

This is bound to be having a bearing on Dortmund players minds, bt it is going to be different for each position, and how manager intends on playing the player. The attributes Hummels has will fit prem cb the best

I think there is just a lot of wariness around. Particularly if you look at Dortmund and United, United took their best play maker, turned him into a winger and then proceeded to call him shit. While Hummels wouldn't have such a problem, I think a few of them have been turned off leaving in general. As I said though, wages could come into the matter.

How do you think LVG will play kagawa? I think he could be given play maker position this year, with mata out wide and a new signing out the other wing. Would make the most out of RVP up top. Obv this means Rooney doesn't make first team bt plenty of game time be rotated in both hole and fwd position. Would make for an unbelievable front 4

Problem is Mata doesn't have the pace to track from out wide.

I'd love Kagawa to get a few games in the hole but I've kind of given up hope on that happening. LVG tends to play a 4-3-3 so if he comes into United it'll be interesting to see how exactly he utilizes them. Could go a similar way to how Dortmund used to but I'm not sure.

Heavily linked with strootman to with deal "waiting to be announced" even though as I was informed here yest, he's out with a long term injury. Think ur right with the lazy journalism

Surely LVG has enough FPL experience to know u can't plan transfers in advance, ther will be other more emergent problems needing repairs by then ha

Utd fan. Robben is clearly a different class and fits perfecty into (pre moyes) united ethos of winger, but would rather someone younger if there going to spend that much cash on a player long term. But he could be the perfect quick solution utd need to get back on track. What's ur opinion?

"I want to eradicate the memory of that last defeat," Cleverly said.
*few seasons

Just seen that they're handing out those 1960 clapper things to all the fans at Wembley. Reminds me of the infernal noise we've been hearing from Norwich and Fulham games when they've been handing out branded clappers because they're fans have lost the will to cheer. It's the new Vuvuzela people. Avoid.

With no beer this weekend I've invested the beer tokens (100) on arsenal barca double. Only after am I seeing barcas current form, in for a sweat

Messi has scored more goals against Atletico than any other side (tied with Osasuna)
barca have won their last 6 games at the Nou camp against Madrid, averaging 4.3 goals a game

not a lost cause

The guys already made the bet! Shhhh! 😀

Greatly appreciate the reassurance ha! Madrids form hasn't been that great either tbf

Milner, Hart, Nasri and Dzeko are all due to extend their contracts at City.

Pantilimon is likely to leave in search of 1st team football.

Dzeko is going to tempt us again at the start of next season isn't he? He is such a frustrating player in FPL. Own him and he gets benched, don't own him and he scores goals.

Hopefully the Arsenal trophy drought continues.

Enjoy the next 5 hours, because the trophy is ours! 😉

What's the best site for world cup fantasy football?

mcdonalds in my opinion. only because its the official though, the telegraph is open if your itching for tinkering.

beating hull? if thats the perfect excuse wenger is worse then i feared :P. i think he realises this is the time where we need to strengthen, arsenal are very underestimated.

They say it every year but if Wenger qualifies for the CL and wins the FA cup having had Walcott injured, Ramsey injured, Wilshere injured, Ozil injured etc. then he'll make the argument that they've done very very well this season. So why bother spending? 😉

shoot me now. haha. we need to spend. i guess we should just expect a stingy wenger then anything more is a bonus.

hi guys i think ill move the original deadline of 1pm too 3pm for team submissions for my gw 39 game.

United fans think they'll sign Hummells? Barca, Liverpool and City are all after a centre back, and they'd be after him (Barca are officially) and have more chance. Don't persecute yourselves. Go for Lovren. He's good.

united had a shocking season, BUT they are still the biggest brand in world football outside of maybe real madrid. I am not a united fan, but many players will see it as a project and will want to be apart of it, going down as united heroes. i hope im wrong, but united still have much allure.

Champ league, style of play, manager all able a massive difference. Liverpool couldn't sign anyone established whilst out of it, and though that's partly due to tight arse owners, their name meant zilch. United may have more recent success, but without the wine loving alcoholic, they ain't the draw they were.

i hope your right donald, most neutrals would like a fall from grace, but mata went and he is a big name.

Chelsea let him go to United because they knew that United were not a threat but that he might enable them to take points off some of Chelsea's rivals.

They would never have allowed him to sign for City, Liverpool or Arsenal.

Think your right. The truth is history and ethos means very little in modern game, with European giants now born overnight, the best players just want to be part of the best team atm, and that means the team that spends the most

shamefully thats right. i wouldnt write united off though, not by a long shot.
Scout Picks
Gameweek 25
Janmaat

Williams

Alderweireld
Wijnaldum

André Ayew

Dele Alli

Roberto Firmino

Sánchez
From the Community…
Comments
Hot Topics
Articles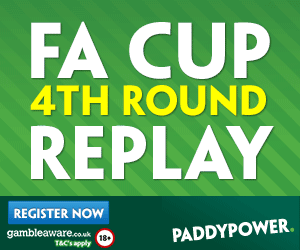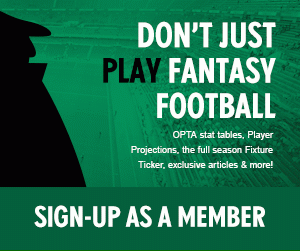 The Watchlist
Goalkeepers
Player
Club
Factors

Up

Hennessey
CPL

C

,

Vs

,

£

Down

Butland
STO

C

,

Vs

Up

Schmeichel
LEI

A

Up

Forster
SOT

A

Up

Courtois
CHE

B

,

Vs

Up

Fabianski
SWA

A

No Change

Boruc
BOU

B

No Change

De Gea
MUN

B

No Change

Cech
ARS

B

,

VsX

Up

Foster
WBA

C

,

VsX
Defenders
Player
Club
Factors

Up

Ivanovic
CHE

A

,

Vs

Up

van Dijk
SOT

A

Down

Baines
EVE

B

,

Vs

Up

Dann
CPL

C

,

Vs

Up

Cresswell
WHM

B

,

Vs

Up

Williams
SWA

A

No Change

Dawson
WBA

C

Down

Alderweireld
TOT

B

No Change

Daniels
BOU

A

,

£

No Change

Fuchs
LEI

A

No Change

Van Aanholt
SUN

A

,

VsX

Down

Bellerín
ARS

C

,

VsX

Down

Smalling
MUN

C

Down

Moreno
LIV

C

,

Vs

Down

Johnson
STO

B

Down

Kolarov
MCI

B

,

Rest

,

Inj
Midfielders
Player
Club
Factors

No Change

Payet
WHM

B

,

Vs

Up

Roberto Firmino
LIV

A

,

Vs

,

OoP

Up

Dele Alli
TOT

A

,

Inj

Up

Barkley
EVE

C

,

Vs

Up

André Ayew
SWA

A

,

OoP

Up

Eriksen
TOT

A

Down

Ozil
ARS

C

,

VsX

No Change

Mahrez
LEI

C

,

VsX

Up

Sánchez
ARS

C

,

VsX

,

Inj

Up

Antonio
WHM

A

,

Vs

,

Rest

,

£

No Change

Willian
CHE

B

,

Vs

,

Inj

No Change

Wijnaldum
NEW

B

Down

Arnautovic
STO

C

,

Vs

,

Inj

Up

Silva
MCI

C

No Change

Johnson
SUN

B

,

VsX
Forwards
Player
Club
Factors

No Change

Aguero
MCI

A

No Change

Kane
TOT

B

Up

Vardy
LEI

C

Up

Diego Costa
CHE

A

,

Vs

,

Inj

No Change

Ighalo
WAT

C

,

VsX

Up

Rooney
MUN

A

Down

Lukaku
EVE

C

,

Vs

No Change

Giroud
ARS

B

,

VsX

,

Rest

Up

Afobe
BOU

A

,

£

Down

Austin
SOT

B

,

Inj
Selection Factors
| | |
| --- | --- |
| A, B, C | Current Form |
| Vs | Favourable Fixtures |
| VsX | Unfavourable Fixtures |
| Rest | Rotation Risk |
| Inj | Injured/Returning from Injury |
| OoP | Out of Position |
| £ | Potential Bargain |
| Sus | Suspended/Near Suspension |
| Player | Team | YC |
| --- | --- | --- |
| Colback | NEW | 9 |
| Byram | WHM | 9 |
| Lucas | LIV | 8 |
| Jones | SUN | 8 |
| Yacob | WBA | 8 |
| Westwood | AVL | 7 |
| Diego Costa | CHE | 7 |
| Huth | LEI | 7 |
| Can | LIV | 7 |
| Mangala | MCI | 7 |
| Shelvey | NEW | 7 |
| Pieters | STO | 7 |
| Dele Alli | TOT | 7 |
| Dier | TOT | 7 |
| Noble | WHM | 7 |
"All players will blank a few times during the season. When almost all do it in the same Gameweek, it is tough to take, but that's just the dark side of probability."

Abreu 42 Community regular