After strengthening his defence with the acquisition of Rio Ferdinand and Steven Caulker, Harry Redknapp's third signing of the summer saw Jordon Mutch arrive at QPR from Cardiff City. The midfielder has signed a four-year deal with the Loftus Road outfit and follows former Bluebirds team-mate Caulker back into the Premier League just three months after the Welsh club dropped down into the Championship.
Discussing his move with the R's official website, Mutch was delighted to be given the chance to prove himself in the English top-flight once again:
"I don't see a better place for me than QPR at the moment. The club is heading in the right direction and I'm really excited about the season ahead. I thought I had a good first season in the Premier League last year with Cardiff, so I was delighted when QPR came in for me and offered a route back to the top flight. I'm really happy to be here and hopefully we can do well this season."
The History
Mutch spent five years in the Derby County youth system before moving to Birmingham City as a 15-year-old in 2007. Handed his debut by the St Andrews outfit the following year, Mutch was then confined to a wheelchair for three months after his rapid rate of growth caused fractures in both feet.
Fully recovered, he was sent out on loan to Hereford Town (four appearances) and Doncaster Rovers (two goals in 17 league games) in 2009/10 before being farmed out to Watford the following season, where he netted five times and provided six assists in 23 matches. Mutch was unable to convince the Blues of his worth, though, and, after a total of two goals and nine assists in 36 outings, was sold to Cardiff in June 2012.
The midfielder's first season with the Bluebirds was far from impressive, though. Mutch failed to produce any returns over 22 Championship appearances and was far from our Fantasy radars when the Welsh outfit arrived in the Premier League last summer. Initially, his Fantasy fortunes looked non-existent after he was handed just one minute's game time in the opening five matches but Mutch's eye for goal prevailed, as he proceeded to serve up seven goals and five assists over the course of his first year in the English top division.
On the international stage, the 22-year-old has featured at youth level a total of nine times for England but is yet to make the step up to the senior side.
The Prospects
There's no doubt Redknapp requires a goal-getting presence in midfield to take the pressure off Charlie Austin up front. Last season, Junior Hoilett was top scoring midfielder for the R's with just four goals in 38 Championship appearances and although the Canadian has impressed over the summer, Redknapp' admitted Mutch's record in the Premier League was a big factor in persuading him to splash the cash:
"Jordon's a fine young player, with a big, big future. He's already shown what he can do at this level with Cardiff last season with a decent goals return – and this move will provide him with a great platform to take his game on to the next level. He wants to learn and improve his game. He's a good pro with a great attitude and this is a big opportunity for him at QPR."
Despite being limited to 2,399 minutes for the Bluebirds last year, Mutch still managed a total of 55 attempts last year. This equates to 43.6 minutes per shot – put into perspective, it's just behind Eden Hazard (41.5), Christian Eriksen (42.2) and David Silva (42.4). In terms of minutes per goal, the QPR new boy's average of 342.7 minutes in 2013/14 was quicker than the likes of Adam Lallana and Juan Mata (355.8) and underlines his potential.
Indeed, Mutch's arrival looks to put pressure on Hoilett for the season ahead. A recent change in tactics has seen Redknapp roll out a 3-4-1-2 formation over the summer, with Hoilett stationed behind the front pair, but the Canadian may be forced out wide or even onto the bench if the R's boss turns to the more prolific Mutch to take up the role in "the hole".
After proving himself as a genuine budget option last term, Mutch could be set for further investment once again. Yet to be listed in the Fantasy games, a cost of 5.5 (the same as Adel Taarabt) looks the likeliest scenario in the Fantasy Premier League (FPL) game on the back of last season's heroics for the Bluebirds – more expensive than the likes of Hoilett and Joey Barton (5.0), for example, but as the numbers above suggest, Mutch's frequency of attempts is more in line with pricier alternatives.
With home encounters against Hull, Sunderland and Stoke in the first five Gameweeks, Redknapp's side have a decent opening run in front of their own fans. Certainly, trips to Spurs and United dent their opening appeal but, bearing in mind Mutch scored three times against Liverpool and also netted against Chelsea last season, it's fair to say that Redknapp's new acquisition has already shown signs that he's more than capable of rising to the occasion.
Further Reference
Jordon Mutch Transfer Markt Page
For those who missed it, this is what I posted in the DZ earlier

'Morning everyone. I've put my binoculars on these days, yesterday I came up with a potential 4.0 option in Bartley (http://www.fantasyfootballscout.co.uk/comment/7763485), today I've potentially found another 4.0 option who looks to be nailed on for the start of the Premier League season.

Presenting to you...err....Alan Hutton

Here is some of the information that I gathered from the following articles in the Birmingham Mail and the Daily Mirror:
(http://www.birminghammail.co.uk/sport/football/football-news/aston-villa-thought-villa-career-7575307
http://www.mirror.co.uk/sport/football/news/aston-villas-alan-hutton-forgives-4002325)

'The Scottish defender feared for his Premier League future and a move away from Villa Park was looking inevitable. When Paul Lambert told him he was in his plans for the forthcoming season it came as a massive surprise.Hutton now appears to be Villa's first choice right-back going into the 2014/15 campaign. It's a massive turnaround from the past two seasons, in which he hadn't played a single game during Lambert's reign. Hutton has earned his spot after an excellent pre-season playing five games, including scoring the only goal at Walsall on Tuesday night in a 1-0 win. Lambert needs all his experienced players ahead of challenging season with the club up for sale and little funds for new players.'

Here is what Hutton had to say:

'It's been a long time since I was involved so to be given this opportunity again is great. Who would have thought it could have happened? Certainly not me. With what has gone on in the last few seasons I thought my future would lie elsewhere. But the boss has given me a chance to show what I can do. I think I've had a decent pre-season and he's stuck with me. I just have to work double hard now to show everybody I can play. I want to prove to everybody I'm capable of doing it.'

Another point worth mentioning is that Hutton and Wisdom rotate home and away perfectly over the season

Cheers 😀 '

I do actually, but some think that Gamboa might play on the right side of midfield with Wisdom RWB

Good read TFF. Although I think his goal was rather fluky. Not getting an AVL defender from the start btw.

The site seems much better without the RMTs

There some decent discussions today

Bego/Hamer
Luis/Verm/Chester/PVA/Naylor
Siggy/Ramsey/Mata/Fabregas/Lamela
Rooney/Costa/Barnes

Certainly makes things better and spaced.
Hopefully those after help will continue to try & help others in return.

People can still get help here using the "Terry or Cahill" format .

I'm considering Austin for my 3rd striker, and the fact he's on penalties is definitely a positive. However, I decided to look at how many penalties the promoted clubs got in the PL season after getting promoted, over the last 5 seasons.

(2/3 means that they got 3 penalties that season, scoring 2 of them. 15th means they received the 15th most penalties out of the 20 teams in that season)

2013/14
Cardiff - 1/1 - 20th
Hull - 2/3 - 11th=
Crystal Palace - 5/6 - 4th=

2012/13
Reading - 4/4 - 10th=
Southampton - 3/3 - 14th=
West Ham - 4/4 - 10th=

2011/12
QPR- 2/3 - 14th=
Norwich - 2/2 - 19th=
Swansea - 5/6 - 5th=

2010/11
Newcastle - 4/4 - 13th=
WBA - 3/5 - 8th=
Blackpool - 7/8 - 2nd=

2009/10
Wolves - 2/2 - 19th=
Birmingham - 2/3 - 14th=
Burnley - 6/6 - 7th=

I was expecting the promoted clubs to be near the bottom of the table in terms of penalties, but these results have proved me wrong. What has really caught my eye is that the 3rd promoted team (promoted via playoffs) has got the most penalties out of the promoted sides in the next season over the past 5 years. If that trend continues, then Austin should have ~5 chances to score from the spot. I can see at least 10 goals from him and I think he's a good option as a cheap third striker that allows you to add some funds into your midfield and back line.

Conclusion: I was bored and felt like doing some penalty research. I know that there are heaps of factors I haven't looked at and there are some 'fluke' seasons, but here are the results so make of them what you will

That is probably the most strenuous connection I've ever seen to justify a team getting >5 pens

lol

good job, nothin like some revisionism to back up a point 😉

My main worry with Austin is this

How many strikers come up with promoted teams and have a good season?

Some score for fun in the championship but once they get in the premiership the goals nearly always dry up. Austin has looked good in pre season but look at the teams Leicester have played against

it seems to me like you have still infected with QPR disease 😉

interesting....as far as im concerned though that correlation is conincidental

Coincidence. I'm sure penalties has nothing to do with how a team got promoted.

Great effort. But there are too many factors/correlations to consider to justify the probability of penalties - referees, simulations/dives, etc. Nothing's concrete here.

I'm considering Austin but rotating with Puncheon. First 6 fixtures are HUL WHM SUN BUR STO LEI

Who are people opting for instead of Bavies if he is a rotation risk?

Cahill or Terry

Whose number one pick

I think Cahill will play more of the entire season. But I think terry should start off 'nailed on'

Is Terry more important and therefore more likely to be rested during easy games?

where is he likely to play and whos place is he taking tho?

central defense as Chico has left

Thanks a lot Moin, lets hope Swansea don't sign another center back now!

What is everyone's thought on Bolasie? Seems better value than puncheon and has nice returns of you could get someone to rotate with him. But the thing I want to know is how sure a stayer is/was h e under Pulis?

I brought this up a couple of weeks back, he looked great towards the end of last season. Not sure how guaranteed his place is but he looks promising.

Are there any 4.0 defenders worth having or at least nailed on?

Tell me more about this Bartley

He has two sisters called lisa and maggie

he once ate a curly wirly in one

new Post

Is young worth the gamble for the first few fixtures for united? I have to drop evans to get him.
He can switch right/left and his only competiton is valencia, rafael who is injured and shaw (not fit). And we know how LVG feels about fitness.

Anyone starting without Eriksen AND Lamela.. toss of a coin decidin between the two. thinkin of startin with Sterling, Fabregas, Sanchez, Siggy, Mata and swapping one for the better option after a few weeks

Nasri helps give some city cover althoguh he is inconsistent at times, however, finished last season in great form and wasn't at WC

I kept some stats on ownership%:over the last two weeks:

25-7-2014 30-7-2014 6-8-2014

Goalkeepers
Howard 25,4 Howard 26,4
Krul 22,6 Krul 21,5
Myhill 19,3 Myhill 19,6
De Gea 16 De Gea17,4
Mannone 13, 4 Mannone 12,1

DEFENDERS:
Shaw 30,3 Shaw 30,4 Shaw 26,3
Vlaar 25,8 Vlaar 24,7 Vlaar 23
Debuchy 25,2 Debuchy 22,9 Lovren 22,8
Bruce 20,5 Bruce 20,5 Bruce 20,5
Merte 19,6 Lovren 18,9 Deb 19,9

MIDFIELDERS:
Sánchez 33,8 Sanchez 31,3 Barkley 28,9
Barkley 28,7 Barkley 28,2 Sanchez 27,3
Hazard 23,6 Hazard 23,6 Sterling 24,8
Ramsey 20,8 Ramsey 20,6 Yaya 22,5
Yaya 19,5 Yaya 20,5 Hazard 22
Fábregas 17,6 Ramsey 21,5
Sterling 17,6 Mata 20
Mata 16,5 Fab 18,6
Eriksen 14,9 Eriksen 14,2
FW:
Sturridge 31,7 Sturridge 30,5 Rooney 38,1
Remy 24,3 Rooney 30,5 Sturridge 27,7
RvP 21,5 Costa 22 Costa 25,4
Giroud 21 Giroud 21,4 Lukaku 22
Rooney 20,2 Remy 18,7 Giroud 18,4

Mhh adjusted it for ten minutes and it still comes of as this! Any way to delete my post and repost it in a better way?

Hey there

Do you think it's worth just having 1 defender of value with 4 other cheaper defenders from teams with a tight defence ie Stoke/ west ham and having a midfield with all 9 million value or more and 2 quality attackers and a cheap one OR should I spread the value throughout the team. looking at last years points seems the midfield is where most of the points are going to be won

Really appreciate some input

having 3 4.5's and below seems to be the preferred on here at the moment. Finding guaranteed 4.0 defenders is the real problem! I have currently gone for Windom and Hutton due to nice rotation and good chance of starts.

Yeah

I've gone for Wisdom, N Taylor and O'Shea as my cheaper Defenders then

Toure/Fabregas/Ramsey/ mata and erikssen in mid with

Rooney and Lukaku up front with either austin, Bojan or frazier Campbell as sub

Do you reckon I should get a cheaper midfielder and pop Dzeko upfront instead of the cheaper forward??

A lot of people seem to be going for 3-5-2 on their RMT's. Any proof that this is a better bet for spreading the cash rather than a 3-4-3. Several others have 3-4-3 with a cheapy third striker (austin/bojan)

Currently i have opted to invest cash on those guaranteed big hitting strikers (went for costa, rooney and lukaku which may change depend on lukakus last pre season) but maybe someone has a counter argument to this!??

No proof they just feel it utilises midfield options better. I can't look past 3 4 3 though

Caulker. Goal threat and also had the most blocks last season which will help his BPS.

If you could only have 2 out of Sanchez mata or Hazard who would the 2 be? Note. I have Rooney and Costa up front.

Mata, and ... errr ... 'Azzzarrr.
Scout Picks
Gameweek 26
Coleman

Ivanovic

van Dijk

Daniels
Payet

Oscar

Roberto Firmino

Ozil
From the Community…
Comments
Hot Topics
Articles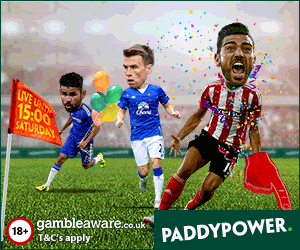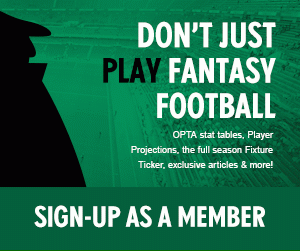 The Watchlist
Goalkeepers
Player
Club
Factors

Up

Forster
SOT

A

,

Vs

Down

Butland
STO

C

,

Vs

Up

Schmeichel
LEI

A

,

Vs

Up

Courtois
CHE

B

,

Vs

No Change

Boruc
BOU

B

,

Vs

Up

Hennessey
CPL

C

,

£

No Change

Cech
ARS

A

,

VsX

Up

Fabianski
SWA

B

No Change

De Gea
MUN

B

No Change

Adrián
WHM

B
Defenders
Player
Club
Factors

Up

Fuchs
LEI

A

,

Vs

,

£

Up

van Dijk
SOT

A

,

Vs

Up

Daniels
BOU

A

,

Vs

,

£

Up

Dann
CPL

A

No Change

Ivanovic
CHE

B

,

Vs

No Change

Alderweireld
TOT

B

No Change

Bellerín
ARS

B

,

VsX

Up

Johnson
STO

C

,

Vs

No Change

Cresswell
WHM

B

Up

Van Aanholt
SUN

A

No Change

Williams
SWA

B

,

£

Up

Smalling
MUN

C

Up

Coleman
EVE

B

,

Vs

Down

Dawson
WBA

C

Down

Moreno
LIV

C

,

Vs

Down

Kolarov
MCI

B

,

Rest

,

Inj
Midfielders
Player
Club
Factors

Up

Mahrez
LEI

A

,

Vs

No Change

Payet
WHM

B

,

Vs

No Change

Dele Alli
TOT

A

,

Inj

Up

Arnautovic
STO

C

,

Vs

,

Inj

No Change

Ozil
ARS

C

,

VsX

Up

Eriksen
TOT

A

Up

Antonio
WHM

A

,

Vs

,

Rest

,

£

Up

Sigurdsson
SWA

A

,

OoP

Down

Barkley
EVE

B

,

Vs

Down

Roberto Firmino
LIV

A

,

VsX

,

OoP

Down

Sánchez
ARS

C

,

VsX

Up

Lingard
MUN

B

,

Rest

,

£

Up

Khazri
SUN

B

Up

Oscar
CHE

B

,

Vs

No Change

Wijnaldum
NEW

B
Forwards
Player
Club
Factors

Up

Vardy
LEI

B

,

Vs

No Change

Kane
TOT

A

Down

Aguero
MCI

A

Up

Diego Costa
CHE

A

,

Vs

,

Inj

Up

Rooney
MUN

A

Down

Ighalo
WAT

C

,

VsX

Down

Lukaku
EVE

C

Up

Afobe
BOU

A

,

Vs

No Change

Giroud
ARS

B

,

VsX

,

Rest

No Change

Defoe
SUN

A
Selection Factors
| | |
| --- | --- |
| A, B, C | Current Form |
| Vs | Favourable Fixtures |
| VsX | Unfavourable Fixtures |
| Rest | Rotation Risk |
| Inj | Injured/Returning from Injury |
| OoP | Out of Position |
| £ | Potential Bargain |
| Sus | Suspended/Near Suspension |
| Player | Team | YC |
| --- | --- | --- |
| Colback | NEW | 9 |
| Yacob | WBA | 9 |
| Byram | WHM | 9 |
| Lucas | LIV | 8 |
| Jones | SUN | 8 |
| Westwood | AVL | 7 |
| Diego Costa | CHE | 7 |
| Huth | LEI | 7 |
| Can | LIV | 7 |
| Mangala | MCI | 7 |
| Shelvey | NEW | 7 |
| Pieters | STO | 7 |
| Dele Alli | TOT | 7 |
| Dier | TOT | 7 |
| Brunt | WBA | 7 |
| McClean | WBA | 7 |
| Noble | WHM | 7 |
"All players will blank a few times during the season. When almost all do it in the same Gameweek, it is tough to take, but that's just the dark side of probability."

Abreu 42 Community regular