For the final time this season, we roll out our pre-deadline members article focussing on the weekend's armband conundrum. We delve into the Opta data for the main contenders and assess the team statistics and Rate My Team's reckoning, before rounding off with our opinion on the current poll standings in light of the data analysis, including our view on differential captains.
The Captain Poll
With 64% of the votes cast so far, Alexis Sanchez is the runaway armband favourite as Arsenal welcome relegated Villa to the Emirates. The Chilean's goal at City last weekend means he's scored or assisted in eight of the last ten and he looks poised to run the relegated outfit ragged as Arsene Wenger's side search for the win that could yet see them jump above Spurs into second.
Sergio Aguero is surprisingly backed by a mere 9% for City's trip to Swansea. Having netted in each of his last six league outings, the Argentine rolls up to the Liberty in his most consistent form of the season and with both Ashley Williams and Lukasz Fabianski set to be rested for the hosts, Manuel Pellegrini looks favourite to see out his Etihad tenure with the three points.
An injury to Danny Welbeck brings Olivier Giroud (7%) into consideration as a final day differential. The Frenchman finally broke his scoring drought at City on Sunday and looks poised to lead the line as Arsenal go for Villa's jugular. Mesut Ozil is another overlooked option, having recovered from a minor hip injury in time.
Further down, Southampton trio Dusan Tadic (two goals and six assists in four), Sadio Mane (five goals in four) and Shane Long (three goals and as many assists in five) all have the form to dismantle a Palace side with one eye on their Wembley cup final. Ronald Koeman's have swept aside City and Spurs in their last two and have the momentum to take advantage of a defence that's managed two clean sheets in their last 18 outings.
Harry Kane and Jamie Vardy are largely overlooked as they battle it out with Aguero for the Golden Boot. Granted, Kane has failed to score in three of his last five ahead of a trip to Newcastle, though it's worth noting those have all been at White Hart Lane – indeed, he's netted six times in his last quartet of road trips. Vardy's brace against Everton takes him to within one goal of the Spurs striker as he visits a Chelsea defence with a single shout-out in 13 league fixtures.
With just 1% of the votes, Eden Hazard is also shaping up as a final day armband differential with four strikes in as many matches ahead of a visit from champions Leicester.
Are the current rankings backed up by the underlying statistics, though?
We kick off by breaking down the player and team data for their respective last four matches in order to shed a little more light on the situation.
Player Statistics Analysis – Last Four League Matches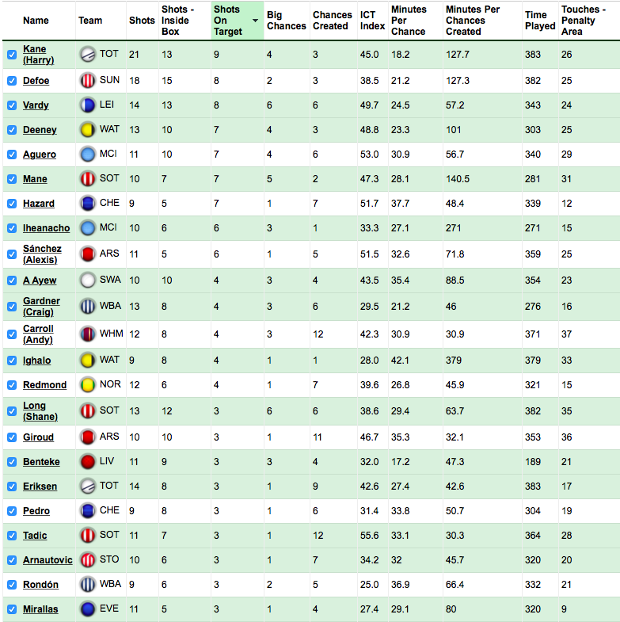 The table suggests that, despite picking up the points, Sanchez and Aguero haven't quite been at their very best in recent weeks. Although the pair are identical for attempts on goal, with 11 apiece, as many as nine other players in our assessment better that tally.
In terms of close-range threat, the City striker has fired double the number of efforts (ten to five) of Arsenal's wide man and, perhaps crucially, also leads him by four big chances to one.
Giroud also beats Sanchez by ten shots inside the box to five and has created an impressive 11 chances for his team-mates. The Frenchman has mustered a mere three shots on target, though: just half the Chilean's six.
Aguero's Golden Boot rivals Kane and Vardy better the Argentine for both shots in the box (13 apiece) and efforts on target, with nine and eight respectively.
Indeed, Kane is top in our analysis for accurate efforts, whilst Vardy leads the way here for big chances – he's joint-top along with Long on six apiece. Mane is tucked in just behind with five big chances, underlining the threat boasted by the Saints' attack.
That's backed up further by the creative data – Tadic sits joint-top with Andy Carroll here for key passes (12) and he has fired 11 attempts, with seven arriving inside the box.
Team Statistics Attacking – Last Four League Matches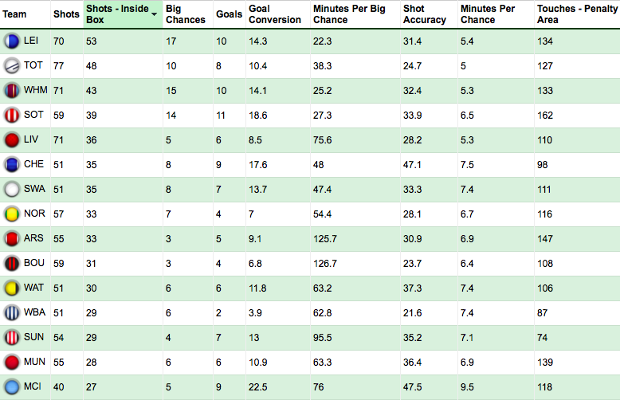 Neither Arsenal or City's attacking numbers look too impressive here. Arsenal have managed just 33 efforts inside the box in their last four, whilst City have only fired 27 close-range shots – more or less half of Leicester's 53 at the top. Although Manuel Pellegrini's side scored nine times, they've been saved by an impressive 22.5% goal conversion rate in recent weeks.
In terms of big chances, the Gunners' meagre tally of just three is better only than relegated pair Villa and Newcastle (two). That's all the more frustrating bearing in mind they sit second for touches inside the opposition box. Furthermore, Arsenal have netted only 9.1% of their total attempts.
City's five big chances also fares very poorly against Leicester, West Ham and Southampton. Indeed, it's no coincidence that the latter three lead the way for both big chances and goals.
Tottenham's numbers also catch the eye, despite their recent setbacks. Mauricio Pochettino's team have produced more shots (77) than any side in their respective last four league outings and sit second only to Leicester for efforts inside the box.
Team Statistics Defending – Last Four League Matches

Sanchez and Aguero's upcoming opponents, Villa and Swansea, have both conceded 38 shots inside the box in their previous four – only three sides boast a more porous record.
When it comes to big chances against, though, the numbers favour City – the Swans' tally of 13 is second only to Everton, whilst an average of 5.7 minutes per shot conceded is third worst in the top flight.
Southampton's upcoming visitors Palace have allowed only five big chances by comparison, whilst 35 shots in the box against is just three shy of Villa and Swansea.
Kane's prospects, on the other hand, are dented a little by Newcastle's recent improvement under Rafa Benitez. Indeed, they have allowed their opponents the lowest number of shots inside the box (17) and big chances (one) ahead of the St James' head-to-head.
Rate My Team

Arsenal dominate the RMT ratings with as many as six of their players earning a top-ten spot.
Similar to the Captain Poll, Sanchez is regarded as the man most likely, though Giroud isn't too far behind with a score of 6.05 to the Chilean's 6.3.
Mesut Ozil is joined by defensive trio Hector Bellerin, Laurent Koscielny and Gabriel, with Arsene Wenger's side backed heavily at both ends of the pitch for this one.
Hazard, Aguero, Kane and Troy Deeney are also in consideration, with the Chelsea wide man the only non-Gunner to find a place in the top five for Gameweek 38.
Surprisingly, there's no place for Southampton's chief protagonists, with Tadic their top-rated RMT performer on 4.32 for the Palace showdown at St Mary's.
In Conclusion
For those looking to protect mini-league leads, then, Sanchez looks the safest option. He's favoured by both the Captain Poll and RMT but, as shown by the Player Table, his threat from inside the box isn't the greatest right now.
At a time where taking punts will be the order of the day for many, Giroud may well prove a viable rival to his team-mate. The Frenchman is getting the chances, though his lack of accuracy is always a concern.
Swansea's defensive numbers – particularly those big chances conceded – certainly boost Aguero's prospects at the Liberty. The City man looks the strongest of the three Golden Boot contenders, though Kane and Vardy's numbers, allied with their respective team's attacking data, also offer optimism. Newcastle's numbers may be enough to persuade many Kane owners to look elsewhere in terms of captaincy, though.
Despite RMT's lack of faith, the Player Table certainly lends weight to taking a punt on Southampton's in-form trio for the Palace clash. Given that Alan Pardew has conceded he may look to protect one or two players, the Saints could have a field day against their visitors' second-string.