As we come to the business end of the season, one last opportunity presents itself to score 100+ points in a matter of days and to ultimately gain lost ground in mini-leagues through Double Gameweek 35.
With the exception of Arsenal, none of the top six teams has what I would consider reasonable back-to-back games during this period.
It makes it all the more important to look out for those differentials that can provide an extra edge.
Here are three low-owned players that may be of interest to you…

Nacho Monreal
Price: £5.4m
Ownership: 1.3%
DGW35 fixtures: Crystal Palace (home) | Wolves (away)
There is no denying that Arsenal have struggled defensively this season. They only kept their first away clean sheet in the league on Monday night (the last team to do so) and that was against a 10-man Watford team.
However, things are beginning to click with their backline after registering three clean sheets in their last four games. They missed Laurent Koscielny for most of the season which meant that at times they struggled with a makeshift defence, but now that he has re-established himself in the side, they are making improvements.
Nacho Monreal (£5.4m) has been an ever-present for the majority of this calendar year. Although his offensive prowess has not yielded much in the way of attacking returns this season, he did score five goals and two assists in the 2017/18 campaign.
One thing of note compared to last year is that Monreal is getting more of his touches on average in the final third (20% v 15.5%), which shows that he is still able to reach the right places and in turn it underpins his four attacking returns since August. The Spaniard is more than capable of adding to that tally before the end of the season.
As for Arsenal's next two opponents, Crystal Palace have only scored three goals at the Emirates since February 2014 and Wolves are averaging less than a goal per game from Gameweek 30.
Both of these reasons, combined with Arsenal's recent defensive form makes Monreal viable even if Arsenal's European commitments are due to continue into May.


Abdoulaye Doucouré
Price: £5.9m
Ownership: 2.8%
DGW35 Fixtures: Huddersfield (away) | Southampton (home)
Abdoulaye Doucouré (£5.9m) has been flying under the radar this season and it's a surprise that his ownership is so low.
The Watford midfielder is one of the highest FPL point scorers in 2018/19 among those in his position that are priced at £6.0m or below.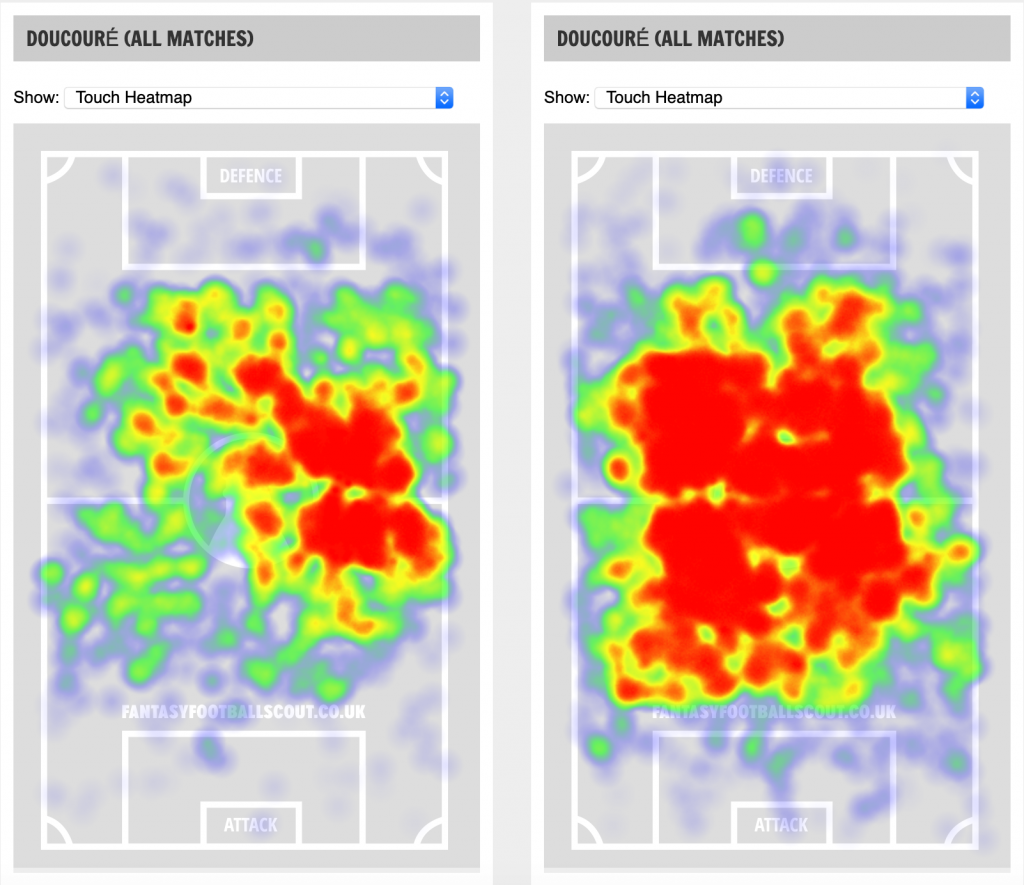 Just from his heatmap alone, you can see how much of a box-to-box midfielder he really is compared to the role he fulfilled in his first campaign in English football.
It is possible that the first impressions he gave off back in the 2016/17 season have stuck with some FPL managers who may not realise how advanced he is now actually playing.
Doucouré has had three shots on target in his last four games, two of which were converted into goals, although he didn't score for the first 14 Gameweeks.
With Deeney suspended and questions over the fitness of Deulofeu and Pereyra, I expect Doucouré to step up again.
Of course, he seldom starts in a traditional attacking midfield role which is a cause for concern, but he is venturing into the penalty box quite often.
Do not underestimate his importance to Watford's overall gameplay.
The Hornets' are playing one of their Double Gameweek 35 matches away from home, the other at Vicarage Road.
Their upcoming opponents have conceded a combined total of 56 goals in 17 Huddersfield home matches and 16 Southampton road-trips since August. I would expect Hornets to score against each of them and given Doucouré is the most likely to start both matches, he feels the Watford asset with the lowest risk attached to them for this Double Gameweek.
Fernando Llorente
Price: £5.1m
Ownership: 0.9%
DGW35 Fixture: Manchester City (away) | Brighton (home)
If there's one thing we've learnt over the last seven days it's that Tottenham don't have to rely solely on Harry Kane for their goals.
Mauricio Pochettino's men have scored seven goals in their last two games.
Fernando Llorente (£5.1m) was involved in two of those goals, which is significant considering that for most of the season he's effectively been a utility player.
He's only mustered 13 goals in 58 competitive appearances for Tottenham but you can't expect much else from a player that doesn't regularly start in the Premier League.
If his short stint at Swansea was anything to go by, it shows the Llorente can score a goal on average almost every other game in England's top flight.
Furthermore, in his last string of Premier League starts between Gameweek 23 and 26, the veteran forward recorded a goal and three assists.
The only concern is that even with Kane out he isn't guaranteed to start as shown on Wednesday night with his game-changing substitute appearance.
It will be interesting to see how Tottenham will play against Man City in a matter of a few days.
This match, as well as their second match against Brighton, are key for their Champions' League aspirations next season.
With Kane highly unlikely to be involved in Double Gameweek 35 (or the rest of the season for that matter), Llorente is the ideal budget attacking asset from a top-five team.