Jordan Henderson (£5.3m) has been reaping the rewards of Jurgen Klopp's new role for him in his midfield.
In the last three Premier League matches, the England international has been playing in a more advanced position within the 4-3-3 system at Liverpool.
We've used the Fantasy Football Scout members area to analyse the impact this has had on Henderson's points potential, as well as his team-mates.
What is Henderson's new role at Liverpool?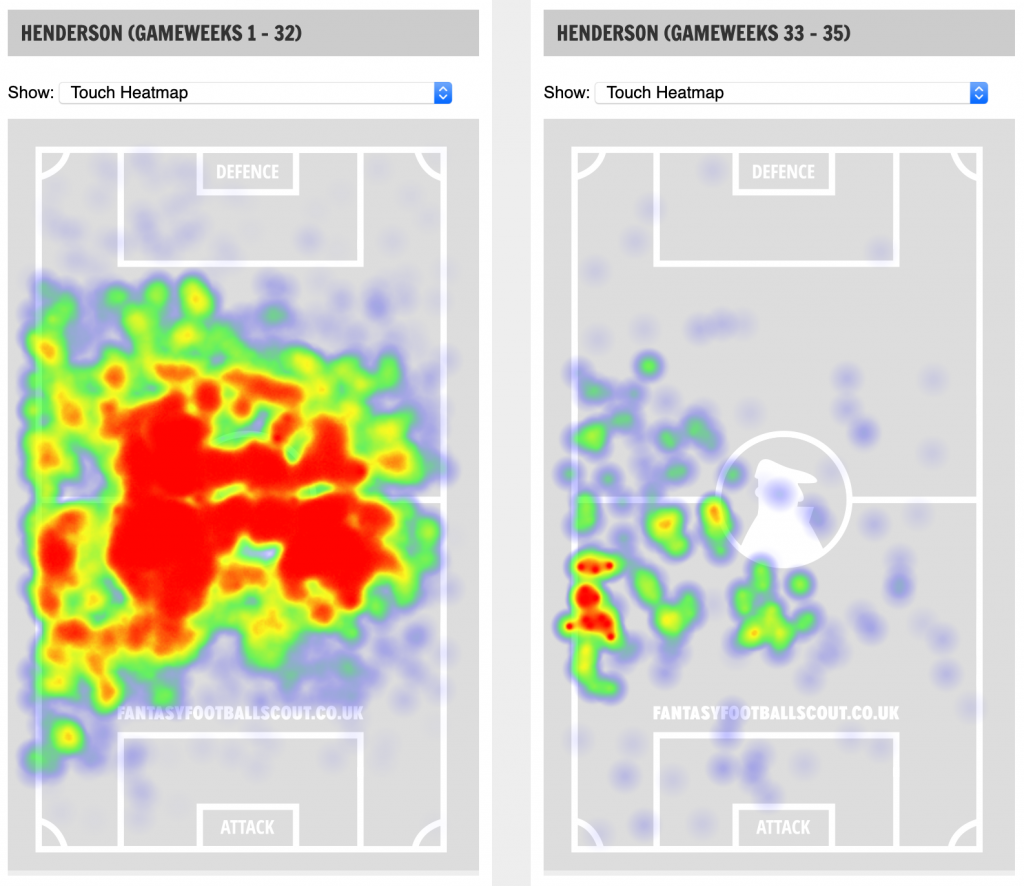 Since coming on as a substitute at Southampton in Gameweek 33, Henderson has been occupying a more advanced role in Liverpool's team.
Jurgen Klopp has kept his favoured 4-3-3 shape but has tweaked the responsibilities within that.
Previously the three central midfielders played largely in line with each other, but there is now more of a split when it comes to the different roles.
Georginio Wijnaldum (£5.5m) has been dropping a little deeper than the other two central midfielders.
Meanwhile, Henderson has been pushing up towards the right-forward in the front-three to help support them in the attacking phase.
You can see that in the heatmap above, comparing his touches in the first 32 Gameweeks against the last three.
There is a much higher concentration of touches on the right flank in the latter period compared to the former.
How has Henderson's new role affected his points potential?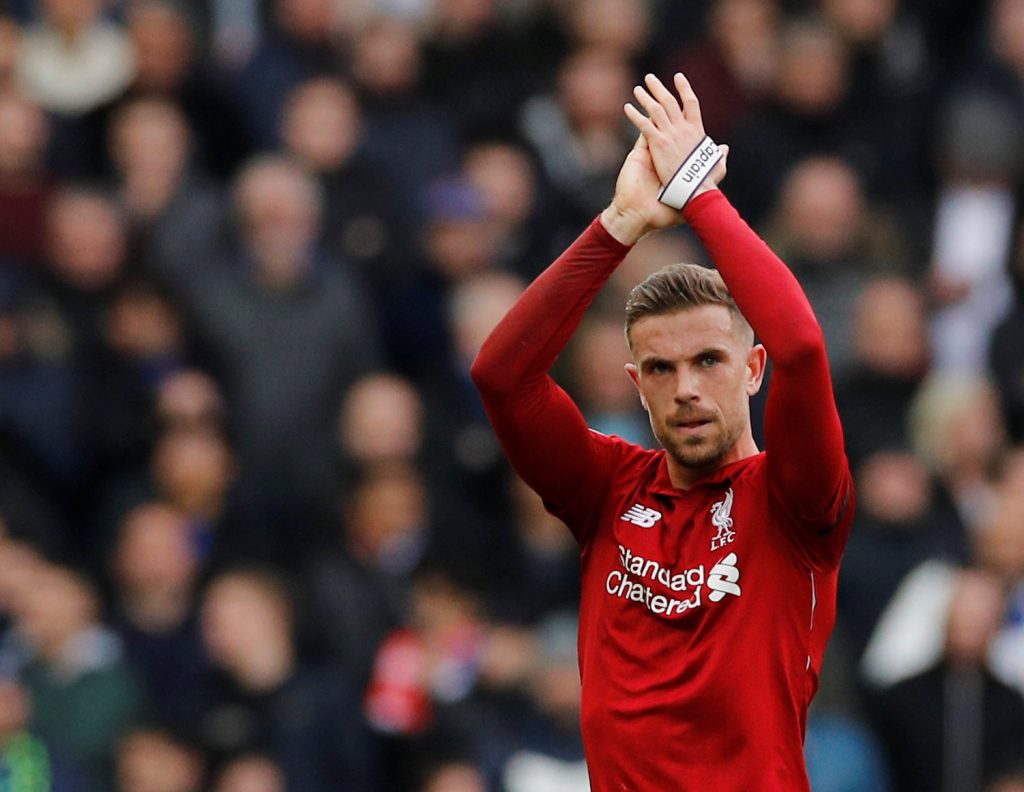 Having only fulfilled this role in one substitute appearance and two starts in the Premier League, Henderson already has one goal and two assists.
He has also enjoyed more involvement in Liverpool's attacks in the Champions League too.
First and foremost, Henderson is enjoying a boosted goal threat from his new role.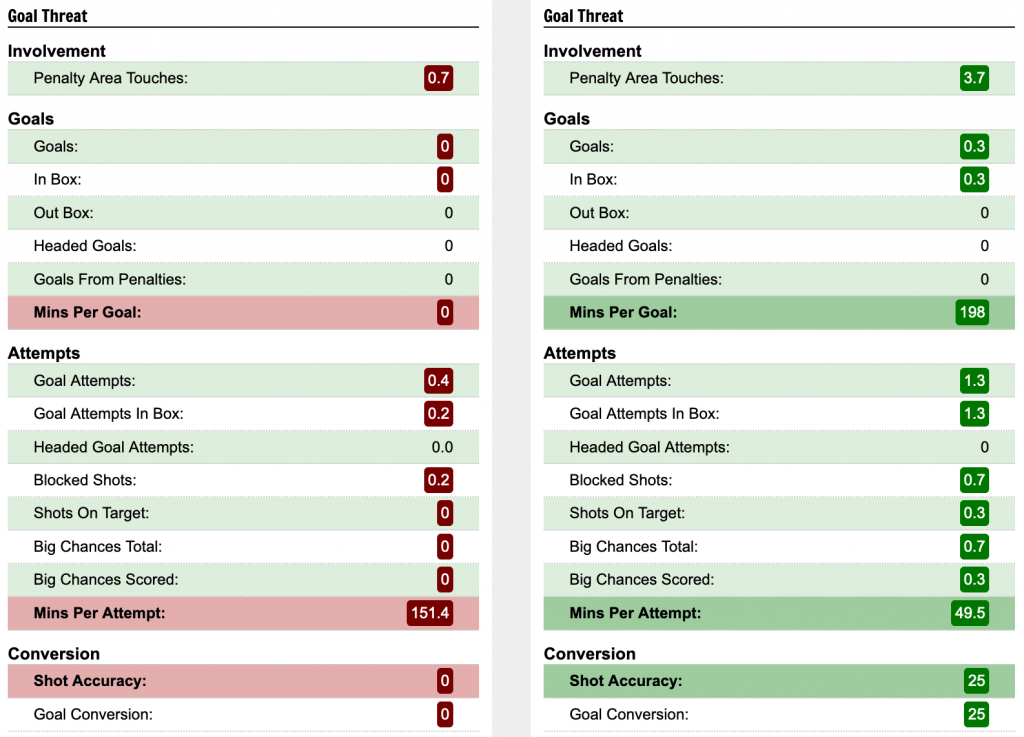 As you can see from the table above, when we compare Gameweeks 1 to 32 against Gameweeks 33 to 35, we see a huge jump in penalty box touches.
For the majority of the season, Henderson registered 0.7 per game, but that has risen to 3.7 in the last three matches.
He has been offering plenty of attacking threat in these new positions too.
In the first 32 Gameweeks, Henderson was averaging a 0.4 shots per game, and 0.2 in the box.
However, since moving forward he is shooting more often, 1.3 per game, and with greater frequency inside the box, with 1.3 per game registered there.
The quality of his chances are also improving too, jumping from zero big chances in the first 32 Gameweeks to 0.7 per game since Gameweek 33.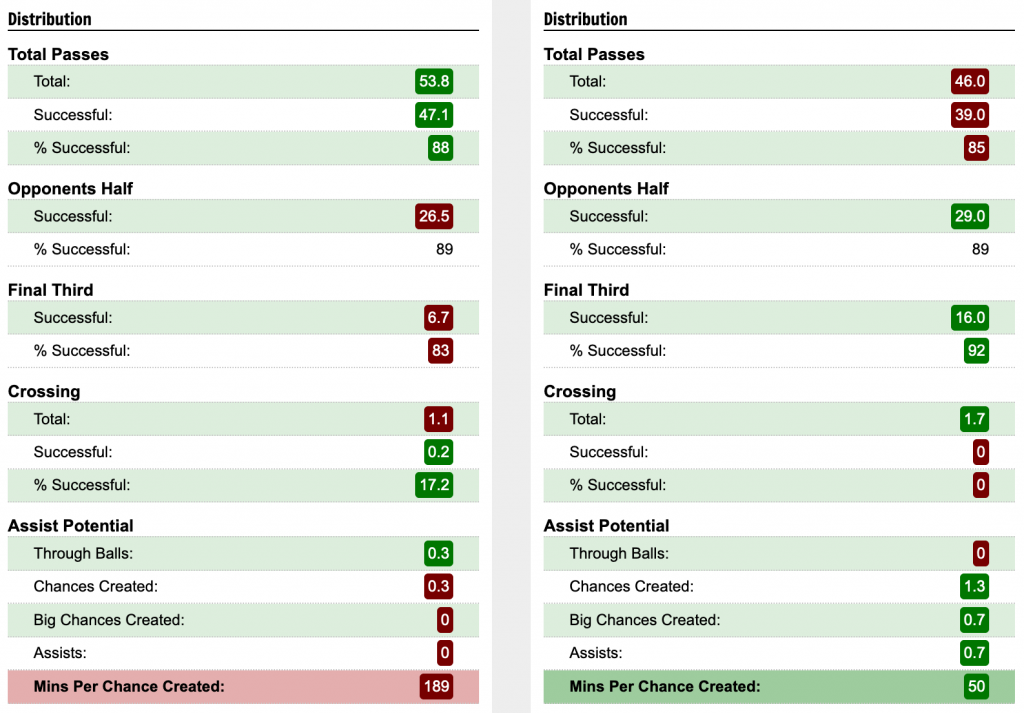 Henderson has been more focussed in his distribution of the ball in his new role too.
While he is passing less often in the last three matches, you can see that his assist potential has gone up.
Chances created per match have risen from 0.3 to 1.3 and big chances created from zero to 0.7.
Has Henderson's new role affected anyone else?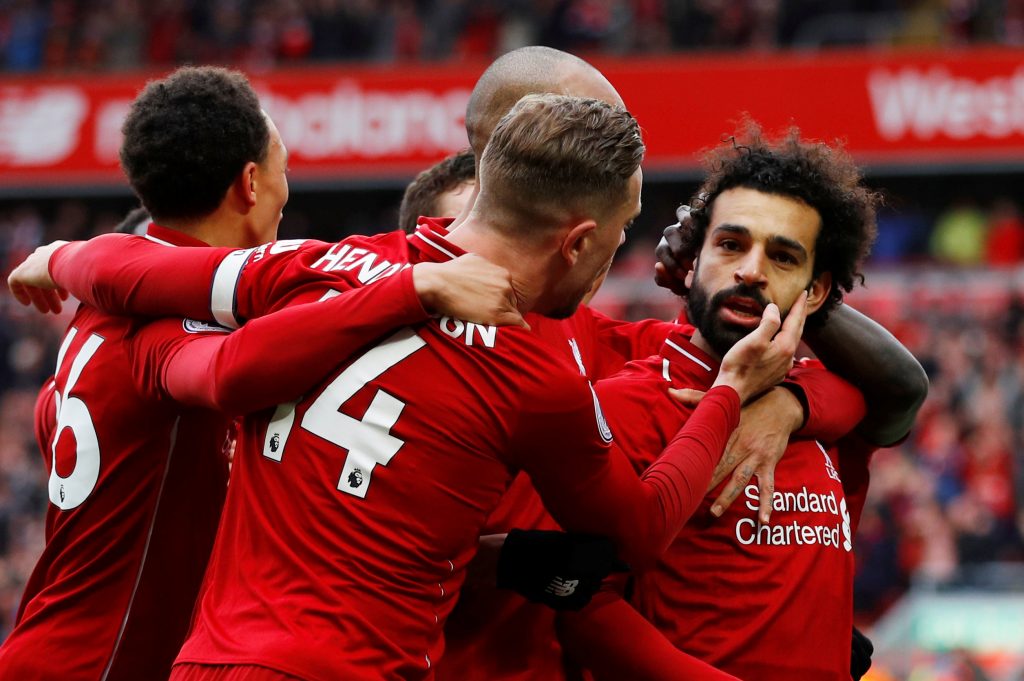 It is possible that Salah's recent resurgence as a Fantasy option, in time for a Triple Captain opportunity against Huddersfield, has been a result of Henderson's efforts.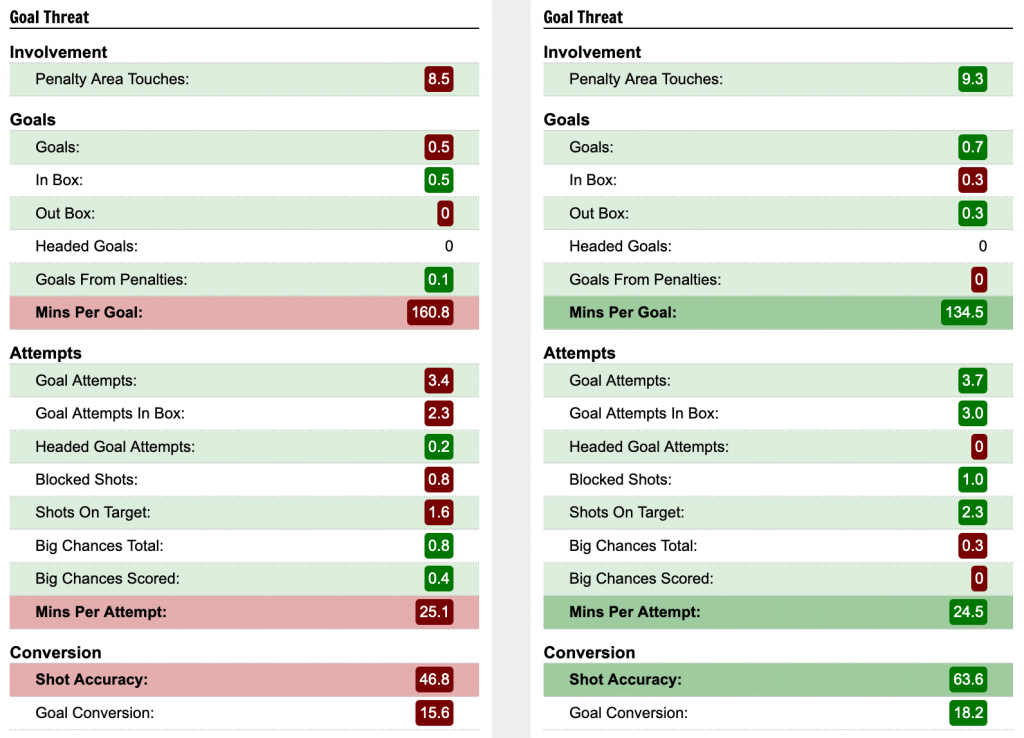 With the England international operating in closer proximity to Salah in the last three matches, we can see that the Egyptian has been receiving the ball much more often and is enjoying more time on the ball in dangerous areas.
His penalty box touches from Gameweeks 1 to 32 were recorded at an average of 8.5 per game, but they have risen to 9.3 per game since Gameweek 33.
Crucially, Salah is now shooting more often, goal attempts per game rising from 3.4 to 3.7 and efforts in the box from 2.3 to 3.0.
He is more accurate too, shots on target rising from 1.6 per game to 2.3.

Salah's creativity has also marginally improved too. Between Gameweeks 1 and 32 he averaged 1.8 key passes per game but has recorded 2.0 per game from Gameweek 33 onwards.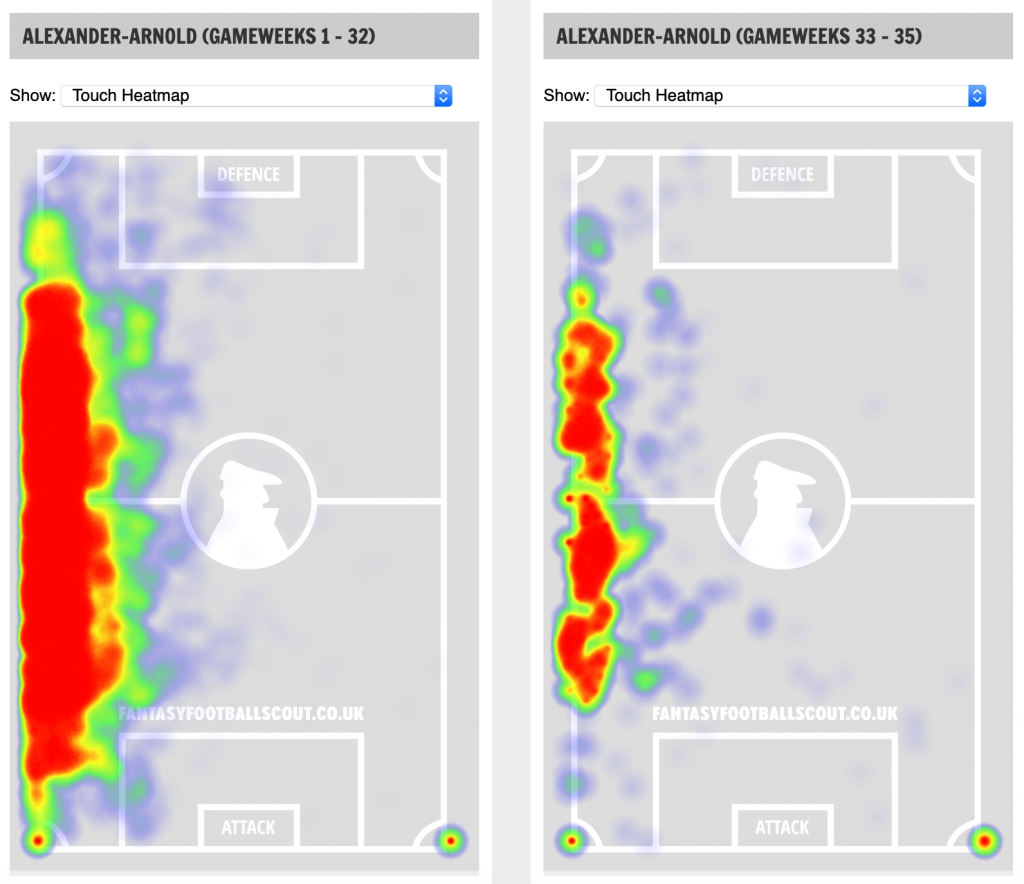 However, it is possible that Henderson pushing onto the right flank more often might impinge on Trent Alexander-Arnold's (£5.6m) involvement.
As we can see from the heatmap above, the last three matches have seen a lower proportion of the right-back's touches taking place in the final third.
These have been taken over by Henderson, leaving Alexander-Arnold to focus on the more defensive side of his flank.

We can see from the data that while overall touches are at a similar level, there have been slight drops in the key areas.
Touches in the opponents half per game have dropped from 49.6 to 48.7, while touches in the final third per game have decreased from 29.7 to 28.7.
Obviously, these are not huge drops for Alexander-Arnold and interestingly, in the last three matches, his chances created per game has actually risen from 1.5 to 2.3, although some of these could be attributed to set pieces.
Conclusion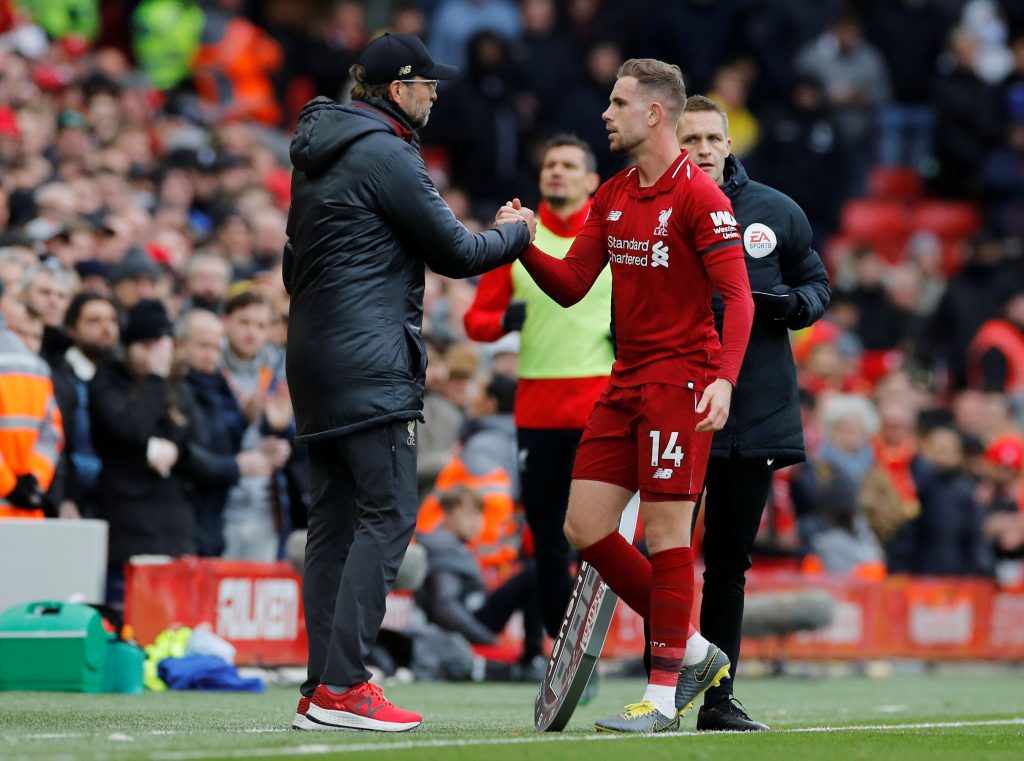 The fact that Henderson's new role has boosted his Fantasy points potential certainly places on him on our radar in more of a significant fashion than in previous years.
If he can hold down this position then he could become an exciting budget differential for managers chasing mini-league deficits in the closing weeks of the season.
However, we should urge caution when considering Henderson's signature for your Fantasy team.
The central midfield berths have been the most rotated under Jurgen Klopp this season.
While the front-three and back-four have been largely settled, especially since January, there are five central midfielders who have come in and out of the side on a regular basis this season.
Of those options, none of them has more than 30 starts this season, Georginio Wijnaldum the most used with 29 starts. The others, which include Henderson himself, James Milner (£5.6m), Fabinho (£5.5m) and Naby Keita (£7.1m) all range between 15 and 19 league starts in 2018/19.
That means that, at least for now, regular starts for Henderson are not assured, although that's not to say they won't be once has bedded himself into the new role for a longer period.
That brings us to the other reason for caution. At this stage, we have seen just three FPL Gameweeks with Henderson in this role.
One of these lasted for just 31 minutes as it was when he came on as a substitute against Southampton in Gameweek 33.
That means we cannot be completely certain of the trends we have discovered, which are, admittedly in their infancy right now.
Furthermore, we must recognise that fitting Henderson into Liverpool coverage at this point in the season looks to be something of a challenge.
Most squads already have at least one defender and one attacker, and many have added a third option to that from either of those positions.
Some may be unable to sign Henderson, while others who are considering signing a new attacker are more likely to find points potential in one of Salah or Sadio Mané (£10.0m).
This is where Henderson's impact on the Egyptian could come in to play. With some doubts over Salah's ability both the play and to do well against Huddersfield, the support of he has enjoyed from his colleague could be the tactical tweak that does, in fact, inspire him on to a double-figure haul in Gameweek 36.