We begin our series on the newly-promoted Premier League sides with this look at Sheffield United's manager, Paul Heckingbottom.
We will assess his management style, preferred tactics, tendency to rotate and openness with the press ahead of the Blades' Fantasy Premier League (FPL) return, as well as looking at areas of his squad he might strengthen in.
To provide a fan's view, we've asked Ben Meakin, the creator and host of BladesPod, and FPL Blade for their input here.
Articles on Sheff Utd's defence and attack will follow.
WHAT TACTICS DO SHEFF UTD PLAY UNDER HECKINGBOTTOM?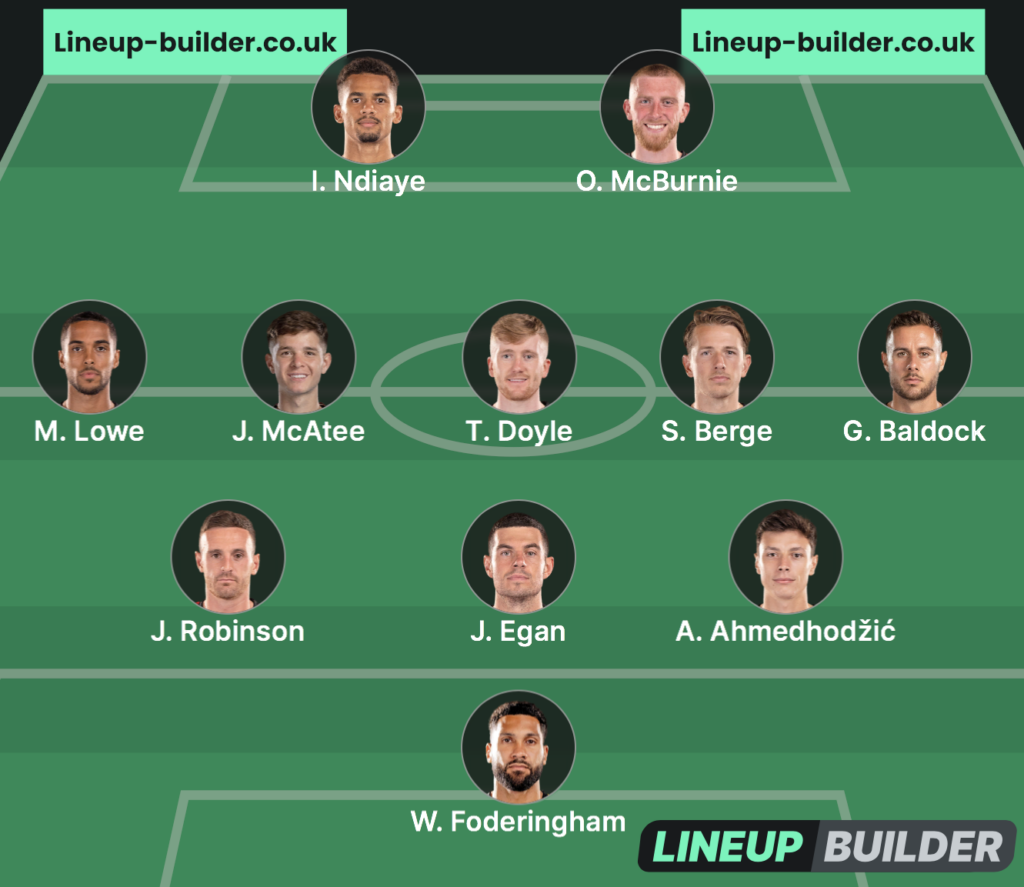 Heckingbottom's default formation in the Championship was a 3-5-2, which is very similar to the one Chris Wilder used during his time at Sheff Utd.
They don't exactly do Wilder-esque overlapping centre-backs, but Anel Ahmedhodzic, in particular, gets forward at every opportunity. An example of this is captured below.
He supplied six goals and two assists from 32 starts in 2022/23, and is someone we will focus on in much greater detail in our bespoke piece on Sheff Utd's defence.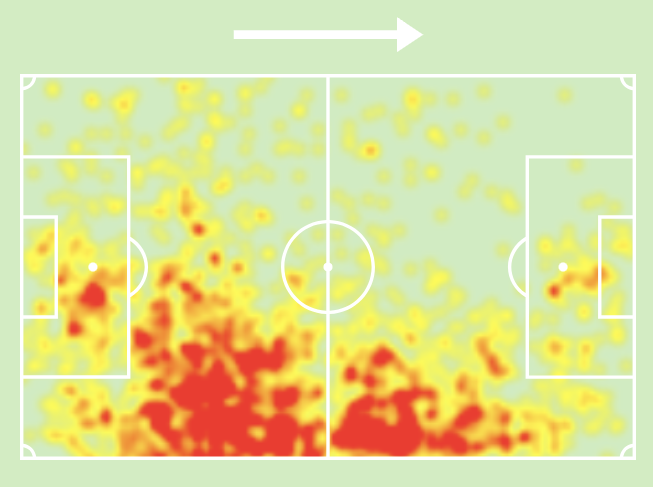 Above: Anel Ahmedhodzic's seasonal touch heatmap 2022/23
The team's wing-backs play like traditional wingers, while much of their good form this year can be attributed to the excellent performances of midfield trio Sander Berge, Tommy Doyle and James McAtee.
The latter two, however, are both Manchester City loanees and will leave big boots to fill should they fail to return.
Further forward, Iliman Ndiaye is a Senegal international and undoubtedly one of their star players, playing off Oli McBurnie.
Heckingbottom might, of course, tweak his system in the Premier League, given the higher level, but three at the back seems certain to remain regardless.
"We've leaned on this formation all season and I'd be surprised if it changes much. Ndiaye gives it a bit of flexibility with his do-it-all ability and attitude but a lot of our success has come from familiarity with this system and each player's individual roles within it." – Ben Meakin, BladesPod
"Heckingbottom doesn't change much. I have seen us go to a back four late in games, but he will generally tweak tactics but not really formation." – FPL Blade
WHAT STYLE OF FOOTBALL DOES HECKINGBOTTOM FAVOUR?
Heckingbottom had his side playing some decent football in the Championship, with the Blades scoring the third-most goals last season (73). He prefers to play with a fast tempo, focusing on quick transitions with an emphasis on pressing, work rate and fitness.
The fact they ranked second for attempts from counter-attacks and third for attempts from set plays is encouraging, given how important both of those areas will be in their quest to stay up. On the ball, they averaged just 51.2% possession, the tenth-highest tally in the division.
Heckingbottom may go under the radar against bigger names like Vincent Kompany, but his tactical nous and man management skills deserve praise.
"We lack some of the innovation from our last promotion to the Premier League but the blueprint is similar: 3-5-2 where the wing-backs get forward regularly. We do play with aggression and speed which I'm hoping will be even more of an asset in the Premier League than the Championship: when we win the ball back (which we did better than most teams in the Championship), we move quickly down the pitch to try and catch teams out. Defensive solidity also underpinned our promotion." – Ben Meakin, BladesPod
"Heckingbottom just picked up Wilder's style of play and ran with it. He made a few tweaks due to players – our LCB doesn't get forward as much as RCB due to Jack Robinson's skill set. If we sign a new LCB, I expect that could change.

The midfield three is very similar to Wilder's style. McAtee is a little more attacking than Fleck was on the LCM spot, and he became more of a wide forward or no. 10 interchanging with Ndiaye towards the end of the season." – FPL Blade
DOES HECKINGBOTTOM LIKE A SETTLED SIDE OR WILL HE ROTATE?
Heckingbottom has a core group of players he trusts, but won't shy away from making big calls.
Oliver Norwood, for example, had been one of Sheff Utd's standout performers of the season but was forced out of the starting XI by youngster Tommy Doyle earlier this year, with more energy needed in the middle.
"We had a ridiculous injury list last season so rotation wasn't ever an option. That said, he did make a bold call of shaking up two-thirds of the midfield with about 10 games to go and that proved pivotal to getting us over the line for promotion. He knows his best team but isn't afraid to cut favourites from the line-up if they're not performing." – Ben Meakin, BladesPod
"Heckingbottom loves a settled starting XI, not changing often. It's usually one or two at most rotating due to the amount of games. I don't see us making many changes week over week unless forced too." – FPL Blade
HOW DOES HECKINGBOTTOM HANDLE THE PRESS – AND WILL HE GIVE US HONEST TEAM NEWS?
"It's an in-joke among United fans that Heckingbottom lies about 15 times in every press conference. I sympathise with him a bit because our injuries were honestly absurd last season but we all learned that when he says "this player's close to a return" the true meaning is something along the lines of "he's out for the season". Case in point was a hint that Rhys Norrington-Davies might return from his October hamstring injury not long after the World Cup break: he didn't play again all season." – Ben Meakin, BladesPod
"He is the most vague manager ever when it comes to injury news. He loves to say players are back on the grass all the time and then we still don't see them for three months. He keeps his cards close to his chest and I don't tend to listen to what he says in press conferences." – FPL Blade
WHERE MIGHT HECKINGBOTTOM STRENGTHEN IN THE SUMMER AND WHICH PLAYERS ARE IN DANGER OF LOSING THEIR PLACE?
Heckingbottom has a limited transfer budget to work with in the summer, as he looks to put together a squad capable of competing in the top-flight. They will have to be shrewd with their business, making sensible additions, with a focus on utilising the loan market, unless there is a takeover.
Indeed, Heckingbottom has already said he expects things to be "harder than last season in terms of things happening and action". Sheff Utd were, after all, placed under a transfer embargo in January due to reported missing payments to another club, so it's not exactly a pretty picture financially right now, despite promotion.
As a result, all the indications suggest there will be no repeat of what happened the last time Sheff Utd went up in 2019, when they spent £45m, with another £22m going on Berge in January.
Still, midfield and attack are priority positions for investment, but we might also see a new goalkeeper and left-sided centre-back arrive.
"We ended the season with two Man City loanees (Tommy Doyle and James McAtee) playing a big role in midfield, and their return does leave a hole there that will need filling as a priority. I'd like us to try and sign Doyle permanently but would guess that City would want McAtee to go and play at a team that might see more of the ball than we will next year.

In attack we're perilously thin after Ndiaye and Oli McBurnie, who was dreadful in his last Premier League season but excellent last year. Beyond those two we're down to the perennially-injured Rhian Brewster and then largely-unproven youngsters." – Ben Meakin, BladesPod
"Our main targets, in my opinion, are GK, LCB, 2 x CMs and a striker.

We need another goalkeeper to compete with Foderingham or even take over from Wes and make him backup. We need to improve at LCB, too. Jack Robinson has been solid defensively but makes too many mistakes and doesn't get forward enough.

Midfield I would expect we get one of Doyle or McAtee on loan. I would love to sign Doyle and loan McAtee, but we need someone to replace Norwood which Doyle did at the end of the season, as his legs have gone defensively.

We also need a McAtee type player to help Ndiaye create chances and, most importantly – like the majority of promoted clubs – a 15 goal striker to keep us up, but it all depends on ownership and budget." – FPL Blade
Our contributors also offered a bit of insight into who is in danger of losing their place in the starting XI.
"Oli Norwood had a brilliant half-season in midfield, then tailed off and was replaced by Doyle – I'd expect Norwood to be a rotation player at most this season, although he might feature early on while signings arrive / bed in.

Max Lowe started a lot of games at left wing-back last season but will almost certainly drop out when Norrington-Davies returns to fitness, which will hopefully be in time for the start of the season." – Ben Meakin, BladesPod
"Like I said above Wes Foderingam, Jack Robinson and Oliver Norwood – who already got replaced at the end of the season. I also think Max Lowe will lose his LWB spot to Reece Norrington-Davies who will be back from injury. And McBurnie likely becomes second-choice striker if we get someone better in." – FPL Blade
So, it probably won't be an easy window for Sheff Utd, and it might take a while for the squad to take shape.
---
Our huge thanks go to Ben Meakin and Ben 'Tommo' Thompson for their time and insight.
---