There are three more Gameweek 5 matches from Saturday to dissect in the latest Scout Notes article.
The key Fantasy Premier League (FPL) talking points from Aston Villa v Crystal Palace, Tottenham Hotspur v Sheffield United and West Ham United v Manchester City are discussed.
Any graphics and stats you see in this piece are taken from our Premium Members Area, where there is tonnes of Opta data on each and every FPL asset.
ALVAREZ "ALMOST UNDROPPABLE"
Julian Alvarez (£6.8m) is now behind only team-mate Erling Haaland (£14.1m) for FPL points in 2023/24 after teeing up two more goals in Manchester City's win over West Ham United.
He's now the Premier League's leading assist-maker of the campaign with five. He's vastly overachieving on the expected assists (xA) front but when you've got dead-eyed finishers polishing off your key passes, that's not a big shock.
But it's also Alvarez's goal threat, in addition to his creativity, why Pep Guardiola currently considers him "almost undroppable".
The loss of Ilkay Gundogan, one of the "runners" he had previously discussed, and the injury to Kevin De Bruyne (£10.2m) has left City short of goalscoring options in central/attacking midfield. Phil Foden (£7.6m) drifts into central positions, of course, but Pep Guardiola has been reluctant to start him as an 'eight' on the teamsheet.
Alvarez, then, has plenty going for him for the time being.
"We had doubts because he came from Bolivia with the jetlag, he was so tired the day before yesterday. He felt better and we spoke with him last night and he said he felt good.

"He's learning a lot how to move in the pockets, he's a threat with goals and assists, the work ethic. We are delighted that the club brought him last year.

"[Ilkay] Gundo[gan] left and unfortunately with the injury to Kevin [De Bruyne] he has his chance and he is using it. Now he is almost undroppable." – Pep Guardiola on Julian Alvarez
Alvarez, for the first time this season, actually didn't have a single attempt in the box on Saturday. It was Haaland who dominated the shot count, the Norwegian doing his best Nicolas Jackson (£7.1m) impression by wasting a whopping six big chances.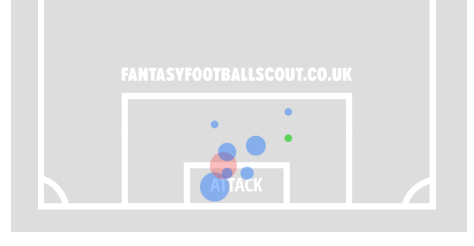 Above: Erling Haaland's shotmap in Gameweek 5
Rodri (£5.7m), incidentally, had another five efforts in east London, taking him just two behind Alvarez for the season (14 v 16).
This was a real statement win from Manchester City, given how well West Ham United had started the season. The reigning champions' expected goals (xG) tally of 3.63 was the highest of Gameweek 5 so far.
PEP HINTS AT EFL CUP ROTATION

Above image from Legomane
City's busy autumn starts now, with the UEFA Champions League getting underway this week.
The favourable group-stage draw eases rotation concerns on the Premier League front, while there were more positive comments for FPL managers from Guardiola on Saturday evening.
City face Newcastle United in the EFL Cup next week, and their boss hinted that he will play many of the second string on Tyneside.
"That is a problem when you have a lot of injuries, not today, but the effect is in three, four or five games,.

"In the Carabao Cup, we have to go away to Newcastle. I am sorry but there are games where we are going play with the second team, some players, because we cannot risk the dangers.

"Kevin [De Bruyne] is still out, John [Stones] is still out, Kova [Mateo Kovacic], I don't know, Jack [Grealish] I don't know. So, when you have all the squad [available] you go to Newcastle with a good team.

"That's why now it's just to rest, to recover well, to train fit and try to arrive on the day of the game in as best a condition as possible." – Pep Guardiola
EXTRA ATTACKING LICENSE FOR WARD-PROWSE
Alphonse Areola's (£4.1m) three FPL save points took him to eight for the season, more than any other goalkeeper has managed.
His heroics were representative of the path of the game, although West Ham had taken the lead.
James Ward-Prowse (£6.1m) was the man responsible for the goal, extending his run without a blank to four matches.
We're not used to seeing set-piece merchant Ward-Prowse score from open play but that's twice that's now happened since his move last month.
"I'm just trying to be flexible. Sometimes I need to be deep to get on the ball, and sometimes I'm a bit higher, but I try to be that box-to-box midfielder here. I feel like I have the license to do both here, which is good." – James Ward-Prowse
Key to his Fantasy appeal is how much he's allowed to get forward to supplement his dead-ball threat. With Edson Alvarez (£5.0m) and Tomas Soucek (£4.9m) in the side and doing the dirty work in Gameweeks 3 and 5, he racked up five shots, four of them in the box.
When one of them was absent and Ward-Prowse had to play deeper, like in Gameweeks 2 and 4, he didn't have a single effort in the opposition area.
West Ham's Alvarez limped out of the City game in the second half, so further word is awaited on his condition.
"Edson Álvarez got injured and he had been booked before, which was a worry for me because we had talked about it and he had given away another free-kick outside the box.

"We were a bit worried what he was going to get away with, but Edson played really well and when we took him off, things probably changed around a little bit." – David Moyes
CASH ADVANCE
Talking of getting forward, Matty Cash (£4.7m) was back doing that again against Crystal Palace on Saturday.
Named as a right-back on the teamsheet, it soon became apparent that he was going to operate more as an attacking wing-back in possession as midfielder Boubacar Kamara (£5.0m) dropped back to form a three-man central defence.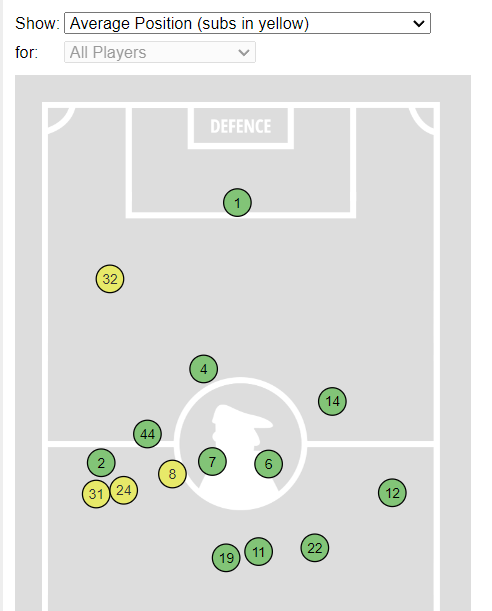 Above: The average position of Aston Villa players in Gameweek 5, including Matty Cash (2) and Boubacar Kamara (44)
"Some players and tactical decision I took today was a practice for us. For the 30 minutes we played Diaby on the left side, played Kamara as a midfielder and sometimes as a right centre-back in build-up.

"We were aware today that we wanted to win but we needed to use different tactical decisions. I was aware to give them confidence so they could take it." – Unai Emery
As a result of that extra attacking license, Cash was presented with two excellent chances around the six-yard box that he missed. Frustrating for his owners, but encouraging nonetheless that he's getting into such threatening positions.
Lucas Digne (£4.5m) was similarly forward-thinking on the other flank but with Alex Moreno (£5.0m) back in the matchday squad, the Frenchman may be on borrowed time in Unai Emery's starting XI.
Borrowed time is also what Ollie Watkins (£8.0m) might be on in some FPL managers' squads, with his barren patch now extended to one goal in 12 matches. Another big chance went begging against the Eagles, with the woodwork also rattled.
He at least keeps the points ticking over with assists, as it was he who won the late penalty that Douglas Luiz (£5.4m) converted. The law of averages says those chances are going to find the net eventually (he's never failed to hit double figures for goals in the Premier League), even if his finishing isn't the greatest: he's underachieved on the xG front in all four seasons with Villa.
Moussa Diaby (£6.6m) continues to outdo his team-mate, meanwhile, claiming a late assist and seeing a beautifully taken goal ruled out for a marginal offside.
ON ME ODSONNE
Forced into their first starting XI changes of the season because of injuries to Jefferson Lerma (£4.9m) and Marc Guehi (£4.5m), Palace then lost Jordan Ayew (£5.5m) to a dead leg early on.
The Eagles still came close to a win. While riding their luck in the first half, it took a late wondergoal from Jhon Duran (£5.0m) and the contentious Luiz penalty for the result to be swung in Villa's favour.
Odsonne Edouard (£5.5m), of all people, is now third among forwards, behind Alvarez and Haaland, for FPL points in 2023/24. Here he scored his fourth goal of the season; he's never managed more than six strikes in his time in the Premier League.
"The international break hasn't been kind to us with injuries and the situation this morning, but they're a professional group who carried out the task the manager would expect them to do, and I was delighted with the application, how they stuck to the game-plan and the chances they created; I'm just disappointed that we didn't come away with anything." – Paddy McCarthy, sitting in for the ill Roy Hodgson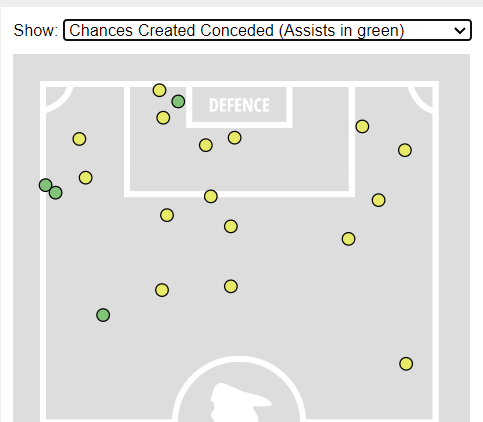 Above: Where the opposition has created chances from against Crystal Palace in the last two Gameweeks
One thing worth pointing out ahead of Manchester United's clash with Palace in Gameweek 7 is Joel Ward's (£4.5m) struggles over the last two Gameweeks, as four of the five goals that the Eagles have conceded have been assisted down his flank.
RICHARLISON HITS BACK
Bad memories of Harry Kane's blank against Cardiff City five years ago came flooding back on Saturday. Here, there was another huge surge of transfers for a Spurs striker, this time Son Heung-min (£9.1m), playing against a newly promoted club. Once again, there was no joy.
Sheffield United learned from Burnley's mistakes in Gameweek 4, sitting deeper to prevent Son from gobbling up the space behind the defence that he thrives on.
The South Korea international was even subbed off with 10 minutes to go, despite Spurs trailing 1-0.
Further salt was rubbed in the wounds when his replacement, Richarlison (£6.8m), nodded in an equaliser before teeing up Dejan Kulusevski (£7.0m) for the winner.
"Yeah, Richy was great. I thought all the subs who came on really helped. But that's been a consistent theme. And yeah for Richy I think it's the point I was trying to make yesterday – for him to understand that you try and maintain a balance in life. And his football hasn't been that bad, he's still been contributing for us.
"Sometimes when you struggle with certain parts of your life you let it go into other areas. But the football is one area where he can control, and he works hard every day in training and really got his rewards today. And hopefully, that gives him a bit more of a settled feel to deal with the other areas in his life. For everyone, it's about not letting it overwhelm you. And hopefully, a day like today helps him." – Ange Postecoglou
Suddenly, there is uncertainty again about the composition of Spurs' attack in Gameweek 6. Does Richarlison make an immediate return up front and shunt Son wider? Does Ivan Perisic (£4.9m) come into the thinking on the left flank? There's Brennan Johnson (£5.9m) waiting in the wings, too, following his deadline-day move.
NEWCASTLE'S GAMEWEEK 6 OPPONENTS
Sheffield United arguably look the most competent of the three promoted clubs on current evidence, which admittedly isn't saying much.
Their four defeats have only come by a single-goal margin, two of which were against Spurs and Manchester City.
They'll be no pushovers when Newcastle United visit Bramall Lane in Gameweek 6, then.
It's worth pointing out again, however, that the Blades are conceding a lot of chances down their left flank. Luke Thomas (£4.0m) looks like he may be a bit of a solution to their left wing-back problems but Kulusevski nevertheless racked up seven shots and five chances created on Saturday.
Kieran Trippier (£6.5m) could get some joy down that wing, therefore, this coming weekend.
VIDEO LATEST