Three of the four top spots in our Watchlist rankings remain the same in this week's refresh, although there is plenty of movement lower down, with mid-price assets still proving worthy options for the month ahead. Here's a breakdown of the key movements this week, with the full listings in your right sidebar…
Goalkeepers
It's no surprise to find Asmir Begovic remaining on top of the keeper rankings. The Stoke stopper returned a clean sheet against Sunderland last weekend and, with a continued run of favourable fixtures in his favour in addition to news that full-back Marc Wilson is now injured, Begovic is arguably the best option available to cover the Potters' back four, although there remains clear alternatives.
Begovic's fixtures are strong enough that a rotation option is hardly required until perhaps Gameweek 18; QPR's Julio Cesar is one alternative (RDG QPR SOT FUL NEW AVL avl FUL), while Jussi Jaaskelainen – although a miserable choice for the next ten Gameweeks – offers home and away rotation with Begovic right to the end of the season; their next nine would afford you (nor QPR STO FUL NEW wba LIV EVE EVE).
Sunderland's Simon Mignolet, in rotation with Newcastle's Tim Krul is another attractive route for keeper rotation – albeit more expensive. Both have strong short-term fixtures and perfect home and away rotation. These two offer a particularly strong run over the next six Gameweeks (AVL WHM SWA WBA QPR WIG) before Gameweeks 16 and 17 pose a problem.
Defenders
With form and fixtures still in his favour, it's hard to see Leighton Baines being relieved of his mantle at the top of the defender rankings. While clean sheets have been scarce, Baines has returned goals, assists and bonus points in recent weeks to keep him simmering nicely and earn him further Fantasy suitors.
Rafael's continued attacking impetus has him rise dramatically up the rankings ahead of United's tremendous run of fixtures. The Brazilian's ownership has been on a steady ascent in recent weeks and that should continue given his form, despite the imminent return to fitness of both Chris Smalling and Phil Jones as options. Right now, it's difficult to see Rafael surrendering the right-back role.
Stoke's Robert Huth is the luxury option within Tony Pulis' back four, with Ryan Shawcross and Geoff Cameron available for those with tighter budgets. Arguably, coverage of the Stoke defence looks essential given their run over the next ten Gameweeks; on paper, Spurs away is their only real uphill encounter in that spell.
QPR's Ryan Nelsen enjoys a big rise up the rankings off the back of improved showings from the R's defence but mainly due to their opponents over the next three. Mark Hughes' side is another that face an encouraging run of fixtures, with United away in Gameweek 13 their only big test until the trip to Newcastle in Gameweek 18.
Below the R's man, both Newcastle's Danny Simpson and Sunderland's Carlos Cuellar offer the cheapest routes into their respective defences, and rotate perfectly home and away; both have strong fixtures in the next six Gameweeks.
Chris Baird also makes an appearance after back-to-back goals from his holding midfield role. We're presuming that Baird's start is at risk but, given his form in his new position in the Fulham engine room, it seems likely that he will hold in the short-term and offer potential for those looking to take a punt on further attacking returns: given his opponents, clean sheets look a big ask. Baird picked up a knock against Reading last weekend and was subbed off on 79 minutes but there's no indication that he is a doubt for the visit of Everton this Saturday.
Midfielders
Juan Mata climbs from second to the top of the Watchlist off the back of a staggering run of scoring over the past five Gameweeks. While there's a clear concern that acquisition would now be chasing points, the allure of the Spaniard is so strong and there is no apparent sign of his returns slowing – although that does seem inevitable at some point. Mata's climb results in team-mate Eden Hazard taking a severe decline in the rankings: clearly there is only one contender right now for those looking for investment in Chelsea's midfield. Hazard owners, meanwhile, continue to face the dilemma of swapping and risking a switch in fortunes.
Mata's climb knocks Santi Cazorla off the top spot but he holds in second with Gareth Bale's tougher short-term fixtures keeping him third – for now at least.
The sheer value of Raheem Sterling, playing up almost alongside Luis Suarez in Liverpool's lineup, has him climb into our top five. While Brendan Rodgers' side have difficult fixtures to come, Sterling's price makes him a hot property as the fifth midfielder in our squads.
Steven Pienaar enjoys a rise, having served his one-match suspension – he ranks above team-mate Marouane Fellaini with the Belgian just one booking away from a ban.
There are a whole host of strong mid-price options available, with Adam Lallana, Kevin Nolan, Adel Taarabt and Michu all making strong cases for inclusion. Lallana and Taarabt have the advantage of fixtures, while both Nolan and Michu are enjoying advanced roles which could bring continued returns, despite their tough opponents to come.
Forwards
Robin Van Persie continues to reign supreme in the forwards rankings and Sunday's returns at Stamford Bridge only strengthened his position at the top.
Carlos Tevez's winner against Swansea lifts him above team-mate Sergio Aguero and has him back in our thoughts as coverage of City's attacking potential in the forthcoming weeks. While Tevez has just one strike in six Gamweeks, he has ticked along with assists and FPL bonus and continues to look assured of starts in Roberto Mancini's lineup. His price tag of 9.4, compared to Aguero's 11.1, is enough to earn him preference right now, with Aguero struggling to light the touch paper.
Demba Ba's form also continued in Sunday's matches and, with strong fixtures to come, he remains an exceptional option up front but injury concerns are now mounting following Alan Pardew's comments today. As discussed earlier, Ba is rated as 50:50 for the Anfield trip which dents his investment potential in the short-term.
Nikica Jelavic and Peter Crouch are your mid-price option, with the Stoke man still perhaps the preferred route to cover the Potters' encouraging schedule. Below that pair, Luis Suarez suffers from being perched on the suspension tightrope, despite outstanding current form. Dimitar Berbatov's recent rib injury scare, allied with a schedule that is far from friendly in the coming weeks, keeps the Bulgarian's ranking in check.
The budget market in this position is far from burgeoning right now, with Rickie Lambert's form and starts in question. Pavel Pogrebnyak and Grant Holt offer alternatives for those on a budget.
Who likes my WC:?

Lloris Gomes
Hooiveld Maicon Azpiculetta Ferreira Enrique
Nani Malouda Yaya Sessegnon Siggurdson
Borini Cisse Bent



Clattermole for Sess and you're sorted

Should I replace Wilson with Cameron or wilkinson, one is 4.5 the other is .4.4

what's your trasfer strategy?

last year i taking pts hits like crazy and that' was one of reasons why i had terrible season(other is never C RVP ofc )

this year i take 8pts hits so far only cause Rooney and jelavic get injureed

so far i find best save FT (if you can fill decent team for that gw,without any knee-jerks) and always have 2FT's ready for next gw

One minute you say you make transfers when drunk, the next you say you have a transfer strategy. Get your story right Forca

Thank you kind sir!

Unfortunately for you I had the luck with me this week!

it was only 1 gw

and i had saved 2FT,though

I take too many hits. Don't overly care as I'm unlikely to win this thing as I'd rather have somewhere near the team I want. Hits pay off a reasonable amount of time as well as long as they aren't inherently mental.

I Don't like peeps that post You- Tube- Vids_ but that was funny :

Haha, he tries to eat him at the end! That was the best part!

That frog reminds me of Berbatov...so languid...but never lacks a killer instinct.

Possibly a silly question (based on the fact he's played all games this season thus far) but is Hughes (Fulham) nailed on? Worried there could be someone coming back from injury to nab his place...

Need a defender 4.6 or under and Fulham rotate well with Stoke. Would take Baird but his playing time looks a risk.

Contemplating a 4pt hit

Jenkinson out for Cuellar
Lambert out for Crouch

Opinions ?????

Hey guys,

In light of the news that aguero is called up for argentina to play on November 14th and will probably miss his game on November 17th should i just take out aguero now for tevez??

or sit tight tight with aguero?

Hey guys, first time posting, been satisfied to just lurk till now but I had 2 absolutely terrible GW's, don't know what to do with this team:

Beg/Jask

Baines/Kolarov/Ivan/Demel/Clark(AVL)

Caz/Pienaar/Yaya/Michu/Kaca

Giroud/Ba/Jelly

obviously can't fix this in one week, but any ideas? What should be my priority? I want RVP but don't know how to get him

Hi Folks, I have decided to wildcard. This is my first draft. I found it really difficult to get in RVP - ended up getting rid of Tevez. What do people think?? Not keen on midfield but had to go for 2 lower priced midfielders to afford the luxuries of Mata, Bale and RVP.

Thoughts appreciated. Cheers x

Begovic Federici
Baines Rafael Cuellar Cameron Nelsen
Bale Mata Pienaar Sterling McAnuff
RVP Ba Crouch

Begovic
Riise Baines Walker
Hazard Mata(C) Pienaar Ben Arfa
Berb Pogrebynak Ba
Subs: Cerny, Verm, Gibbs, Dyer
Already used my FT.

Thinking of Schwarzer + Skrtel + ShawX to Tremmel + Baines + Wilkinson. WC active, other keeper Begovic. Also, since Wilson is injured, Wilkinson is likely to start. Thoughts pleaseeeee.

Mertesacker worth a look at? His extremely cheap and looks to be starting every game and picking up a few clean sheets here and there. What do you guys think?

Hey guys,

I am in desperate need of some assistance yet again. I think that I am finally going to swallow my pride and get on the RvP bandwagon, but I will have to take a 4 point hit and lose one of my mids in the process. I have 1 FT and I currently have 0.9 in the bank. I also have not used my WC. So it would work like this..

Cazorla out, Morrison in
Torres out, RvP in

That would leave me with 0.5 in the bank, but I am desperate need of any other suggestions!! Help!

Schwarzer (Rudd)
McAuley Baines Reid
Bale Hazard Cazorla Michu (Noble)
Torres Berbatov Crouch
Scout Picks
For Gameweek 29
Snodgrass

Lallana

Mata

Hazard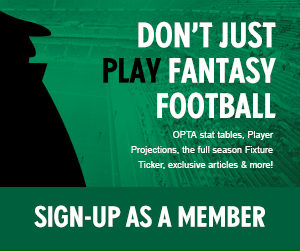 Watchlist
Goalkeepers
Player
Club
Factors

Up

Mannone
SUN

B

,

Vs

,

£

Up

Howard
EVE

B

,

Vs

Up

De Gea
MUN

A

Up

McGregor
HUL

C

,

£

Up

Adrián
WHM

B

,

£

No Change

Cech
CHE

A

Up

Vorm
SWA

B

,

Vs

No Change

Ruddy
NOR

B

Up

Hart
MCI

B

No Change

Speroni
CPL

B

,

£

Down

Begovic
STO

C

,

Vs

Up

Krul
NEW

C

Down

Boruc
SOT

B
Defenders
Player
Club
Factors

Up

Coleman
EVE

B

,

Vs

Down

Terry
CHE

A

No Change

Evra
MUN

A

Up

Bardsley
SUN

B

,

Vs

,

£

Up

Kompany
MCI

B

Up

Davies
HUL

B

,

£

Up

Collins
WHM

B

,

£

Down

Olsson
NOR

B

,

£

Down

Ward
CPL

C

,

£

Up

Skrtel
LIV

B

Up

Williams
SWA

B

,

Vs

,

£

Down

Shawcross
STO

B

Up

Williamson
NEW

C

,

£

Down

Fonte
SOT

B

Up

Kolarov
MCI

B

,

Rest
Midfielders
Player
Club
Factors

No Change

Hazard
CHE

A

Up

Y Touré
MCI

A

Up

Johnson
SUN

B

Up

Gerrard
LIV

A

Up

Nolan
WHM

A

Down

Mata
MUN

C

Down

Lallana
SOT

B

Up

Mirallas
EVE

B

,

Vs

,

Rest

Up

Sterling
LIV

B

,

£

Up

Cazorla
ARS

B

,

VsX

Up

De Guzmán
SWA

B

,

Vs

,

Rest

No Change

Brunt
WBA

C

,

£

Down

Snodgrass
NOR

B

Up

Sissoko
NEW

B

,

Vs

,

£
Forwards
Player
Club
Factors

No Change

Suárez
LIV

A

Up

Aguero
MCI

C

Down

Sturridge
LIV

A

Up

Lukaku
EVE

B

,

Vs

No Change

van Persie
MUN

B

Up

Remy
NEW

B

,

Vs

Up

Jelavic
HUL

B

,

£

Up

Bony
SWA

B

,

Vs

Up

Giroud
ARS

A

,

VsX

Up

Carroll
WHM

C

,

Vs

,

Inj

Down

Adebayor
TOT

B

,

VsX

Down

Rodriguez
SOT

C

,

£

No Change

Borini
SUN

B

,

£

Down

Crouch
STO

B

,

£

Up

Anichebe
WBA

B

,

£
Selection Factors
| | |
| --- | --- |
| A, B, C | Current Form |
| Vs | Favourable Fixtures |
| VsX | Unfavourable Fixtures |
| Rest | Rotation Risk |
| Inj | Injured/Returning from Injury |
| OoP | Out of Position |
| £ | Potential Bargain |
| Sus | Suspended/Near Suspension |
Suspension Tightrope
| Player | Team | YC |
| --- | --- | --- |
| Olsson | WBA | 9 |
| Flamini | ARS | 8 |
| Delph | AVL | 8 |
| Luiz | CHE | 8 |
| Ramires | CHE | 8 |
| Chamakh | CPL | 8 |
| Barry | EVE | 8 |
| Rooney | MUN | 8 |
| Tioté | NEW | 8 |
| Schneiderlin | SOT | 8 |
| Walters | STO | 8 |
| Yacob | WBA | 8 |
"He's working hard at it and so are we. Sometimes we play well but not all the time. We don't have luck on our side. It's easy to point the finger at someone but I'm not like that. We have to do better ourselves."

Robin Van Persie on criticism of David Moyes.