Robin Van Persie had many a Fantasy Manager reaching for the Beta-Blockers to combat heightened anxiety and raised blood pressure as news filtered through that leading Fantasy Premier League (FPL) points scorer Robin Van Persie had suffered a suspected thigh strain.
The news broke in the early hours of Monday morning, indicating that Manchester United were aware of the problem from at least last Sunday and, as most club protocols are for a rest day immediately after a match, we can only assume that the injury occurred during the Aston Villa game. Reassuringly, an observational assessment of his physiological movements during the second half of the encounter offers credible evidence that recovery should be swift.
Having dissected each movement for clues and indicators of injury, it soon becomes clear that throughout the second half Van Persie moves with agility, fluidity and mechanical purity; indeed, he looked sharp, fresh and bristled with intent. The Dutch international can be witnessed performing a full array of high intensity movements around the hip, knee and ankle joints, leaping, tackling, taking corners, free kicks and accelerating and decelerating whilst changing direction. At no point during the half did I witness anything that would concern me. From an observational physiotherapist's perspective, he moved with fluid freedom, showing no signs of anxiety, reaction or impediment. At no point during the half did RVP exhibit any type of antalgic gait.
It must be noted that an observational assessment doesn't tell the whole story; a battery of palpations, tests and movements allied to a subjective assessment offers a much fuller picture, but based purely on our observational analysis we have to give RVP a clean bill of health.
If Van Persie incurred an injury, he disguised it well, leaving me to conclude that some soreness or tightness around the thigh muscles presented itself during the post match physio assessments. However, on the available evidence we can only conclude that, unless he has taken a tumble getting on to the team bus, any injury would be minor in nature, giving us a high probability that the Dutchman should be fit, fresh and ready to rattle the Canaries cages at Carrow Road this weekend.
got 2 FTs and havent had time this week to think (new baby born last night)

Any advice appreciated.

Is Cazorla + Ba -> Fellaini + Suarez chasing points or good moves for the future?

LMAO...and i think fantasy football is more important than a baby, god!

seeing as they could both get yellows this weekend and be banned the next i would say its not a good move for the future. also you totally missed the boat on those transfers, suarez has gone up .2 and fellaini .3 for a total of .5 less if you'd done the transfers last sunday.

I know what you mean about the prices rises but in terms of maximising points, is that a valid reason not to get them in? i dont know the answer to this

Long game with Baines. No point looking short-term.

Just googled fantasyfootballscout from the year 2010 ,cant believe the quality of posters that have disappeared in two years,strangely hunter s thompson was posting on the section i was looking at ,i remember a lot of those posters fondly and bellends like Chu Young hardly existed....*sniffles*

That's the first time I've seen you post here. I hope it's ur last too.

regularity of posting in no way what so ever indicates how worthwhile a human being you are never mind how usefull you are from a fantasy footi perspective jordan hits the nail squarly on the head......just a shame that he cant hit you on the head with a heavy blunt instrument......one of the reasons i lurk so much is cock ends like you ping pong

A *lurker* like you should shut up.

**knob end** not a big one mind just a scrawny shrivelled **knob end** ya know the sort no one wants 😛

I might have to take a look. I'm afraid I will see some cringeworthy posts from myself though.

HAhahaahahaHAhahaahahaHAhahaahahaHAhahaahahaHAhahaahahaHAhahaahahaHAhahaahahaHAhahaahahaHAhahaahahaHAhahaahahaHAhahaahahaHAhahaahahaHAhahaahahaHAhahaahaha

Ah 2010... Good year haha! I think the forum has changed since then, for the good and for the worse.

I'm with you on that. I tend to just stick to reading the articles these days. This is the first time I've posted since 2010! Unless my memory is failing me I seem to remember you being Nigeria based camsy? are you still there?

new comments system is imminent apparently, which might entice some of those good posters from yesteryear back again

that is because it went on public. Previously was something like incognito. Very few people knew it. And we were keeping a secret

Quick poll, who to captain this week?
A) Berbatov
B) Fellaini
C) Ba
D) Giroud
E) Mata
F) Bale
G) Caz

Wish I had RVP if only so I didn't have this headache each week....

Berba! Sunderland are yet to win on the road and have been looking toothless recently...

Team this week:

Begovic, Jussi
Rafael, Baines, Hughes, Dremel, Barnett
Mata, Bale, Michu, Fellaini, Sterling
Suarez, VP, Berba

0.1m in the bank

Improvement suggestion please good people. Is Huges -> Cameron the most sensible?

no podcast

You comfortable with Nolan's fixtures? I'd wait until I was forced into that move by a ban for Michu or something else.

I've always wondered why there are forum trolls whose sole purpose is to be disliked by the forum community. Case in point is Ping Pong and Bemba Da. What's the point to just post to agitate people?

There is every kind of people

Yes, sure, but why would you just post to pis* people off? It's like...a nonsensical thing. Maybe it's my fault for trying to be reasonable.

To get attention and/or as many responses as possible. Don't feed the trolls.

Hi folks, who would you captain out of these 3: berbs / suarez / tevez. I started with Berbs but thinking Sunderland might be a tough nut to crack. Now I've moved it to Tevez given it's Villa. I've had terrible captain choices almost all season, last week I changed last minute to Santi and that bit me. Also been toying with the idea of swapping Tevez to Giroud but common sense is stopping me for now (probably do that GW15).

I like Berba because there's a minimal chance of a blank IMO.

Yeah my gut was him first, he's the most explosive + in form. Sods law I'd pick him and either Suarez or Tevez would get double figures. I'll maybe let everyone know what I decide so you can do the opposite! 😀

I dont find any reason not to captain Tevez..... carlos wont disappoint you this week...

'cause you know for sure, right? 😉

That sounds like a guarantee You'd figure he'd at least get an assist but his goal scoring boots haven't been on recently. 1-1 so far, argh!

Cazorla + Pienaar > Fellani +Silva (-4pt)

Or would you do only one of those ?

I'd keep Caz for one more week, that's what I'm doing!

Thanks. Was inclining to do Pienaar> Fellaini only. What are your thoughts on Tevez ? you think he will start this week ?

Yeah pretty sure Tevez will start, Aguero will get rested for the following week I reckon. Might be Tevez & Dzeko. Who knows with Mancini though!

tremmel and sagna or mignolet and a 4.2 or below defender? I got begovic cameron cuellar gorkks baines

Turner is a good shout.

I would suggest Bassong, but I think he's 4.4

A great option

Sunderland are very solid at home and have 4 home games in the next 6. Migs can pick up plenty of save and CS points (and Tremmel will require you to move him on once Super Vorm is back)

Norwich are proving to be more solid than expected at the back (Liverpool aside) and Turner looks like he's re-discovering the goal threat he had about 3 years ago.

home and away wise, no, fixture wise yes.

The other option is Jussi and Nelsen?

Please pick 2 of these 5, 1 def and 1 mid.... TO PLAY............cheers.....

Demel H Stoke
Cameron A West Ham
Saylor H Swansea

Noble H Stoke
Maloney A Liverpool

Look at the terrible state of the Man United midfielders. Desparately wanna get rid of Hazard, have 2 free transfers, but nobody in Man United worth getting. Valencia would be a major disappointment, so staying away from him.

The saddest thing is, they win football matches and get the ball out wide or up top for the heavy hitters to do the business, and this is all devoid of any superstars or real quality!!!

Cleverley, Carrick, Scholes, Anderson, Giggs.......the rag bar-stewards.....crap FPL-wise, but win matches.

Not a chance I touch a Rag midfielder unless Valencia becomes well and truly essential (he could just do that though). P.s Valencia, Young and Nani don't come into reckoning at all as of right now.

Geared to gain a lot more responses.....what are you all doing with your double/triple Stoke coverage this week?

How about those of you with triple stoke and single/double West Ham, or Double west ham double stoke?

I have Begovic, Cameron, Demel and Noble (obviously not all starters though)

Would people rather
1) Ivan & Val > Gorkss & Silva
2) val & Santi/Bale > Silva & Fellaini

For free?
Would save FT
Gorkss fixtures are aweful
Silva and fellaini worth it but to replace Val no...he's got nice fixtures
Probably Santi to silva/fellaini only
Leaning towards silva

Team for this week:
Begovic (Foster)
Baines, Ivanovic, Shawcross, Rafael (Nelsen)
Mata, Fellaini, Sterling (Noble, Morrison)
Ba, Tevez, RVP
0m in the bank 1FT

Plan to either:
A) Mignolet + Nolan>Foster + Morrison
B) Suarez + Clyne>Ba + Ivanovic
Or should I stick with what I got
Any thoughts?
Scout Picks
Gameweek 25
Janmaat

Williams

Alderweireld
Wijnaldum

André Ayew

Dele Alli

Roberto Firmino

Sánchez
From the Community…
Comments
Hot Topics
Articles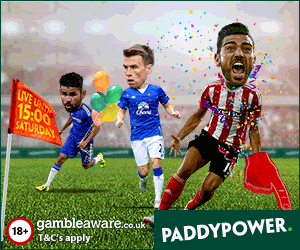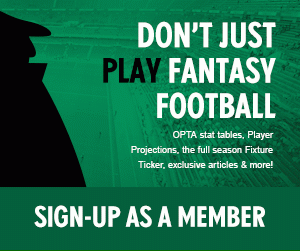 The Watchlist
Goalkeepers
Player
Club
Factors

Up

Forster
SOT

A

,

Vs

Down

Butland
STO

C

,

Vs

Up

Schmeichel
LEI

A

,

Vs

Up

Courtois
CHE

B

,

Vs

No Change

Boruc
BOU

B

,

Vs

Up

Hennessey
CPL

C

,

£

No Change

Cech
ARS

A

,

VsX

Up

Fabianski
SWA

B

No Change

De Gea
MUN

B

No Change

Adrián
WHM

B
Defenders
Player
Club
Factors

Up

Fuchs
LEI

A

,

Vs

,

£

Up

van Dijk
SOT

A

,

Vs

Up

Daniels
BOU

A

,

Vs

,

£

Up

Dann
CPL

A

No Change

Ivanovic
CHE

B

,

Vs

No Change

Alderweireld
TOT

B

No Change

Bellerín
ARS

B

,

VsX

Up

Johnson
STO

C

,

Vs

No Change

Cresswell
WHM

B

Up

Van Aanholt
SUN

A

No Change

Williams
SWA

B

,

£

Up

Smalling
MUN

C

Up

Coleman
EVE

B

,

Vs

Down

Dawson
WBA

C

Down

Moreno
LIV

C

,

Vs

Down

Kolarov
MCI

B

,

Rest

,

Inj
Midfielders
Player
Club
Factors

Up

Mahrez
LEI

A

,

Vs

No Change

Payet
WHM

B

,

Vs

No Change

Dele Alli
TOT

A

,

Inj

Up

Arnautovic
STO

C

,

Vs

,

Inj

No Change

Ozil
ARS

C

,

VsX

Up

Eriksen
TOT

A

Up

Antonio
WHM

A

,

Vs

,

Rest

,

£

Up

Sigurdsson
SWA

A

,

OoP

Down

Barkley
EVE

B

,

Vs

Down

Roberto Firmino
LIV

A

,

VsX

,

OoP

Down

Sánchez
ARS

C

,

VsX

Up

Lingard
MUN

B

,

Rest

,

£

Up

Khazri
SUN

B

Up

Oscar
CHE

B

,

Vs

No Change

Wijnaldum
NEW

B
Forwards
Player
Club
Factors

Up

Vardy
LEI

B

,

Vs

No Change

Kane
TOT

A

Down

Aguero
MCI

A

Up

Diego Costa
CHE

A

,

Vs

,

Inj

Up

Rooney
MUN

A

Down

Ighalo
WAT

C

,

VsX

Down

Lukaku
EVE

C

Up

Afobe
BOU

A

,

Vs

No Change

Giroud
ARS

B

,

VsX

,

Rest

No Change

Defoe
SUN

A
Selection Factors
| | |
| --- | --- |
| A, B, C | Current Form |
| Vs | Favourable Fixtures |
| VsX | Unfavourable Fixtures |
| Rest | Rotation Risk |
| Inj | Injured/Returning from Injury |
| OoP | Out of Position |
| £ | Potential Bargain |
| Sus | Suspended/Near Suspension |
| Player | Team | YC |
| --- | --- | --- |
| Colback | NEW | 9 |
| Byram | WHM | 9 |
| Lucas | LIV | 8 |
| Jones | SUN | 8 |
| Yacob | WBA | 8 |
| Westwood | AVL | 7 |
| Diego Costa | CHE | 7 |
| Huth | LEI | 7 |
| Can | LIV | 7 |
| Mangala | MCI | 7 |
| Shelvey | NEW | 7 |
| Pieters | STO | 7 |
| Dele Alli | TOT | 7 |
| Dier | TOT | 7 |
| Noble | WHM | 7 |
"All players will blank a few times during the season. When almost all do it in the same Gameweek, it is tough to take, but that's just the dark side of probability."

Abreu 42 Community regular