Filed under: Members - Posted by: Paul
A fortnight ago, we rolled out a Preview Movie of the latest addition to our Members Area – the Key Performance Indicators (KPI) tables. Essentially, these track the frequency of certain key statistics that can help Fantasy managers identify a player's form – whether it be a turn for the good or worse – over a Gameweek range or season. With this in mind, our first KPI focused members article looks at Robin Van Persie's first season at United compared to his final year leading the line for Arsenal.
By tracking Van Persie's frequency of key stats, Fantasy managers can begin to quantify and identify the exact areas of the Dutchman's game that have altered since his move to Old Trafford last summer as they prepare potential investment for the season ahead.
Swans new Spanish winger Alex! Good goal

Pozeulo get starting postition? Would get him as cheap mid if so!

If he can get in the starting XI ahead of Dyer, then yes.

What we learned today, Michu, Bony, and Pozuelo are must haves. Ignore their fixtures, class will prevail.

Now we just need to get Mölde in the PL and playing them for the first game 😀

Oh yeah it was Malmö :D. Too late and still at work, head getting messed up

look who they are playing...?!

Last page, matchday craziness repost

In Dailymail FF you can sub in your spare players daily. So I need a CS keeping Sunday/monday keeper and a CS keeping saturday keeper. Who falls into these categories?

@Evs you can get a million quid for picking the perfect starting 11! Interested now? Set up a team and forget about it.

Different keepers every week 😉

Teams in Europa will often play on Sunday so one of Vorm/Lloris could serve you well.

32 transfers per season.
5 captain changes per season.

the transfers can be used to change your captain without losing a captain change. I am not touching those keepers.

I wasn't suggesting you did.

A Europa team will get you more Sunday games than most. For Saturday games, you probably want a team that will be televised as little as possible. So a Stoke, Norwich, Hull.

Somebody tell me all about Pozuelo...I've seen his name once ot twice in RMT's but that's my lot...Where does he play ?...who is he in contention for a place with ?...

Michu is play the CAM role..

Can play on any wing.
Came on for Dyer who I reckon he'll be in contention with.
Cost 4.5m 😀

Oh and he's Spanish.

Good...Dyer is a decent player but somebody with a bit of class could easily challenge him...either wing has got to be good, especially when he notches from straight down the middle !!!....Watchlist...Thanks lads...

REPOST:

Gents please help needed!! i CANT decide which team to have

A. Team with defenders from 3 big teams and basically no bench options (thomas)

Speroni / Boruc
Collins / Toure / Terry / Zabaleta / Chester
Thomas / Lampard / Coutinho / Hazard / Walcott
Lambert / Dzeko / Giroud

FT, £1.5m in the bank.

B. team with cheap defense and the nice headache of choices and who to bench (i dont mind)

Speroni / Boruc
Collins / Turner / Yanga-Mbiwa / Clyne / Chester
Silva / Lampard / Coutinho / Hazard / Walcott
Lukaku / Dzeko / Giroud

FT, £0.0m in the bank.

C. Kind of combination of the above two with mirallas as bench and kolo, mertesacker

Speroni / Boruc
Collins / Turner / Mertesacker / Toure / Chester
Mirallas / Lampard / Coutinho / Hazard / Walcott
Lukaku / Dzeko / Giroud

FT, £0.0m in the bank

kindly awaiting for some replies

thanks

You seem really set on that forward line but there is too much wrong with it to worry about defensive and midfield adjustments.

i thank u both for your replies

This has probably been asked before, but when should we expect the prices for Brayford and Soldado to be released on the FPL site.

Come on! I am going to have him in to replace Bony after I put in Bony to replace Dzeko after I it in Dzeko to replace JRod. It's academic, really.

how many hours till the chelsea game?

thanks.. wanna bet based on lineups

Everyone saying how impressive Swansea are...look who they are playing?????????? Compare this to when they face Man Utd on the opening.

They put 7 on Hibs over 2 legs, plus they are 17 games into their league so match fit.

I think Swansea have played well.

Yeah, Swansea have been fairly slick in fairness.

impressed with Bony though I have to say.

😎
Zaha and RVP



Never realised United made a third bid for Fabs. Chasing a lost cause now though, i think

I know Shelvey got off to a bad start at Liverpool, but might seriously consider him now he's at Swansea, looks class.

Good feet but give ball away so often.

Swans have looked incredible. Albeit vs a poor side.

Is Silva playing? If so, how's he done?

Lucky guess but around 10 times tonight someone asked how much is Bony and there were at least 5 RMT with him in it..? 😛 lol You gotta love the bandwagons 😆

Come on join me on this bandwagonnnnnnnnnnnnnnnnnnnnnn

I'm sticking with Dzeko and Sturridge if either don't work out then he will get his chance.

I think Negredo is first choice and Sturridge fitness worries me. Not GW 1 only, but overall

If fixtures weren't poor he'd be a lock in for me.

My first draft of my team for the start, going for a no Bale and RVP team

a) I'm not confident in that bale will be here for the start and if he is his mind will be diving into other thoughts.

b) RVP is really just to expensive to shoehorn in

Tried to go for a more balanced team this year and try and avoid making an extortionate amount of transfers and hits and early wild cards.

Does this team look ok or is it to much of a bandwagon team?

Davis - Boruc

Toure - Chester - Mertesacker - Luiz - Mcnaughton

Hazard - Coutinho - Michu - Barkley- Silva

Lukaku - Dzeko - Giroud

Boni maybe..? he scored a brace tonight . Dzeko was benched for Negredo

Ta

Not seen the city game yet (only just got the laptop of the wife) will have a look

If this is going to be the case that he will become bench fodder then I will buy an appropriate player and upgrade my midfied and play 5 in midfield

ya.....he's shite, isn't he!?

outrageous. back to being anonymous 😛 😆 😉

Uv obviously never watched stoke

well they do call it the beautiful game after all...

😯
Football? Useless! Soccer on the other hand.........................



now then here is an interesting one...

A. RVP, Anelka, Sess

B. Soldado, Benteke, Oscar

assuming soldado will be 9-9.5

votes?

Oooh, the second one looks better overall, but its still RVP-less.

I can't decide

thing is, i honestly dont think i would captain rvp for the first 3 or 4 GWs, so might go with B. just keep fingers crossed soldado isnt 10 or more

Jeeeeez, my whole team is gonna be based on whether or not I pick RVP. 14 million is still ridiculous, forward line looks much better with him in but MIDFIELD looks weak with him in

RMT

Mannone (Boruc)
Coleman, Baines, Cahill (Chester, Parr)
Silva, Hazard, Wally, Mirallas (Thomas)
Dzeko, Lukaku, Sturridge

Thanks!

I'm going to ride all of these bandwagons until they're raw.

So I am.

Pick one:

A) Michu
B) Mirallas

My feeling/ Negredo is first choice. Pelegrini signing scored 25goals in La Liga. Dzeko is obviously the back up. no matter what Pelegrini says. Mark my words. I am gonna love the Negredo punt if Sturridge is still injured. We will talk when the season starts but surely surely Negredo is above Dzeko in the pecking order for strikers when City comes to discussion

Kun, Jovetic, Silva, Navas all can play on the flanks or as in out strikers

Thoughts.. ? .

main conclusion for city attack - ROTATION

Ive been monitoring Dzeko and im not going to take the risk as already planning on having Lukaku so having 2 none nailed on forwards is too much for me.

Probs wont touch either. Lukaku, solado and one other for me. Probs sturridge or giroud
Scout Picks
Gameweek 25
Janmaat

Williams

Alderweireld
Wijnaldum

André Ayew

Dele Alli

Roberto Firmino

Sánchez
From the Community…
Comments
Hot Topics
Articles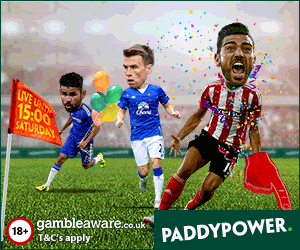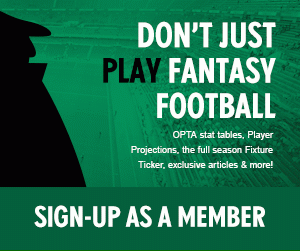 The Watchlist
Goalkeepers
Player
Club
Factors

Up

Forster
SOT

A

,

Vs

Down

Butland
STO

C

,

Vs

Up

Schmeichel
LEI

A

,

Vs

Up

Courtois
CHE

B

,

Vs

No Change

Boruc
BOU

B

,

Vs

Up

Hennessey
CPL

C

,

£

No Change

Cech
ARS

A

,

VsX

Up

Fabianski
SWA

B

No Change

De Gea
MUN

B

No Change

Adrián
WHM

B
Defenders
Player
Club
Factors

Up

Fuchs
LEI

A

,

Vs

,

£

Up

van Dijk
SOT

A

,

Vs

Up

Daniels
BOU

A

,

Vs

,

£

Up

Dann
CPL

A

No Change

Ivanovic
CHE

B

,

Vs

No Change

Alderweireld
TOT

B

No Change

Bellerín
ARS

B

,

VsX

Up

Johnson
STO

C

,

Vs

No Change

Cresswell
WHM

B

Up

Van Aanholt
SUN

A

No Change

Williams
SWA

B

,

£

Up

Smalling
MUN

C

Up

Coleman
EVE

B

,

Vs

Down

Dawson
WBA

C

Down

Moreno
LIV

C

,

Vs

Down

Kolarov
MCI

B

,

Rest

,

Inj
Midfielders
Player
Club
Factors

Up

Mahrez
LEI

A

,

Vs

No Change

Payet
WHM

B

,

Vs

No Change

Dele Alli
TOT

A

,

Inj

Up

Arnautovic
STO

C

,

Vs

,

Inj

No Change

Ozil
ARS

C

,

VsX

Up

Eriksen
TOT

A

Up

Antonio
WHM

A

,

Vs

,

Rest

,

£

Up

Sigurdsson
SWA

A

,

OoP

Down

Barkley
EVE

B

,

Vs

Down

Roberto Firmino
LIV

A

,

VsX

,

OoP

Down

Sánchez
ARS

C

,

VsX

Up

Lingard
MUN

B

,

Rest

,

£

Up

Khazri
SUN

B

Up

Oscar
CHE

B

,

Vs

No Change

Wijnaldum
NEW

B
Forwards
Player
Club
Factors

Up

Vardy
LEI

B

,

Vs

No Change

Kane
TOT

A

Down

Aguero
MCI

A

Up

Diego Costa
CHE

A

,

Vs

,

Inj

Up

Rooney
MUN

A

Down

Ighalo
WAT

C

,

VsX

Down

Lukaku
EVE

C

Up

Afobe
BOU

A

,

Vs

No Change

Giroud
ARS

B

,

VsX

,

Rest

No Change

Defoe
SUN

A
Selection Factors
| | |
| --- | --- |
| A, B, C | Current Form |
| Vs | Favourable Fixtures |
| VsX | Unfavourable Fixtures |
| Rest | Rotation Risk |
| Inj | Injured/Returning from Injury |
| OoP | Out of Position |
| £ | Potential Bargain |
| Sus | Suspended/Near Suspension |
| Player | Team | YC |
| --- | --- | --- |
| Colback | NEW | 9 |
| Byram | WHM | 9 |
| Lucas | LIV | 8 |
| Jones | SUN | 8 |
| Yacob | WBA | 8 |
| Westwood | AVL | 7 |
| Diego Costa | CHE | 7 |
| Huth | LEI | 7 |
| Can | LIV | 7 |
| Mangala | MCI | 7 |
| Shelvey | NEW | 7 |
| Pieters | STO | 7 |
| Dele Alli | TOT | 7 |
| Dier | TOT | 7 |
| Noble | WHM | 7 |
"All players will blank a few times during the season. When almost all do it in the same Gameweek, it is tough to take, but that's just the dark side of probability."

Abreu 42 Community regular