Nearly half of the top 10,000 Fantasy Premier League managers ahead of Double Gameweek 35 have now exhausted their chip supply for the season.
47.9% of those at that level have used all of the chips and will have to rely only on their transfers for Gameweeks 36, 37 and 38.
47.0% have just one left in their locker, with the Triple Captain currently the least used of the four.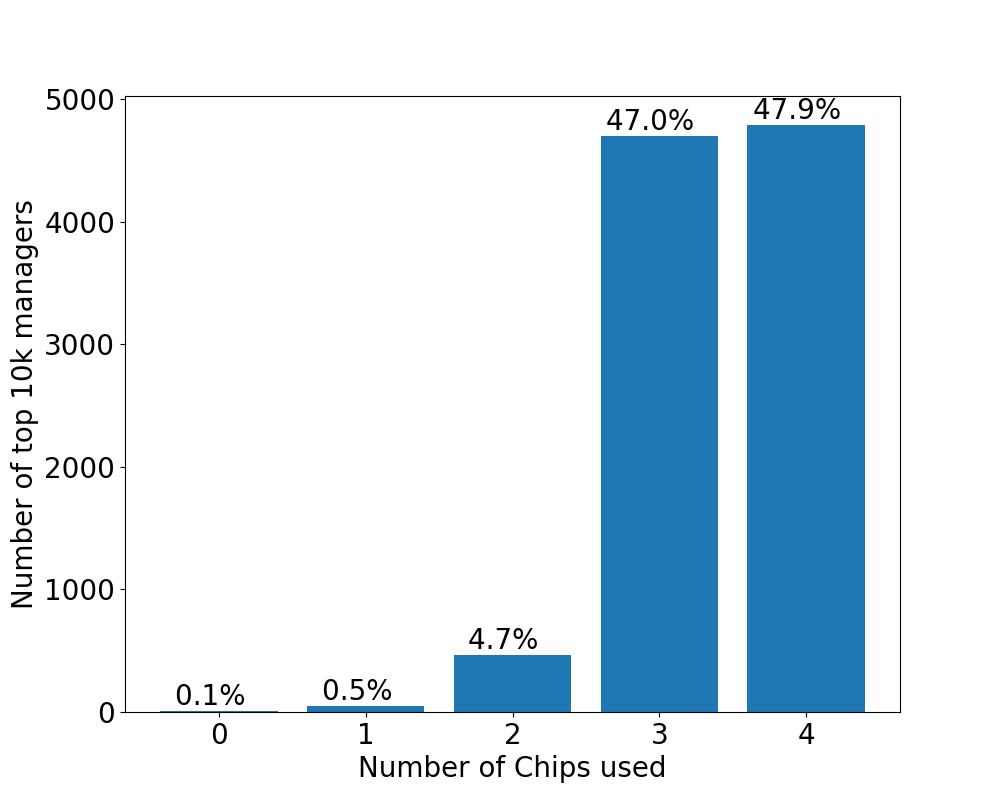 That has been used by 59.48% of the top 10k managers, suggesting that there is a real opportunity either to make ground in that bracket or break into it with an effective deployment of the Triple Captain.
Not surprisingly, the Bench Boost was deployed extensively at that level of the game for this round of fixtures.
The number of top 10k managers who had used it after the Double Gameweek 35 deadline rose from just 18.61% to 86.12%.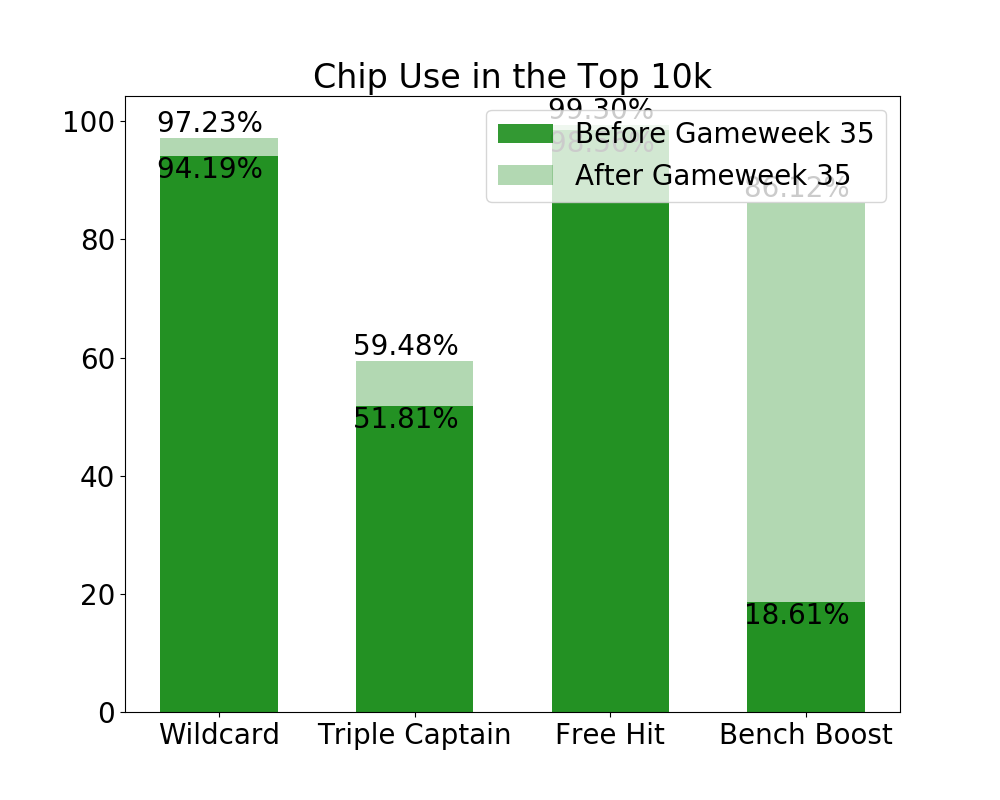 That means a huge 67.51% of them are enjoying points for all 15 players over the next few days.
The most popular cheaper options likely to have been included in Bench Boost scores are Shane Duffy (£4.8m), Mat Ryan (£4.4m), Yan Valery (£4.1m) owned by 44.88%, 39.68% and 39.05% of the top 10k respectively.
There was a small portion of upper echelon who considered the Triple Captain chip.
7.87% of them went for an enhanced skipper for Double Gameweek 35, with Raheem Sterling (£11.5m), Sergio Aguero (£11.8m), Raúl Jiménez (£6.9m) and Son Heung-min (£8.8m) the only four options considered for it.
Manchester City's midfield star Sterling was the most popular from that quartet for the Triple Captain among the top 10k and has it all to do at Old Trafford after scoring just one point against Spurs.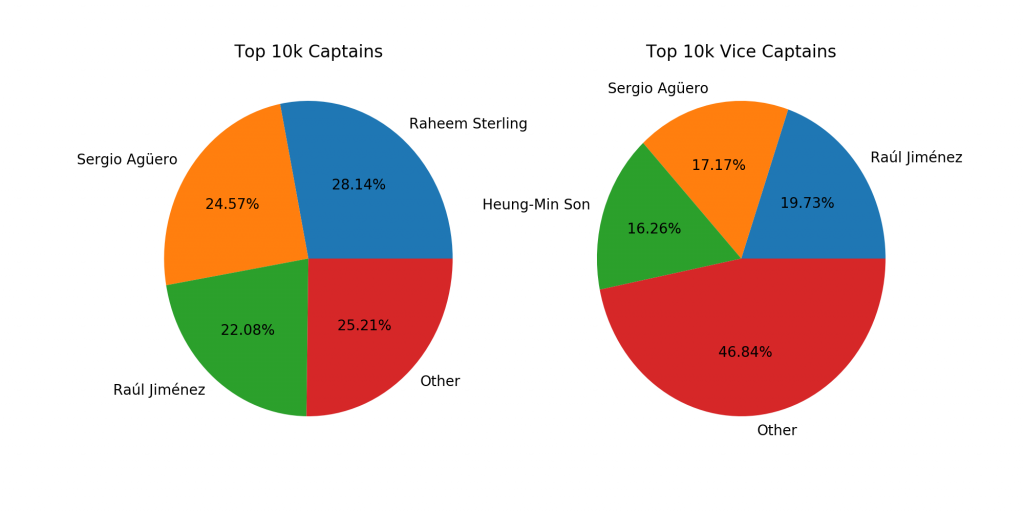 Those options were also the key players in the normal captaincy debate too, which was exceptionally tight at the top level just as it was for everybody else.
Sterling was handed the armband by 28.14% of managers in the top 10k, more than any other player.
Aguero was second placed with 24.57% and Jiménez third on 22.08%.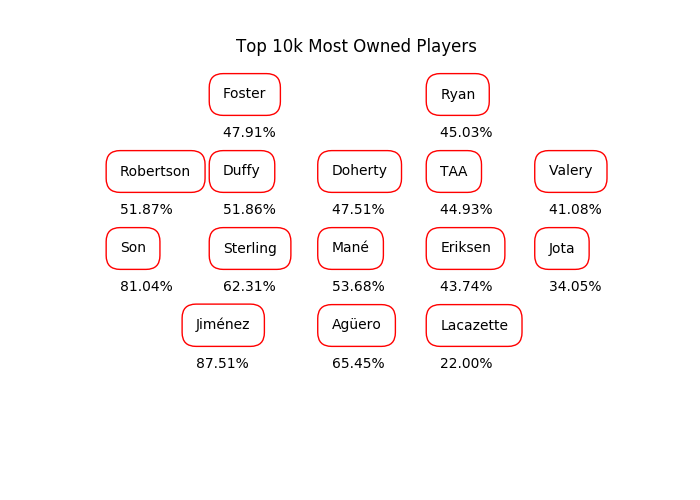 Given that last weekend was the most popular for the Wildcard chip, it should be no surprise that there was little change in the top 10k most owned players between Gameweek 34 and 35.
The only major difference between the two models is up front. Jamie Vardy (£9.0m) was the third most popular forward among the top 10k for Double Gameweek 34, behind Aguero and Jiménez, but that honour now falls to Alexandre Lacazette (£9.4m).
The Arsenal man is in 22% of top 10k squads for Double Gameweek 35, with fixtures against Crystal Palace (home) and Wolves (away) coming up.
Those who had Wildcarded in Double Gameweek 34 also had to make a change, following Troy Deeney's (£5.9m) sending off on Monday night.
Despite conceding seven goals in Double Gameweek 34, Duffy remains among the most owned defenders, although has lost a fair amount of his backing among the top 10k.
No defender was in more squads than him last time around, with 71.6% effective ownership in the top 10k, but that dropped to just 51.86% for Double Gameweek 35, which of course will be influenced by considerably fewer captain's armbands.