Whilst bragging ranks and Top 10K finishes are the main aims for most managers, it doesn't hurt if you can also win a little cash or prizes with your fantasy skills!

We have over £6K worth of cash and prizes on offer in our multiple fantasy leagues, so whatever game you're playing you'll have a chance to win!
1. Fantasy Premier League
Our two main Fantasy Premier League mini-leagues are open for the 2021/22 campaign and we'll provide details on how to sign up below

We're dishing out £2,500-worth of giveaways in the season to come, with some of that prize pool going to the podium finishers in our Fantasy Football Scout Members mini-league.

Anyone will be able to enter this mini-league but only those who have registered an account with us, be it paid or free, will be eligible to win the prizes.

[anon_only id="snack_dex6"] [/anon_only]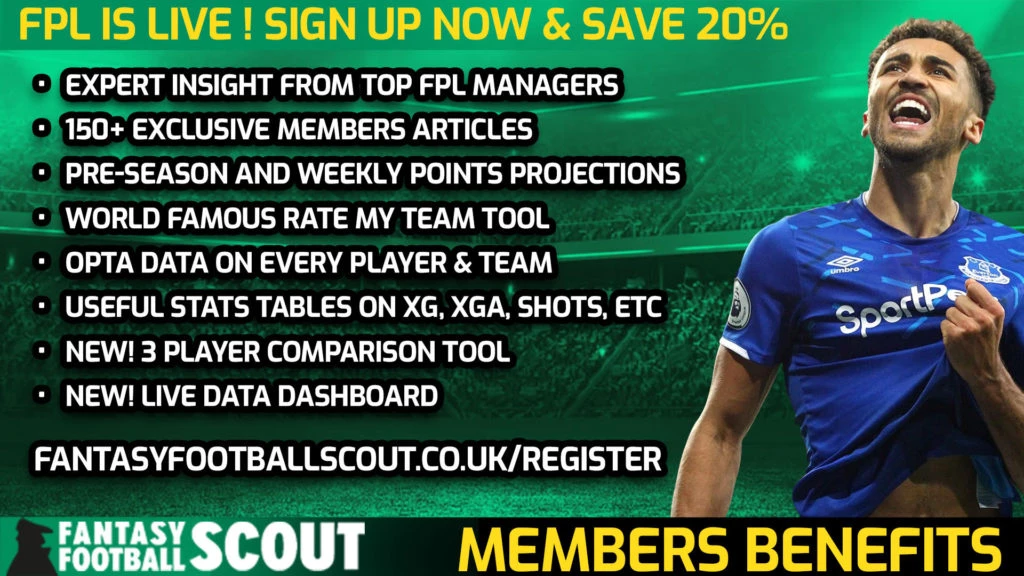 The full details are below:
LEAGUE NAME: FANTASY FOOTBALL SCOUT MEMBERS
League Code: pjjgn1
Yearly prizes: 1st (£1,000), 2nd (£500), 3rd (£250), 4th (£100), 5th (£50) (6-10: Premium Memberships)
Monthly prizes: 1st (£50)
Eligibility: Open to all, only those who have registered a Fantasy Football Scout account (paid or free) are eligible for the prizes. Fantasy managers must be registered as a Community Member or Premium Member one month in advance of the awarding of a specific prize to be eligible.
LEAGUE NAME: FANTASY FOOTBALL SCOUT
League Code: gsnskx
Eligibility: Open to all
HOW TO JOIN
Make sure you have an existing FPL account
To be eligible for a prize, register a paid or free account with us
Click here
Enter the league code provided above
2. Fantasy5
On top of the £10K jackpot and other prizes on offer each week in the free-to-play Fantasy5, there's a £100 a month up for grabs for the top player in the dedicated FFS Mini-League.
The league join code is PM92QCG or you can just click here to join!
>> Play Fantasy 5 (Read FFS Content Here)
3. FanTeam £1M Premier League Game
As if the biggest prize in fantasy football (£200K top prize, £1M in total) were not enough, we've setup a dedicated FFS mini-league as well with £1K of cash prizes up for grabs.
Join the FFS League here and use the code: FFscout1K
>> Play FanTeam £1M EPL Game (FFS Content Here)
4. Sky Sports Fantasy
On top of the £50K jackpot and other prizes on offer for free to play Sky Fantasy Football, FFS has a £500 prize pot for our official mini-league.
Join the league here and enter the following League PIN: 9236658
>> Play Sky Sports Fantasy £50K Game (FFS Content Here)
5. Bundesliga Fantasy Game
A new arrival to FFS this year, Bundesliga offers a fresh challenge with a slightly different points system and a whole new league of superstars to play with!
We have Bundesliga club-shirts (worth c.£500) up for grabs for our official FFS Mini-league monthly winners (N.B. this will be the person who is top of the league at the end of each month as the Bundesliga game currently doesn't provide for an easy way to calculate winners within a specific month. In the event that the leading player has already won, we reserve the right to pass this prize to the second placed player).
Join the FFS league here
>> Play Fantasy Bundesliga (FFS Content Here)
6. GoalScorer Challenge
We also have 10 FFS Memberships (worth c.£250) on offer for the monthly winners of GoalScorer Challenge, the popular game where you pick a different player each week who you think will haul! (Harder than it sounds as you can only pick each one).
>> Play Goalscorer Challenge here
7. FFS Cups, Other Competitions & More
We also have 2 FFS Cups (with £250 prize in each) which we'll launch later in the season, a small monthly prize of £20 on offer for the best community article of the month, plus a number of specific giveaways throughout the season – so keep your eyes peeled!
2021/22 Premier League fixtures